10 Dallas Cowboys Who Are Most Important to Super Bowl Hopes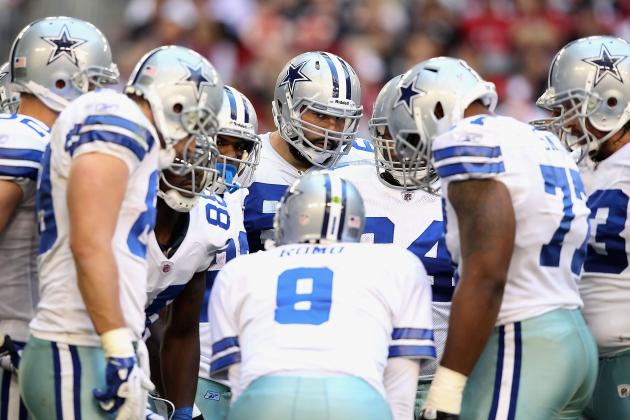 Christian Petersen/Getty Images

The Dallas Cowboys, known as "America's Team," have fallen on hard times recently. Despite possessing high expectations and a talented roster—with players like Tony Romo, Jason Witten and DeMarcus Ware—the Cowboys have failed to make the playoffs three years in a row, mainly due to injuries, inconsistent play and playing in the always tough NFC East division.
This year, the outlook looks sunny again for the Cowboys. Many key players are getting healed up, and the team has a new defensive coordinator, Monte Kiffin, who has 26 years of experience as an NFL assistant. The hire of Kiffin is even being lauded as the "best hire the Cowboys have ever made," according to former Cowboys scouting director Larry Lacewell.
So which players look to be the most essential to a potential Cowboys' Super Bowl run this year? Let's look at the top 10.
Players will be ranked according to how much impact their performance this season will have on the team's overall success, not necessarily their skill level.
Honorable mentions: Anthony Spencer, DE, Miles Austin, WR, Travis Frederick, C, Dan Bailey, K
Note: All stats are collected from Football Reference, unless otherwise indicated.
Begin Slideshow

»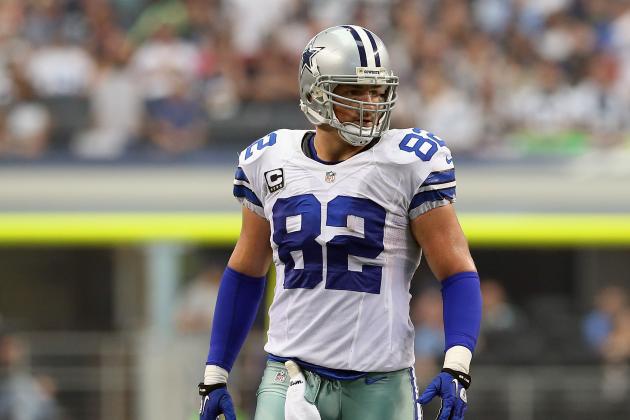 Ronald Martinez/Getty Images

Age: 31
2012 Stats (games played/started in parentheses): 110 receptions, 1,039 yards, 3 touchdowns (16/16)
Jason Witten is a classic example of someone whose talent level is much higher than his importance to a Super Bowl XLVIII run.
Not that he isn't important, because he is, but it's just that we pretty much know what he is going to give the Cowboys every year: somewhere around 90 to 100 receptions, 1,000 yards, and somewhere around 5 touchdowns. Witten has been remarkably consistent and, barring injury, there's no reason to expect anything different from him this year.
Witten has been playing at this level for several seasons, so it's obvious that he isn't the X-factor in the Cowboys' Super Bowl hopes.
Last season Witten set a career high with 110 receptions, despite lacerating his spleen during the preseason. I think it's safe to say that he will play very well this year.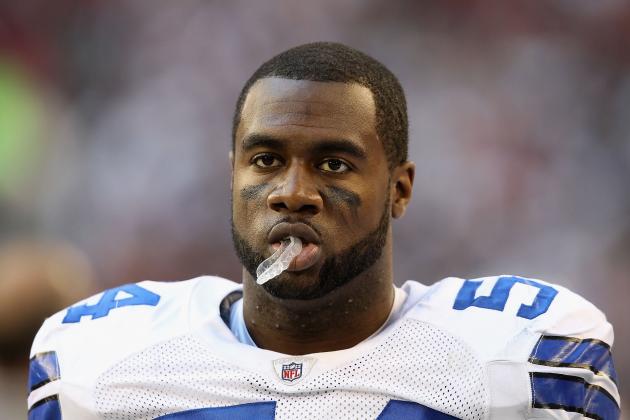 Christian Petersen/Getty Images

Age: 25
2012 Stats (games played/started in parentheses): 70 total tackles, 2 pass deflections (11/11)
Bruce Carter may be the player who benefits the most from the hiring of Monte Kiffin. At 6'2" and with one reported 40-yard dash time of 4.39 seconds, Carter is a fantastic athlete.
Monte Kiffin's Cover 2 scheme defenses have always employed lots of speed from the linebacker positions, most notably from the weak-side linebacker. During Kiffin's tenure as the Buccaneer's defensive coordinator, he used legend Derrick Brooks at that position. Brooks went on to make 11 Pro Bowls.
While expecting that much production from Carter is foolish, it isn't entirely out of the question for Carter to approach that upper echelon of outside linebackers in the NFL. If he does, the Cowboys' defense will greatly improve, especially their 22nd rank against the rush.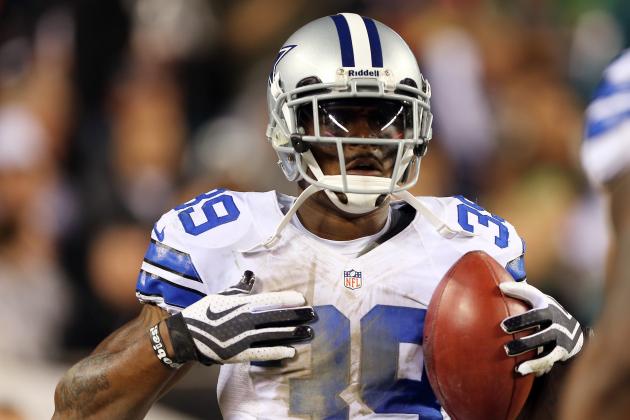 Elsa/Getty Images

Age: 27
2012 Stats (games played/started in parentheses): 53 total tackles, 3 interceptions, 11 pass deflections (16/16)
Brandon Carr has been a solid cornerback since entering the league as a 5th-round pick of the Kansas City Chiefs in 2008.
Now 27, in his second year with the Cowboys, the Cowboys are depending on Carr and his fluid athleticism to stop the vaunted passing attacks of the NFC.
Look at the NFC playoff teams last year: Washington, Green Bay, Minnesota, Atlanta, San Francisco, and Seattle. Aside from Minnesota's Christian Ponder, all of those teams possess a great quarterback in the passing game. Elite quarterbacks Drew Brees of the New Orleans Saints and Eli Manning of the New York Giants also figure on trying to make it back to the postseason this year.
Last year, the Cowboys picked off just seven passes all season, which ranked 31st in the NFL. Naturally, the secondary will be key this year in the Cowboys' quest for a Super Bowl.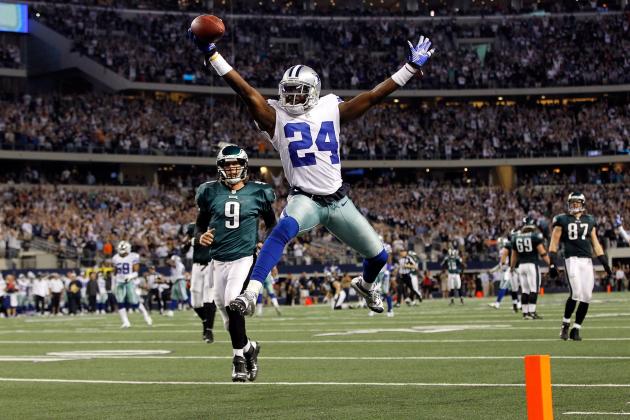 Tom Pennington/Getty Images

Age: 23
2012 Stats (games played/started in parentheses): 55 total tackles, 1 interception, 8 pass deflections (15/15)
Much of Brandon Carr's slide is also applicable to Morris Claiborne, except the stakes will be higher for Claiborne.
According to ESPN's expected depth chart for the Cowboys this season, the sophomore speedster will be taking on the opposing team's best receiver at the left cornerback position.
Claiborne gave himself a "C-minus" grade for his performance last year. While he might have been a bit hard on himself, Claiborne does expect improvement this year. He says he has bulked up a bit in order to help him take control of receivers' routes.
The above picture was taken during Claiborne's only touchdown of the season, on a fumble return against the Eagles. If Claiborne uses his newly acquired strength this season, we might see him make a few more defensive touchdowns.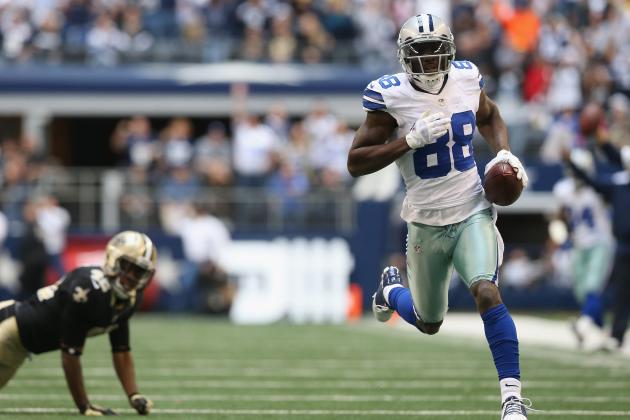 Ronald Martinez/Getty Images

Age: 24
2012 Stats (games played/started in parentheses): 92 receptions, 1,382 yards, 12 touchdowns (16/14)
Dez Bryant is one of the most talented receivers in the league, as his stats from 2012 show. With Bryant, however, there are always issues off the field.
After getting arrested for misdemeanor family violence against his mother last summer, the Cowboys placed a host of restrictions on their star receiver to keep him in line. Some of these restrictions were: no alcohol, no strip clubs and a rotating security team keeping an eye on Bryant at all times.
However, owner Jerry Jones has stated this offseason that Bryant is "evolving with his maturity."
The Cowboys better hope Bryant has his head on straight, because they are going to need his production to be a Super Bowl-caliber team.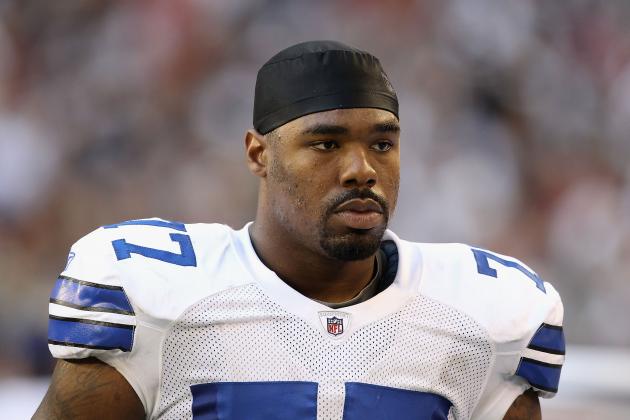 Christian Petersen/Getty Images

Age: 22
2012 Stats (games played/started in parentheses): 3 sacks allowed (via ESPN) (15/15)
Left tackle is always the most important position on the offensive line for a right-handed quarterback like Tony Romo, and the Cowboys have one of the better ones in Tyron Smith. He started his career in 2011 as a right tackle, but he moved to left tackle last season.
Although Smith is a beast of a pass-blocker, he could stand to improve his run-blocking, especially since running the ball is a weakness of the Cowboys.
Another weakness is false starts: Smith ranked second in the NFL with seven false start penalties. Even so, he is still hopeful that he can be a Pro Bowl player this year.
If Smith is a Pro Bowl left tackle next year, quarterback Tony Romo and running back DeMarco Murray will surely be happy.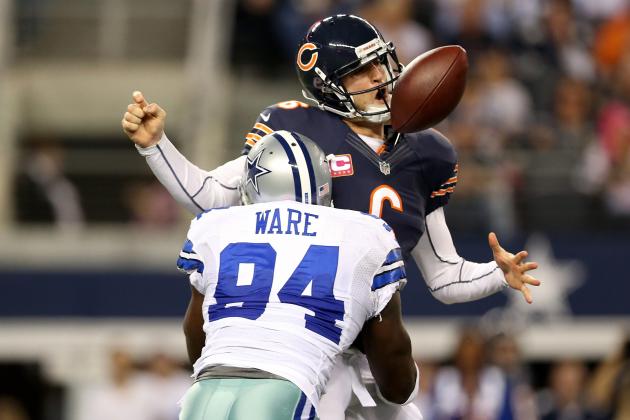 Ronald Martinez/Getty Images

Age: 30
2012 Stats (games played/started in parentheses): 56 total tackles, 11.5 sacks, 5 forced fumbles (16/16)
2012 was a little bit of a down year for Ware, who set a career low in total tackles and had his lowest sack total in three years. His numbers were still very good, but not fantastic as they usually are.
The Cowboys are hoping that switching to Monte Kiffin's 4-3 defense will help Ware create more moments like what is happening in the above picture. Ware will play defensive end, which looks like a good fit. Ware is 6'4" and 254 pounds, which should be enough. Robert Mathis is only 6'2" and 245 pounds, and he made a name for himself as an elite defensive end.
I don't see any reason why Ware won't be a Pro Bowler at his new position.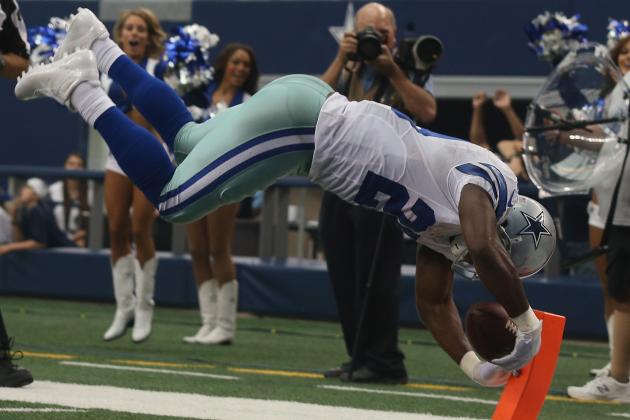 Ronald Martinez/Getty Images

Age: 25
2012 Stats (games played/started in parentheses): 161 carries, 663 rushing yards, 34 receptions, 247 yards, 4 total touchdowns (10/10)
As a runner, DeMarco Murray wasn't quite as electrifying in 2012 as in his 2011 rookie year. His yards per carry average dropped from an outstanding 5.5 to an average 4.1. He wasn't able to come out of nowhere like he did in his rookie year, and a foot injury during the middle of the season may have been part of the reason.
Now, he is dealing with a hamstring injury that is keeping him out of organized team activities. With the loss of backup running back Felix Jones to the rival Eagles, the backup will most likely be rookie 5th-rounder Joseph Randle.
Without the depth of last year, DeMarco Murray's health is paramount this year to the Cowboys' Super Bowl hopes. He needs to stay healthy all season and be a slightly above-average running back.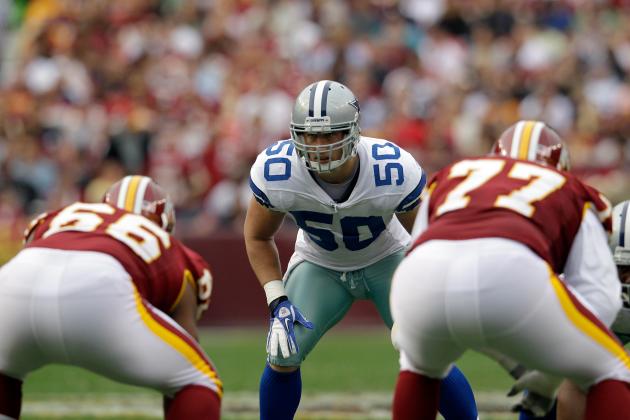 Rob Carr/Getty Images

Age: 26
2012 Stats (games played/started in parentheses): 57 total tackles, 1 forced fumble, 1 interception, 3 pass deflections (6/6)
Matt Miller of B/R ranked Sean Lee as the No. 8 inside linebacker currently playing in his NFL 1,000 rankings. He also said that Lee will benefit from the switch to a 4-3 defense.
But Lee only played six games last year, as a toe injury knocked him out for the season in October. According to Lee last month, however, "The toe is ready to go."
It better be, because he will be taking on a different leadership role for the defense this year. Last year, in the 3-4, he was just an inside linebacker. Now, he is the middle linebacker for the Cowboys. He will be the captain of the defense on the field, so his health will be crucial for the team.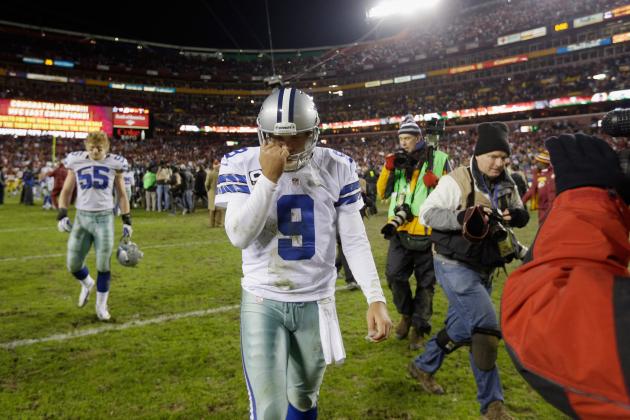 Rob Carr/Getty Images

Age: 33
2012 Stats (games played/started in parentheses): 4,903 passing yards, 28 touchdowns, 19 interceptions, 90.5 quarterback rating (16/16)
A dejected walk off of the football field by Tony Romo is a common sight. The picture above shows Romo's toughest moment last year, a Week 17 loss to the Redskins that cost the Cowboys a playoff spot.
The key with Tony Romo is always consistency. His season stats always look good (a 90+ quarterback rating in seven consecutive seasons), but it is the individual games that kill the Cowboys.
Last year, he had a five-interception game against the Chicago Bears on Monday Night Football in Week 4. Later that month, he threw four picks against the Giants in a five-point home loss. He had his share of great performances, but it was the bad ones that stood out in a season of "what if's."
The quarterback is the most important position on a football team. If Romo can perform at roughly the same solid level for every game next season, the Cowboys won't lose many games. He also won't have to walk off the field in anguish after the final regular-season game again.