Miami Heat's 2013 NBA Playoff Run Through Eyes of Chris Andersen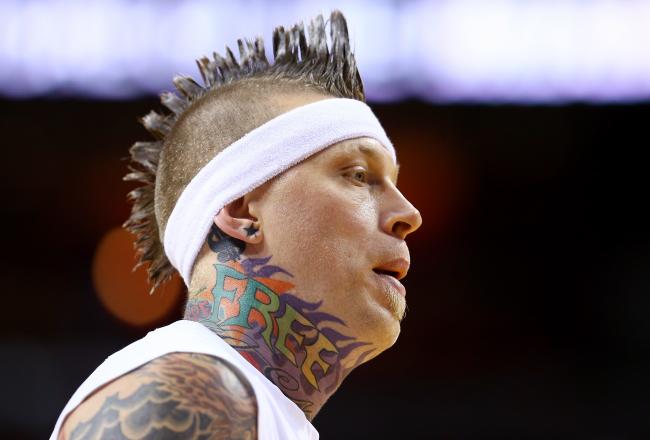 Streeter Lecka/Getty Images
Chris Andersen has been the one role player for the Miami Heat who has constantly been in the public eye throughout the entire playoffs.
There's LeBron James, Chris Bosh, Dwyane Wade and the Birdman, all playing alongside some old dudes and some young point guards with Juwan Howard watching from the sidelines.
It's the combination of Andersen's trademark mohawk, the incandescent effect he has when filling the Heat with energy and the constant inclusion on nearly every dust-up along the way.
Put-back dunks and huge offensive rebounds are offset by technical fouls and needless shouldering and shoving.
Through all the grit, grime and glory that Birdman has won in these playoffs, he's become a mascot of sorts for the Heat. Only instead of dancing on the sidelines and throwing t-shirts to the crowd, he's busy peacocking on the court, and filling in as an extremely important big man for a hopeful championship contender.
Birdman's playoff experience has certainly been different from the rest of the NBA. Seeing the first three playoff series through his eyes tells a completely different story than one of the league's top players.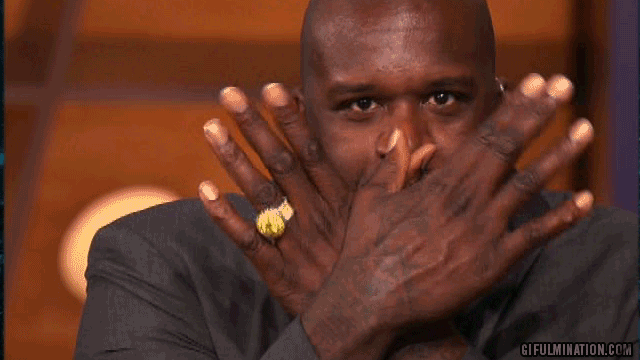 Birdman vs. the Bucks
There wasn't much negativity to point to throughout the series against the Milwaukee Bucks for Andersen.
He was playing against a team that would be lucky to win a single game against his Heat, and there wasn't really enough time for him to build any kind of a grudge against an opponent.
Plus, the most irksome players on Milwaukee happen to be smaller guys. He's not going to go and pick a fight with Brandon Jennings when the Heat are out there winning by 15 points a game.
However, he did burst onto the scene in the first game of the playoffs, giving Kevin Harlan a reason to go completely bonkers in an otherwise dull affair.
Always one to show love to the Birdman, Shaquille O'Neal and the guys always seemed to highlight him following every Heat game.
You've got to talk about something in a series that's little more than a foregone conclusion.
The flamboyant big man averaged 8.3 points during the series, and missed just three shots throughout.
Mr. Andersen vs. Chicago
Chicago was the series in which Andersen really spread his wings. It wasn't that he was particularly dominant in this series, it's just that he made an impact nearly every time he was on the floor, for better or worse.
After the Heat got shown up at home in Game 1, Andersen set the tone with a hip-check to Marco Belinelli early on in the second quarter.
That hard foul would be the precursor to a game that would include nine technical fouls.
A huge block in Game 3 would lead to another altercation as Andersen struggled to get up while laying on top of Nate Robinson.
Joakim Noah strangely thought Andersen was laying on top of Robinson on purpose, so he went over and gave him a swift shove.
The final two games were calm for the Birdman, but he can't go expending all of his energy in the second round of the playoffs, can he.
Before Game 5, we were introduced to Baby Birdman, a Heat fan's nephew that she "tatted up" and mohawked.
@miamiheat @kingjames @sportscenter @sunsportsheat @foxnews Hey guys. Check out my baby nephew looking like #birdman twitter.com/Xiiio_my/statu…

—

Xiomy

Gonzalez (@Xiiio_my) May 15, 2013
That kid's already cooler than I am.
The Bird is out of his cage vs. Indiana
If the Heat were going to dominate in the Eastern Conference Finals like they did in the first two rounds, they would need some help from the Birdman in the post, as that was where Miami's obvious disadvantage was.
Andersen started out the series by asserting his dominance over the de facto Birdman equivalent on the Pacers, giving Tyler Hansbrough a nice stare-down after giving him the business in the post.
It was the best game of the season for Andersen, who scored 16 points in Miami's 103-102 win over the Pacers.
He was so involved in the game that he was dragged up onstage to join the Inside the NBA crew for the post-game show, giving him a chance to do the "Birdman, Birdman" with Shaq.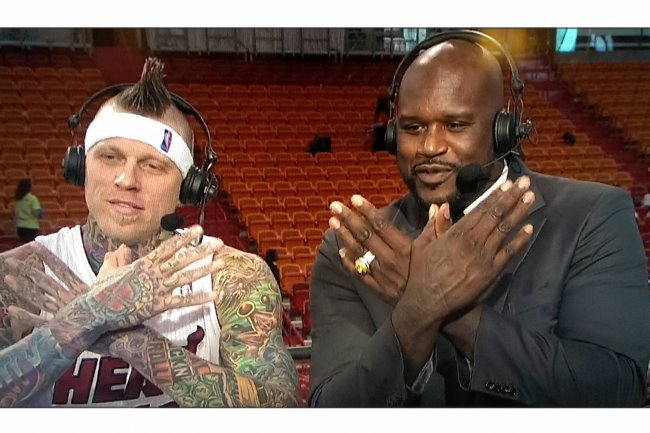 Game 2 wasn't as kind to Andersen, nor the Heat for that matter.
Not only did the Heat lose 97-93, but Paul George dropped a big one in on Andersen as he did his best to save two points.
It didn't work out.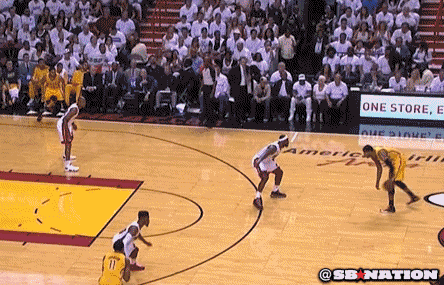 Another nine points and nine rebounds in Game 3 and Andersen had still yet to miss a shot in the series, clocking in at 13-13.
After an up-and-down first three games, it was Game 5 that was Birdman's exhibition in the opposite direction of Game 1.
In other words, it was Andersen-Hansbrough Part II. After blocking his shot, Birdman decided Hansbrough needed a good shove as well, tossing the crazy-eyed big dude to the ground with a shoulder shiver.
The incident led to a flagrant-1 call on Andersen, and eventually his suspension for Game 6, which the Heat would go on to lose.
So here he is, sitting on the precipice of the first NBA Finals of his career, all he needs to do is show up in some way for Game 7.
Which Birdman will we see? Could he be ready to drop in double-digit points again to help out the one-man show that is LeBron James, or will he go back to bruising his opponents?
Either way, it's sure to be exciting.
This article is
What is the duplicate article?
Why is this article offensive?
Where is this article plagiarized from?
Why is this article poorly edited?

Miami Heat: Like this team?