Offseason Power Rankings for Every Player on Tennessee Titans Roster
Andy Lyons/Getty Images
NFL teams don't have to make any final decisions on their 53-man rosters until August 30, but it's never too early to jump ahead when stuck in the doldrums of OTAs.
Pretty much the only positive from OTAs is getting a few clues as to each team's plans with their new personnel, and with the mammoth changes the Titans have made to their roster, intrigue abounds.
With that said, it's time to take a long, hard look at the current Tennessee Titans roster and decide who will make the team and what their significance will be in the upcoming season.
Here's the top 53 players on the Titans roster...
53-46: Brinkley, Johnson, Wooten, Johnson, Parmele, Bailey, Klug, Kern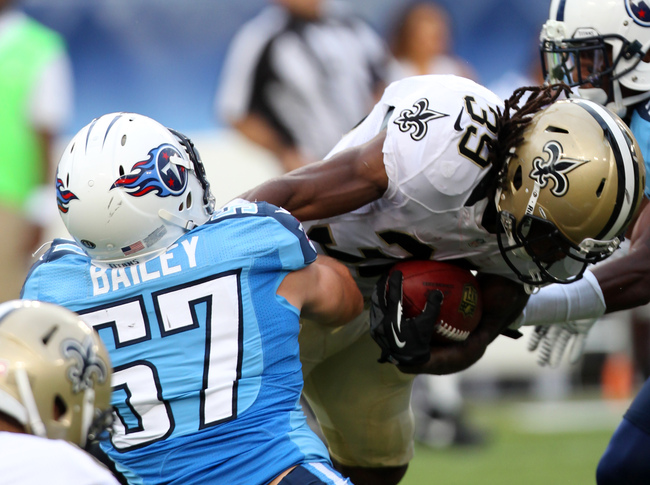 Joe Murphy/Getty Images
No. 53 Beau Brinkley, LS/TE
Brinkley is listed as a tight end, but he'll never take a snap lined up at the end of the offensive line. In his first year as the Titans long snapper, Brinkley proved capable of handling his duties. He stands to remain with the team for the long haul.
No. 52 Quinn Johnson, FB
According to Pro Football Focus (subscription required), Johnson was on the field for a grand total of 257 offensive snaps last season. Averaged throughout the season, Johnson was on the field for just about 16 snaps a game. While most teams have let the position of fullback go extinct, the Titans have held on to it. Expect Quinn to make the roster for one more year after signing a new contract.
No. 51 Khalid Wooten, CB
The Titans defensive back corps has grown awfully crowded over the past couple years in the team's quest to get younger across the board on defense. The new emphasis on press and man coverage skills has added to the team's needs as well. Wooten slides in to provide depth at the position.
No. 50 Robert Johnson, S
Defensive coordinator Jerry Gray played with the idea of starting Johnson last season while moving Griffin to strong safety, but the idea failed miserably. However, Johnson did prove to be a capable backup and should make the team in 2013.
No. 49 Jalen Parmele, RB
Parmele gave the Titans fits during his short time as starter for the rival Jacksonville Jaguars last season. He has a more bruising running style, similar to that of fellow free agent pickup Shonn Greene, and also has experience as a special teams player.
No. 48 Patrick Bailey, LB
While Bailey performed admirably in Collin McCarthy's stead last season, there's too great of a gap in the level of play between the two. The Titans signed Moise Fokou to help remedy the situation and need to relegate Bailey back to what he excels at...special teams coverage.
No. 47 Karl Klug, DE/DT
Klug is a man in transition position-wise. With all the bulking up of the Titans defensive line, Klug will likely see time at defensive end to remain on the roster. Klug proved to be adept at getting to the quarterback in his rookie season, but his slight frame was not suited for run-stopping. The Titans hope his size at end will fit the scheme for both rushing the quarterback and stuffing the run.
No. 46 Brett Kern, P
Kern has proven himself to be one of the league's best punters over the past few seasons. The Titans would like to use him a lot less than the 80-plus punts he's had each of the last two seasons.
45-41: Campbell, Thompson, Stingily, Gooden, Edwards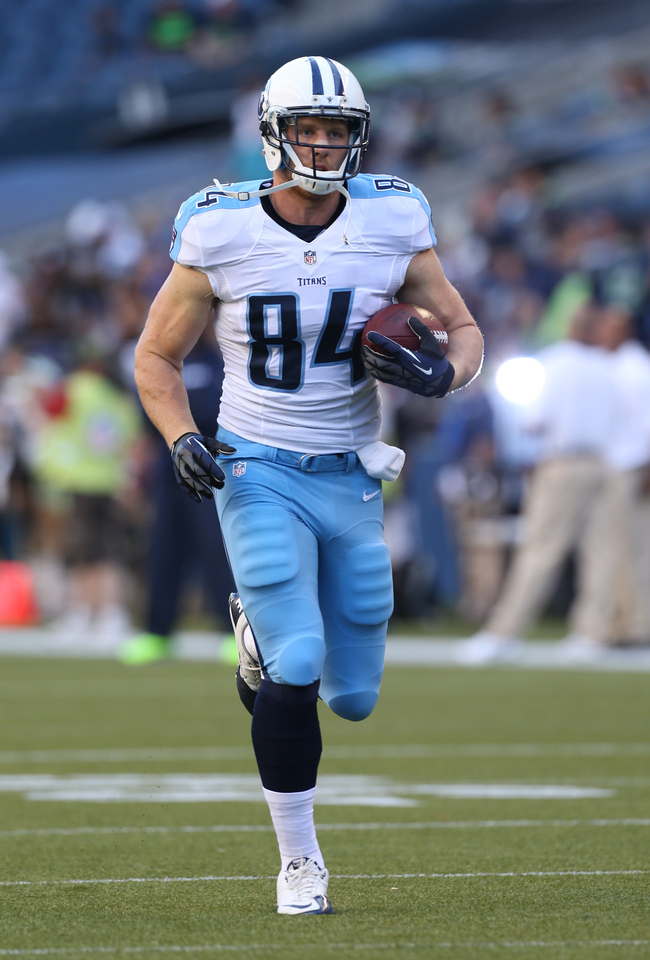 Otto Greule Jr/Getty Images
No. 45 Tommie Campbell, DB
After failing to take advantage of an opportunity for more playing time last year, Campbell's chances are reinvigorated with the transition to a more press coverage-heavy defensive scheme. Campbell's size and speed combination give him one more chance.
No. 44 Taylor Thompson, TE
The Titans knew it would take some time for Thompson to develop into the versatile tight end they expect him to become. In his first season with the team, Thompson proved to be a quality run-blocker. His blocking skills should help him get on the field more often in his second year to develop his route-running and pass-catching skills.
No. 43 Byron Stingily, OT
The Titans only have so many spots available on the roster and can only delegate a few spots to each position group. Mike Otto has had his time as the team's swing tackle. As Otto closes in on turning 30, Stingily provides the younger body for offensive line depth.
No. 42 Zaviar Gooden, LB
In Gooden, the Titans have found the closest thing they could get to another Zach Brown, and ultimately, what you're looking for in reserve talent is someone to replicate the starter.
No. 41 Lavar Edwards, DE
Edwards fell victim to having some elite talent ahead of him on the depth chart while playing for the LSU Tigers, but there's no shame in that. The Titans plan to use him as a swing end, much like how he was used in college, and he should help with the depth issues the team had in 2012.
40-36: Williams, Shaw, Reynaud, Turner, Walter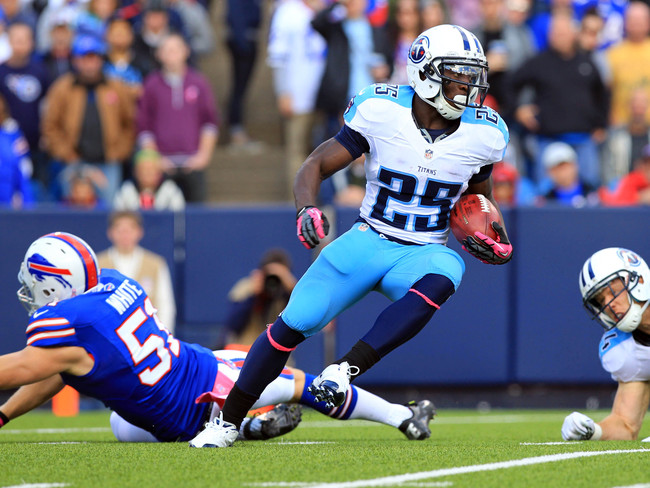 Kevin Hoffman-USA TODAY Sports
No. 40 Damian Williams, WR
Williams provides some quality depth in the team's receiving corps but is incapable of making any big plays. Despite his flaws, Williams has strong hands and runs solid routes. Entering the final year of his contract, this will likely be his final season in Tennessee.
No. 39 Tim Shaw, LB
Shaw, like Bailey, excels in special teams coverage. Shaw was serviceable when he needed to play linebacker in 2012, but the team would be best served keeping him on the sidelines on defensive snaps.
No. 38 Darius Reynaud, RB
Reynaud was one of the league's top returners in 2012, averaging 13.2 yards on punts and 23.4 yards on kicks. He will have to improve his quality at running back to make the active roster on a weekly basis.
No. 37 Robert Turner, OG
Turner spent time starting at both center and guard for the St. Louis Rams last season. He was brought in originally to compete for a starting guard spot, but that spot has now been taken by 10th overall draft pick Chance Warmack. Turner's versatility gives him an edge over the competition to make the roster.
No. 36 Kevin Walter, WR
Walter was brought in to help fill slot receiver duties for the Titans, along with providing some leadership at the position. The receiving corps has become very young over the last few drafts, with early picks being invested at the position in 2009, 2012 and 2013.
35-31: Sensabaugh, Hunter, Fokou, Fitzpatrick, Johnson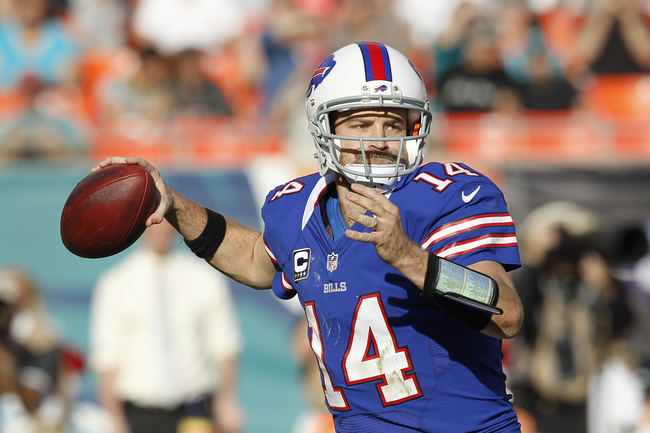 Joel Auerbach/Getty Images
No. 35 Coty Sensabaugh, CB
Sensabaugh continued the tradition of early success by Titans defensive back picks by winning the team's nickel duties. He faces much stronger competition in his second season but should have no problem making the final roster.
No. 34 Justin Hunter, WR
The selection of Hunter was a shock to many, but it serves notice to Kenny Britt that unless he proves capable in his contract year, his replacement is now on the roster.
No. 33 Moise Fokou, LB
The drop-off in production when Collin McCarthy was hurt last season was extremely noticeable and played a major role in the defense's ineptitude. Fokou provides better assurances as a reserve capable of playing all three linebacker positions.
No. 32 Ryan Fitzpatrick, QB
Fitzpatrick comes to Tennessee after losing his starting gig in Buffalo. While he is a bit interception prone, head coach Mike Munchak will not hesitate to insert him into the starting lineup over Jake Locker. With Munchak's job on the line, Locker will likely have a shorter leash.
No. 31 Antonio Johnson, DT
Johnson comes in as a late addition to the roster and provides an immediate upgrade to the team's depth at tackle. The continued quest for more size along the defensive line is served once again with the pick. The Titans will have a quality rotation at tackle in 2013.
30-26: Bironas, Stevens, Schewnke, Wilson, Pitoitua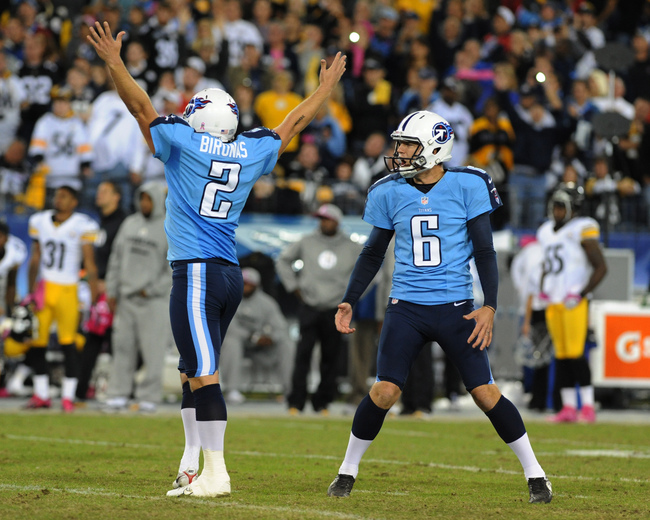 Al Messerschmidt/Getty Images
No. 30 Rob Bironas, K
Bironas had one of the worst seasons of his career in 2012, hitting just 80.6 percent of his attempts. However, he made more than 90 percent of his field goals in the two previous seasons. The Titans are banking on him returning to form.
No. 29 Craig Stevens, TE
Stevens is always lauded for his blocking abilities, but over the past couple of seasons, he has carved out a little niche in the receiving game when called on to fill in for Jared Cook.
No. 28 Brian Schwenke, C
The Titans had Schwenke ranked as the best center in the draft, but whether he's better than Fernando Velasco is yet to be proven. The two will have a tough battle for starting duties, but with just one season under his belt as a center, Schwenke could use a bit more development.
No. 27 George Wilson, S
The Titans knew one of the team's biggest issues on defense was the lack of quality play at safety. The signing of Wilson was only the first step for plugging the hole at the position, but it will finally allow DC Jerry Gray to run his "Ruby" package defense.
No. 26 Ropati Pitoitua, DE
At 6'8", 315 lbs, Pitoitua provides the size and scheme versatility they desire. Wimbley was an atrocious at stopping the run last season, so the addition of Pitoitua should help improve the team's run defense in obvious running situations.
25-21: Wreh-Wilson, Hill, Velasco, Wimbley, Ayers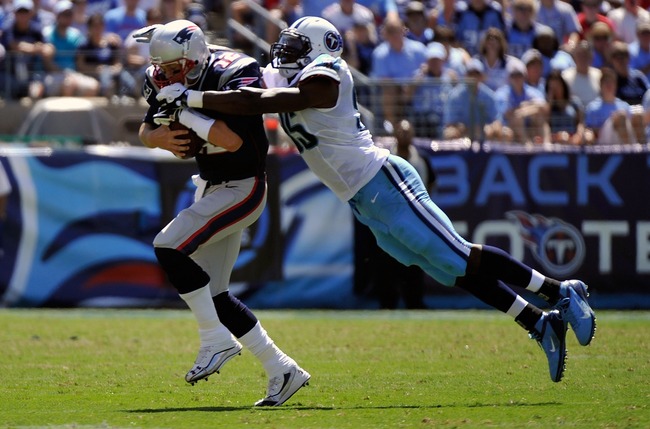 Frederick Breedon/Getty Images
No. 25 Blidi Wreh-Wilson, CB
Wreh-Wilson was drafted to take over the team's No. 2 cornerback duties. At 6'2", he offers the size that Campbell has, plus the experience to play corner right away.
No. 24 Sammie Lee Hill, DT
Hill started as a rookie in 2009, posting 26 tackles in 13 games, but was pushed into the background when the Lions drafted defensive tackles Ndamukong Suh and Nick Fairley in the first rounds of the 2010 and 2011 drafts, respectively. The Titans are banking on his size, youth and experience to be a steal for them in 2013.
No. 23 Fernando Velasco, C
After finally working his way into the starting lineup, Velasco finished as the 11th-best center in the league. He was the lone bright spot in an otherwise porous offensive line interior. The Titans need him to prove it wasn't a fluke and show Schwenke the ropes.
No. 22 Kamerion Wimbley, DE
In his first year with the Titans, Wimbley failed to meet the team's expectations. Improved depth at the position should allow him to come off the field a bit more often after having played more than 900 snaps. With fresher legs, Wimbley could improve to a double-digit sack player.
No. 21 Akeem Ayers, LB
Ayers racked up five of his six sacks during the last half of the season, when the team started ratcheting up the number of times he rushed the passer. With a full season of blitzing from Ayers, his sack number could see a jump.
No. 20: Shonn Greene, RB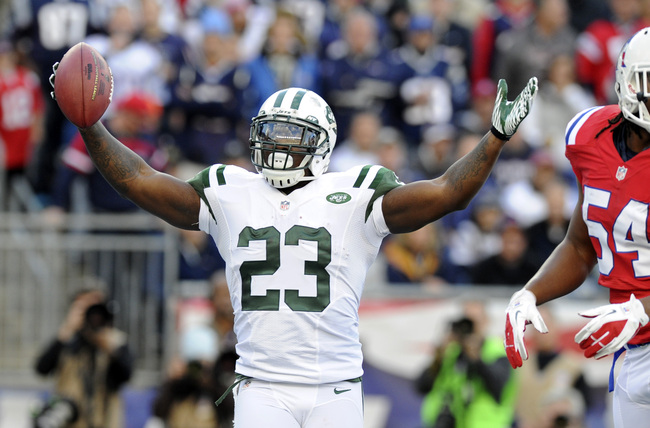 Bob DeChiara-USA TODAY Sports
The addition of Shonn Greene signals a transition back to a more run-heavy approach on offense. For whatever reason, people talk about Greene like he's an absolute scrub.
He's rushed for more than 1,000 yards each of the past two seasons on a team that has Mark Sanchez playing quarterback. According to the National Football Post, the Titans intend to use Greene the same way LenDale White was used back in 2009.
White had 200 carries for 773 yards and 15 TDs that year. He might not end up being the touchdown vulture that White was with the superior receiving corps the team has now, but the contrasting running styles should do wonders for the offense.
No. 19: Mike Martin, DT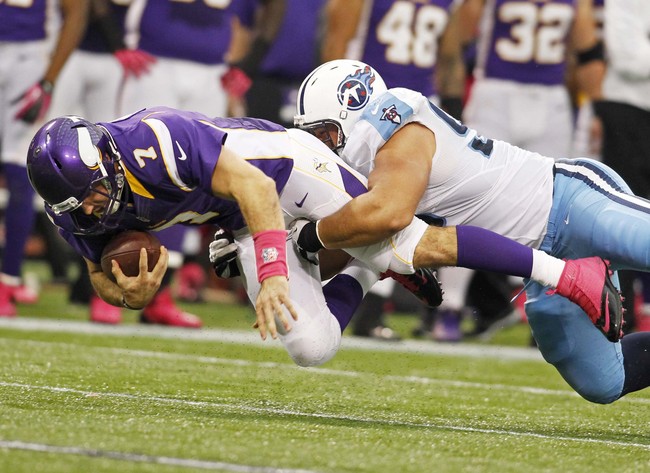 Bruce Kluckhohn-USA TODAY Sports
Mike Martin proved to be a valuable part of the defensive tackle rotation in his rookie season, finishing ninth at the position in PFFs overall grade (subscription required).
Martin will battle with Hill for the starting position next to Casey, but Martin is the more proven talent at this stage, while Hill offers more upside.
No. 18: Michael Griffin, S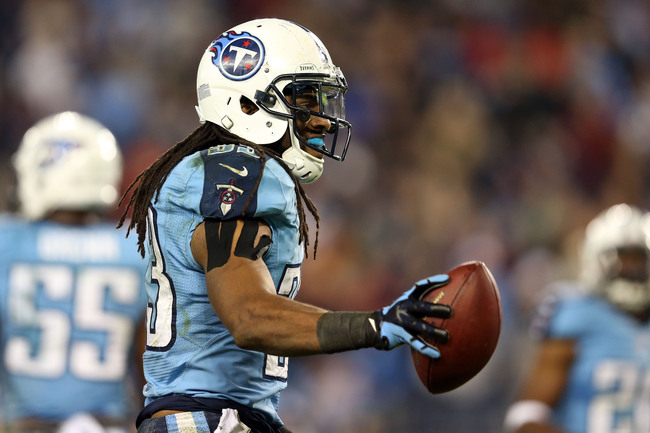 Andy Lyons/Getty Images
The Titans signed Griffin to a five-year contract after he showed a return to Pro Bowl form in 2011. But Griffin's play fell off a cliff after being forced to play strong safety for much of the year.
The team hopes the signings of Bernard Pollard and George Wilson will provide the same stabilizing presence that Chris Hope was to allow Griffin to do what he does best.
Griffin is best playing center field and reading coverages, not playing a more physical brand of football.
No. 17: Kenny Britt, WR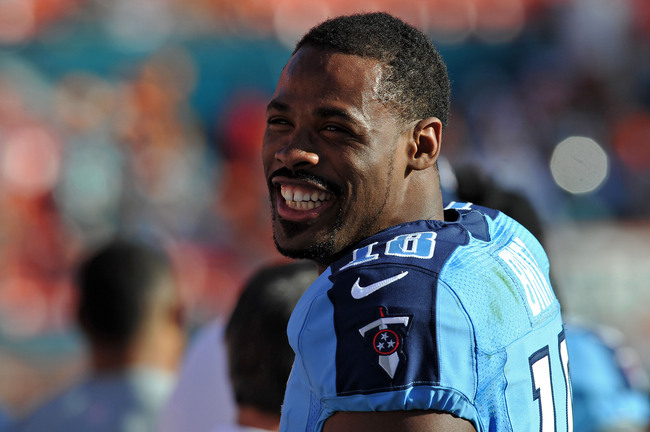 Steve Mitchell-USA TODAY Sports
Kenny Britt has the talent to be in the same conversation as the A.J. Greens and Julio Joneses of the world if he can stay healthy and stay out of trouble off the field.
Teammates have been impressed with his recovery so far, but with 2013 being the final year of his contract, the Titans brass needs to be impressed with him on game days.
A healthy Britt could take the Titans offense from average to elite.
No. 16: Zach Brown, LB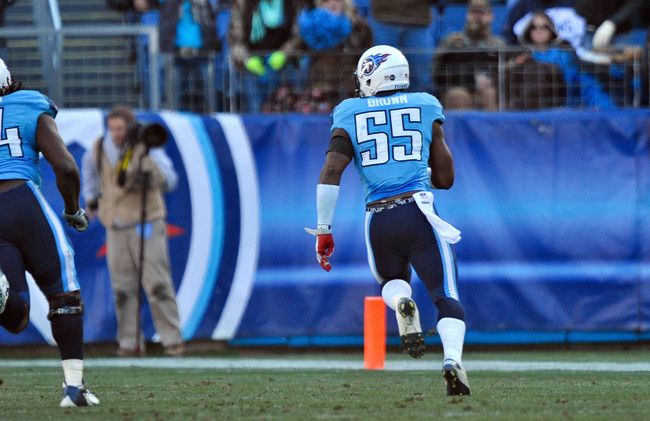 USA TODAY Sports
Titans LB Zach Brown finished up an impressive rookie campaign with 93 tackles, 5.5 sacks, three INTs, two fumble recoveries, one forced fumble and two TDs.
The Titans' added size on the defensive line could free up Brown more often on blitzes in his sophomore year. The team will need both him and Ayers to take a step forward in their development to meet the desired strides of the team.
No. 15: Delanie Walker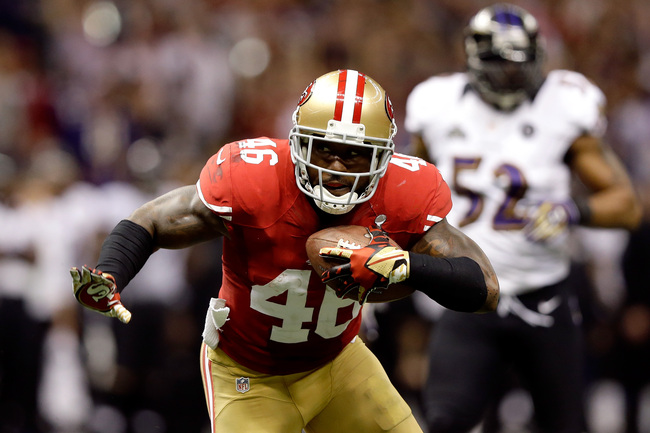 Ezra Shaw/Getty Images
After the price tag for the underutilized or underachieving Jared Cook skyrocketed, the Titans acted quickly to find his replacement. Delanie Walker was swooped up as a high-quality backup plan.
Walker went largely unnoticed in his time with the San Francisco 49ers, playing second fiddle to Vernon Davis. Walker's versatility and superior blocking better suit what the Titans want in a tight end.
No. 14: Kendall Wright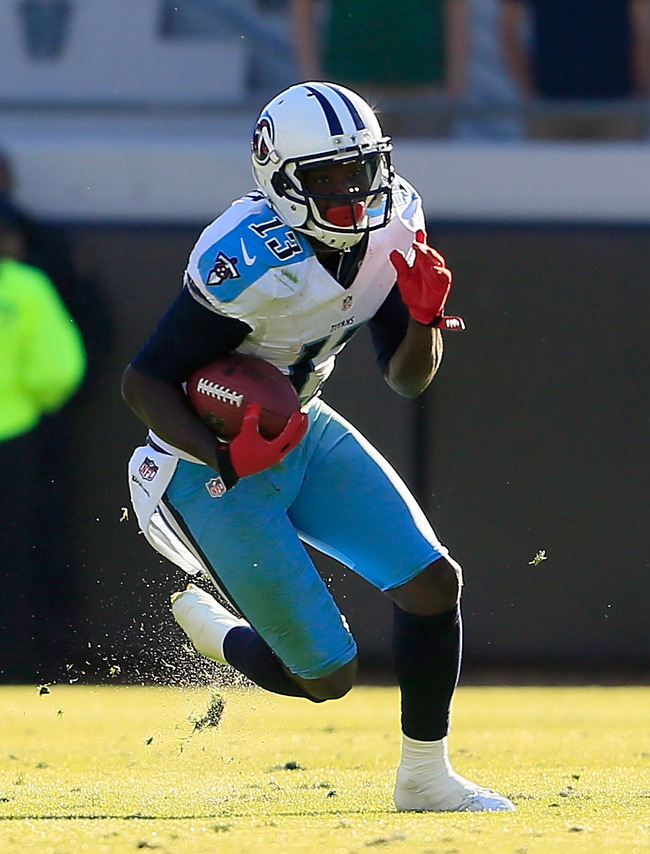 Sam Greenwood/Getty Images
Wright showed a lot of promise in his rookie season, leading the team in receptions and coming in second for yards receiving. However, his 9.8 yards-per-reception average left much to be desired.
With the offseason additions the Titans made at the position, Wright should get a few more snaps in the slot where his skill set is better suited.
No. 13: Colin McCarthy, LB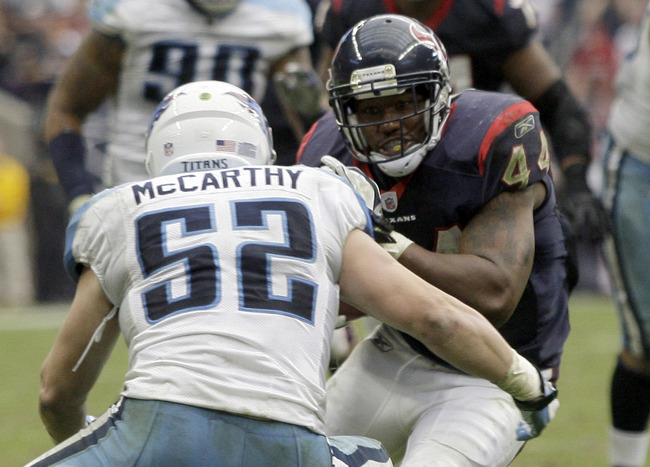 Thomas B. Shea/Getty Images
McCarthy struggled through an injury-plagued sophomore season after a promising preseason and rookie campaign where he excelled at making splash plays.
When McCarthy is in the lineup, there is a noticeable difference to how the Titans defense plays, and having difference-making talent on the roster is something every team strives to find.
There are no guarantees that McCarthy finds the same form he showed before, but there's no reason he shouldn't, either.
No. 12: Jake Locker, QB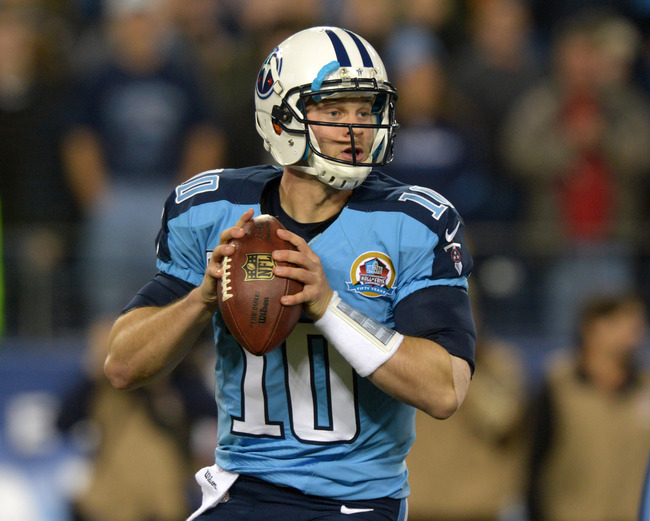 USA TODAY Sports
The success of the 2013 season rests on the surgically repaired shoulders of Jake Locker. The team cannot afford to have him regress the way he did in his first year as a starter.
Before suffering his shoulder injury, Locker was undoubtedly the best player on the field most games. The Titans and Coach Munchak need that to be the case again.
No. 11: Bernard Pollard, S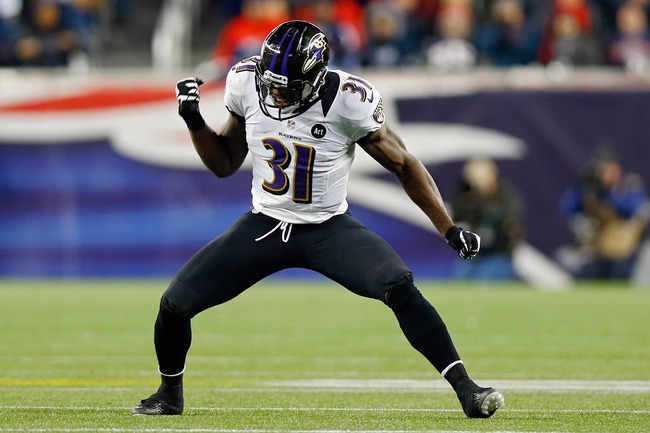 Jared Wickerham/Getty Images
It's been quite some time since the Titans have had a vocal leader on either side of the ball. Now they can at least say they have one on the defensive side of the ball in the form of the hard-hitting Bernard Pollard.
Since his signing, Pollard has been very adamant about the type of defense he would like to see the Titans become (per ESPN.com):
If a guy coming across the middle, if a guy come up to you, if a guy wants to pick a fight, we as a defense we're going to fight and we're going to ask questions later. We're not going to worry about what happened at that point. I'm not worried. The guy has an opposite jersey on so we're going to fight him.
No. 10: Nate Washington, WR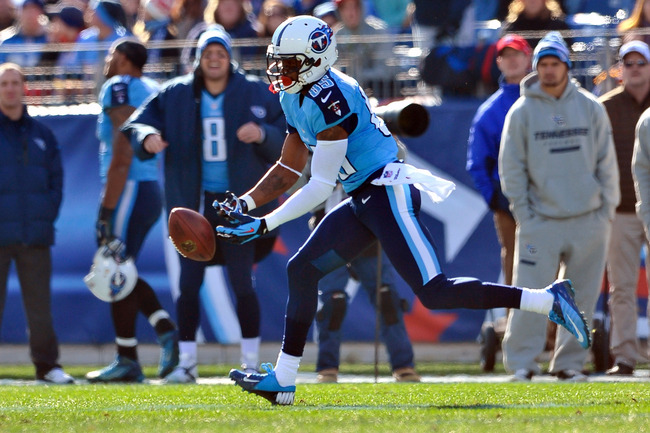 USA TODAY Sports
Washington may not be an elite receiver, but he's been the most consistent and reliable receiver the Titans have on the roster almost since the moment he got here.
Rumors flew that he was on the way out, but GM Ruston Webster has cleared all that up, according to Titans beat writer Terry McCormick.
The deck is stacked against him remaining on the roster past this season, but he'll have every opportunity to be a key contributor for one more year.
No. 9: Alterraun Verner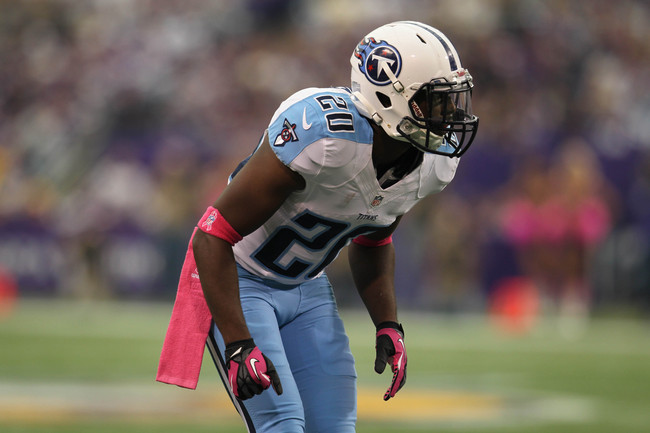 Brace Hemmelgarn-USA TODAY Sports
Alterraun Verner has been a quality corner for the Titans since being drafted, but the team has been trying to find a corner capable of replacing him on the outside so he could play nickel.
There will be competition between Wreh-Wilson, Campbell and Sensabaugh for the right to pick up more snaps. If one of the latter corner proves capable of stepping up to the challenge, the Titans nickel defense should be much better than the Swiss cheese it was last season.
No. 8: Chance Warmack, G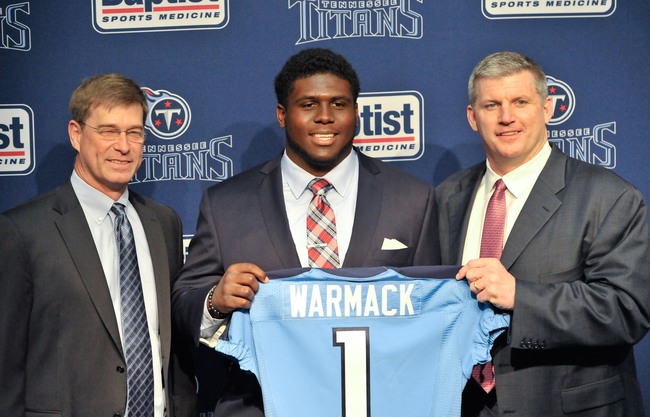 Jim Brown-USA TODAY Sports
The selection of Warmack in the 2013 NFL draft was the final piece to the Titans' revamped defensive line. There was a clear-cut emphasis on not just improving the interior of the unit but making it an area of strength.
Warmack's elite strength and ability to open up running lanes will prove invaluable to the team's run-heavy approach on offense.
No. 7: David Stewart, OT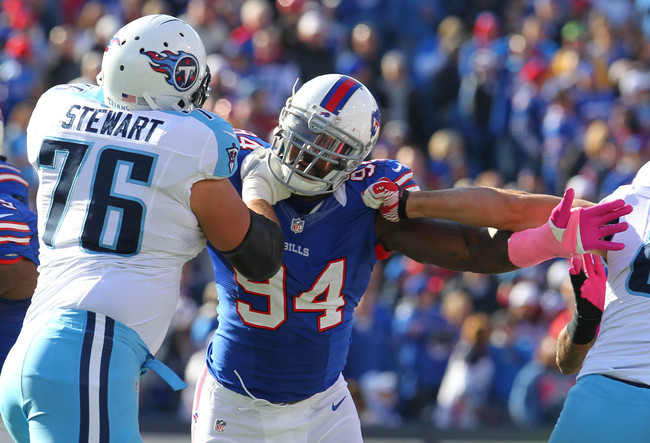 Timothy T. Ludwig-USA TODAY Sports
Stewart has been a standout offensive tackle for the Titans for eight years. A broken leg suffered toward the end of the year has left him questionable for the time being, but he's sure to be manning the right side of the offensive line for another year.
No. 6: Chris Johnson, RB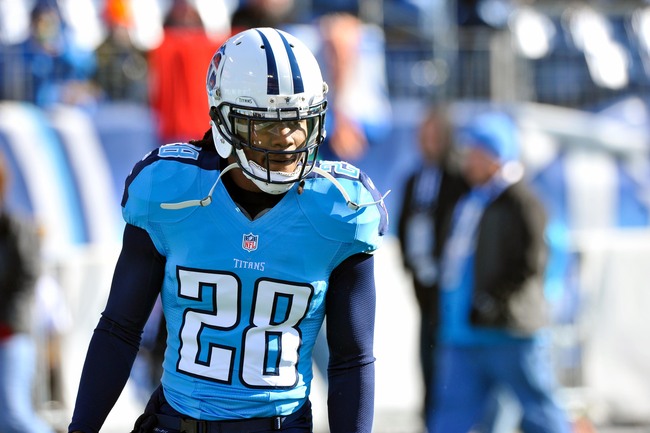 USA TODAY Sports
Even with the signing of Shonn Greene, the Titans' new emphasis on running the ball along with a revamped offensive line bodes well for CJ2K in 2013.
While Johnson may not like losing carries, he'll have fresher legs throughout the game and won't have to deal with the more taxing short-yardage carries that he had struggled with in the past.
No. 5: Andy Levitre, G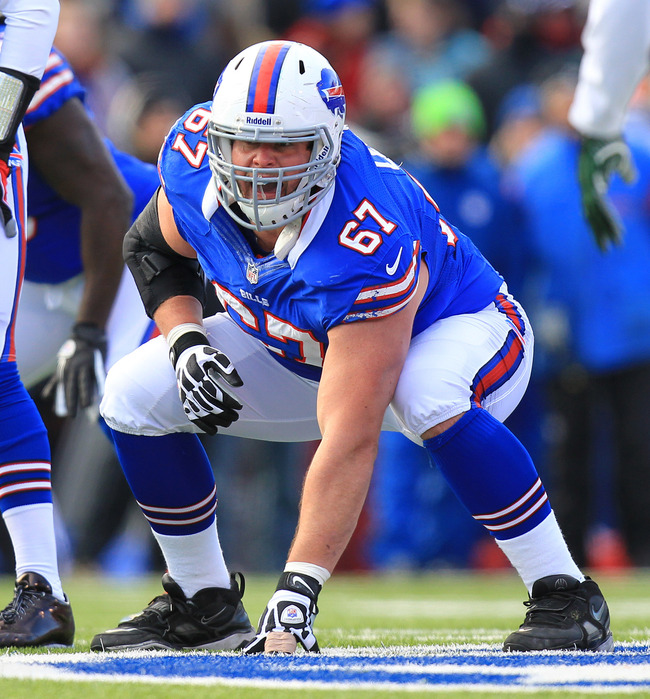 USA TODAY Sports
Levitre has been one of the league's best over the last two seasons and is now being counted on to do it in a new city. Levitre headlines a class of 23 offseason additions for the Titans and will be a mainstay on the Titans offensive line for years to come.
No. 4: Derrick Morgan, DE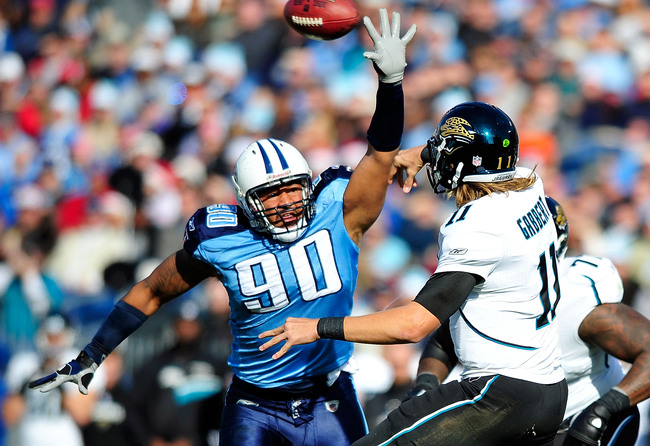 Grant Halverson/Getty Images
Morgan is coming off a strong 2012 where he registered 6.5 sacks and graded out as the No. 4 4-3 defensive end in Pro Football Focus' ratings (subscription required). The No. 16 pick of the 2010 draft, Morgan was limited to four games as a rookie by a torn ACL, but he has missed just one contest over the past two seasons.
With more depth on the roster and added bulk at tackle, Morgan should be able to continue where he left off last season and show why he was selected in the first round.
No. 3: Jason McCourty, CB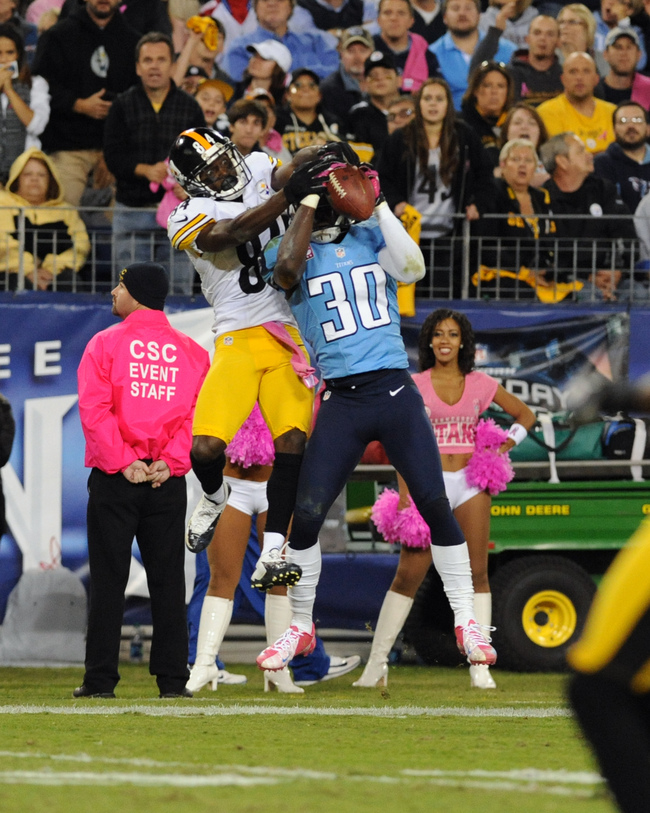 Al Messerschmidt/Getty Images
Jason McCourty has been a top-10 corner each of the last two seasons by Pro Football Focus' ratings (subscription required). The defense stands to become more aggressive with Gregg Williams being brought in to help improve the defense.
Press coverage will become the norm in 2013. Luckily, McCourty has the size and strength to still perform well in the scheme.
No. 2: Jurrell Casey, DT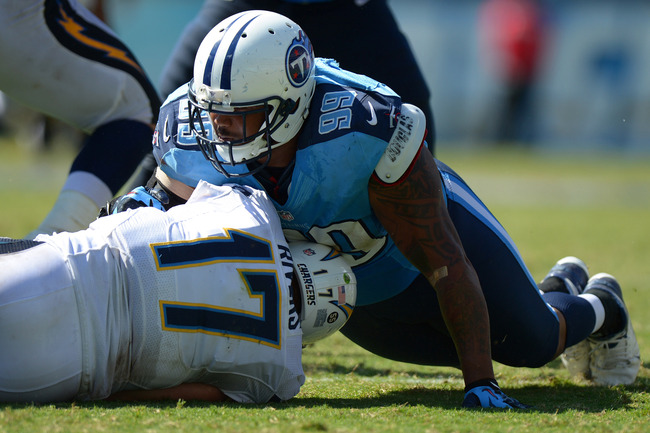 Jake Roth-USA TODAY Sports
Casey flies under the radar because he doesn't produce sacks, but he is in great company when it comes to stopping the run. Casey finished ranked 15th among defensive tackles and seventh in overall ratings at PFF (subscription required) and should improve with all the added depth along the defensive line.
Casey's two-year career numbers have beaten the stat sheets of Haloti Ngata, Justin Smith and Geno Atkins. The continued development of Morgan will only help the two wreak havoc on opposing offensive lines in 2013.
No. 1: Michael Roos, OT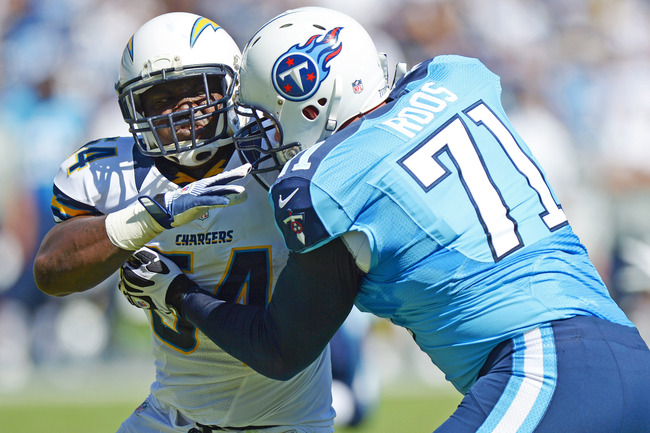 Jake Roth-USA TODAY Sports
Roos quietly had one of the best years of his career, but he was overshadowed due to the inadequacies of the interior of the unit. Now that the Titans have significantly improved the O-line and reverted back to running the ball, expect to hear Roos' play being lauded with the best.
Keep Reading

Tennessee Titans: Like this team?