Offseason Power Rankings for Every Player on the Washington Redskins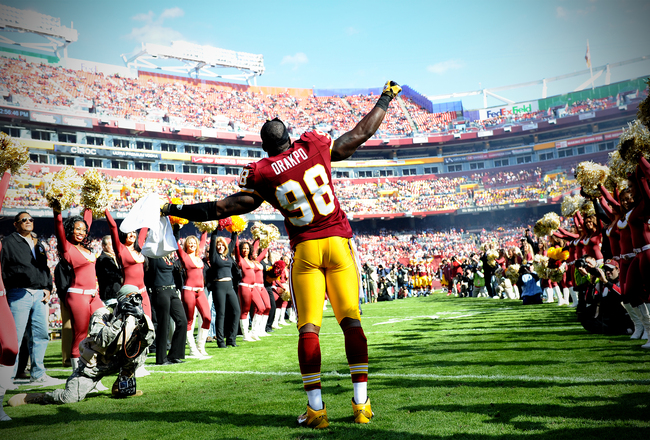 Is Brian Orakpo the best player in Washington?
Patrick Smith/Getty Images
The Washington Redskins have slowly but surely been gaining more and more talent on their roster through both the draft and free agency.
They have finally found the face of their franchise in Robert Griffin III and have one of the best veteran linebackers in the NFL in London Fletcher. When it comes to ranking their 53 best players, it gets a little tough toward the top; both the offense and defense have a good handful of playmakers.
At this point in time there are more than 53 players on the roster, but this list is only comprised of the 53 best players with at least one year experience; so that excludes Washington's newest draftees.
So, without further ado...
53-46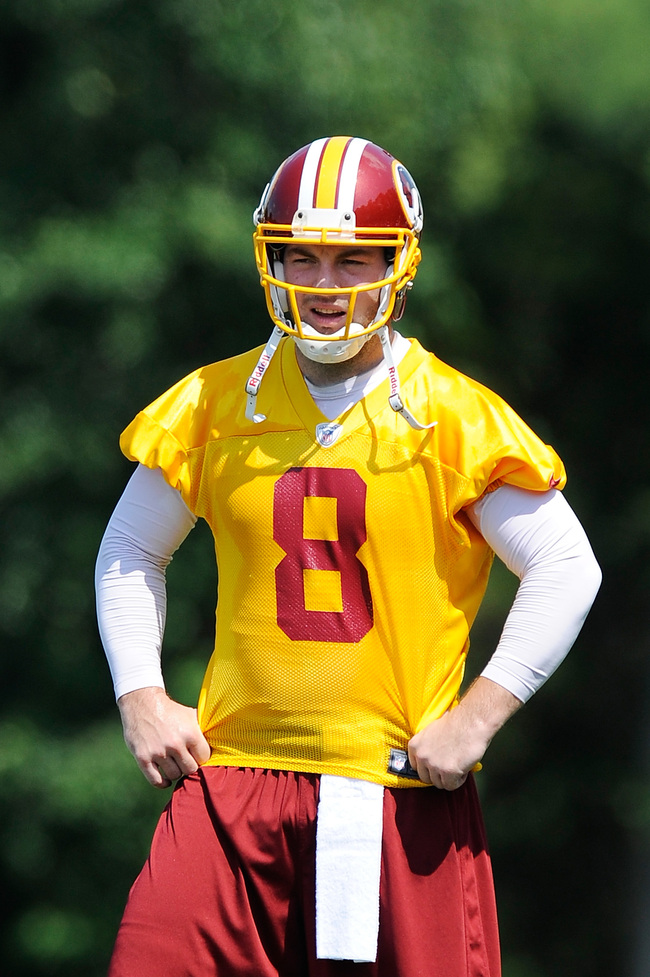 Not-so-sexy-Rexy.
Patrick McDermott/Getty Images
Pat White, Doug Worthington, Jerome Murphy, Jordan Pugh, Dezmon Briscoe, Sav Rocca, Chris Neild, Rex Grossman
Throughout the first half of the Redskins' roster, there is much talent.
However, there is a pretty significant drop-off once you head toward the end of the roster.
Pat White and Rex Grossman are pretty mediocre guys, as with Jerome Murphy.
Contrarily, Chris Neild and Dezmon Briscoe are guys that just haven't had that many quality chances–yet. These two guys will likely see bigger roles in 2013, but they remain unproven for now.
44-38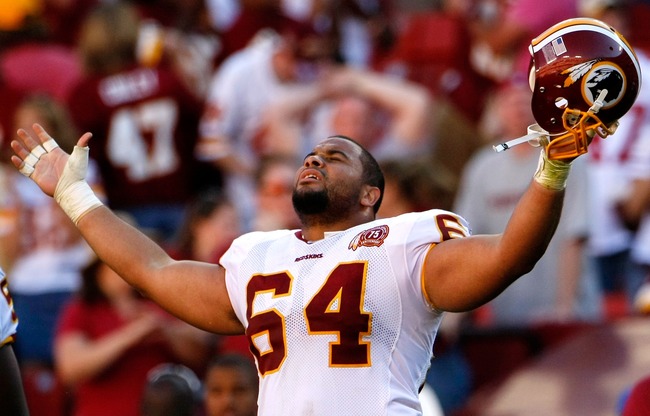 "I ate the bones!"
Win McNamee/Getty Images
Doug Worthington, Keenan Robinson, Eric Kettani, Jeremy Trueblood, Josh LeRibeus, Kedric Golston
The next tier of guys is where we start to see some of the talent level pick up. Kettani is a reliable backup to Darrel Young, and Keenan Robinson will do better with another season under his belt.
Jeremy Trueblood is a pretty solid veteran, although he isn't that great of a starting right tackle. Tyler Polumbus and Will Montgomery were dependable at times last year, but neither are really quality guys.
Worthington didn't get much playing time whatsoever last season, but he should see a little more time this coming season. As for Kedric Golston and Josh Leribeus, they were pretty good.
Neither will blow you away, but they filled the roles they needed to fill.
35-29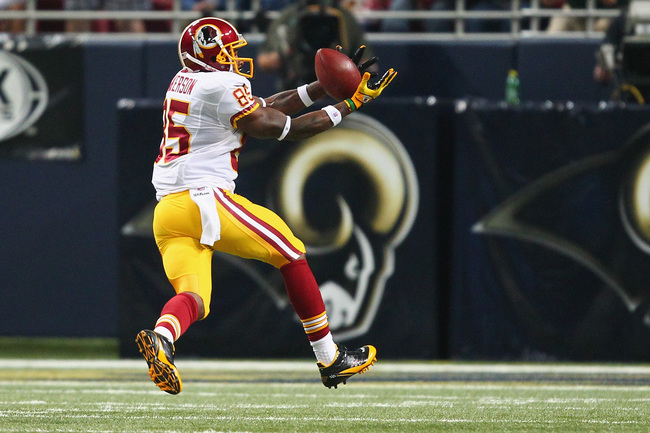 Hankerson will need to prove his consistency if he wants a shot at starting.
Dilip Vishwanat/Getty Images
Will Montgomery, Darryl Tapp, Roddrick Muckelroy, Phillip Merling, Rob Jackson, Niles Paul, Roy Helu, Leonard Hankerson
Ah, the meat of the roster. This is where you will find a lot of guys still trying to prove themselves—players like Roy Helu.
Helu is someone I find especially interesting. If it weren't for an untimely injury, he would've never been demoted, and we may have never seen Alfred Morris tear up countless NFL defenses.
Leonard Hankerson is another guy I find interesting. He was drafted as the likely replacement to Santana Moss, but hasn't been consistent enough for Washington to be comfortable with him as the starter.
If he has a strong camp and a good preseason, he could push Moss and Josh Morgan for their respective spots.
26-21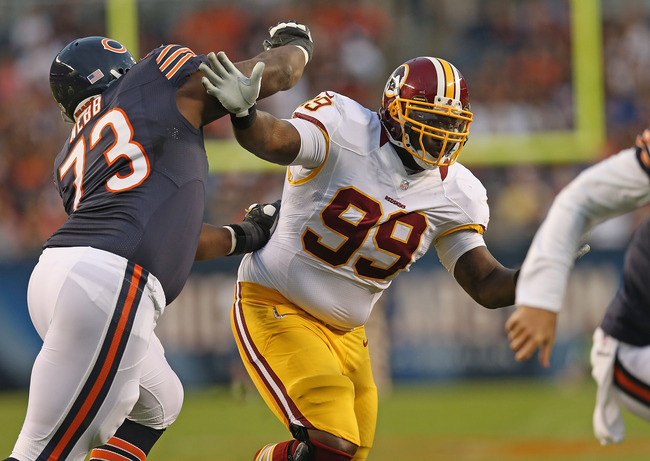 Jarvis Jenkins is a great young player with tons of potential.
Jonathan Daniel/Getty Images
Kory Lichtensteiger, Brandon Jenkins, Logan Paulsen, Aldrick Robinson, Evan Royster, Richard Crawford
This is where not only the talent level rises, but the potential.
The rankings for Evan Royster and Richard Crawford may seem a little high, but their potential is part of what pushed them higher.
Crawford will see an increased team role on defense and special teams, and Royster played pretty well as a chance-of-pace back to Morris last season.
Logan Paulsen was dependable down the stretch when Fred Davis was injured, as did Aldrick Robinson when Pierre Garçon was injured.
20. Stephen Bowen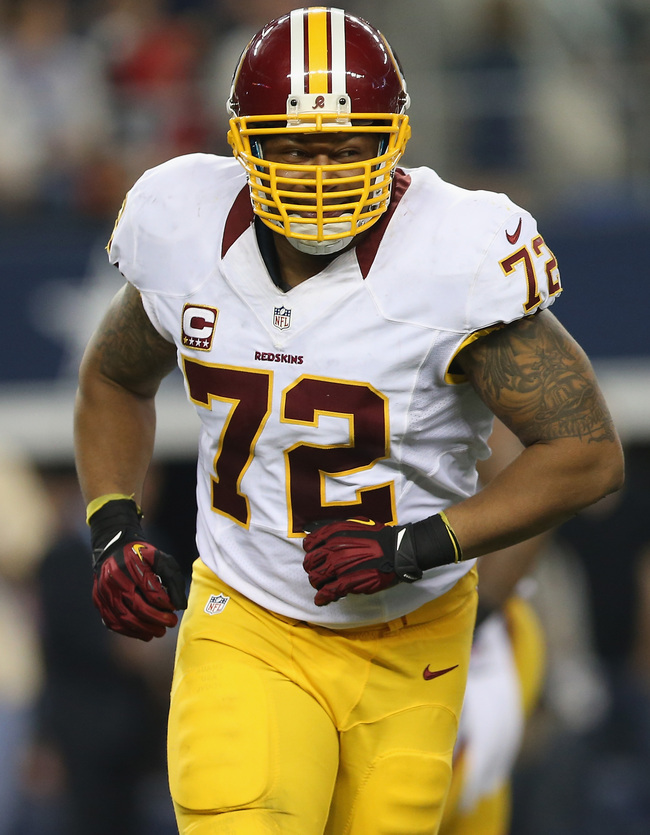 Bowen has turned out to be a great free-agent signing.
Ronald Martinez/Getty Images
Stephen Bowen began his NFL career with the division rival Dallas Cowboys, but has now become an important piece of the Redskins defense.
He isn't the best player on Washington's defense, but his solid play against the run and ability to rush the passer make him an integral part of its front seven.
19. Chris Chester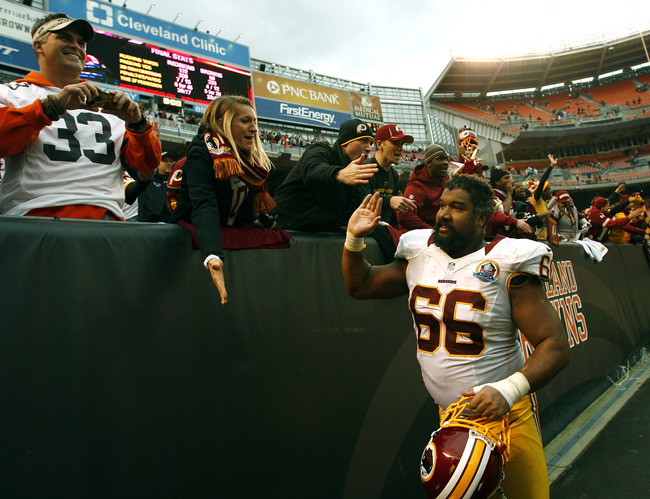 Chris Chester was an important part of Washington's O-line.
Matt Sullivan/Getty Images
The former Baltimore Raven is certainly turning out to be just as good for Washington. His veteran presence was a great asset last season and was a big part of why the team did so well on the ground.
Chester locked down the guard position for the Redskins in 2012 and played a large role in the success of both RG3 and Alfred Morris on the ground.
18. Darrel Young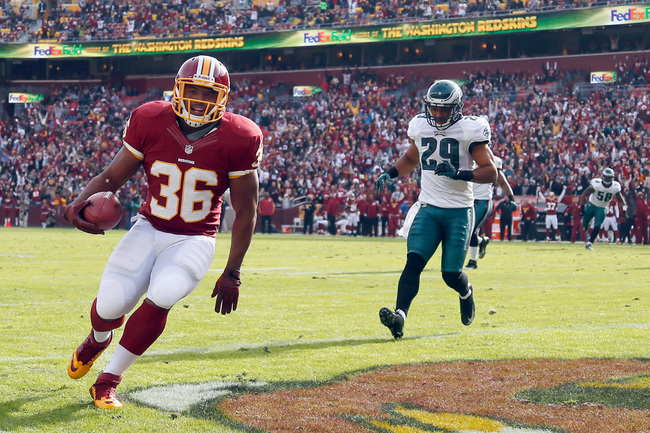 Young was a great asset in Washington's running game last year.
Rob Carr/Getty Images
While fullbacks don't get a whole lot of love, Darrel Young deserves more credit than he gets.
There were some doubters when he replaced Mike Sellers (including myself), but he has come in and showed why the Redskins were comfortable with letting No. 45 go.
He was just as big a part of the Redskins' rushing success as any of the offensive linemen. Young was satisfactory when given the ball on short yardage plays, but did very well in the passing game as both a blocker and a receiver.
Young is coming up.
17. E.J. Biggers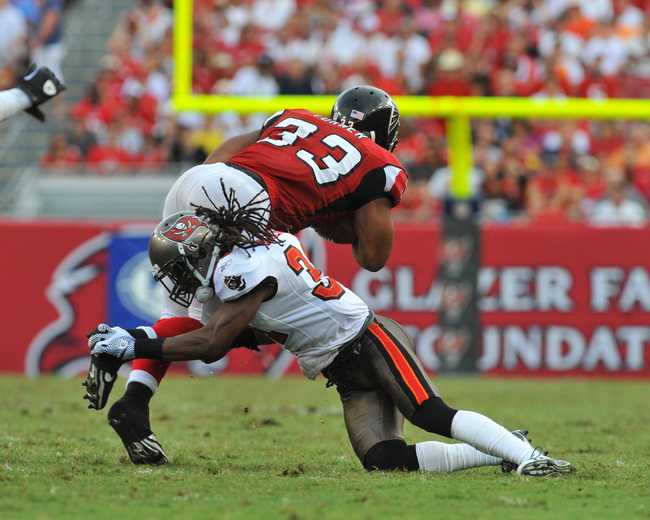 Biggers was a great addition.
Al Messerschmidt/Getty Images
For the past couple of seasons, E.J. Biggers has been a rather solid player for the Bucs.
Now that he is a Redskin, he will be joining a struggling secondary trying to make strides toward being dominant once again. He will probably be the third, possibly fourth corner, but the depth he provides is what makes him as valuable as he is.
16. Kirk Cousins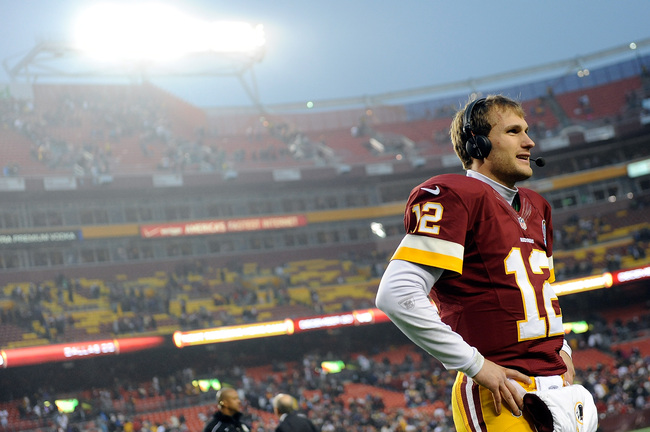 Lightning struck twice for Washington in the 2012 draft when it comes to quarterbacks.
Patrick McDermott/Getty Images
"Captain" Kirk Cousins was a pleasant surprise for Washington last season when RG3 was out with injury.
There wasn't much expected from him, but he delivered in a big way when he defeated the Ravens in overtime and later defeated the Browns in place of Griffin III.
He will be a great bandage if RG3 does end up missing the start of the season, and will realistically be trade bait for the Redskins after this coming season.
15. Barry Cofield
Cofield has been a steady piece in the middle of Washington's 3-4 scheme.
Patrick McDermott/Getty Images
Barry Cofield is another guy who was brought over from a division rival and has become an important fixture in Washington's front seven.
He's been a solid nose tackle in his two seasons with the Redskins and has been a great influence on younger guys like Neild. With his third season with the burgundy and gold coming up, it will be fun to see what he can do with another year of Haslett's defense under his belt.
14. Josh Morgan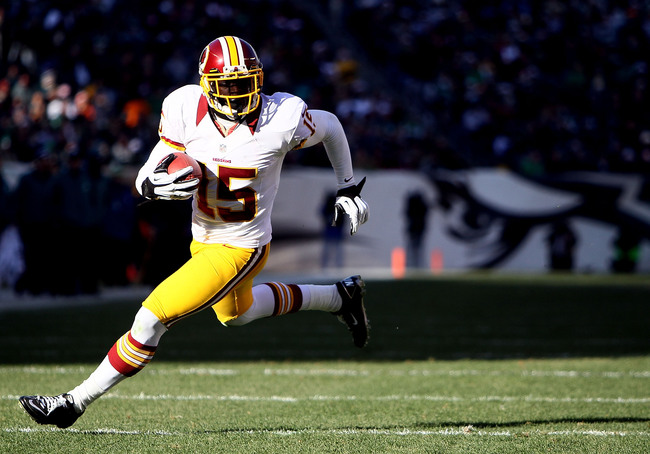 Morgan was a quality free-agent signing a year ago.
Alex Trautwig/Getty Images
Josh Morgan emerged as a pretty dependable receiver throughout the season for Washington and should be even better in his second year in the capital. He has big-play ability and makes for a nice trio with Moss and Garçon.
Although he does have his moments where he gets a little wild and, say, I don't know..throws the ball at Cortland Finnegan, he did remain composed toward the end of the season and was a pretty sure-handed guy for RG3 when Garçon wasn't in the game.
As he matures and grows within Kyle Shanahan's system, his numbers will definitely start to blow up.
13. DeAngelo Hall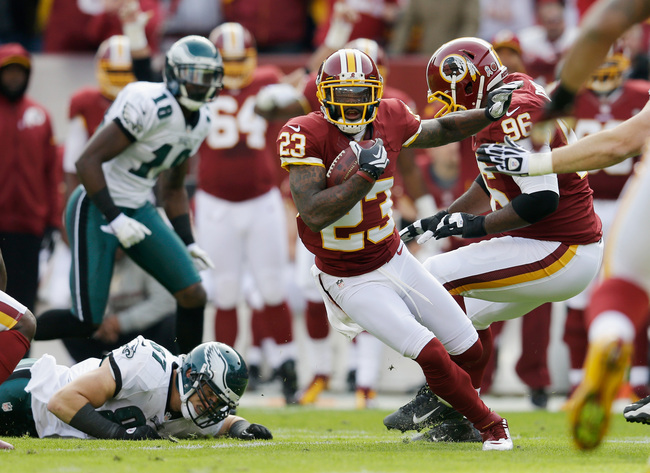 DeAngelo Hall played well down the stretch for the Redskins.
Rob Carr/Getty Images
DeAngelo Hall gets a lot of heat for his inconsistency, but he's a better option than most of what the Redskins have.
He got burned a lot last season largely due to the fact that he had mediocre safeties behind him. Despite struggling for a few games in the middle of the season, Hall played pretty well down the stretch and was a major factor in the season finale vs. Dallas.
Hate him all you want, he's not as bad as many people think.
12. Adam Carriker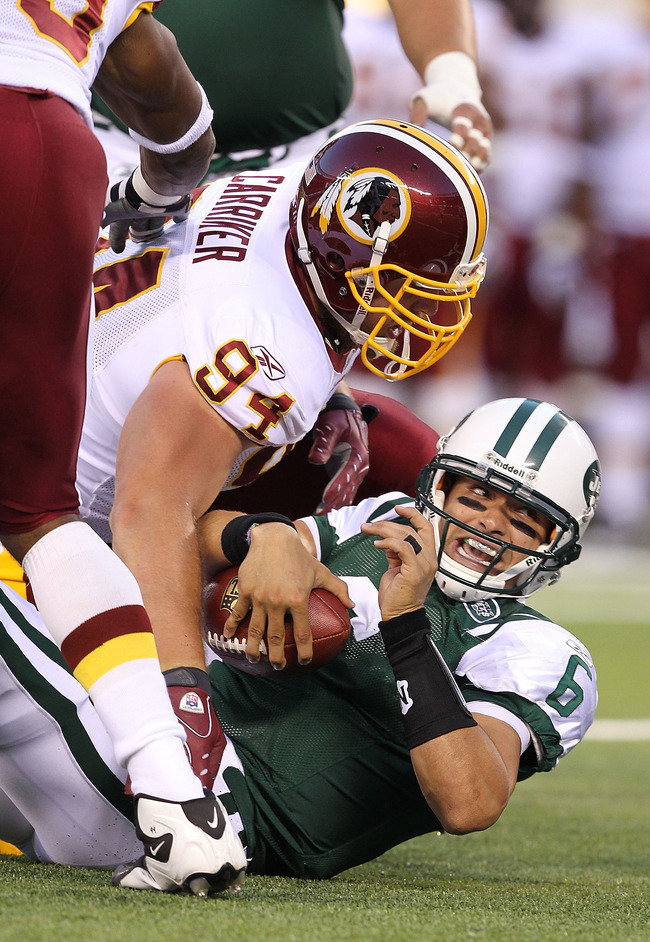 Doesn't look like Mark Sanchez is a cuddler.
Al Bello/Getty Images
Although he is coming off of a season lost to injury, Adam Carriker is a Pro Bowl-caliber player. He is good against the run and has great pass-rushing ability. Carriker is a team-oriented player and is definitely a good mentor to younger guys like Jarvis Jenkins.
Expect Carriker to be productive as ever in 2013 now that he has a better supporting cast around him.
11. Perry Riley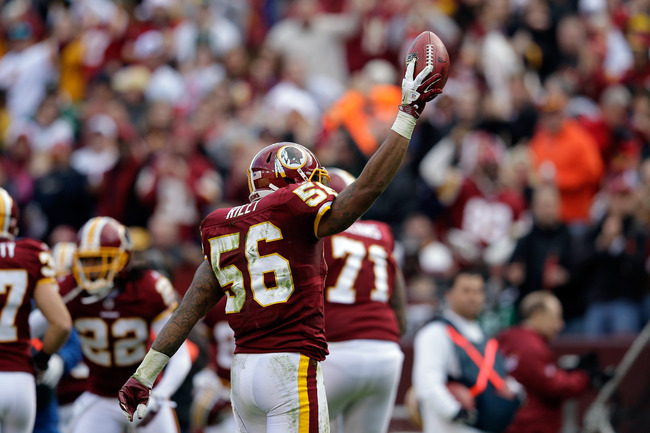 Perry Riley will make even more positive strides in 2013.
Rob Carr/Getty Images
With London Fletcher nearing retirement, it is more and more important for Perry Riley to make an impact, and he has been. Over his first few seasons he has shown tremendous progression and it is evident he is learning a lot from Fletcher. Riley's durability is what makes him a precious part of the Redskins' defense.
You will be hearing a lot more of his name next season. Redskins fans can breathe easy—here is the heir to Fletcher's throne.
10. Santana Moss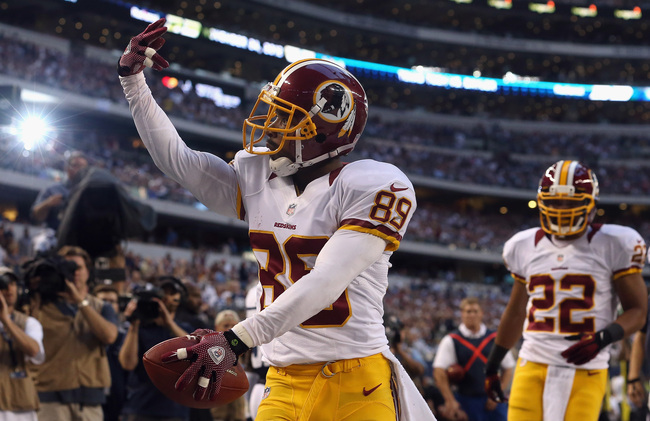 Grandfather Moss is makin' a comeback.
Ronald Martinez/Getty Images
For years, Santana Moss has been a pillar of Washington's passing game, even with all the quarterback woes.
After a couple of down years, Moss reemerged as a top target for RG3. Now that he isn't being depended on as much nor as often, he is experiencing a pretty respectable resurgence.
He doesn't have too many years left, but he is still just about as effective as he's always been.
9. Josh Wilson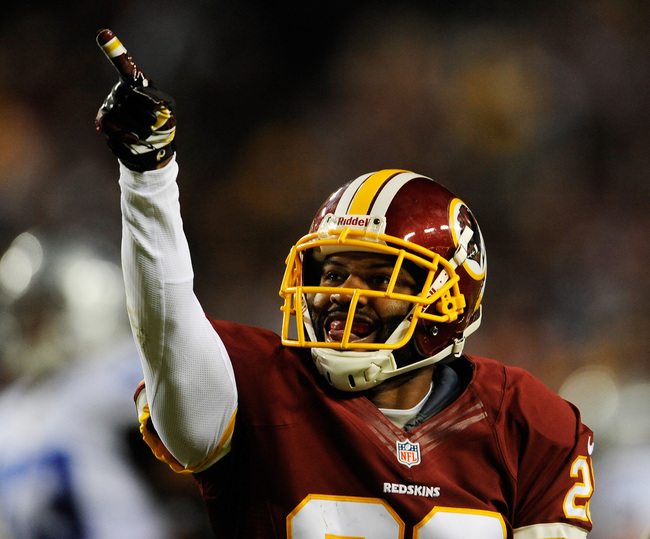 Josh Wilson has played football at every level on a team from the DMV.
Patrick McDermott/Getty Images
Despite a pretty weak secondary overall, Josh Wilson was the lone bright spot.
He was never a huge game-changer, but he was consistent and made plays when he was needed most. Don't be surprised if Wilson experiences a similar resurgence like other Redskins given his new teammates in the secondary.
Wilson is a great veteran to have if you're Washington.
8. Fred Davis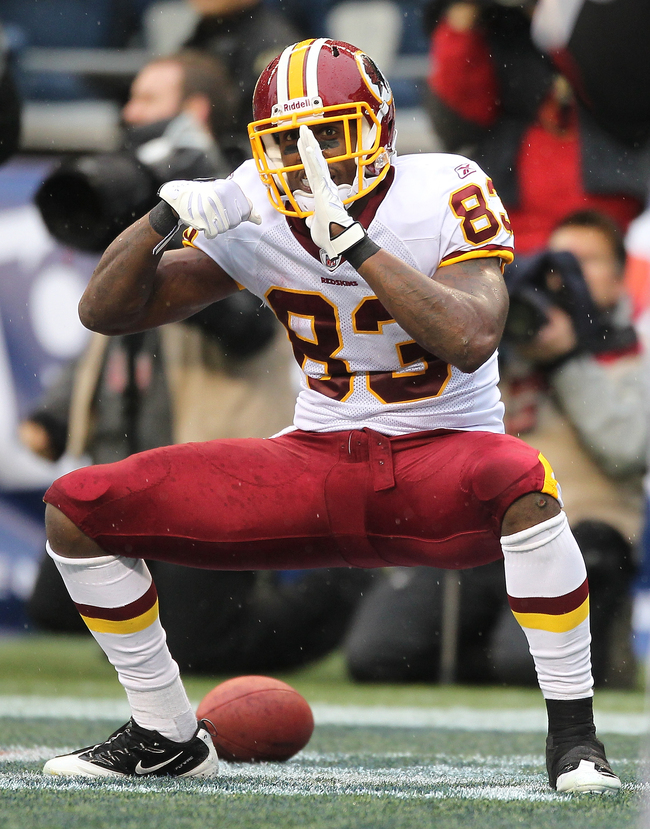 Fred Davis has a pretty goofy touchdown celebration if you ask me. Just keep scoring, big fella, don't worry about the dancing.
Otto Greule Jr/Getty Images
Fred Davis was on the verge of having a breakout season before rupturing his Achilles early on in the season.
Now that he is all healed up, Davis should be back to form and have a large impact once again. He is a very well-rounded player; from receiving to blocking, Davis is very good.
If he can stay healthy, he could very well earn a Pro Bowl nod.
7. Pierre Garçon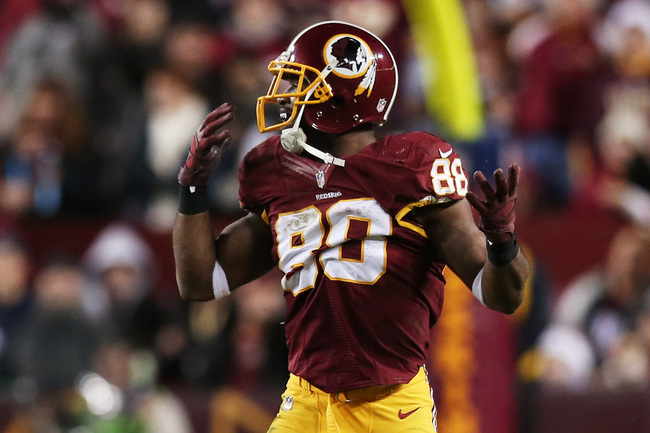 "Peter Waiter" is the best receiver the Redskins have.
Win McNamee/Getty Images
Lots of times you see a rookie quarterback find his security blanket early in the season, and that's what Pierre Garçon was for RG3–when he was healthy, that is.
In their first game together, Garçon caught the rook's very first touchdown pass against a steady New Orleans secondary. He was a fun toy for Peyton Manning in Indianapolis, and now he's in RG3's playpen.
His season was cut short due to a lingering foot injury in 2012, but as long as he can stay on the field next season, he should break 1,000 yards and catch a good handful of touchdowns.
6. Alfred Morris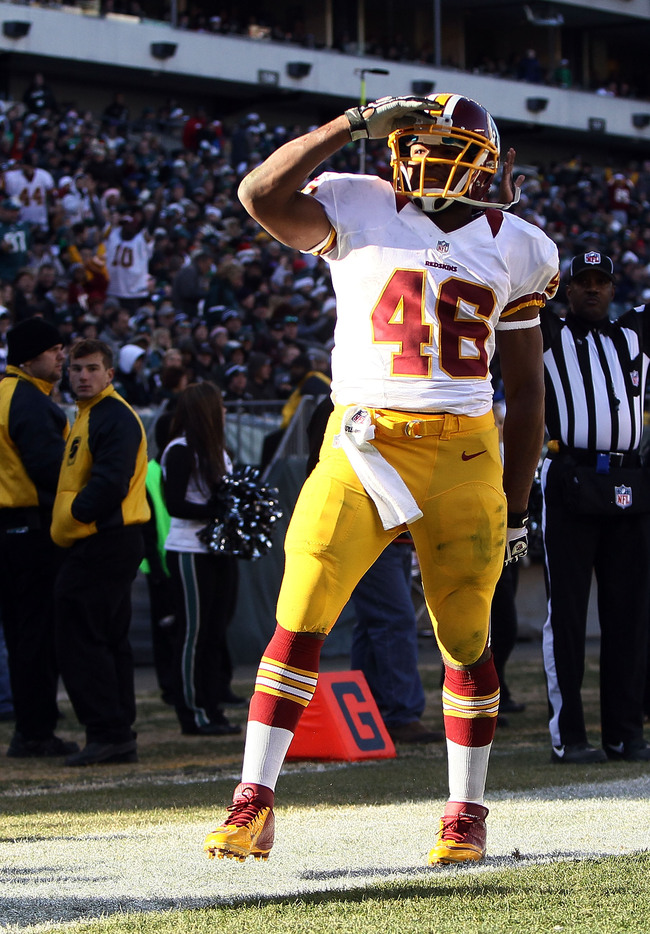 Al Mo turned out to be the steal of the 2012 draft for Washington.
Alex Trautwig/Getty Images
This was the best early Christmas gift that Mike Shanahan could've ever asked for. Ever since he earned the starting spot at running back last season, the comparisons between Alfred Morris and Hall of Fame runner Terrell Davis have been swirling.
While we will wait and see if Morris' career turns out to be as fruitful as TD's, he is certainly fun to watch in the meantime.
5. Ryan Kerrigan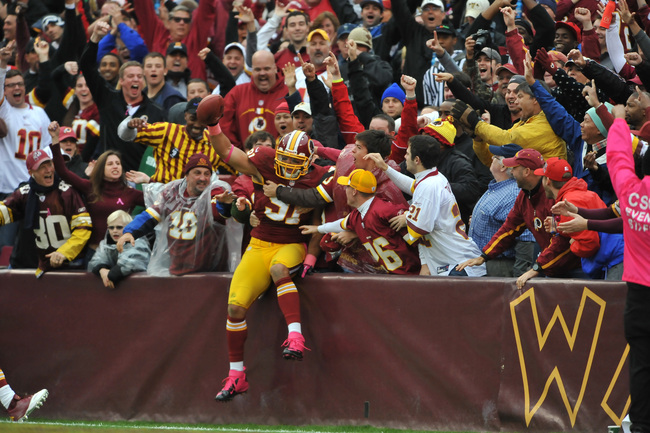 Ryan Kerrigan is one of the best, young pass-rushers in the NFL.
Larry French/Getty Images
Ryan Kerrigan has been stellar ever since he donned the burgundy and gold.
He is quickly becoming one of the best outside linebackers in the NFL and is showing why the Redskins passed on several other quarterbacks in the draft to select him.
The best part about Kerrigan? His best years are yet to come. The kid is scary.
4. Trent Williams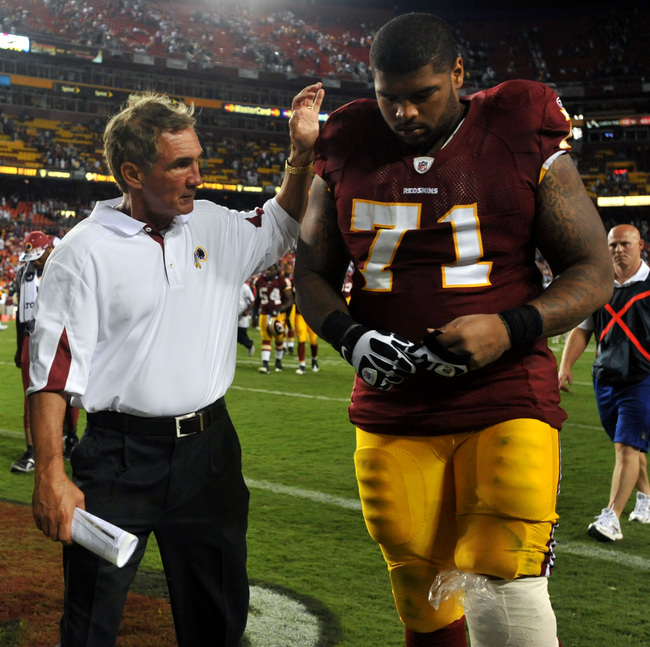 His eyes are up there, Shanny.
Larry French/Getty Images
Chris Samuels 2.0? The man responsible for protecting RG3's blindside is turning out to be one of the better left tackles in the NFL. The former top-five draft pick has done a tremendous job of solidifying the left side of Washington's offensive line.
He is a great run-blocker and an even better pass protector. Williams sure know how to pack a punch when he's blocking, and in other instances, just ask Richard Sherman.
3. London Fletcher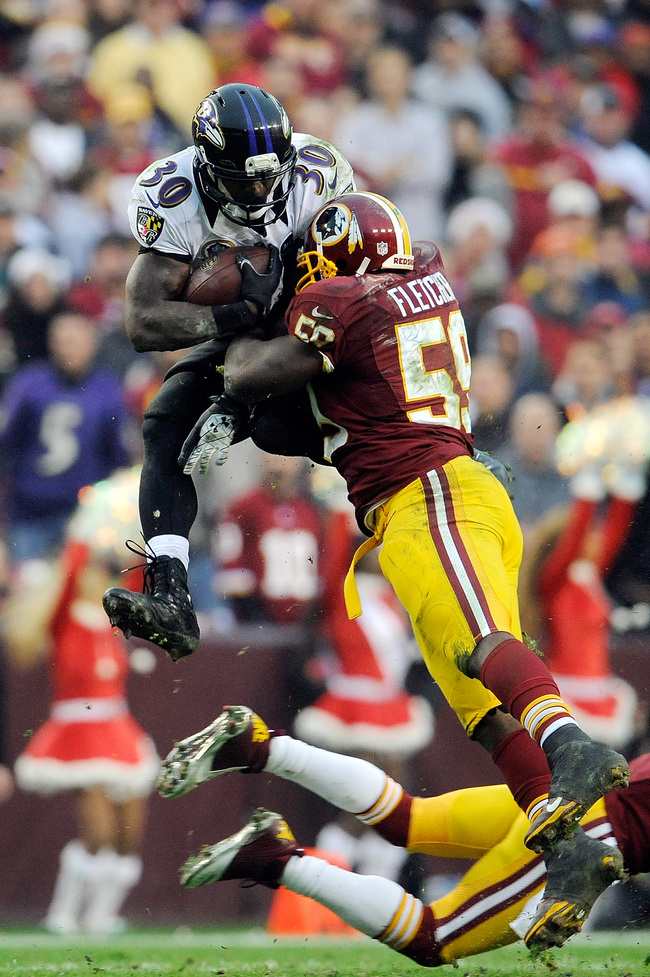 Damn, that had to hurt, Bernard.
Patrick McDermott/Getty Images
London Fletcher is arguably the most underrated defender in the NFL. He has never missed an NFL game since coming into the league and has consistently tallied 100-plus tackle seasons.
He is the consummate professional and a great leader; there's a reason why he wears a "C" on his chest.
2. Robert Griffin III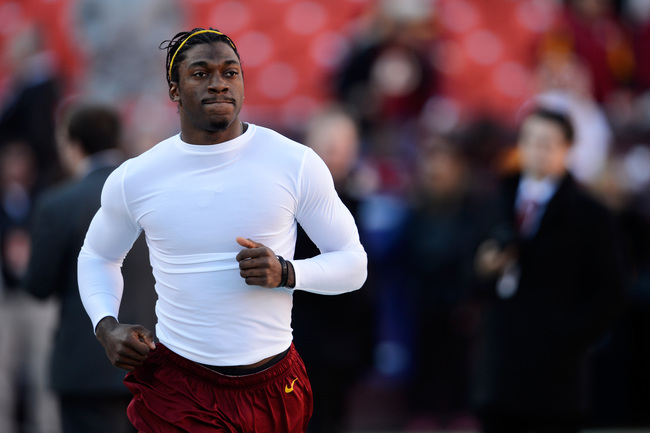 Can RG3 pull an AP?
Patrick McDermott/Getty Images
Speaking of consummate professionals, RG3 had one of the best rookie seasons for a quarterback in 2012, and looks to be even better in 2013. He will have had a year to fully digest the system and get acquainted with the offense, so his already-impressive numbers should only go up.
It's not every day you see someone with the same ability and talent level of Griffin III; he is truly a special athlete. The Redskins are very lucky to have a guy like this.
1. Brian Orakpo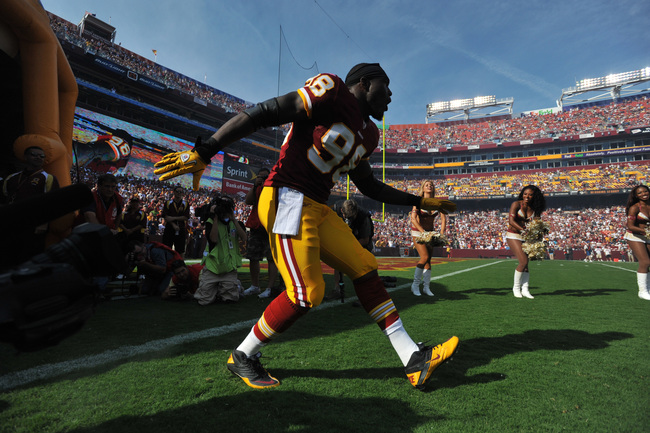 Orakpo: Verb; meaning "to tackle ferociously".
Larry French/Getty Images
Brian Orakpo is the best player on Washington's roster.
He has been an absolute stud since being drafted by the team, and his only setback to date was an unfortunate injury early on last season. But, thankfully, he's back and ready to do some tacklin'.
There's not a whole lot of people who can rush the passer better than Orakpo; he is one of the best players in the NFL, period.
Keep Reading

Washington Redskins: Like this team?