Building the Definitive Case for Chicago Bulls to Trade Luol Deng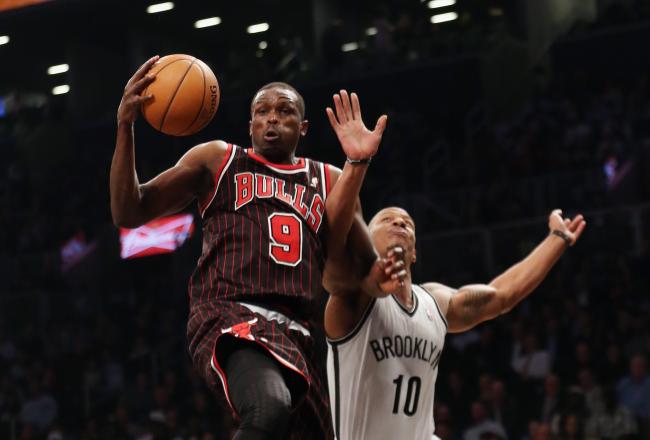 Bruce Bennett/Getty Images
It's not readily apparent, but the Chicago Bulls should consider that trading Luol Deng this summer is their option for the long-term.
Granted, there are reasons to keep him. The Chicago Bulls will finally be healthy for the first time since midway through the 2012 season, and they haven't had much of that. They've been very good when healthy, winning 85 percent of all games when Deng, Derrick Rose, Carlos Boozer and Joakim Noah all started.
And 85 percent is a very good winning percentage. It translates to 70 wins over the course of a full NBA season, and that very much spells contender. It's probably a more controversial statement than it should be—when healthy, the Bulls are very capable of winning a title.
But that's the key word here, "a" title, as opposed to more than one title. Titles, plural, are a very different from title, singular. It's the difference between a nice season and a dynasty. It's the difference between the Detroit Pistons of the '00s and the San Antonio Spurs of the '00s.
And for the Chicago Bulls, with a player that has the capabilities of Derrick Rose, they should be thinking titles, not title. With that in mind it's worth considering dealing Deng now, rather than let him hit the free agency market later.
Deng is easily their most marketable trading chip. He has the right blend of All-Star talent, veteran leadership, an expiring contract and a salary that's hefty enough to make the expiring contract worth enough to take him on without being prohibitive.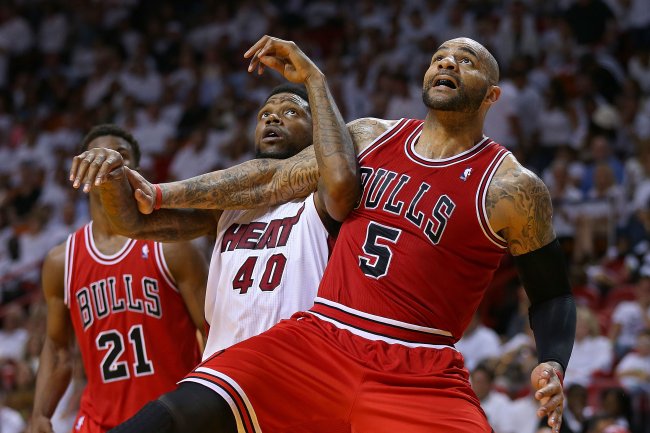 Mike Ehrmann/Getty Images
Trading Deng would make amnestying Boozer a more sensible option, particularly in light of how they have already let go of Richard Hamilton. The three players combined account for $34 million. That would mean the Bulls could acquire a superstar to place alongside Derrick Rose.
Meanwhile, Kevin Love has been anything but quiet about his unhappiness in Minnesota, via Adrian Wojnarowski of Yahoo! Sports. Because of his four-deal, which came because the Timberwolves were set on giving Ricky Rubio the one for five, he will be an unrestricted free agent in just two more years.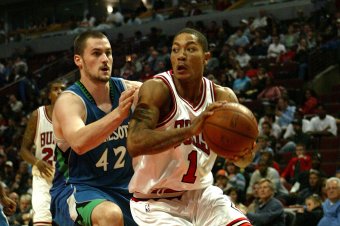 Chris Chambers/Getty Images
This means that the 'Wolves could be looking to go the Utah Jazz, Deron Williams route. If they feel they have no chance of keeping him anyway, why not deal him now when his value is higher, and before all the drama a la Dwight Howard and Carmelo Anthony sets in?
Rose and Love work out in the offseason together, and their friendship could be enough to entice Love to come and play for the Bulls. Well, that and the promise of being a part of a dynasty together.
And the Chicago Bulls could build a very reasonable package around Deng this year as well. They have the Charlotte pick, which seems to look better every year as they seem resolute in not getting any better. (Michael Jordan may have a hand in the Bulls' seventh ring after all!)
They also have the rights to draft-and-stash player, Nikola Mirotic, who has shown plenty of potential as one of the top young European players.
Deng, the Charlotte pick and Mirotic seems like a hefty price, but it would worth it to acquire a proven superstar in Kevin Love. It would also be a package that other teams would have a hard time matching.
Rose and Love (aside from having names that go remarkably well together) have playing styles that mesh perfectly. Love is not just a stretch four, he's the stretch four which all other stretch fours are measured against. And with Rose's ability to penetrate combined with Love's ability to step out and shoot the three—thereby taking his man with him—would really make for an incredible combination.
Defenses would be forced to either leave the open lane for Rose, or leave the open shot for Rose. And if both those options are filled, there's always the pass to Jimmy Butler, who shot over 40 percent from deep as a starter to haunt teams with as well.
This would raise the question of what to do about the new small forward vacancy. The emergence of Butler, as an elite defender (as indicated by his success against LeBron James) and capable scorer makes the idea of letting Deng go palatable.
Jonathan Daniel/Getty Images
Of course, then the problem becomes what to do about the other wing position? The Bulls could bring back Kyle Korver via the mid-level exception or through a sign-and-trade using the trade exception they obtained by sending him to Atlanta in the first place.
They could also use the mid-level exception on Marco Belinelli, although they would then be kind of small at the wings, which is something that Tom Thibodeau doesn't like.
The ideal situation may actually be in Boston, where the Celtics are rumored to be considering not exercising their team option on Paul Pierce. At 35, Pierce isn't anyone's idea of a player to build around but he would be a perfect complimentary piece.
Should the Bulls explore trading Luol Deng and other assets for Kevin Love?
Pierce is familiar with Thibodeau's defense, is a proven player in the clutch who could help take pressure off Derrick Rose in the fourth quarter and would probably be willing to take less money to play for a team that could beat the Heat if Boston doesn't want him anymore.
A team with a starting lineup of Rose, Butler, Pierce, Love and Noah would certainly be a formidable one for the present.
For the future, the Bulls could always look to re-acquiring Deng after a one-year hiatus or look to find another gem in the draft.
Either way, trading Deng now may be the key to their future. He's the best asset they have, and he could be the major piece in a trade that lands Chicago that second superstar they need.
This article is
What is the duplicate article?
Why is this article offensive?
Where is this article plagiarized from?
Why is this article poorly edited?

Chicago Bulls: Like this team?