Offseason Power Rankings for Every Player on the New York Jets' Roster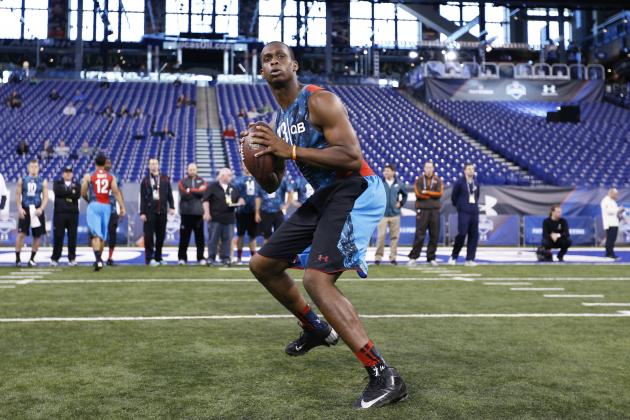 Joe Robbins/Getty Images

The summer of 2013 looks like it will be one of the more interesting summers for the New York Jets in recent memory. With competitions on both offense and defense to go along with the hiring of new offensive coordinator Marty Mornhinweg, the final roster is remarkably unknown at this point.
The Jets made several free-agent pickups and also drafted some relatively unpredictable players. Beginning to make sense of the 2013 season for the Jets relies on understanding which players have what it takes to make the starting roster and who the top players will be this year.
Based on what we know now, I present the full offseason power rankings for the New York Jets' roster.
Begin Slideshow

»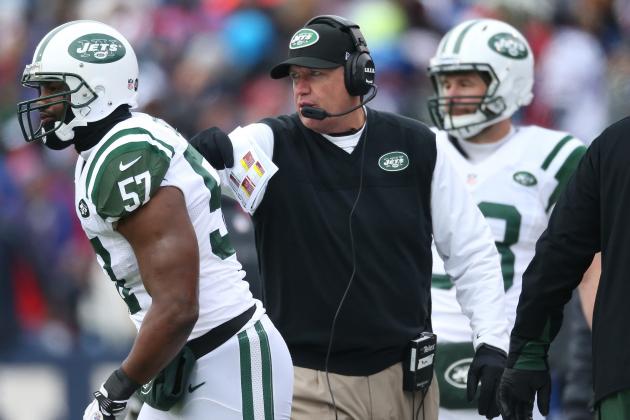 Tom Szczerbowski/Getty Images

This ranking system has nothing to do with age, salary, hype, attention or anything of that nature. I am ranking players purely on their ability to impact the game positively as members of the Jets in the coming season.
I am also not giving unfair advantage to more noteworthy positions (for example, quarterback over nose tackle). Players will be ranked, from first to 53rd, based on how good they are right now at playing their positions relative to everyone else on the team.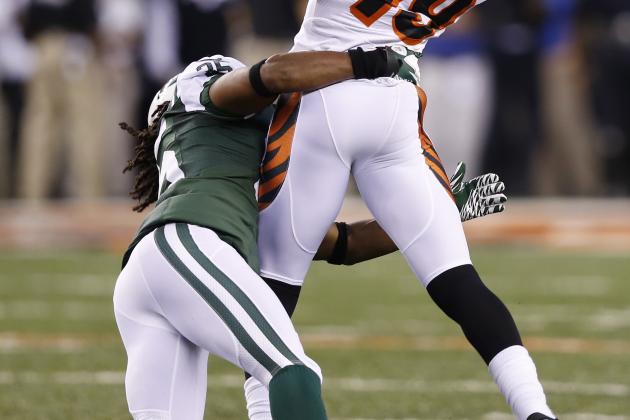 Joe Robbins/Getty Images

The fifth tier consists of players who will probably not be seen much on game day, mostly players trying to earn roster spots and be there in case of unexpected circumstances or on special teams.
Hayden Smith and Tommy Bohanon are both interesting but obscure players. Smith is in his second year now since transitioning from rugby and hopes to become an effective tight end. Bohanon, a seventh-round draft pick, could potentially compete for the starting fullback job, although it is unclear how much the Jets will use fullbacks in their new offense.
Matt Simms is a young quarterback who has not played much but could surprise some people this summer. Marcus Davis is a particularly intriguing wide receiver prospect who is raw but has a high ceiling.
Lastly, keep an eye on Isaiah Trufant, who could challenge Ellis Lankster and become an important nickel player.
53. Wide Receiver Marcus Davis
52. Offensive Lineman Oday Aboushi
51. Cornerback Donnie Fletcher
50. Offensive Lineman Dennis Landolt
49. Offensive Lineman Mark Popek
48. Free Safety Rontez Miles
47. Offensive Lineman Caleb Schlauderaff
46. Tight End Hayden Smith
45. Linebacker Nick Bellore
44. Fullback Tommy Bohanon
43. Quarterback Matt Simms
42. Inside Linebacker Ricky Sapp
41. Cornerback Isaiah Trufant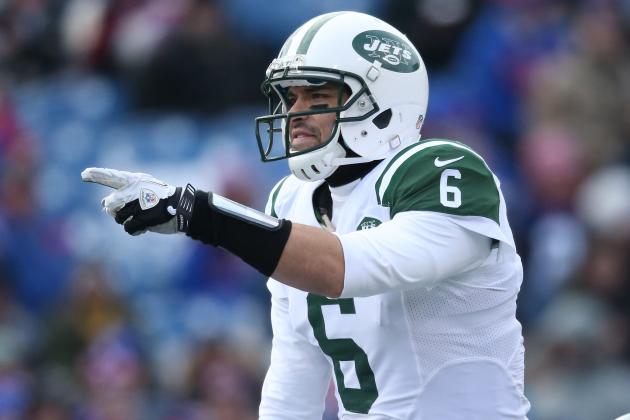 Tom Szczerbowski/Getty Images

The fourth tier of Jets players includes roster mainstays whom I expect to see involved in games and making impacts in various ways. A few key players of interest include offensive guard Vladimir Ducasse, who is trying to finally earn a starting job, quarterbacks Mark Sanchez and Greg McElroy, and longtime long snapper Tanner Purdom.
Other interesting players include Ellis Lankster, who should compete for the slot cornerback job, and Josh Bush, who could compete for one of the two open safety slots.
And don't forget "Snacks" Harrison, who is trying to finally earn a fair share of snaps. Here is the full list.
40. Inside Linebacker Josh Mauga
39. Long Snapper Tanner Purdum
38. Quarterback Greg McElroy
37. Offensive Guard Vladimir Ducasse
36. Defensive Tackle Damon Harrison
35. Quarterback Mark Sanchez
34. Offensive Guard Stephen Peterman
33. Cornerback Ellis Lankster
32. Safety Josh Bush
31. Outside Linebacker Garrett McIntyre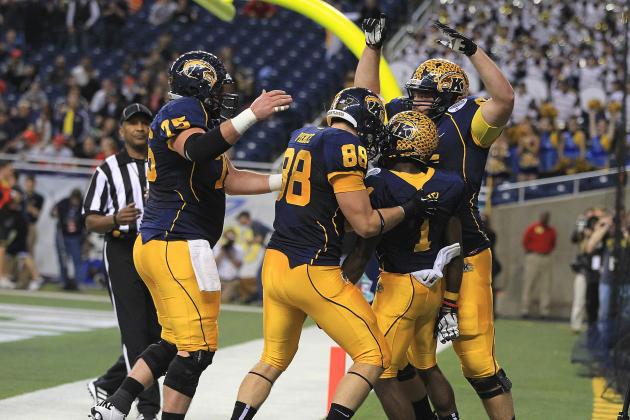 Dave Reginek/Getty Images

30. Safety Antonio Allen
Antonio Allen is currently penciled in as the starting safety, this being a safety group that has completely changed from a year ago. We will see if Josh Bush can give him a run for his money.

29. Tight End Jeff Cumberland
Jeff Cumberland is an interesting player to watch this summer. While he has not excited too many people yet in his career, he has shown at times that he has all the abilities needed to be at least as good as former Jet Dustin Keller. Barring unforeseen events, he should start the year as the starting tight end.

28. Outside Linebacker Calvin Pace
Calvin Pace was released and then re-signed by the Jets. He is now playing for a much more minimal contract. At this point in his career, nobody expects him to be who he was in his prime. However, he will need to be able to set the edge on running plays in order to remain a highly-used substitute.

27. Safety Dawan Landry
Dawan Landry, the brother of former Jet LaRon Landry, was an inexpensive pickup who could pay off for the Jets. He has impressed so far at OTAs, and if all goes well, he should end up being the leader of the Jets' safety group.

26. Nose Tackle Antonio Garay
At 33 years old, Antonio Garay (recently acquired from the San Diego Chargers) is an experienced player who knows how to be a starter in the NFL. His health will need to be good, and his athleticism will still have to be up to par at his age, but if all goes well for him, he could give Kenrick Ellis a run for his money to be the starting nose tackle.

25. Outside Linebacker Antwan Barnes
Antwan Barnes, another recent pickup this offseason, brings some much-needed pass-rushing ability to a Jets linebacking group that did not have much success in 2012. As an outside linebacker in a largely 3-4 defense, his job will be to get to the quarterback.

24. Offensive Guard Willie Colon
Willie Colon was a good free-agent pickup this offseason. He can serve as a veteran leader and hold the fort at offensive guard, at least for this year, while the Jets' young offensive line develops.

23. Offensive Tackle Austin Howard
Austin Howard was a surprise pickup in 2012 at right tackle. He had some struggles, especially earlier in the season, but he ended up being an average and acceptable starter at right tackle. He is not outstanding, but he can hold his own, especially when the players around him on the offensive line can play well and help to elevate him.

22. Punter Robert Malone
Robert Malone, entering his second year now as the punter for the Jets, is becoming a mainstay for the Jets' special teams unit.

21. Offensive Guard Brian Winters
Brian Winters, the third-round draft pick by the Jets in the recent NFL draft, was a prospect whose selection I have been advocating for a while. He is filling an extremely important hole for the Jets at offensive guard, and he has tons of potential.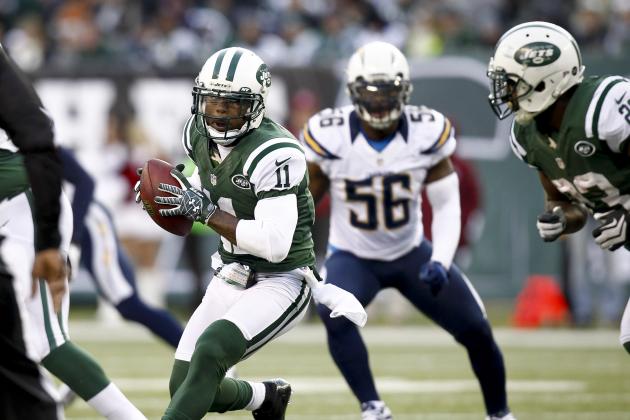 Jeff Zelevansky/Getty Images

20. Running Back Bilal Powell
Bilal Powell is an effective running back who was arguably the most consistent one on the Jets in 2012. Nevertheless, he will have his work cut out for him to earn carries this year, competing with Mike Goodson, Chris Ivory and Joe McKnight.

19. Inside Linebacker Demario Davis
Linebacker Demario Davis started to see some real playing time in 2012. He should now be the second best linebacker for the Jets after David Harris, which means he should be seeing even more playing time, especially in 3-4 sets.

18. Quarterback Geno Smith
Nobody knows what 2013 has in store for rookie quarterback Geno Smith. He is in the competition this summer, and he can win it on merit if he is able. I put him at 18th because I expect him to be good out of the gate but not yet spectacular.

17. Kicker Nick Folk
A former Pro Bowler in 2007, Nick Folk is entering his fourth year now with the New York Jets. His roster spot was shaky in the past, but he was reliable in 2012.

16. Running Back Mike Goodson
For Mike Goodson, legal issues are a big question mark. Nobody knows yet what the result of his recent arrest will be. When on the field, Goodson is a quality and athletic running back who could help this team in the fall if he is allowed to play.

15. Nose Tackle Kenrick Ellis
Kenrick Ellis is a defensive tackle and nose tackle who has dealt with injury problems in the past. 2012 was a bit of a disappointment for him, but with Sione Pouha off the team, this should be the year that he steps into the starting role.

14. Cornerback Kyle Wilson
Kyle Wilson may have been forgotten by some since the drafting of Dee Milliner in the first round. However, this former slot cornerback should be competing for a starting cornerback position. A former first-round pick, he has shown promise.

13. Running Back Joe McKnight
Joe McKnight has been a backup running back for the Jets so far and has made his name as a special teams player, returning kicks and punts (kicks more successfully than punts). He wants to be the starting running back, and it may come down to him and Chris Ivory in the end.

12. Wide Receiver Stephen Hill
Stephen Hill's rookie season was not spectacular. The two causes: injuries and dropped passes. Keep an eye out to see if the athletically talented Hill can stay healthy and become more reliable as a receiver.

11. Wide Receiver Jeremy Kerley
Jeremy Kerley has been a reliable and effective slot receiver for the Jets. Last year, when Stephen Hill and Santonio Holmes were injured, Kerley even stepped into the lead role for some games. Kerley's abilities should make him an asset in a West Coast offense.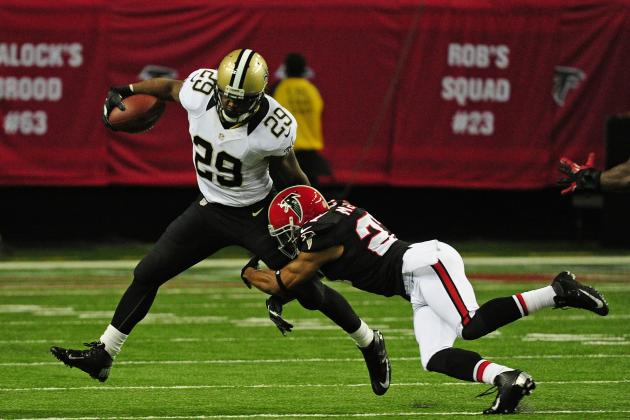 Scott Cunningham/Getty Images

The trade to the New Orleans Saints for running back Chris Ivory is one that could pay off in a big way for the Jets. Ivory is a player with tremendous talent who has not yet begun to receive real national attention.
At the moment, Ivory is somewhat of a high-risk, high-reward player. He has the ability to be an explosive runner and pass-catcher, but has been known for his injury problems. He will need to stay healthy and manage a lot of touches in order to have a major effect on the Jets' season in 2013.
In addition to being a great running back, Ivory is an underrated receiver. He has caught very few catches so far in his career, a result of the Saints having too many targets and Ivory not being on the field for enough passing plays. The Jets have far fewer receiving targets, and I expect Ivory to play a much bigger role in the passing game than he ever has before.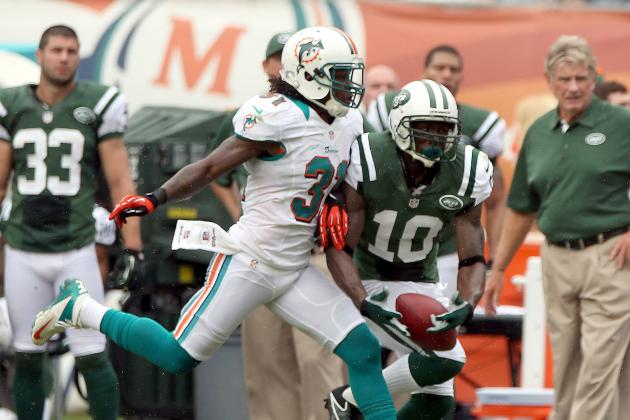 Marc Serota/Getty Images

It has been a long time since Jets fans have seen positive results from wide receiver Santonio Holmes. He missed nearly all of the 2012 season with a foot injury, and before that, his play was somewhat unpredictable.
We do not know yet for sure whether he will be ready to go for Week 1 or what his health will be like. We also do not know how much chemistry he will have with Geno Smith if Smith happens to win the quarterback job this summer.
Despite the unpredictability of the situation, Holmes (if healthy) should be the most talented and most effective receiver on the team. That alone earns him the No. 9 spot.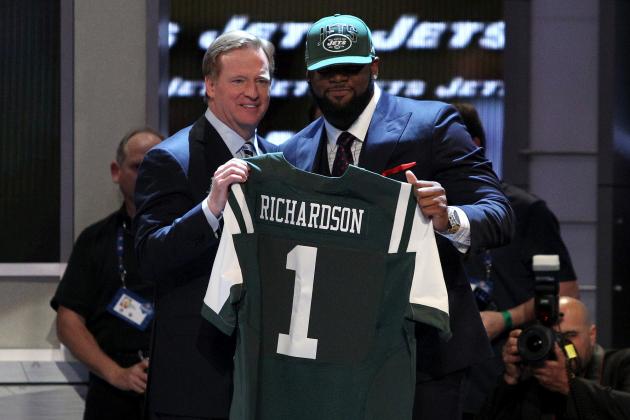 Chris Chambers/Getty Images

I would be the first to admit that placing rookie defensive tackle Sheldon Richardson as high as eighth on the team is a bold prediction. We have not yet seen him play, and we do not know if he will be able to completely handle the complex Rex Ryan defense as a rookie.
However, there are plenty of reasons to expect great things from Richardson. The 13th overall pick in the recent NFL draft, Richardson was chosen over Star Lotulelei, to the surprise of some. A quick, athletic and powerful defensive tackle, Richardson should handle nose tackle and also any interior line position in Rex Ryan's hybrid defense.
Already in OTAs, he has lined up in multiple spots. I anticipate seeing him become one of the more fascinating players on the Jets defense this season.
Al Bello/Getty Images

The No. 7 spot is the highest ranking I am giving to a new addition to the New York Jets roster. Cornerback Dee Milliner, a rookie out of the University of Alabama and the ninth overall pick in the recent NFL draft, is a player with almost unlimited potential.
I was surprised to see him even fall as far as he did in the draft, with his talent making him arguably a top-five prospect.
This year Milliner has some huge shoes to fill, effectively replacing Darrelle Revis. Obviously no one could possibly expect Milliner to be as good right away as Revis, one of the best of all time. However, Jets fans have gotten used to elite cornerback play, so I expect Milliner to be held to a high standard even in his rookie year.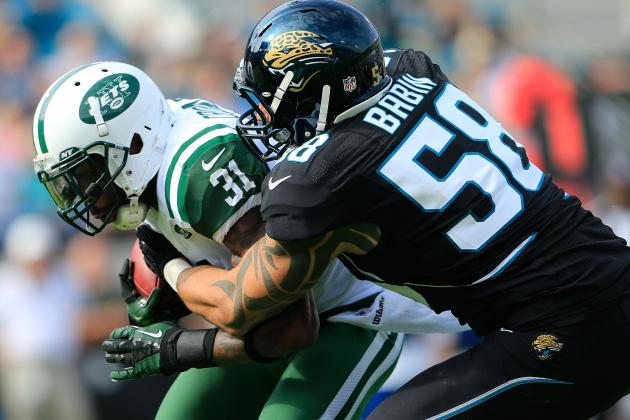 Sam Greenwood/Getty Images

Cornerback Antonio Cromartie is an extremely talented and athletic player. In addition to playing cornerback, he has made cameo appearances on offense as a wide receiver and on special teams as a kick returner.
He has all the physical skills necessary to be an All-Pro-caliber cornerback, and he made the Pro Bowl last year. The biggest criticism of Cromartie is that he is not physical enough near the line of scrimmage and does not use his strength advantage as much as he should.
Cromartie had an improved season in 2012 despite the loss of teammate Darrelle Revis to injury. We will see how he responds to playing alongside rookie cornerback Dee Milliner.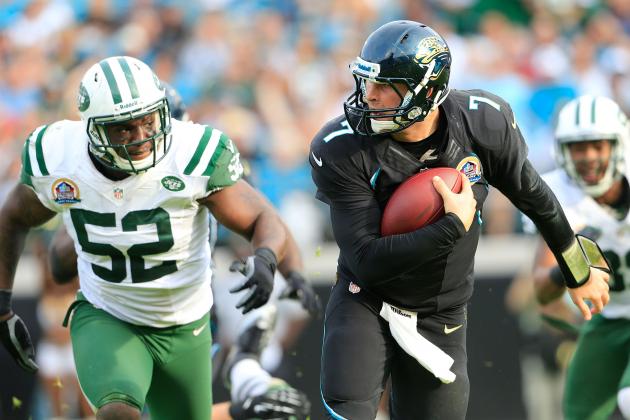 Sam Greenwood/Getty Images

Inside linebacker David Harris gets the No. 5 spot, largely as a prediction. His 2012 season was without question a disappointment. The Jets linebacking group had a poor year, amassing few sacks and breaking down more in the running game than usual.
As the Jets' leader at middle linebacker and as the best linebacker on the team, Harris is largely responsible for that. The reason I rank him so highly is that I do not think he will have another year like the last one.
Prior to 2012, Harris had given the Jets nothing but excellent play and had been one of their most reliable players. I expect to see Harris get back at least partially to who he was, and if he does that, then the No. 5 spot is perfectly reasonable.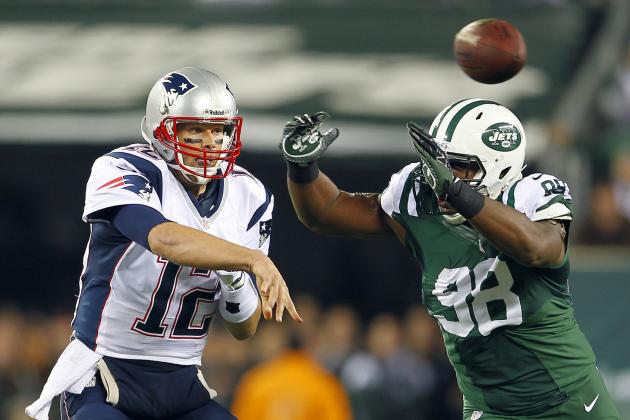 Rich Schultz/Getty Images

This pick will come as a surprise to some, but I expect defensive end Quinton Coples to be right up there at the No. 4 spot this year. His rookie season was relatively quiet, with him getting less attention than he deserved. He also took limited snaps in some games as he adjusted to his different roles on the team.
One of the places where Coples was the best last year was in his few snaps coming off the edge at the rush linebacker position. I expect Coples to be used in an extremely hybridized role this year, with him playing from potentially anywhere along the line.
With his physical abilities and his improved understanding of his various roles, Coples should be an interesting player to watch this year.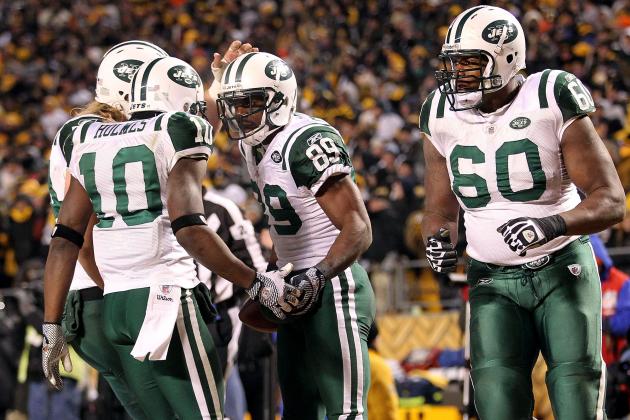 Ronald Martinez/Getty Images

Offensive tackle D'Brickashaw Ferguson was drafted along with center Nick Mangold in the first round in 2006. While he is getting on in years, his play is still at an extremely high level. The two spots on the offensive line that have been constant over the years have been Ferguson's and Mangold's.
Ferguson remains one of the strongest pass protectors in the NFL and is a leader on the offense. His benefits to the team exist both on the field and in the locker room.
Whether it is Mark Sanchez or Geno Smith playing quarterback this season, the protection from Ferguson on the left side of the line will be key.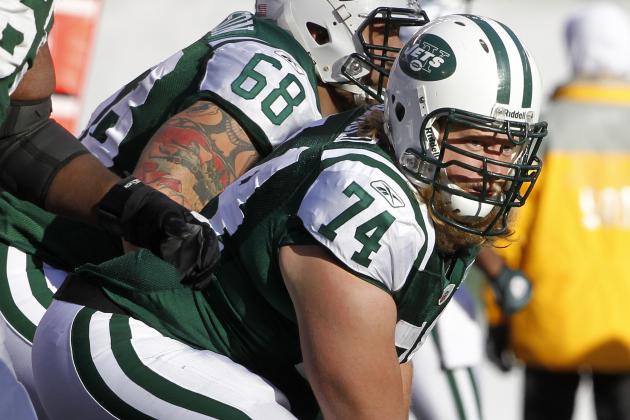 Rich Schultz/Getty Images

I could see center Nick Mangold being ranked at No. 1 by some, but I have got him here at No. 2. He certainly could go no lower than that.
A first-round pick by the Jets in 2006, Mangold has consistently been a top-tier player every season he has been in the league, leading to three All-Pro berths.
Mangold has been both the rock of the offensive line and a mentor to quarterback Mark Sanchez. He has been the sole dependable, consistently excellent mainstay on the Jets offense.
One of the best things about Mangold is his versatility. He is a powerful run-blocker and can drive back any defensive lineman he faces, without exception. He is also one of the best centers at pass-blocking.
Rival defensive tackle Vince Wilfork of the New England Patriots gave his thoughts about Mangold, as reported by Mark Daniels of BostonHerald.com:
[Nick Mangold is] probably the best. I've been saying this since he was a rookie. He's been pretty steady for them and it hasn't changed. It seems like everything goes through him. The run game, he calls the plays on the line slides. He's the guy in charge.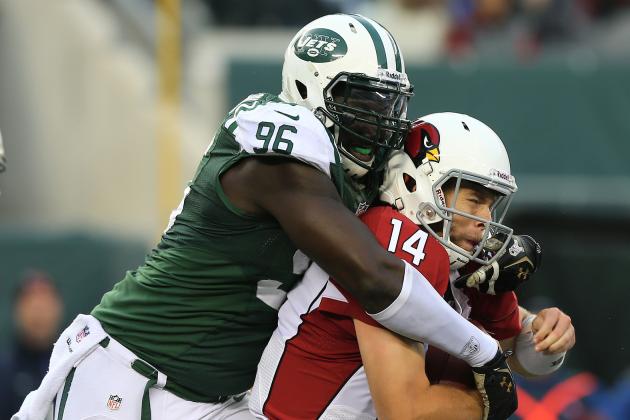 Elsa/Getty Images

A year ago I ranked defensive end Muhammad Wilkerson as the fourth-best player on the Jets, behind Darrelle Revis, Nick Mangold and Sione Pouha. At the time, it was an unusually high ranking compared with his national image.
Now, a year later, I have no reservations putting him at the top of the list. In his second year in the NFL, Wilkerson's improvement was incredibly dramatic.
Wilkerson does everything a lineman can do in the NFL, much of it along the interior. He stuffs runs, he sets the edge, he gets quarterback pressures, and he does all these things better than just about everyone else in the league. If it were not for the existence of the historically great J.J. Watt, Wilkerson would be the best 3-4 defensive end in the NFL right now.
An argument for Nick Mangold as the Jets' best player could be made, but by now Wilkerson has passed him up.
Adam Waksman is a featured columnist for Bleacher Report who writes primarily about the New York Jets and the NFL. Be sure to follow Adam on Twitter to receive updates right away.