Offseason Power Rankings for Every Player on the Chicago Bears Roster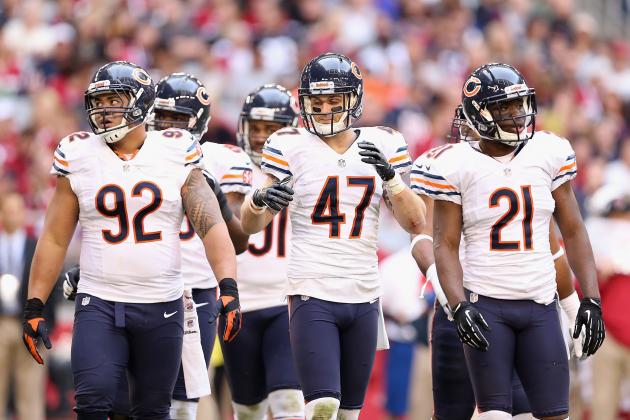 Christian Petersen/Getty Images

With less than 100 days until the beginning of the 2013 NFL regular season many teams are wrapping up their OTAs before the grind of training camp begins in late July.
This offseason the Chicago Bears have made big improvements to their team in the form of free agency and with a new coaching staff.
New head coach Marc Trestman will try to turn a Bears team that went 10-6 in 2012 into a bonafide playoff contender in 2013 and will need his stars to show up once the season starts this September.
Here are the offseason power rankings for every player on the Chicago Bears roster:
Begin Slideshow

»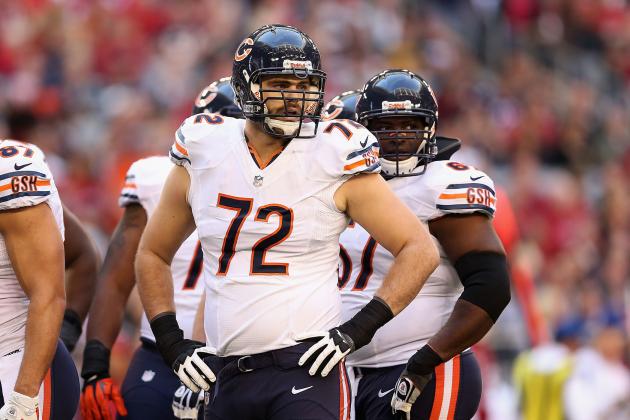 Christian Petersen/Getty Images

No. 53 - Gabe Carimi
After deciding to forgo voluntary minicamps earlier this month, Carimi's status with the team is up in the air. The former first round pick will have to prove to the new coaching staff that not only that he is up to speed on the team's new offense but also that his knee is healthy enough to play a whole season.

No. 52 - Armando Allen
A former undrafted free agent out of Notre Dame, Allen spent the past two seasons with the Bears' organization and registered his first career touchdown last year against the Tennessee Titans with a 46 yard run. He is expected to compete with undrafted free agent Michael Ford for the team's third running back spot.

No. 51 - Isaiah Frey
A sixth round pick in 2012, Frey spent the season on the Bears' practice squad. However, given the lack of depth at the cornerback position, he could push for more playing time during training camp.

No. 50 - Steve Maneri

At 6'6" and 280 pounds, Maneri entered the league as an offensive tackle but was moved to the tight end position during the 2012 offseason while with the Kansas City Chiefs. Viewed more as a blocking tight end, he will likely be used in max protection and goal line sets.
No. 49 - Joe Anderson
Undrafted in 2012, Anderson spent the majority of the 2012 season on the Bears' practice squad before being elevated to the active roster for the final three games of the season. He saw the majority of his playing time on special teams. If given the chance in training camp to show off his length and speed, he could find himself getting some playing time as a receiver this season.
No. 48 - Marquess Wilson
The Bears acquired a seventh round pick in the 2013 draft (a pick they previously traded for Brian Price) and drafted Wilson out of Washington State. Wilson had his share of problems while in college, notably quitting this past season, but his skill set and abilities make him worth the gamble. He could eventually find his niche' in the offense as a deep vertical threat that can help spread the field, but he still needs a lot of work.
No. 47 - Jordan Mills
A fifth round pick this past April, Mills has the ability to play both tackle and guard but likely projects as a right tackle in the NFL. He will likely be the third right tackle/swing tackle behind J'Marcus Webb and Jonathan Scott but it would not be a big shock if a strong showing in training camp helps move him up the depth chart.

No. 46 - Cornelius Washington
Projected by some to be a third round pick in April's Draft, Washington was a steal for the Bears in the sixth round. He will likely serve as a special teams contributor early on, but his speed and athleticism could help put him in the defensive end rotation as a third-down/pass rushing specialist.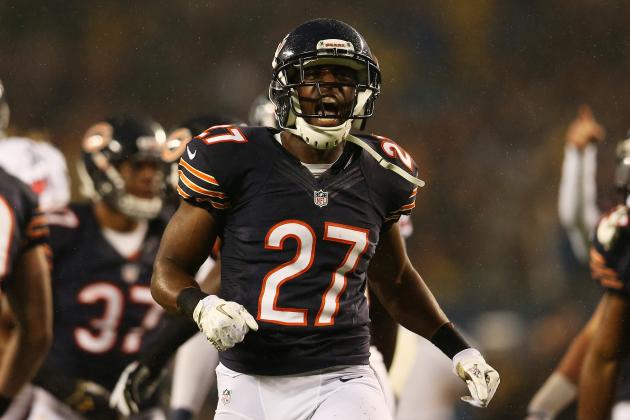 Jonathan Daniel/Getty Images

No. 45 - J.T. Thomas
A sixth round pick in 2011, Thomas saw the majority of his playing time last season on special teams, most notably a forced fumble on a kick return in the first game of the season. Expect him to reclaim his role as a special teams contributor and to add depth to the strongside linebacker position.
No. 44 - Eben Britton
Signed as a free agent this offseason, Britton failed to live up to the expectations of being a second round pick in Jacksonville. He has a lot of experience (30 career starts) but has struggled since his rookie season. He will likely play inside at the guard position in camp but barring a strong performance and/or injuries, he may just end up being a camp body.

No. 43 - Craig Steltz
An All-American while at LSU, Steltz's game has failed to translate at the NFL level. He has played well at times, particularly when asked to stop the run, but he has been a liability at times in the pass game. His strong special team's play as well as his familiarity with the defense should keep him on the roster.

No. 42 - Brandon Hardin

A third round pick in 2012, Hardin missed all of the regular season after being placed on injured reserve following a neck injury he suffered in the preseason. He will have to show off his quickness and ability to stop the run if he wants to make the team in 2013.

No. 41 - Sherrick McManis
McManis was traded to the Bears from the Houston Texans prior to the start of the 2012 season for fullback Tyler Clutts. He made his mark on special teams in 2012, blocking a punt against the Titans in Week 9 which led to him being named the NFC Special Teams Player of the Week. He will likely reprise his role on special teams but could eventually push Kelvin Hayden for playing time at the nickelback position.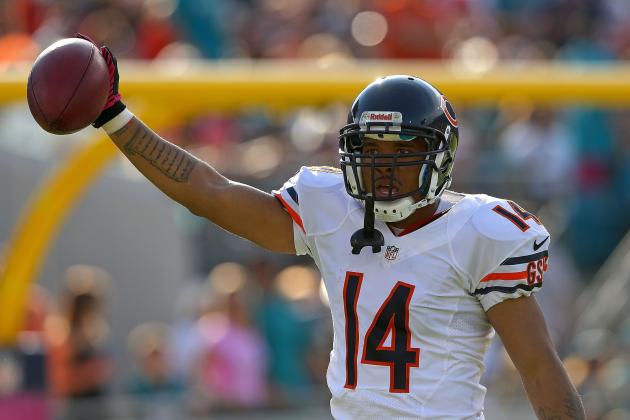 Mike Ehrmann/Getty Images

No. 40 - Turk McBride
A former second round pick in 2007 by the Kansas City Chiefs, McBride made stops in Detroit and New Orleans before landing in Chicago this offseason. Viewed mostly as a role player, he can be solid against the run and has had a knack for knocking the ball loose as he has caused six fumbles in his career.

No. 39 - Fendi Onobun

A relative unknown, Onobun has impressed through the team's OTAs and minicamps this offseason according to the Chicago Tribune's Dan Pompei. Onobun is a former basketball player and has failed to stick with stops in St. Louis, Buffalo, Seattle, Jacksonville and Washington. His athleticism is a huge plus for a team with no real receiving options at the tight end position behind Martellus Bennett.
No. 38 - Eric Weems

Brought in before the start of the 2012 season, Weems played exceptional on special teams last season and is the expected No. 2 return man behind Devin Hester. If Hester falters, Weems will likely get the chance to take over the role that helped get him to the Pro Bowl in 2010.
No. 37 -James Brown
Brown went from an undrafted free agent in 2012 to being active for five games, including three starts at the end of the season. He is raw but has shown the athletic ability to be a pulling guard. However, he will need to work on his strength this offseason if he wants a shot at being a starter again in 2013.

No. 36 - Adam Podlesh
Despite the belief that Podlesh had a down year in 2012, he finished with a career best 34 punts inside of the 20 as well as a net average of 39.4 yards per punt, second best of his career. Given the belief that the Bears new offense will have more sustainability than in years past, he may be seeing less time on the field.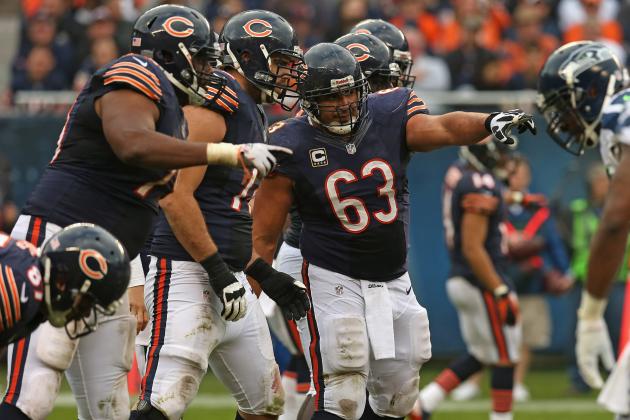 Jonathan Daniel/Getty Images

No. 35 - Tom Zbikowski

A Chicago area native and Notre Dame product, Zbikowski signed a one-year deal this offseason and will likely be the backup to Major Wright at the strong safety position. He is a hard hitter who plays well against the run but also has the ability to matchup well in the passing game.

No. 34 - Nate Collins

Somewhat of an unexpected contributor in 2012, Collins found a spot in the defensive tackle rotation after a strong showing in training camp. Although he only registered six solo tackles he did a good job of slowing up blockers and allowing the linebackers to clean up the play. He will likely resume his role in the defensive tackle rotation.
No. 33 - Khaseem Greene
After selecting a linebacker in the second round it came as a bit of shock that the Bears selected Greene with their fourth round pick. He has the speed and quickness to become a solid strongside linebacker in the league and will benefit from playing behind Lance Briggs. He will be expected to be a contributor on special teams.

No. 32 - Jonathan Scott
Following an injury and the poor play of Gabe Carimi, Scott jumped in at the right tackle position and played well enough in seven starts to get re-signed for the 2013 season. J'Marcus Webb will get the first crack at holding down the right tackle position but if he struggles, expect Scott to reclaim his starting job from a year ago.
No. 31 - Roberto Garza
Once viewed as the most consistent lineman on the Bears' roster, Garza struggled much of last season. He should benefit from a revamped offensive line around him. Jay Cutler's familiarity with him as well as a lack of depth at the position behind him will keep him as the starter heading into the season.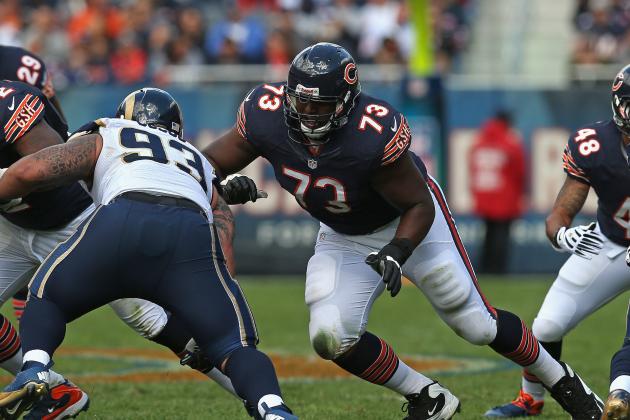 Jonathan Daniel/Getty Images

J'Marcus Webb's offseason did not start off the way he or the Bears would of liked when he was arrested in February on drug charges. The charges were ultimately dropped but the 2013 season will be a big year for a guy that has taken most of the heat for the offensive line's poor play in recent years.
Webb moves back to the right side of the offensive line and will be competing with Jonathan Scott to start at right tackle. He started 12 games at right tackle in 2010 and has stayed very healthy in his first three years, starting the last 42 games.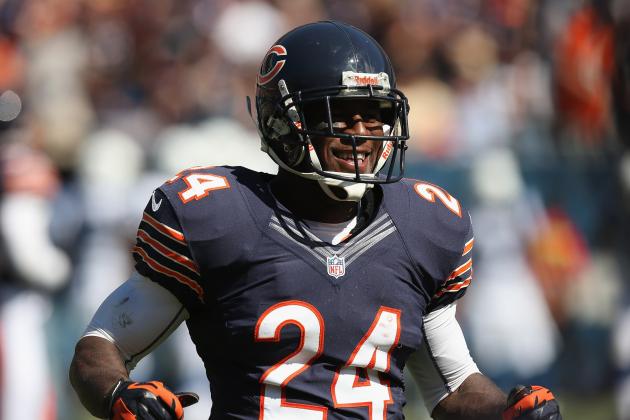 Jonathan Daniel/Getty Images

Kelvin Hayden joined the Bears prior to the 2012 season and was able to quickly beat out D.J. Moore as the starter at the nickelback position. He finished with 40 tackles and a career high four fumble recoveries. He was re-signed this past March on a one-year deal.
The nickelback spot is all but assured to him heading into the 2013 season but he will need to watch out for second year man, Isaiah Frey, who is expected to give him a push in training camp this summer.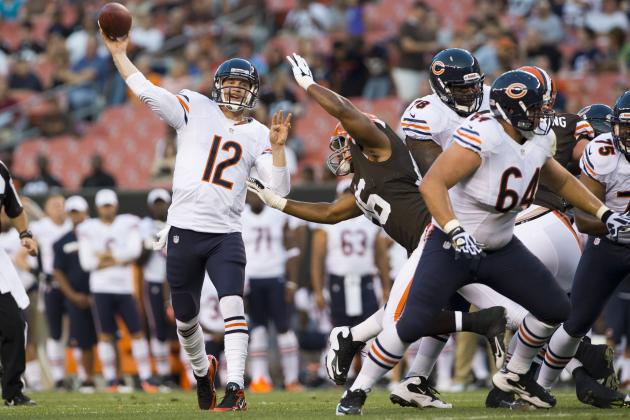 Jason Miller/Getty Images

Josh McCown has been a bit of a journeyman since being drafted by the Arizona Cardinals in the third round of the 2002 draft. He started 22 games in four years while in Arizona, throwing 25 touchdowns to 30 interceptions. Between 2006 and 2009, he spent time with the Oakland Raiders, Detroit Lions and Carolina Panthers, starting nine games in 2007 for the Raiders.
Because of his familiarity with then-offensive coordinator Mike Martz, McCown joined the team in 2011 following injuries to Cutler and backup Caleb Hanie.
He started the final game of the 2011 season and led the team to a victory over the Minnesota Vikings. He again returned to the Bears late in the 2012 season following an injury to Cutler and was signed to a one-year contract for the 2013 season in late March.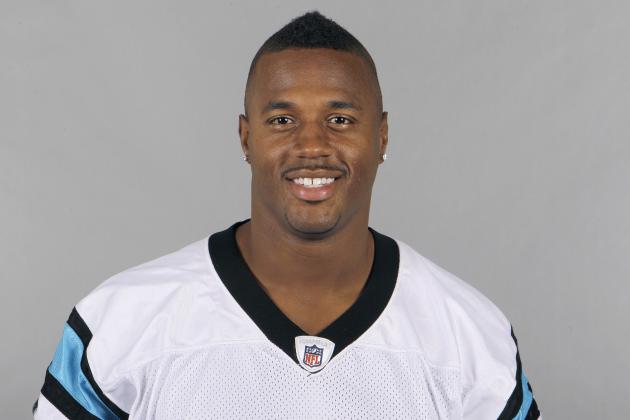 Handout/Getty Images

After losing Nick Roach in free agency to the Oakland Raiders, the Bears wasted little time in signing James Anderson as his replacement.
He started 43 of the last 44 games he has played but missed the last four games last season due to injury. He has been a solid contributor for the Panthers during the past three seasons including a 2010 season in which he recorded 130 tackles, three and half sacks, and one interception.
Barring an injury he is penciled in as the starter heading into 2013.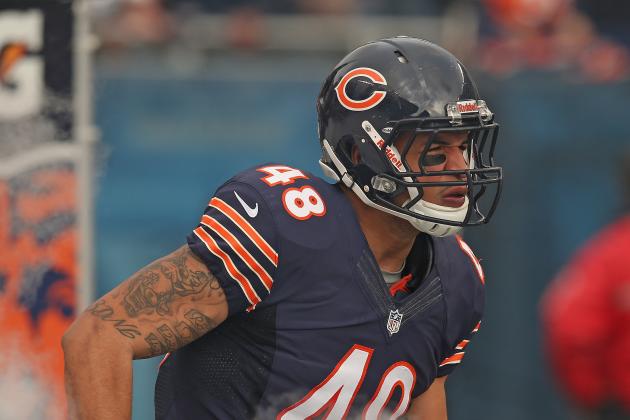 Jonathan Daniel/Getty Images

When drafted in the fourth round of the 2012 draft, Evan Rodriguez was viewed to be a tight end that could help spread out the field for the Bears. He eventually found his niche' as a fullback in Mike Tice's offense.
The addition of the offensive minded Marc Trestman as head coach should make Rodriguez more than just a lead blocking fullback as the West Coast Offense likes to use the fullback as a pass catcher.
He has good hands and speed and could be utilized in the slot as a mismatch against smaller nickelbacks or slower linebackers.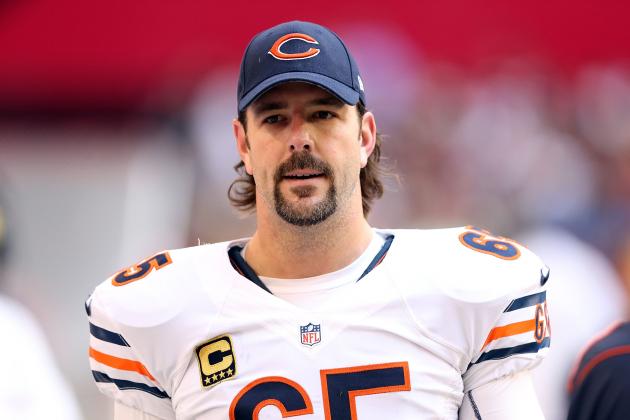 Christian Petersen/Getty Images

One of the most unheralded players in the league, Patrick Mannelly continues to go about his job in exceptional fashion week-in and week-out for the past 15 seasons.
Long snappers rarely get any publicity unless they do something wrong, so the fact that Mannelly has remained relatively nameless for 15 years is a good thing.
He broke Steve McMichael's record for most games played with the Chicago Bears (192) back in 2010 and entering the 2013 season he has played in 231 games for one of the NFL's most storied franchises.
At 38 he has shown no signs of regression and is expected to remain of the NFL's best long snappers in 2013.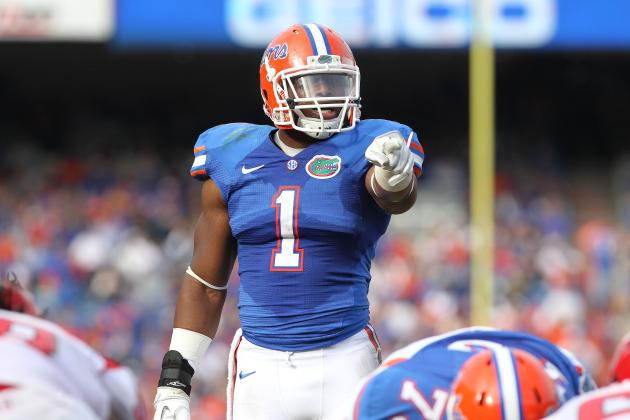 Kim Klement-USA TODAY Sports

A second-round selection this past April, Jon Bostic is a prototypical middle linebacker in a 4-3 defense. He is a downhill runner who attacks gaps and is a terror in run defense. He has the ability to lay a hard hit on a ball-carrier but also has enough speed to run a guy down.
His coverage skills need improvement, but he shows good flexibility in his hips and has great field awareness.
The Bears signed veteran D.J. Williams to fill the void left by Brian Urlacher, so Bostic will likely not be getting rushed into a starting role early into the season. Playing behind a guy like Williams will give him the ability to learn the defense, and he could work himself onto the field during various situations.
Expect Bostic to begin the season as a contributor on special teams and as the backup to Williams, but it would not be surprising to see him get an expanded role if Williams and/or James Anderson are unable to perform well on the field.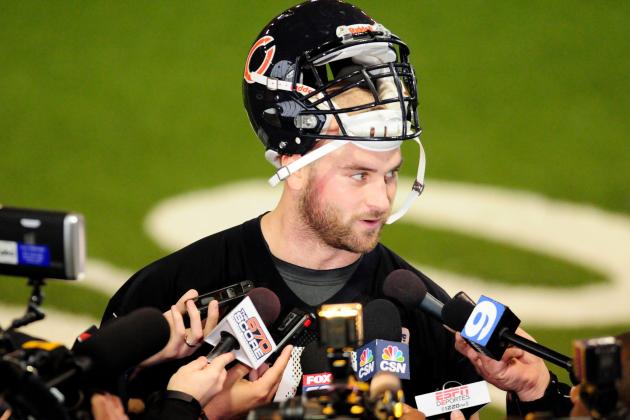 Reid Compton-USA TODAY Sports

The selection of Kyle Long with the Bears' first-round pick was a surprise to some but he has incredible athleticism for his size (6'6", 313 lbs), and despite his limited starts, he showed the ability to be a pulling guard and to get himself into the second level of defense. He needs to work on his technique, particularly in how he engages a defender as he tends to lunge instead of "manning up" with them.
Emery noted to the Chicago Sun Times that Long's athleticism and size could eventually result in him playing tackle but said he'd likely begin at guard:
He's going to start out at guard. We feel like he can be a starting right tackle. We feel like he can be a good left tackle in this league so that's part of what attracted us to him, to Kyle.
Despite Emery's comments, Long spent part of rookie minicamps working at the right guard position and it is likely he will get the chance to battle James Brown, an undrafted free agent last season, for playing time.
First-round picks are expected to play early, and those expectations should be no different for Long. Although Brown showed some nice flashes at the end of last season, Long should already have a slight upper hand and should be expected to be a starter in Week 1.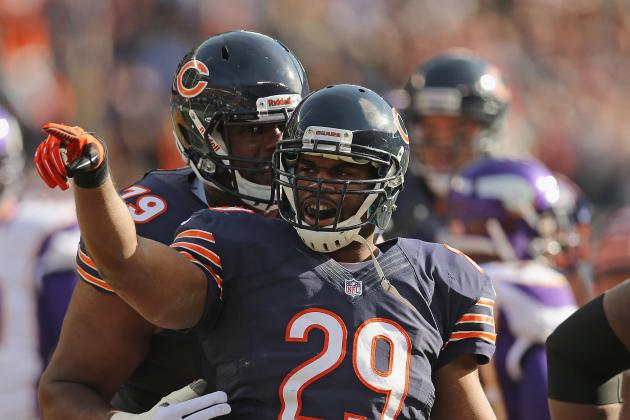 Jonathan Daniel/Getty Images

Signed to a four-year contract worth $14 million (with $7 million guaranteed) prior to the 2012 season, Michael Bush came to the Bears as an insurance policy behind Matt Forte.
He spent the first five years of his career with the Oakland Raiders, finishing the 2011 season with a career high 977 yards rushing and seven touchdowns.
He rushed for just 411 yards in 13 games but did find the endzone five times. Former offensive coordinator Mike Tice envisioned using him as a goal line/short yardage back and he will likely resume that role in 2013 under new head coach Marc Trestman.
He has shown in the past that he has the ability to catch the football, something that is important in Trestman's new offense, and he could provide a solid 1-2 punch with Forte in the running game.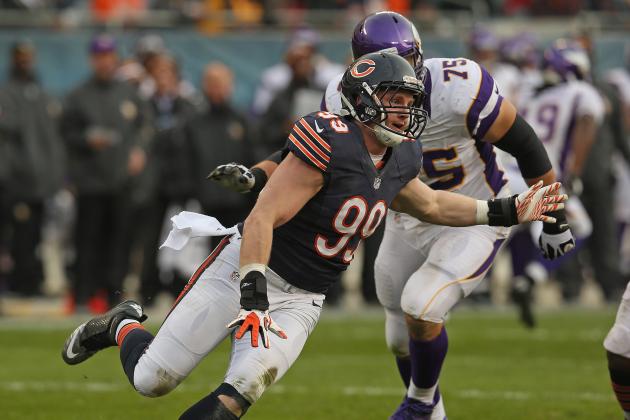 Jonathan Daniel/Getty Images

When the Bears selected Shea McClellin 19th overall in last year's NFL Draft, Phil Emery left many Bears fans scratching their heads.
McClellin was viewed as a prototypical 3-4 outside linebacker who had the ability to rush the passer and drop back into coverage, making it seem like an odd choice for a team deeply rooted in then head coach Lovie Smith's 4-3 Tampa-2 defense.
He suffered through some injuries last season and only registered 2.5 sacks and seven solo tackles through 13 games as a situational pass-rusher. He will need to improve on those numbers in 2013 to prove he was worthy of being taken with the 19th overall pick in 2012.
His versatility will allow the Bears to not only use him as a speed edge rusher but also as a guy that can drop back into coverage and use enough speed to matchup with tight ends in the passing game.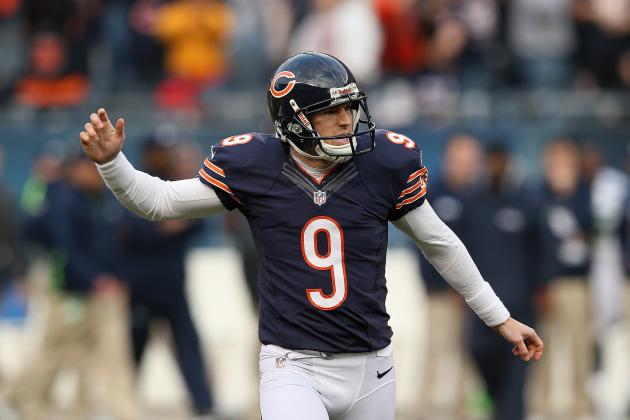 Jonathan Daniel/Getty Images

After missing the final three games of the 2012 season, Robbie Gould eventually had to have surgery on his injured calf this offseason and has yet to kick during the team's minicamps and OTAs.
The team signed Austin Signor to a deal this offseason but as long as Gould is healthy, he is expected to return as the team's kicker in 2013.
He has connected on over 85.5% of field goals throughout his career and he has improved his distance and kickoffs greatly in the last few seasons.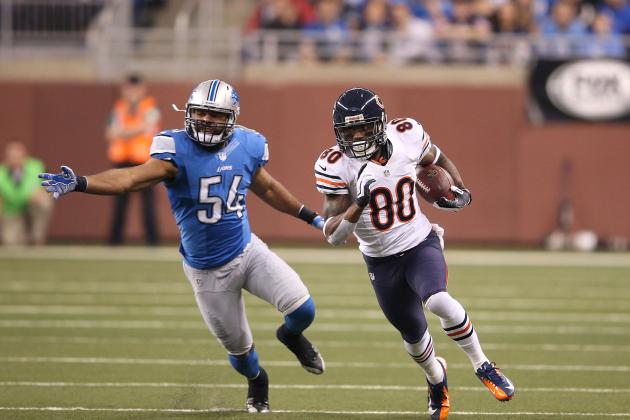 Leon Halip/Getty Images

In his first two seasons in Chicago, Cutler relied heavily on former Vanderbilt teammate, Earl Bennett. In 2009 Bennett finished the season with 54 catches for 717 yards and two touchdowns. In 2010 he followed that up with 46 catches for 561 yards, and three touchdowns. While not stellar numbers, Cutler relied on Bennett heavily in tough situations and on third downs.
Injuries have plagued Bennett in the past two seasons, only playing in 23 games and hauling in 53 catches for 756 yards and three touchdowns. He has shown in the past that he can be effective in the slot and should benefit from having Brandon Marshall and Alshon Jeffery on the outside.
His role may lessen this season because of the emergence of Jeffery and the addition of Martellus Bennett at tight end but he has shown in the past that he has a knack for coming up big on third downs. Also next to Marshall, he may be the wide receiver Jay Cutler trusts the most.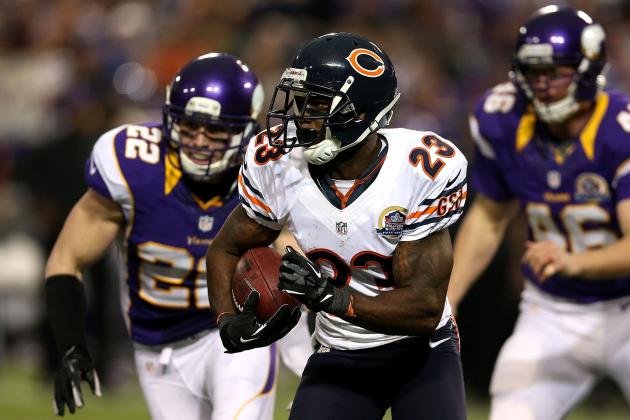 Matthew Stockman/Getty Images

For years the Chicago Bears have tried to make Devin Hester into something he is not—a wide receiver. As a result, they have instead stunted his growth as a return man.
Hester holds the NFL record for most kick/punt returns in NFL history with 18 but has been a shell of himself over the course of the last few seasons as he has turned most of his attention to being an every down wide receiver.
The Bears new coaching staff has made it clear that Hester will be just a return man this season and given less responsibility should help him return to his All-Pro form as a return man in 2013.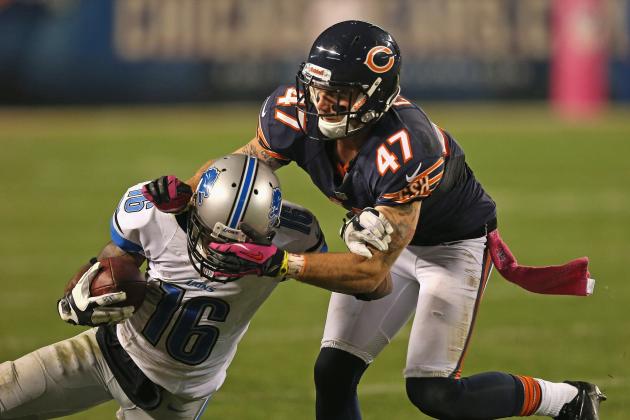 Jonathan Daniel/Getty Images

In Chris Conte's rookie season in 2011, he was given one stipulation, to always keep the play in front of him. He often lined up 20 yards off of the ball in hopes of not getting beat deep. In 2012, he was able to have more free range and was able to show the athleticism and speed that allows him to show blitz and be able to drop back into coverage, yet not be out of position.
He improved on keeping receivers in front of him and finished the season with two interceptions. He showed improvement from year one to year two and is expected to show that improvement again this season. He should begin the season at the free safety position with Major Wright holding down the strong safety spot.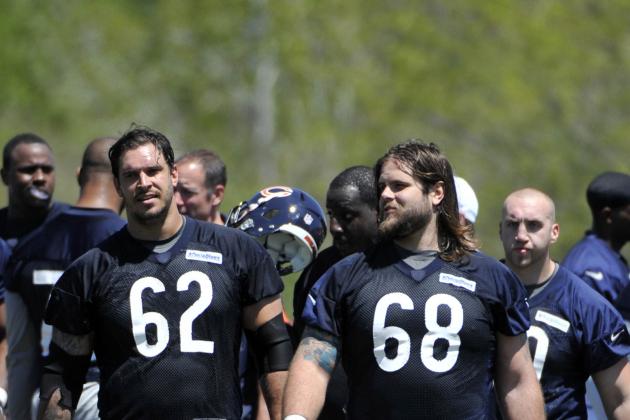 David Banks-USA TODAY Sports

After signing Jermon Bushrod to be the team's left tackle, the Bears continued their upgrade of their offensive line with the signing of veteran Matt Slauson.
He started all 48 games in the past three seasons with the New York Jets and is expected to start at the left guard position in Week One.
He has experience at both the right and left guard positions and went the entire 2012 season without giving up a sack. He is a physical guard that has underrated athleticism and a good jump off of the football. Whether the team plays him at left or right guard, he will be an upgrade over any of the guards that started for the Bears in 2012.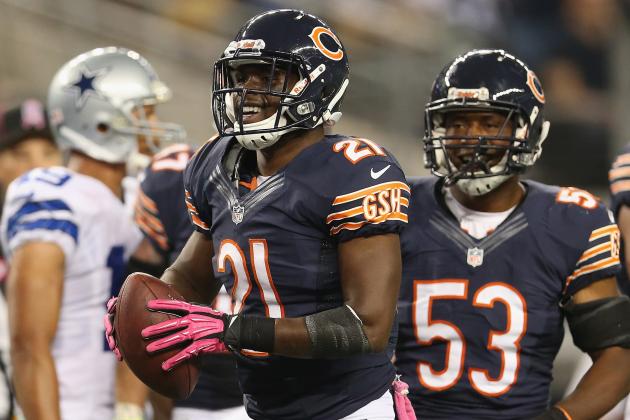 Ronald Martinez/Getty Images

Picked in the third round of the 2010 draft, Major Wright for the first time in his career showed consistency in 2012.
He started all 16 games in 2012 and has the versatility to play both the strong safety and free safety position. While Conte is viewed as the better blitzer, Wright has been strong in the box at stopping the run and has shown to play well as a single deep safety.
Going into a contract year in 2013, Wright will be looking to improve on his career high of four interceptions from last season.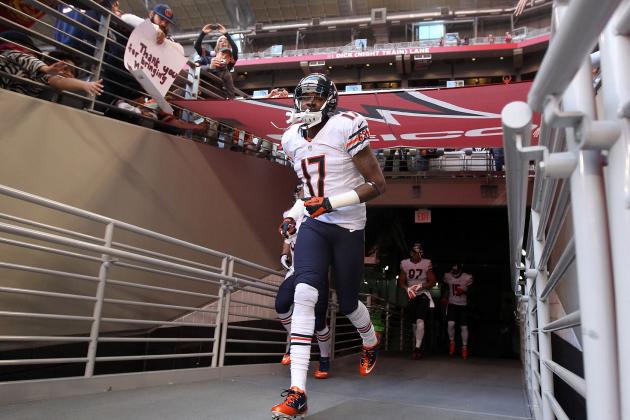 Christian Petersen/Getty Images

After being selected in the second round of the 2012 draft, Alshon Jeffery was expected to have a solid rookie season being paired across from Brandon Marshall on the line of scrimmage.
Injuries limited him to 10 games last season and he hauled in 24 catches for 367 yards and three touchdowns.
He has above average speed but will need to work on the use of his hands to keep from getting offensive pass interference calls against him. He presents another tall wide receiver that can stretch the field for Jay Cutler and should provide a solid receiving option in the redzone along with Marshall and tight end Martellus Bennett.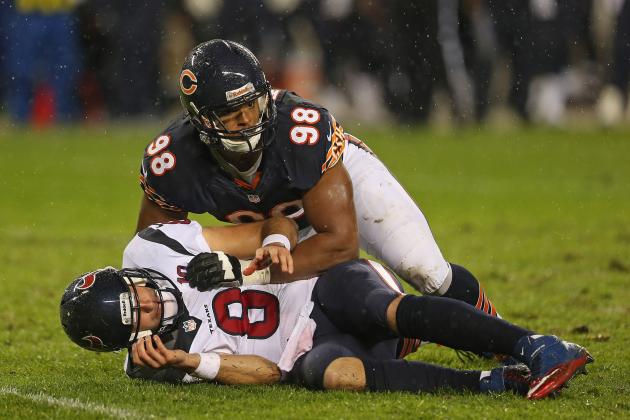 Jonathan Daniel/Getty Images

Heading into the 2012 season, Corey Wootton was most known for being the guy who ended Brett Favre's career. But 2012 proved to be a coming out party for Wootton who finished the year with seven sacks and two forced fumbles.
His improved play likely has made Israel Idonije expendable this offseason and he eventually took starting reps away from Idonije in the middle of last season.
He has been solid against the run and has shown a real knack at using his bull rush to get to the quarterback. Lining up on the opposite side of Julius Peppers should once again improve his numbers with the amount of double teams that Peppers receives.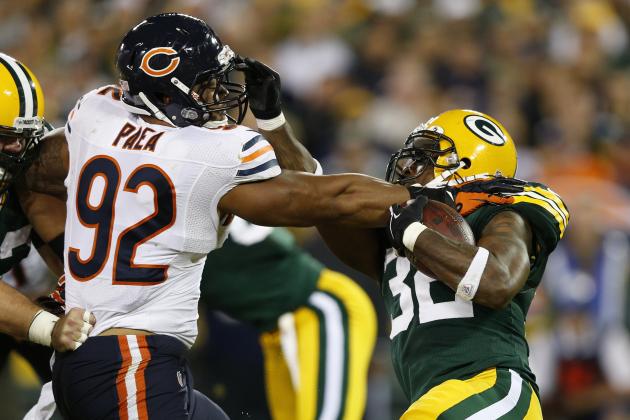 Joe Robbins/Getty Images

Stephen Paea started 14 games last season at the nose tackle position, racking up 13 tackles and two and half sacks.
While his numbers don't exactly jump off the page, his strength and quickness off of the line of scrimmage makes him the perfect compliment to Henry Melton at the three technique. His strength and ability to move offensive lineman clogs up holes and often forces runners to alter their running route.
He has shown an ability to rush the quarterback but will likely be taken off the field during obvious passing situations. He has become a force at stopping the run.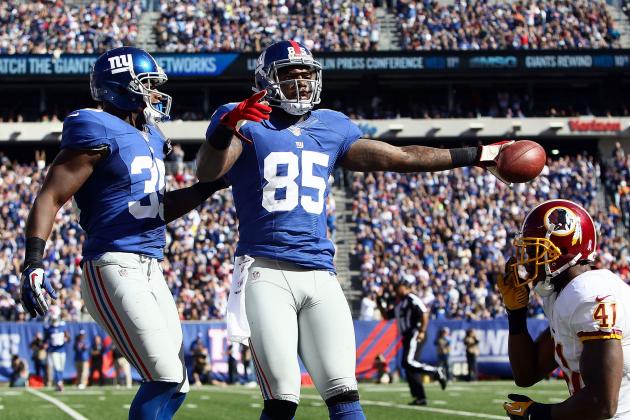 Alex Trautwig/Getty Images

One of the most eccentric players in all of the NFL, Martellus Bennett was signed this offseason to a four year deal and is expected to help spread out the middle of the field for quarterback Jay Cutler.
He finished the 2012 campaign with 55 catches for 626 yards and five touchdowns.
He is an underrated and willing blocker with soft hands and impressive speed and quickness for a player of his size (6'6" 265 pounds). He uses that size and speed to find open space, particularly in the middle of the field, and is able to create ample separation from both linebackers and defensive backs.
His speed will be too much to handle for most linebackers and his size and physicality can often overpower smaller defensive backs. His greatest asset will come in the redzone, an area that Cutler has struggled in the past few years as he hasn't had more than one legitimate pass catching target in the endzone.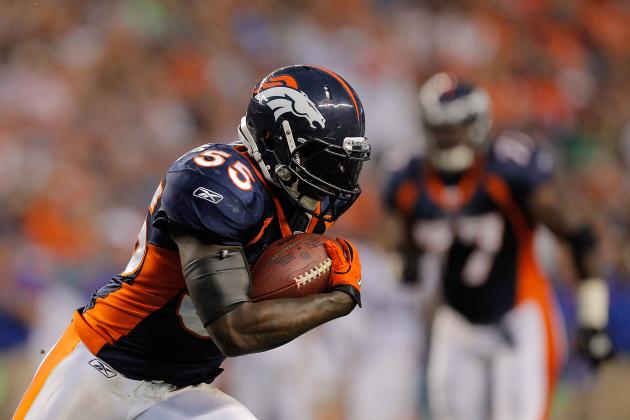 Justin Edmonds/Getty Images

The Bears wasted little time addressing the linebacker position once it was decided that they would not re-sign Brian Urlacher (who eventually retired) by signing veterans D.J. Williams and James Anderson.
Williams is a former first round selection of the Denver Broncos in 2004 and has experience playing all three linebacker positions in a 4-3 defense.
Injuries, a failed drug test, and legal issues have kept him off the field in recent years but given just the one-year deal that Williams signed, he is worth the risk heading into the 2013 season.
He was a tackling machine in Denver and has shown the ability to get to the quarterback having racked up 20.5 sacks in his career including a career high 5.5 in 2010.
His experience as a starter at all three positions, 39 starts at weakside linebacker, 47 at middle/inside linebacker, and 29 on the strongside, will allow the team to move him around if Anderson struggles and/or rookie Jon Bostic shows he can be a starter in his rookie season.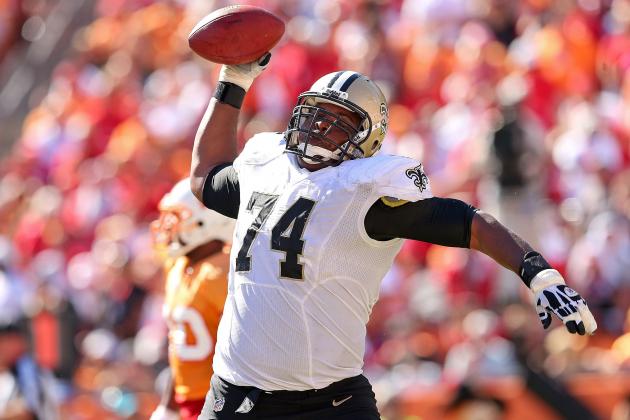 Mike Ehrmann/Getty Images

The left tackle position has been one of many questions and concerns over the past few seasons, but the Bears feel like they've remedied that problem with the signing of former Pro Bowler Jermon Bushrod.
Bushrod was one of the prized pupils of new offensive coordinator Aaron Kromer while he was the offensive line coach in New Orleans.
He has allowed just 7.5 sacks over the past two seasons and while he sometimes struggles against bull rushing defensive ends, he is athletic enough to matchup with speedy pass rushers and has been an extremely durable left tackle during his time in New Orleans.
He is an immediate upgrade over J'Marcus Webb at the left tackle position and if nothing else he will help provide some ease of mind to Jay Cutler when getting the ball from center.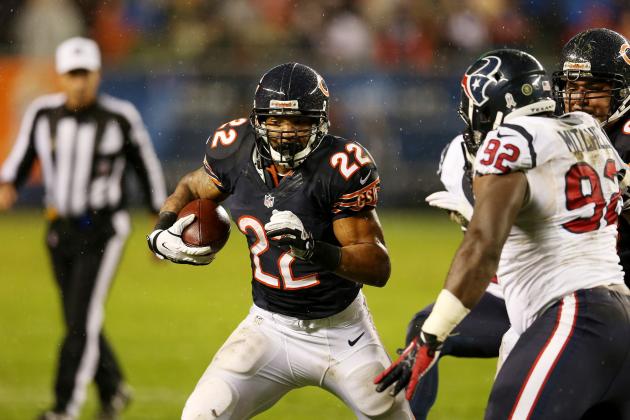 Jonathan Daniel/Getty Images

After signing a four-year, $30.4 million contract prior to the start of training camp this season, Matt Forte was vastly underutilized and suffered from an ankle injury for a good portion of the season.
He finished the season gaining just over 1,000 yards and scoring five touchdowns. Marc Trestman's offense wants to rely heavily on the running back not only as a rusher but as well as a pass catcher.
Forte has shown in the past that he has the ability to not only catch the football out of the backfield but also in lining up at the line of scrimmage as a receiver. He has 267 catches for 2,325 yards and nine touchdowns.
While not expected to have the same sort of numbers, Forte is comparable to Marshall Faulk given his ability to bounce off the edge in the running game and haul in catches in the passing game. The new offense combined with Forte's abilities should help him produce some of the best numbers of his career in 2013.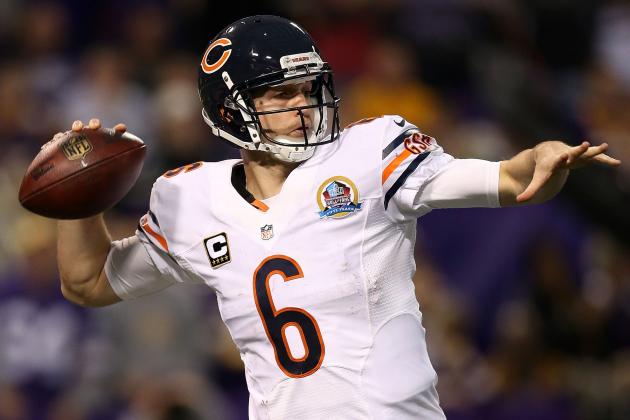 Matthew Stockman/Getty Images

When the Bears traded for Jay Cutler in April of 2009, he was expected to be the best quarterback the team has had since Sid Luckman in the 1940s.
While Cutler has gone on to make his mark on the Bears' quarterback record book, he has been little more than average throughout his time in Chicago. Injuries and poor offensive line play have contributed to his lack of success, but with the combination of a new coach and the final year of his contract, 2013 has the potential to be a big season for Cutler.
One of the biggest changes for this season, according to Cutler, will be an emphasis on getting rid of the ball faster, as he told ESPN Chicago:
We don't want to hold the ball. We don't want to sit in the pocket for long periods of time. Obviously there are going to be plays where we're going to have to sit in there and deliver it. But for the most part, we want it gone
Getting rid of the ball more quickly will greatly reduce the amount of pressure he sees from defensive fronts, but it will force him to be smarter with his decision-making. The organization's trade for Brandon Marshall last season gave him a reliable target. With improvements all along the offense line and an offense catered to him, 2013 could be one of Cutler's best.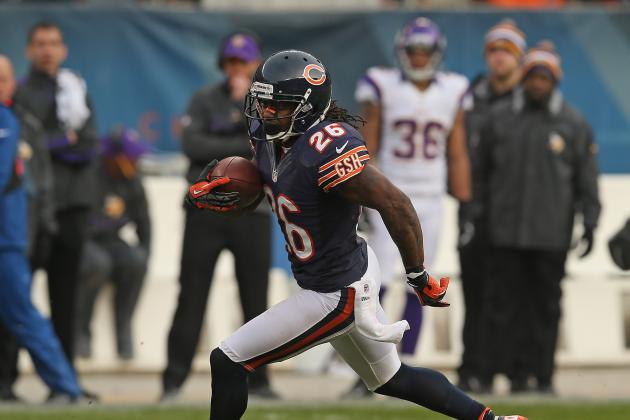 Jonathan Daniel/Getty Images

2012 was a coming out year for Tim Jennings, who was benched at one point during the 2011 season in favor of Zack Bowman. He had an impressive year, hauling in nine interceptions (two more than his career total of seven heading into 2012) en route to his first career Pro Bowl selection.
Jennings showed the ability to matchup well with all types of wide receivers from the big and strong receivers to small quicker receivers.
He played with good instincts and greatly improved his hands from 2011 to 2012. However, given his standout 2012 season he will have a lot of pressure to perform at the level again in 2013.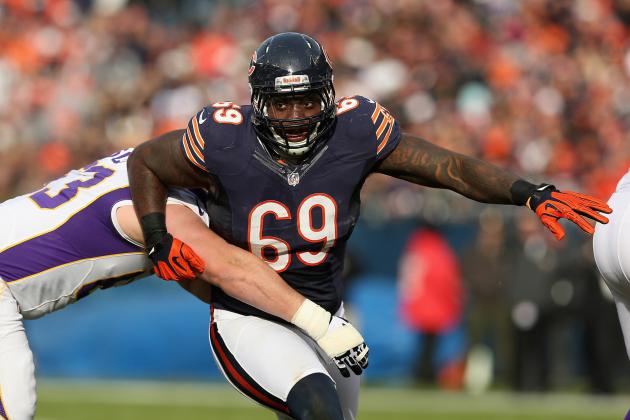 Jonathan Daniel/Getty Images

A first time Pro Bowler, Henry Melton finished the 2012 season with 43 tackles, six sacks, and two forced fumbles.
He was hit with the franchise tag earlier this offseason and while the team will likely try and sign him to a long term deal, he will continue to be the Bears starting three technique in 2013.
He was disruptive in the running game and found consistency with his pass rush, something he had lacked in the past. Lining him up next to Julius Peppers allows him to not get double teamed very often and he works best when given the chance to go after the quarterback.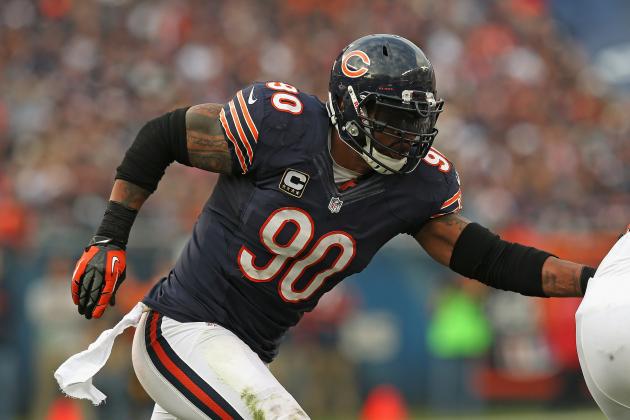 Jonathan Daniel/Getty Images

Since his arrival in Chicago, Peppers has totaled 30.5 sacks, including 11.5 in the 2012 season while struggling with a foot injury. He has been a force on the field, even though, at times, his numbers did not reflect it.
He is constantly double teamed and because of that it has helped players like Henry Melton and Corey Wootton improve their games. Despite the constant double teams he has been able to produce double digit sack totals the past two seasons and will be expected to do the same again this season in Chicago.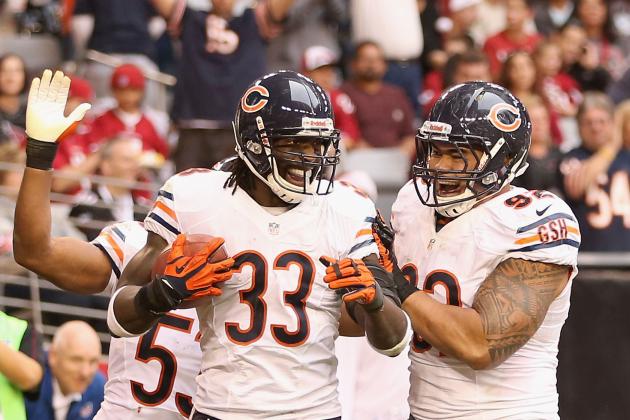 Christian Petersen/Getty Images

A year after claiming his first Pro Bowl nod, Tillman received the honor yet again after the 2012 season. He had arguably the best season of his career, 85 tackles, ten forced fumbles, and three interceptions, all returned for touchdowns.
He is a perfect fit in the Bears Cover-2 defense and they are expected to continue running that scheme under new defensive coordinator Mel Tucker in 2013. There is no one better at stripping the football and despite the firing of Lovie Smith, there will once again be a big emphasis on taking the ball away from the opponent.
He has one year left on his contract and will once again be the Bears number one cornerback in 2013.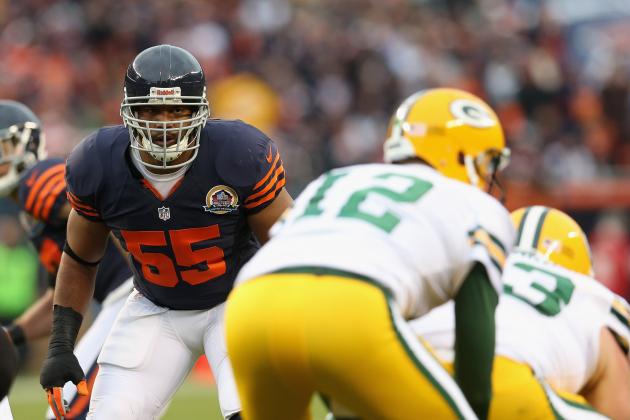 Jonathan Daniel/Getty Images

Often overshadowed by Urlacher, Briggs has continued to become one of the best 4-3 outside linebackers in football. He finished the season with 101 tackles, two forced fumbles, and two interceptions that he returned for touchdowns.
He has a nose for the football and is one of the best tacklers in the league. As of late he has been one of the best players on this defense and with Urlacher retiring, he will be making the calls on defense and is in the best position to become the new face of the defense in Chicago.
Often overshadowed by the pass rushing specialist 3-4 outside linebackers, few linebackers in the league play more consistently than Briggs does at the weakside linebacker position in the Bears 4-3 defense.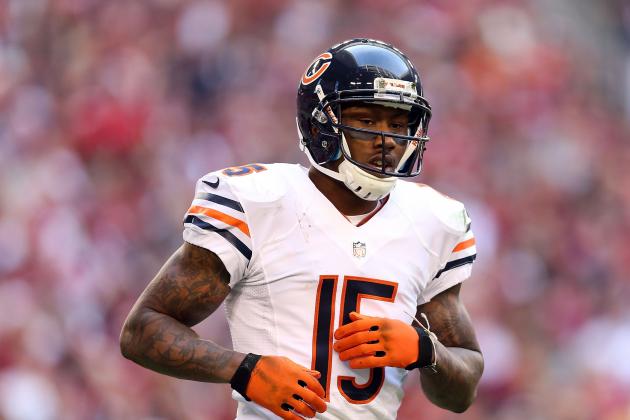 Christian Petersen/Getty Images

In 2012, new Bears wide receiver, Brandon Marshall, had one of the best seasons for a wide receiver in team history. He set new records for catches (118) and receiving yards (1,508) and set a personal career high with 11 touchdowns.
The connection between Marshall and Jay Cutler (former teammates in Denver) was evident from Week 1 as the two became, at times, the only highlight of the Bears often bleak offense.
His combination of size and speed makes him one of the NFL's elite wide receivers and despite constant double teams he was extremely productive in 2012.
A healthy Alshon Jeffery along with the addition of tight end Martellus Bennett should help draw double team's off of Marshall. He could potentially have an even better season in 2013 than he did in 2012.