20 Most Astonishing Photos of the 2013 NBA Playoffs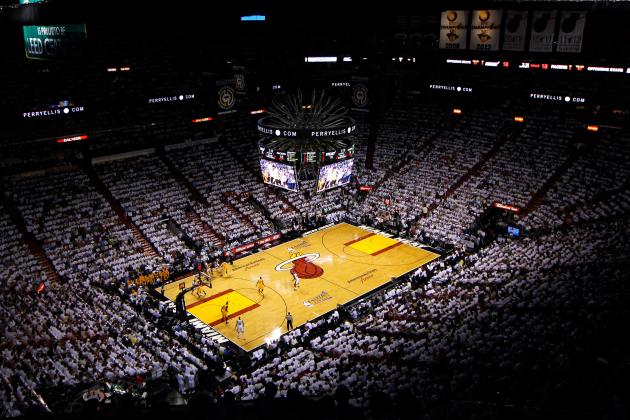 Chris Trotman/Getty Images
Don't be skeptical—this is not one of the most astonishing photos of the playoffs.
We've got plenty of the 2013 NBA playoffs left to go, and already the amazing and astonishing moments are piling up.
Every postseason is memorable in its own way, but this year it seems even more memorable than usual. That's not always necessarily a good thing—the injuries haven't been fun, that's for sure—but in general, all of these crazy moments have delivered a great postseason. So what could possibly be better than reliving them?
Nothing, that's what.
Begin Slideshow

»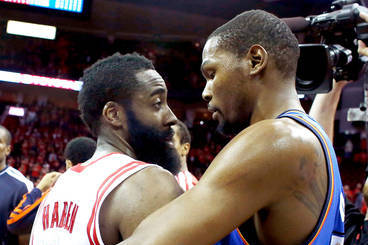 Photo Credit: Scott Halleran/Getty Images
Maybe this doesn't have quite the same impact now, but this photo would have seemed inconceivable less than a year ago.
It's crazy how fast things move in the basketball world. The Oklahoma City Thunder have grown from the lovable kids trying to knock off the powerhouses of the Western Conference to bona fide, year in and year out contenders.
And now that the Houston Rockets have their superstar, they've become exactly what the Thunder once were. The NBA is so fun.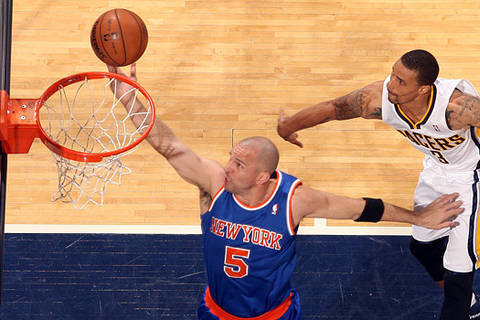 Photo Credit: Nathaniel S. Butler/Getty Images
Jason Kidd missed this shot. Seriously.
But he didn't only miss this shot...Kidd missed just about every shot he took this postseason. He was historically inept offensively. He averaged 0.9 points per game and shot 12 percent from the floor.
He also didn't hit a shot from Game 3 in the first-round series against the Boston Celtics to Game 6 of the series against the Indiana Pacers—the span of almost an entire month. He didn't even take a free throw in all that time.
Kidd's one of the greatest ever, but he had a postseason to forget. To put it nicely.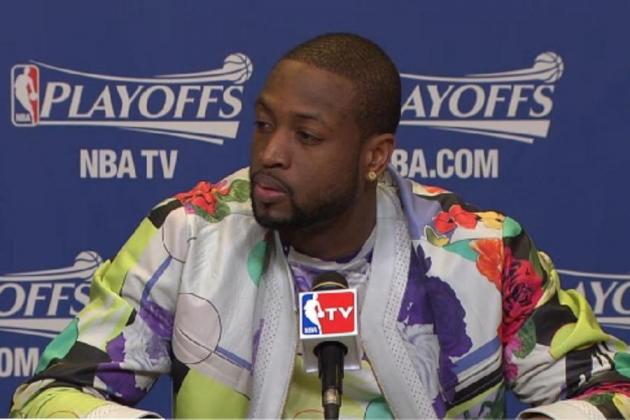 The astonishing thing isn't just that Dwyane Wade is wearing this floral jacket, but that the jacket even exists at all. This NBA fashion thing is starting to get out of hand.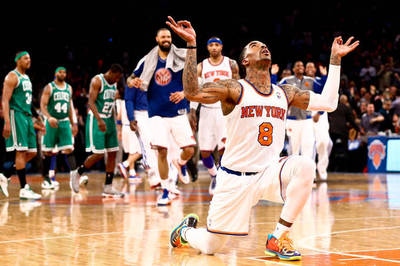 Photo Credit: Debby Wong-USA TODAY Sports
I have genuinely no clue what's going on in this picture. But I love everything about it.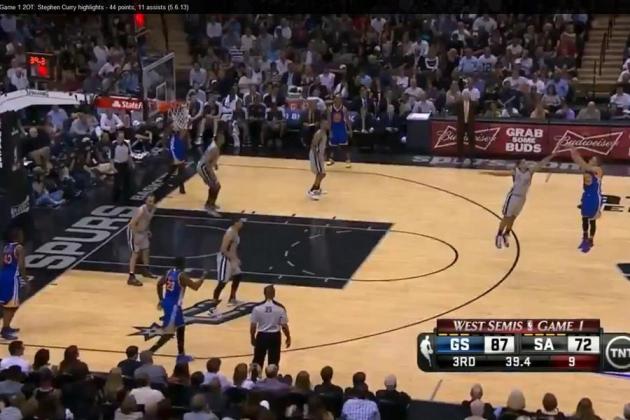 San Antonio Spurs fans probably know this 30-foot three as the moment they officially started to hate Stephen Curry. For almost every other NBA fan, it's the moment they really started to love him.
Either way, we can all recognize Curry's scoring binges (and nifty passes) for what they are. Amazing.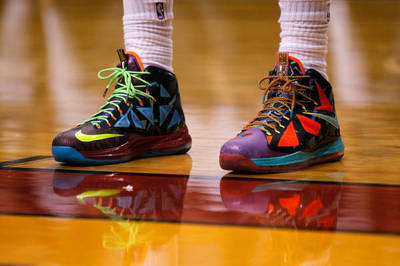 Photo Credit: Chris Trotman/Getty Images
These shoes that LeBron James wore in Game 1 against the Chicago Bulls are...yeah.
But now that I think about it, they'd probably make a killer combo with Dwyane Wade's floral jacket. How has that not happened yet? Seems like a no-brainer.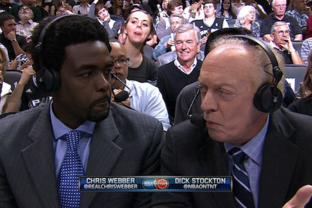 This picture may look pretty run of the mill at first. It's not.
The theory is that the "Spurs Shrieker," the man/woman who made this noise, was somewhere among the sea of fans behind Chris Webber and Dick Stockton.
Since no one seems to be able to put their finger on the exact identity of the shrieker (many different people have tried to claim the not-so-enviable title), his/her identity may forever remain a secret.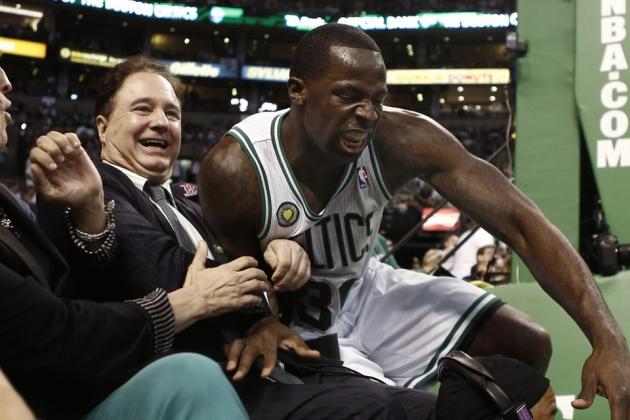 Photo Credit: AP Photo/Winslow Townson
Never before have two people had such different reactions to the same event.
Boston Celtics co-owner Stephen Pagliuca (the guy Brandon Bass is jumping on) looks like he's delighted to be so close to the action. Bass looks like he wants to murder everyone in the building. The highest of comedy.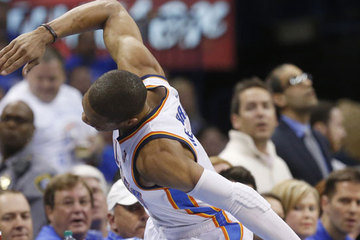 Photo Credit: AP Photo/Sue Ogrocki
Oklahoma City Thunder fans may recognize this photo, which was taken just a few seconds after their season's fate had basically been decided.
What you see here is Russell Westbrook slapping the scorers' table in frustration after Houston Rockets guard Patrick Beverley bumped into his knee while trying to go for a steal in their first-round series. The now-infamous bump led to Westbrook's season-ending knee injury. Westbrook had previously never missed a game in his five-year NBA career.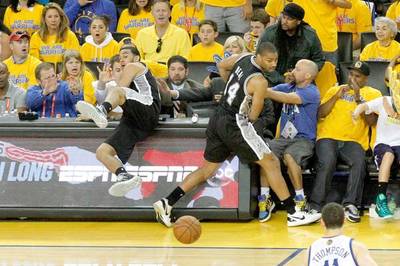 Photo Credit: Cary Edmondson - USA TODAY Sports
The San Antonio Spurs' Gary Neal and Cory Joseph were actually trying to save the ball from going out of bounds, but this photo makes it look like the ball is the most frightening thing they've ever seen in their lives.
That's pure terror on Joseph's face, that's what that is.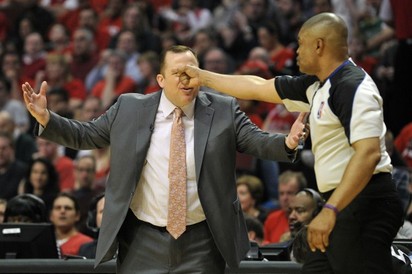 Photo Credit: AP Photo/Jim Prisching
In reality, it only looks like NBA referee Tony Brothers is punching Tom Thibodeau in the face. But considering how much Thibodeau ragged on the officials throughout the course of the playoffs, it wouldn't have been totally shocking, right?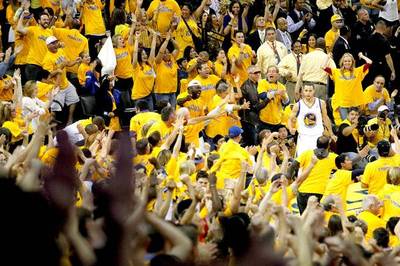 Photo Credit: Cary Edmondson - USA TODAY Sports
There are good playoff atmospheres, and there are great playoff atmospheres. And Golden State Warriors fans have been showing us the difference between the two for just about forever.
It's amazing how well Stephen Curry—who's evolving into one of the league's biggest "wow" guys—meshes with the crowd on a game-to-game basis. There's not a better crowd-player combo in the NBA. The playoffs cemented it.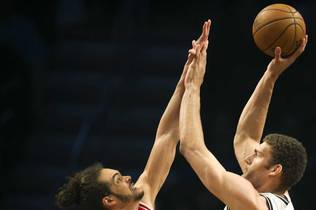 Photo Credit: DON EMMERT/AFP - Getty Images
Ahh...sportsmanship.
It's really refreshing to see two opponents who find cheering each other on just as important as winning the game. But I guess we shouldn't be surprised that this kind of behavior is coming from Joakim Noah.
Noah's been the model of sportsmanship and camaraderie throughout the entire postseason. What a guy.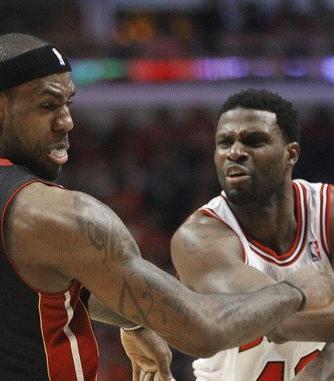 Photo Credit: AP Photo/Charles Rex Arbogast
Anyone who wants to get an indication of just how chippy the Bulls-Heat series was needs to look no further than this photo.
After LeBron James hit Nazr Mohammed with a hard foul in Game 3, Mohammed got up and knocked James to the ground with a two-handed shove, earning an ejection in the process. This exact moment ramped the intensity of this series up yet another notch.
And as an aside—no way did James flop on this one. Mohammed gave a hard shove on an unsuspecting opponent. Not a lot of players are going to be standing after that.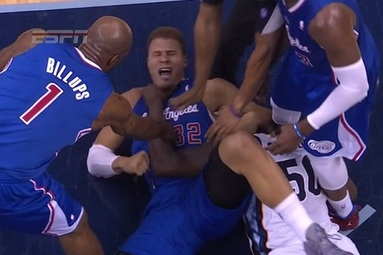 My goodness, Zach Randolph is terrifying.
Randolph and Blake Griffin got into a few scuffles in their first-round matchup, but this little wrestling match actually ended in Randolph choking Griffin. Seems a little extreme.
Between this and the high ankle sprain he battled toward the end of the series, it's safe to say the 2013 NBA playoffs were a pretty miserable experience for Griffin.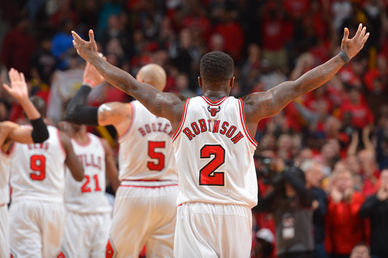 Photo Credit: Jesse D. Garrabrant/Getty Images
This photo, taken during Nate Robinson's historic fourth quarter outburst in Game 4 against the Brooklyn Nets, is pretty great. But nothing beats what Robinson said following the game.
Said Robinson, per the Associated Press:
I always think I'm on fire, kind of like the old school game NBA Jam. You make a couple in a row, the rim's on fire. You shoot the ball, the ball's on fire. I feel like that at times - all the time. Whenever I'm in the game, I just play with a lot of confidence. You kind of have to lie to yourself and feel like you can't miss.
No quote will ever sum up the way Robinson plays (or the way he makes you feel when he's heating up) better than this one. Never change, Nate. You're one of a kind.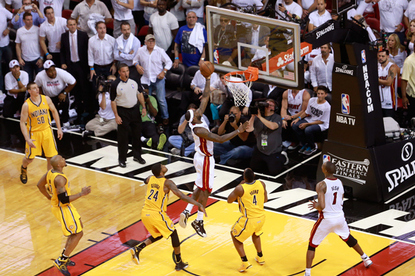 Photo Credit: Chris Trotman/Getty Images
The most astonishing thing about this photo? The fact that Roy Hibbert wasn't in the game.
Obviously, people have already harped on and on about this, but it still seems like an absolute no-brainer. You should probably have your seven-foot defensive anchor—who's one of the best rim-protecting bigs in the league—on the floor when you're up one with two seconds to go.
Especially when the other team has two players who can get to the rim at will. Just saying.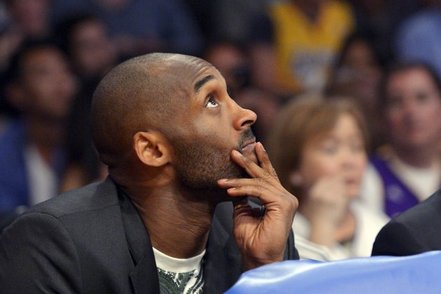 Photo courtesy of atlantablackstar.com
There's something about seeing Kobe Bryant in street clothes that just doesn't seem right. And seeing him in street clothes in the middle of a playoff series...that's about as strange as it gets.
Hopefully, Kobe comes back stronger than ever, and we see him in another playoff series before all is said and done. This doesn't seem fitting for the twilight years of an all-time great.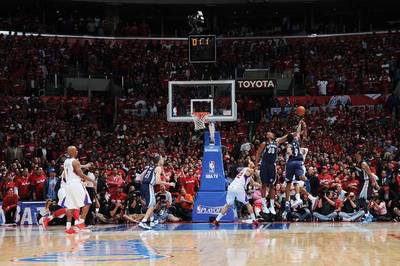 Photo Credit: Andrew D. Bernstein/NBAE - Getty Images
The Los Angeles Clippers clearly have some big decisions to make concerning their next coach now that Vinny Del Negro has officially been fired. But their top priority had better be making sure that Chris Paul is firmly behind whoever they hire. They can't afford to let him get away.
Just look at the game-winner Paul hit to beat the Memphis Grizzlies in Game 2 of their first-round series. How many players could even get that shot off, let alone actually make it? Unbelievable.
The Grizzlies may have taken the series, but Paul was able to wow us, nonetheless.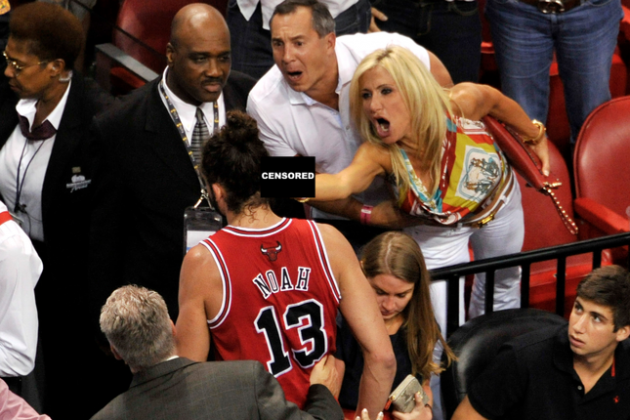 Now that's just class, that's what that is.
Honestly, the best part about this photo is actually the young woman at the bottom who looks like she desperately wants to be anywhere else in the world. And what a great move by the woman flipping Joakim Noah the bird (she was later identified by the Florida Sun-Sentinel as Filomena Tobias). Anytime you can harass a player and ruin the game for another fan, you do it.
But I guess she already knows that.