Complete Guide to Liverpool's 2013 Summer Tour: Indonesia, Australia, Thailand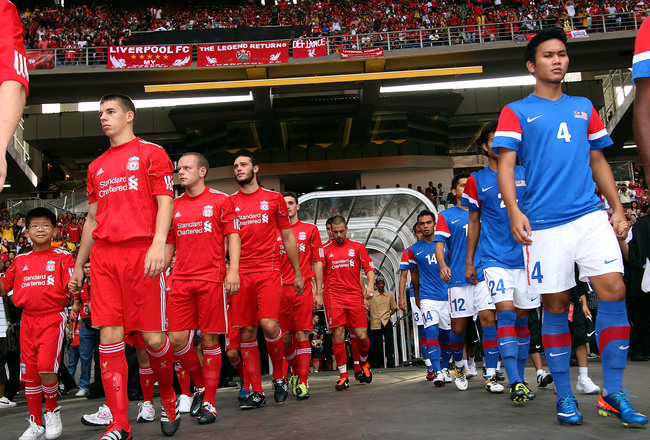 Malaysia XI vs. Liverpool: 2011
Stanley Chou/Getty Images
Has it really only been just four days since the season ended?
At the time of writing, the Premier League wrapped up merely four days ago, and for Liverpool, Anfield bade farewell to a true legend on Sunday as Jamie Carragher made his final appearance in a Red shirt.
Over the past few days, a few other high-profile Premier League teams have already embarked on their postseason tours: Chelsea and Manchester City are currently in the United States, where the latter has made a media splash following the announcement of a 20th MLS franchise, New York City Football Club, in which City will hold a majority stake, according to The Telegraph.
Of course, Liverpool had made plans for a postseason tour of their own in South Africa, only for a late decision by the South Africa Premier Soccer League to cancel a planned May 21 friendly against Ajax Cape Town, as confirmed on the official Liverpool website.
So, instead of a tiring trip to the southern hemisphere after a grueling season—the postseason tour seems to be a recent addition to the already busy fixtures facing Premier League clubs—Liverpool will have to wait until July 20 before their first friendly action this summer.
Over the course of eight days, the Reds will be visiting Indonesia, Australia and Thailand as part of a campaign to reach out to the fans in the region, with the first two fixtures Liverpool's first ever visits to those countries.
Read on for a detailed guide and introduction to Liverpool's 2013 summer tour.
July 20: Indonesia XI vs. Liverpool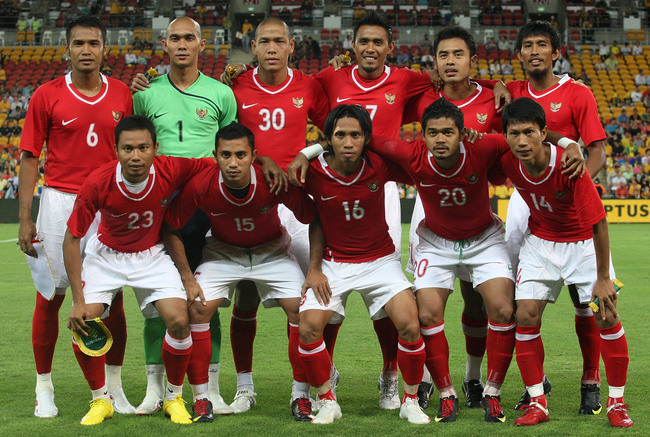 Indonesian squad, 2011 AFC Asian Cup qualifiers
Bradley Kanaris/Getty Images
Liverpool's first preseason match of the 2013-2014 campaign will be in Jakarta, Indonesia, as Brendan Rodgers becomes the first Reds manager to take the club to the Southeast Asian country.
The match, against an Indonesian XI, will be held at the Gelora Bung Karno Stadium, which has been used mostly to host high-profile football matches in tournaments like the AFC Asian Cup, the AFF Suzuki Cup and the 2014 FIFA World Cup Qualifiers.
With a stadium capacity of 88,083, the GBK Stadium will also host an open training session for Indonesian Liverpool fans to witness the players take part in pre-match training, an event that Malaysian fans made famous last season with their phenomenal turnout two summers ago.
The fanatical level of Liverpool's Indonesian support is well-known: According to the Reds' official tour website, they now have more fans from Indonesia on social media than from any country in the world, with concerted pushes on this front recently and still to come in the lead-up to the event.
Less high-profile than the match itself will be the community work that the Liverpool FC Foundation will carry out to complement the club's footballing engagements. Expect to see a host of programs put on by Liverpool in the form of clinics and social events as they aim to extend their marketing and social responsibility reach as part of a noticeable strategy in recent years.
July 24: Melbourne Victory vs. Liverpool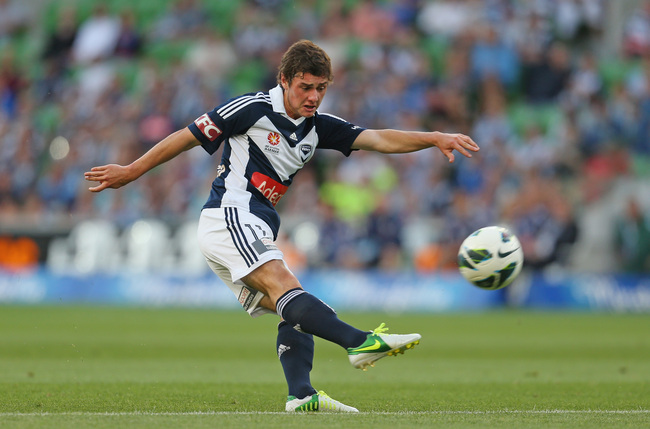 Marco Rojas of Melbourne Victory and New Zealand
Scott Barbour/Getty Images
Four days after Liverpool's match in Indonesia, the Melbourne Cricket Ground will host a high-profile friendly between A-League side Melbourne Victory and the visitors on July 24.
The Victory finished the 2012-2013 A-League season in third place and might yet contest the 2014 Asian Champions League depending on AFC allocation, and the Melbourne-based side have a couple of high-profile connections to Liverpool.
Former Liverpool winger Harry Kewell enjoyed a two-year spell at the Victory, scoring eight league goals in 25 games, while star New Zealand forward Marco Rojas, who had been linked with a move to Anfield, according to the Daily Mail, has recently put pen to paper at Bundesliga side VfB Stuttgart.
In addition, Liverpool's second-choice goalkeeper, Brad Jones, was born in Perth and has been capped three times for the Australian national team.
The Victory are also involved in a state-wide league played in Tasmania. The Victory League, which was founded in 2012 and will commence in 2013, is sponsored by the A-League club and is based in Tasmania, where it will be a subdivision of the Australian National Premier Leagues underneath the A-League itself.
The Melbourne Cricket Ground, the largest stadium in the country and the 10th-largest in the world, is unsurprisingly used mostly for cricket matches. It has been used for warm-up matches leading up to FIFA World Cups and has hosted high-profile friendlies between Australia and such illustrious sides as the Argentina national team and Manchester United.
With a total capacity of 100,018, the MCG will be a perfect venue to showcase the development of Australian football against a predictably young Liverpool side.
July 28: Thailand vs. Liverpool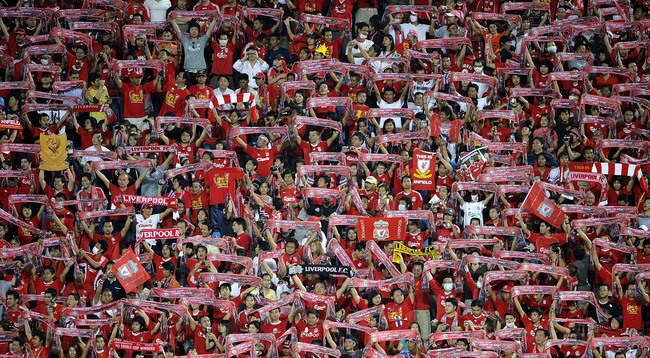 Thai support vs. Liverpool, 2009
Victor Fraile/Getty Images
On July 28, Liverpool's whirlwind Asian summer tour will wrap up with their fourth visit to Thailand to take on the Thailand national team at the Rajamangala National Stadium.
The home stadium of the Thailand national team, the RNS has hosted AFC Asian Cup and AFC Champions League matches and has 49,722 seats out of a total capacity of 65,000.
Just like the club's program in Indonesia, Liverpool will also put on an open training session at the same stadium in the build-up to the match itself, providing fans in the area with an opportunity to witness their idols in everyday action.
Given that it will be the Reds' fourth visit to Thailand, the support in the region does not need to be elaborated much. The club's Thai-language Twitter account is one of the 17 iterations of Liverpool's social media reach to different fanbases and boasts more than 20,300 followers.
Thailand anchored Liverpool's first-ever Asian tour back in 2001 with a fanatical stadium atmosphere welcoming the Reds, who featured the likes of Michael Owen back then. This summer's encounter should bring back memories for senior Liverpool players such as Steven Gerrard and will provide a memorable end to the summer tour.
Then, back at Liverpool on August 3, there is only the small matter of Steven Gerrard's testimonial against Olympiakos at Anfield to look forward to.
For more extensive coverage on the Premier League, check out my Bleacher Report writer's profile and follow me @theredarmchair.
Keep Reading

Liverpool: Like this team?