Boston Celtics' Step-by-Step Guide to the Offseason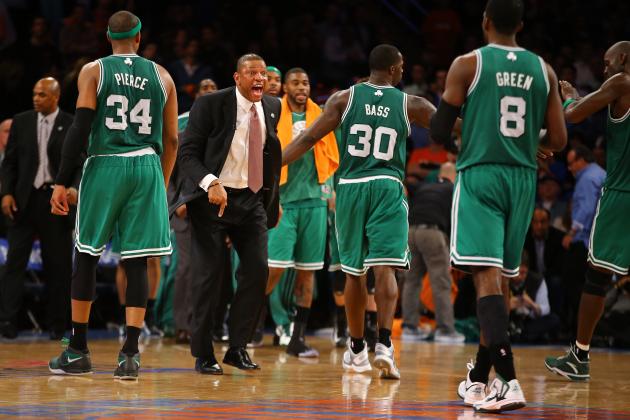 Al Bello/Getty Images
The C's have a busy offseason ahead of them.
The Boston Celtics have their work cut out for them this offseason.
Starting next month, the Celtics will have to make one important decision after another. They are decisions that will ultimately shape the next season...maybe even the next decade.
Needless to say, this will be one of the most significant summers in franchise history.
From the outside looking in, Boston's 2012-13 campaign was rather disappointing.
On the heels of a valiant run to within one game of a third NBA Finals trip in five years, the team stumbled to a 41-40 regular-season record and the seventh seed in the Eastern Conference. In the first round, the Celtics were overpowered by the New York Knicks, succumbing in six games.
Record-wise, it was the team's worst season since Kevin Garnett's arrival in 2007. But it certainly shouldn't be considered as much.
Following several key injuries, specifically to Rajon Rondo, Boston was considered down and out. Yet the team managed to regroup and put together a sensational effort even to make the playoffs. It was easily one of head coach Doc Rivers' best coaching jobs.
But while the run reflected the Celtics' "never say die" attitude, it also exposed the team's true identity: an over-the-hill squad with several gaping holes.
Now, in an offseason full of questions, general manager Danny Ainge and the Boston front office must quickly put the pieces of the puzzle together. They have plenty of tough decisions ahead of them.
Rivers took a little weight off of their shoulders, announcing that he will be returning next season, but work still remains to be done.
Begin Slideshow

»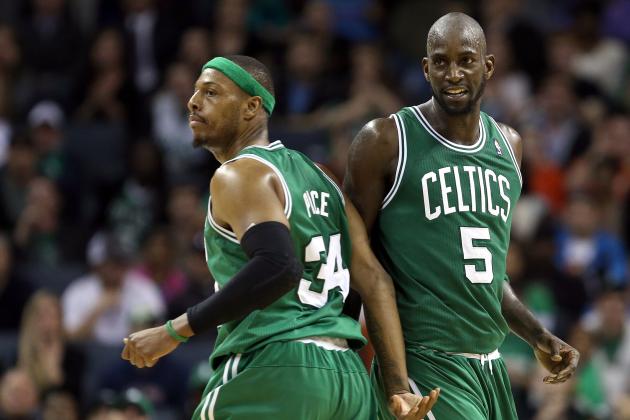 Streeter Lecka/Getty Images
Will these two be around for another year?
For the last 14 seasons the Celtics have been Paul Pierce. That could all change in little over a month.
It's all up to GM Danny Ainge essentially.
As it is, Pierce is slated to make $15.3 million next year. However, only $5 million of it is guaranteed. If he's on Boston's roster after June 30, the team has to guarantee the remainder of the deal.
Oh, what a dilemma the Celtics have found themselves in.
There's already been talk around the league that Ainge has currently been taking offers for the 35-year-old. Most recently, according to TrueHoop Network's Michael McNamara, Boston has been linked to a trade that would bring in Eric Gordon in return for both Pierce and Avery Bradley.
While Gordon is certainly a young player with a promising future, is he really worth giving away arguably your best player last season and one of your younger ones? Not to mention, is it worth creating even more holes for the team to fulfill?
The answer is simple: No.
The Celtics could choose to waive Pierce and free up their full mid-level ($5.15 million) and biannual ($2.02 million) exceptions. However, that could create further problems.
More specifically, that can almost guarantee the departure of Kevin Garnett.
Following Boston's exit from the postseason, many questioned whether Garnett would retire or not. Judging by his body language, he seems to be ready for another season.
But that all relies on what the team does with Pierce.
"One of the big reasons I came here was because of [Pierce]," Garnett said, via The Boston Globe. "I'd be lying to y'all if I said [Pierce] didn't play into that factor."
With that said, Ainge has a tough decision to make.
Does he want the duo around or is he ready for the next chapter?
My guess is that we've seen the last of the two sure first-ballot Hall-of-Famers.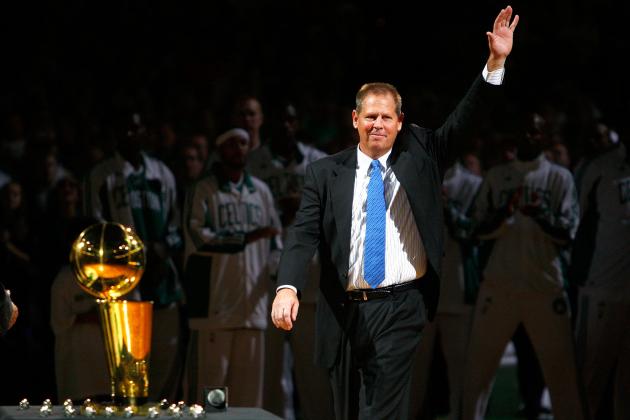 Jim Rogash/Getty Images
Several options are there for Ainge in the draft.
The draft presents the Celtics with a perfect opportunity to fill some needs. More specifically, the team will be looking to pick up either a rebounder or a backup point guard.
With the 16th pick during the June 27 draft, Boston has a good shot at addressing one of these issues.
Louisville's Gorgui Dieng would be a perfect fit to solve the rebounding issue.
The 23-year-old center played a vital role in helping the Cardinals capture the NCAA national championship this season. He averaged 9.8 points, 9.4 rebounds and 2.5 blocks over 31.1 minutes per game. Dieng also shot 53.4 percent from the field.
With a 7'4" wingspan, the 6'11" big man has proved to be an intimidating interior defender. Whether it's blocking shots, grabbing rebounds or delivering hard fouls, Dieng made opponents think twice about driving into the paint. Not surprisingly, he was named the Big East Defensive Player of the Year.
Dieng would be a great fit for the Celtics.
To fill the point guard void, the team should consider German sensation Dennis Schroeder.
The 19-year-old has quickly risen up the draft boards of many scouts after several impressive workouts. During the season for German side New Yorker Phantoms Braunschweig, he averaged 11.6 points and 3.1 assists over 24.7 minutes per game. Schroeder also shot 43.3 percent from the floor and 40 percent from beyond the arc.
His strengths are ball-handling, his lighting quick first step and a knack for getting teammates involved. Schroeder has largely been compared to Rajon Rondo.
Who else would be a better backup for Boston's superstar point guard?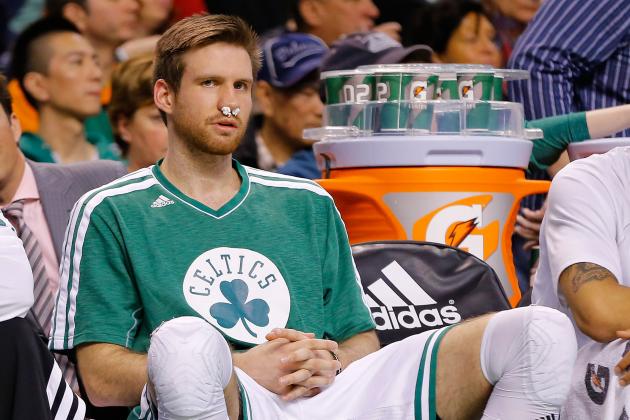 Jared Wickerham/Getty Images
Randolph is a player Boston would benefit from having back.
Before the Celtics can lock in on this summer's free agency, they need to make some decisions regarding their own roster.
As it stands, only Chris Wilcox is set to become a free agent. However, according to HoopsHype.com, two players—Shavlik Randolph and D.J. White—have non-guaranteed contracts for next season.
Let's take a look at the decisions regarding these players.
In 61 games, Wilcox averaged just 4.2 points and 2.9 rebounds over 13.6 minutes per game. He suffered a great deal in the absence of Rajon Rondo. Wilcox's poor play on defense—he posted a defensive rating of 101.6—also made him a frequent fixture in Doc Rivers' doghouse.
Given that he only logged a total of six minutes during Boston's first-round series, it's a safe bet to say that the team is through with Wilcox.
On the other hand, Randolph is a player who the Celtics can't afford to lose.
During 16 games with the team, he averaged 4.2 points and 4.4 rebounds over 12.4 minutes per game. That averaged out to 12.2 points and 12.7 rebounds per 36 minutes—the highest mark on the team.
Randolph has made the most of his limited floor time, and it would be a surprise if he wasn't back in a Boston uniform next year.
Then there's White.
Having played just 7.2 minutes per game in 12 appearances, he really never had the opportunity to make an impression. White averaged just 2.4 points and 1.1 rebounds.
If anything, he pretty much just served as an extra big man on the depth chart. Expect the Celtics to let him walk, freeing up his roster spot for a more effective player.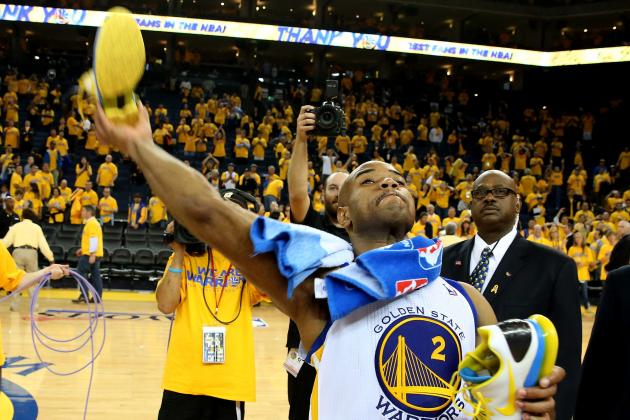 Stephen Dunn/Getty Images
Jack would help the Celtics significantly behind Rondo.
When all else fails, there's always free agency.
Where Boston failed last season, there are free agents available that can help. It would be wise for the team to look into them. Especially with Paul Pierce and Kevin Garnett possibly leaving.
For this articles sake, I will be going off the assumption that both players will be leaving in the summer. With that in mind, the Golden State Warriors Jarrett Jack would be a great addition.
In 79 games this season, Jack averaged 12.9 points, 5.6 assists and 3.1 rebounds over 29.7 minutes per night. He also shot 45.2 percent from the field and 40.4 percent from three-point range.
Jack would not only provide the Celtics with a backup point guard, but he would also give the team a spark off the bench. Whether it's scoring from outside or getting teammates involved, he would give Boston's bench a much-needed lift.
With Jack, when Rajon Rondo headed to the bench, the team would hardly miss a beat.

However, with Jason Terry, Avery Bradley and Courtney Lee also on the roster, the Celtics would come across an overload of guards. Except Terry and Lee, maybe even Bradley, to be featured in possible trade scenarios.
The Minnesota Timberwolves' Nikola Pekovic is another option the team should highly consider.
In 62 games, the 27-year-old averaged 16.3 points and 8.8 rebounds over 31.6 minutes a night. He also shot 52 percent from the field.
At 6'11" and 290 pounds, Pekovic is an imposing figure inside the paint. He would go a long way in replacing Kevin Garnett on the depth chart.
Boston wouldn't go wrong with either of these players.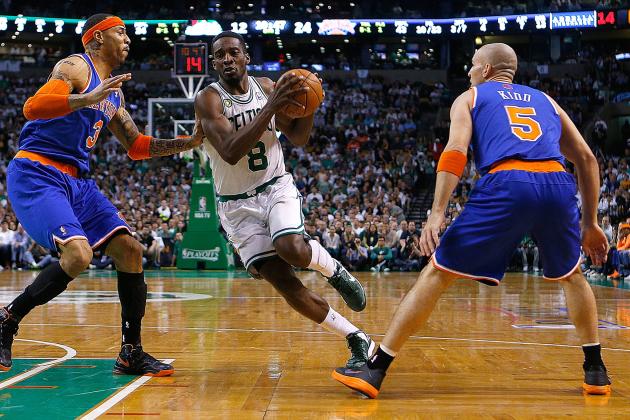 Jim Rogash/Getty Images
Is Green ready to take over the reigns of the team?
With a healthy roster and possibly some new additions, Boston would have to re-establish player roles.
The Leader: Rajon Rondo
Who else?
The Celtics were kidding themselves if they truly believed they were better off without their All-Star point guard. In 38 games before his injury, Rondo averaged 13.7 points, 11.1 assists and 5.6 rebounds per game. He also shot 48.4 percent from the field.
Sure, Boston got off to a hot start without the 27-year-old, winning 14 of its first 18 games following his departure. However, the team stumbled to the finish line with a 5-11 record.
One has got to believe that would have gone a whole lot different with Rondo.
Go-To Guy: Jeff Green
This past season was a career-year for Jeff Green.
After getting off to a slow start, the 26-year-old rebounded in style. He proved to be the Celtics' best source of offense in the absence of Rondo.
In 34 games since Jan. 26, Green averaged 16.4 points, 4.7 rebounds and 1.2 blocks over 32.8 minutes per night. He also shot 49.7 percent from the floor and 43 percent from beyond the arc.
With Green all but assured the starting spot, next season only looks to be brighter for the up-and-coming forward.
Bench Spark: ???
This is one of the biggest question marks of Boston's roster heading into the offseason.
Jason Terry was brought in to fill this role last season but ultimately proved to be far too inconsistent. He averaged 10.1 points and 2.5 assists over 26.9 minutes per game. He also shot 43.4 percent from the field—the fourth-lowest mark of his 13-year career.
If Paul Pierce does return to the Celtics, one has got to assume that it will be in a lesser role.
With his experience and ability to score in bunches, Pierce would be the best candidate.
For complete team coverage and everything Celtics, you can follow Sebastian on Facebook or on Twitter.