Examining Pittsburgh Steelers' Offseason and Key Preseason Positional Battles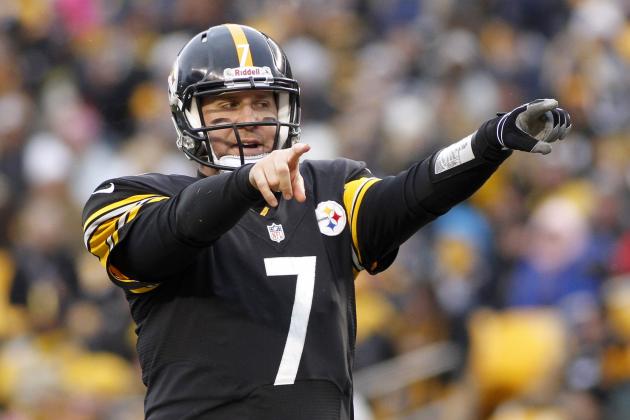 Justin K. Aller/Getty Images

As has been the case several times in recent Pittsburgh Steelers history, consecutive playoff seasons gave way to a marginal campaign in 2012 that saw the Steelers post an 8-8 record, missing out on the playoffs behind the Baltimore Ravens and Cincinnati Bengals in the AFC North.
General manager Kevin Colbert promised changes in the Steel City this offseason, and he certainly delivered. Mike Wallace was left to walk in free agency (inking a massive contract with the Miami Dolphins), and oft-injured linebacker James Harrison will be facing his former team at least twice this year in the black and orange of Cincinnati.
Longtime nose tackle Casey Hampton remains without a contract—due in part to Pittsburgh's lack of cap room and in part because of injury issues. And while Rashard Mendenhall had a few very productive seasons in Pittsburgh, his injury problems and poor attitude necessitated a change as well. He signed a one-year contract with the Arizona Cardinals to play for former Steelers offensive coordinator and new Arizona head coach Bruce Arians.
But this offseason wasn't all about cleaning house and starting fresh.
The Steelers still have a solid core in place for the 2013 season, including linebackers Lawrence Timmons and LaMarr Woodley, wide receivers Emmanuel Sanders and Antonio Brown and two-time Super Bowl winning quarterback Ben Roethlisberger—to name just a handful.
Colbert also made his mark as he so often does with a strong 2013 draft class that features multiple starting-caliber players, including first-round linebacker Jarvis Jones and second-round running back Le'Veon Bell. Pittsburgh isn't known for rushing its rookies into starting roles, but both players could be in line to see substantial playing time this season.
The 2013 season holds a lot of question marks for the six-time Super Bowl winners, though.
Todd Haley took the reins of the offense last season with underwhelming results. While injuries to Roethlisberger and general sloppy play from the likes of Mendenhall and Wallace didn't help matters, it was obvious the Steelers' offense would need more time to adjust to Haley's system.
But with a year of experience under their belt, the Steelers will be in much better position to take another run at the Super Bowl champion Ravens in the AFC North. Provided Roethlisberger can stay healthy—and Bell stabilizes a running game that finished 26th in the league last season—there's no reason Pittsburgh can't be a dominant force in the AFC again this season.
Dick LeBeau is one of the best defensive coordinators in the history of the league, and he continues to churn out top-three units year in and year out. This season should be no different, but a few fresh faces will have to step up.
2009 third-round cornerback Keenan Lewis had a tremendous 2012 campaign after earning the starting role to begin the season. However, much like with Wallace and Hampton, salary cap restrictions forced the Steelers to allow their best corner to walk in free agency. He signed a five-year, $26 million contract with the New Orleans Saints in March.
Lewis' departure proves LeBeau has faith in 2011 fourth-rounder Cortez Allen and third-rounder Curtis Brown to fill his shoes, but Colbert also orchestrated the return of former Steelers corner William Gay to aid in those efforts. Allen is a favorite to get the nod across from Ike Taylor, but Brown and Gay should still play a sizeable role this season, especially in nickel and dime packages.
Pittsburgh may not have experienced its usual success last season, but Mike Tomlin will have his squad prepared to turn things around in 2013. Here, we'll take a closer look at some of these storylines and break down several key position battles to watch this offseason.
Begin Slideshow

»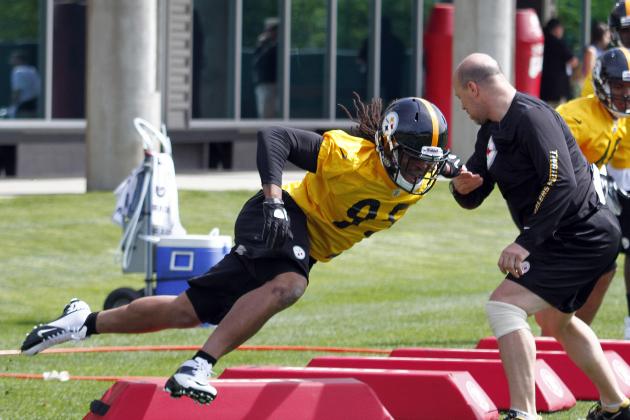 Justin K. Aller/Getty Images

Round 1 (Pick 17): LB Jarvis Jones, Georgia
Round 2 (Pick 48): RB Le'Veon Bell, Michigan State
Round 3 (Pick 79): WR Markus Wheaton, Oregon State
Round 4 (Pick 111): S Shamarko Thomas, Syracuse
Round 4 (Pick 115): QB Landry Jones, Oklahoma
Round 5 (Pick 150): CB Terry Hawthorne, Illinois
Round 6 (Pick 186): WR Justin Brown, Oklahoma
Round 6 (Pick 206): LB Vince Williams, Florida State
Round 7 (Pick 223): DT Nick Williams, Samford
Grade: B+
Analysis:
Colbert is a master of finding value in the early rounds of the draft. While Bell wasn't exactly a high-value selection in the second round, the two-time Super Bowl-winning GM did take advantage of exceptional value at pick No. 17 in Jones.
Just as he did in 2012 in selecting David DeCastro, Colbert landed a player who can make an immediate impact at a position of need.
Value would continue to be the theme in the third round when Colbert selected Oregon State wide receiver Markus Wheaton—a player many considered a second-round talent. Wheaton fits the mold of recent Steelers receiver selections and could be an eventual replacement for Wallace. At 6'0" and 182 pounds with low-4.40 speed, he may prove to be the deep threat the Steelers are missing with Wallace out of town.
In the fourth round, Colbert uncharacteristically moved up (trading a 2014 third-round pick to do so) to select Syracuse safety Shamarko Thomas. With backup safeties Ryan Mundy and Will Allen departing for the New York Giants and Dallas Cowboys, respectively, the Steelers needed to find a suitable replacement who could add depth behind the often injured Polamalu.
But perhaps the most underrated maneuver Colbert made in the draft was selecting Oklahoma signal-caller Landry Jones later in the fourth round (pick 115). Charlie Batch and Byron Leftwich are both free agents, and it was time for the Steelers to find a youthful backup to develop behind Roethlisberger.
In all, Colbert did another tremendous job with the draft this year and proved why the Steelers are far from finished in the AFC North. The Steelers may have lost a lot of talent this offseason, but they did well in recouping some of those losses.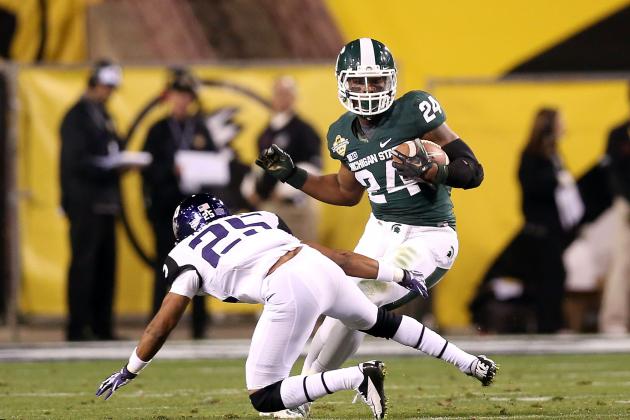 Christian Petersen/Getty Images

Even after Mendenhall returned from injury last season, Tomlin chose to go with a running-back-by-committee approach that featured bruising power back Jonathan Dwyer, the more versatile Isaac Redman and speed back Chris Rainey.
Rainey was released following off-field indiscretions and Dwyer may be on the trading block, however. With Bell in the fold, there's a good chance Tomlin and Haley choose to feature the bruising Michigan State product, who figures to play a similar role as Redman did in 2012.
Still, Pittsburgh isn't a team to rush its rookies into the mix, and it will be interesting to see how the starting running back battle ultimately plays out.
The Steelers' running game will only go as far as its offensive line, however.
A unit that has been a revolving door outside of three-time All-Pro center Maurkice Pouncey, the Steelers' offensive line will be looking for stability in 2013. 2012 first-round guard David DeCastro will be back in the fold after tearing his MCL early last season, and Mike Adams and Marcus Gilbert should once again assume the bookend roles at the tackle positions.
There's certainly an opportunity for Pittsburgh's offensive line to improve this season, and that will be a necessity if it hopes to find some offensive balance—not to mention keeping Roethlisberger on his feet.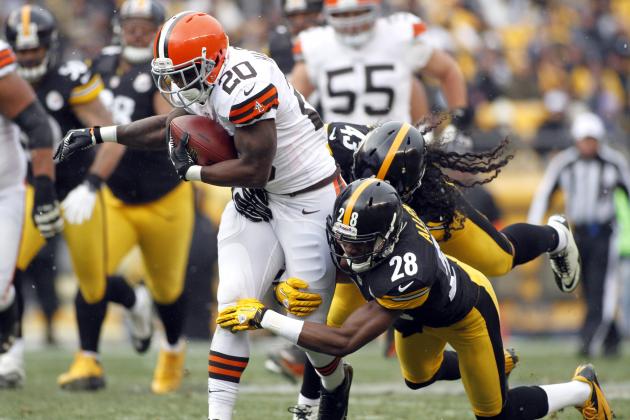 Justin K. Aller/Getty Images

Keenan Lewis' departure was necessary given the cap room it probably would have cost to retain him, but the Steelers are now left with some big questions at the position.
Ike Taylor will remain at left cornerback, and Tomlin and LeBeau will have to decide which player will start opposite him. Allen is the most likely candidate to replace him, and as Bleacher Report's own Matt Miller pointed out on Twitter, that won't be a bad thing:
Completely random tweet: Cortez Allen is really, really good. #Steelers have a steal at cornerback. #badpuns

— Matt Miller (@nfldraftscout) April 3, 2013
Allen saw considerable time last season in sub packages (particularly at nickel corner), and he has enough experience to make a smooth transition to the starting role. As he has done so many times in the past, LeBeau may have spent the perfect amount of time developing the 24-year-old.
It may be too early to count out William Gay, though.
The 28-year-old spent his first five seasons in Pittsburgh before signing with the Cardinals last season. If experience and familiarity are the deciding factors in which player starts opposite Taylor, Gay may be the go-to corner.
The dark-horse candidate to win the role is Curtis Brown, but the Steelers seem to really like what Allen has to offer. Expect the former to settle into a sub-package role and continued special teams performer with Allen earning the starting role.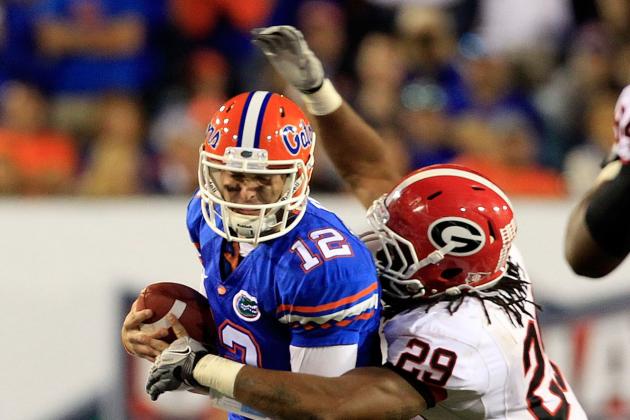 Sam Greenwood/Getty Images

James Harrison had some tremendous years in Pittsburgh, but injuries ultimately played the biggest part in his release. At 35, he simply wasn't worth the money it would take to keep him on the roster.
It will be difficult to replace his production this season, but not impossible. 2010 second-round pick Jason Worilds played in all 16 games last year, tallying five sacks on the season. He has the experience to step in for Harrison in 2013, though he may not have to.
It wouldn't be the norm, but there's a good chance Jarvis Jones earns the starting spot opposite Woodley prior to the start of the season. Once considered a surefire top-five pick, concerns about his spinal stenosis condition and lack of straight-line speed facilitated his slide to No. 17.
But neither factor seemed to concern Colbert, who did well in finding a potential star with the pick. Jones is a relentless edge-rusher, who, when he learns to develop a bigger arsenal of pass-rushing moves, can be a dominant player in LeBeau's fire zone-heavy defensive schemes.
There's always a possibility another candidate emerges prior to the regular season, but it's highly unlikely the starting role doesn't go to either Worilds or Jones. As it stands, expect Worilds to be the early favorite with Jones making a strong case to overtake him early in the 2013 campaign.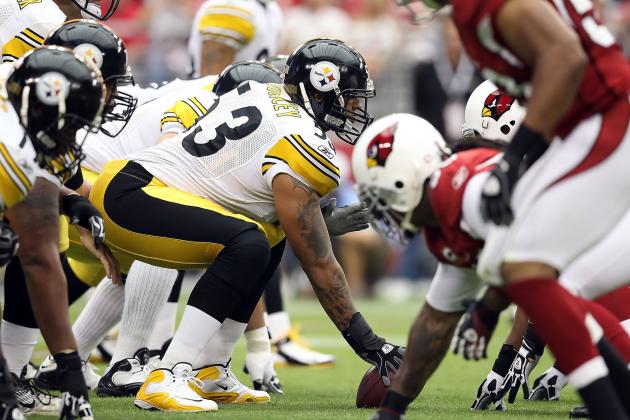 Christian Petersen/Getty Images

Pittsburgh's offensive line has been its biggest source of offensive discord in recent years. Without a stable, cohesive unit, both Roethlisberger and the Steelers' running game have paid the price.
DeCastro's presence will be a massive sigh of relief for Tomlin and Haley, but left tackle Mike Adams failed to meet expectations last season. Provided Marcus Gilbert doesn't make the transition to the left side (a highly unlikely scenario given his solid play at right tackle), Adams will once again be in the driver's seat to determine his fate on Pittsburgh's line.
Maurkice Pouncey is easily Pittsburgh's most stable lineman, and he'll be flanked to the left by Ramon Foster. The 27-year-old has been a tremendously versatile option for the Steelers in the past, and playing in 16 games last season suggests he should get the nod at left guard with the option to move to the right side should DeCastro miss more time this season.
The Steelers' starting unit is shaping up to be a bright spot for the offense in 2013, but depth remains a big question mark. While the talent is certainly there, Pittsburgh's offense has suffered from its line's inability to stay healthy and intact.
As long as Adams, Foster, Pouncey, DeCastro and Gilbert don't miss substantial time this season, expect Pittsburgh's offensive line to be a much stronger unit in 2013—though that's a big "if" considering recent injury history.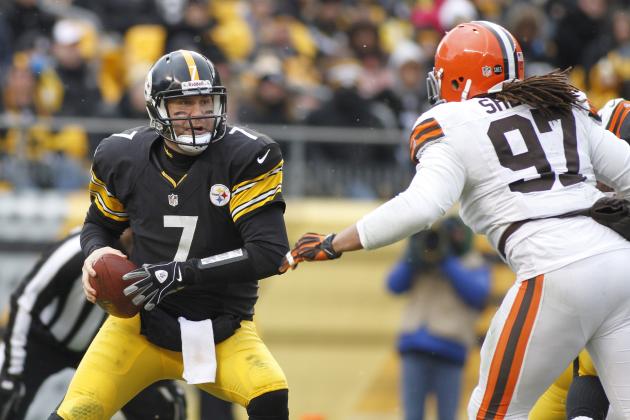 Justin K. Aller/Getty Images

2013 Pittsburgh Steelers Schedule

Week
Date
Opponent
Time
TV
1
Sept. 8

vs.Tennessee Titans

1 p.m. ET
CBS
2
Sept. 16

at Cincinnati Bengals
8:40 p.m. ET

ESPN
3
Sept. 22

vs.Chicago Bears
8:30 p.m. ET
NBC
4
Sept. 29
at Minnesota Vikings (in London)

1 p.m. ET
CBS
5
Oct. 6
BYE WEEK
--
--
6
Oct. 13
at New York Jets
1 p.m. ET
CBS
7
Oct. 20
vs. Baltimore Ravens
4:25 p.m. ET

CBS
8
Oct. 27
at Oakland Raiders
4:05 p.m. ET
CBS
9
Nov. 3
at New England Patriots
4:25 p.m. ET
CBS
10
Nov. 10
vs. Buffalo Bills
1 p.m. ET

CBS
11
Nov. 17
vs. Detroit Lions

1 p.m. ET
FOX
12
Nov. 24
at Cleveland Browns
1 p.m. ET

CBS
13
Nov. 28

at Baltimore Ravens
8:30 p.m. ET

NBC
14
Dec. 8

vs. Miami Dolphins
1 p.m. ET

CBS
15
Dec. 15
vs. Cincinnati Bengals
8:30 p.m. ET

NBC
16
Dec. 22

at Green Bay Packers
4:25 p.m. ET
CBS
17
Dec. 29

vs. Cleveland Browns
1 p.m. ET
CBS
*For a complete look at the Pittsburgh Steelers 2013 schedule, visit Steelers.com.

Joe Sargent/Getty Images

Pittsburgh is a perennial NFL powerhouse for a reason. No matter how poorly the previous season played out, the Steelers' front office and coaching staff find a way to turn things around.
An 8-8 record in 2012 is nothing to worry about, especially for a team with a tremendous head coach and a proven winning quarterback. There will be bumps in the road this season, but Pittsburgh is once again headed for a strong playoff-caliber campaign.
Nothing about the 2013 schedule is particularly worrying, either. The Steelers will be tested by a non-conference series with the NFC North, but non-division matchups against the Tennessee Titans, Oakland Raiders, New York Jets and Buffalo Bills will be very winnable games.
Baltimore made some major changes this offseason and will be in the process of rebounding from a completely overhauled defense. Cincinnati will be as strong as ever, though, and the Browns haven't exactly sat on their hands this offseason.
Winning the AFC North won't be out of reach this season, but the Steelers can't allow winnable games to slip through their fingers. A 4-2 (or better) division record will be a necessity for a playoff berth.
With Roethlisberger at the helm, there's no reason to believe the Steelers can't return to AFC dominance in 2013. A lot of questions will have to be answered on the defensive side of the ball, but Pittsburgh's front office and coaching staff have a proven track record that should instill a lot of confidence in its fans going forward.
Prediction: 11-5, first in AFC North
With another strong offseason and a solid core already in place, the Steelers should battle with Cincinnati and Baltimore for the AFC North title. The Browns can't be counted out, either, but they aren't quite on the same level as the rest of the division just yet.
With four division contests in the final six weeks of their season, the Steelers have to find a way to battle through midseason injuries if they hope to be in position to secure a playoff berth in the final weeks. A loss to Baltimore or Cincinnati late in the season could spell disaster.
It will take a 10-6 record or better to secure the AFC North title this year. Expect the Steelers to traverse a fairly easy schedule without much non-division trouble, en route to an 11-5 record and a playoff berth.