Denver Broncos: What to Watch for at OTAs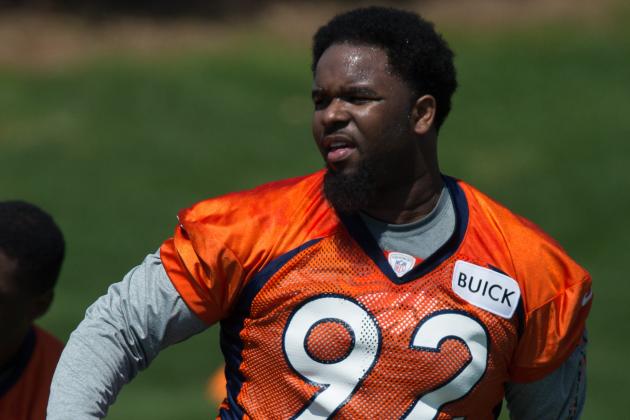 Justin Edmonds/Getty Images

On Monday, the Denver Broncos will kickoff Phase Three of their offseason schedule.
The Broncos will begin organized team activities (OTAs) at Dove Valley today, and as MileHighReport.com notes, there will be no pads or helmets this week, but full-team drills will take place.
The players will be wearing helmets, and they will be using them.
Let's take a look at eight things we'll be watching for this week.
Begin Slideshow

»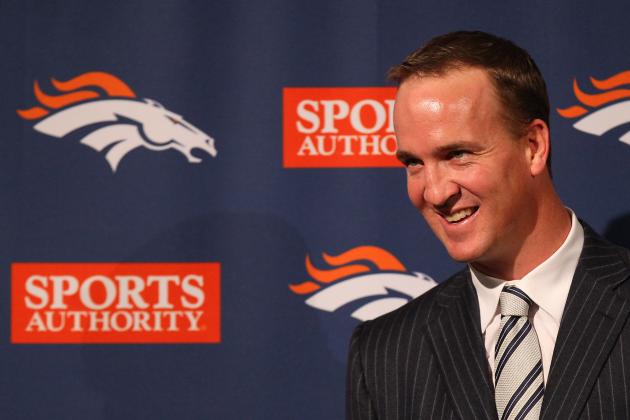 Justin Edmonds/Getty Images

On Thursday evening, quarterback Peyton Manning signed a renegotiated contract. It was originally believed that the reworked contract merely added a $10 million injury insurance policy for the Broncos and had no effect on the team's salary cap.
As it turns out, that is not the case.
On Sunday evening, Brian McIntyre of Yahoo! Sports' ShutdownCorner.com reported that the renegotiated deal actually gives the Broncos and additional $2.5 million in cap space, in both 2013 and 2014. Under the new deal, Manning will receive $17.5 million over the next two seasons, as opposed to the total $40 million he was scheduled to make.
That other $5 million has been pushed back to the final years of his contract. If he is not cut in the spring of 2015, he will make $21.5 million that year and another $21.5 million in 2016 (again, if he is not cut before then).
So why is Denver freeing up the money now? They could be thinking ahead (long-term deals are pending for offensive tackle Ryan Clady and punter Britton Colquitt), or they may be making room to add another veteran.
These questions will be asked—and may begin to be answered—during minicamp.
More on that in the next slide.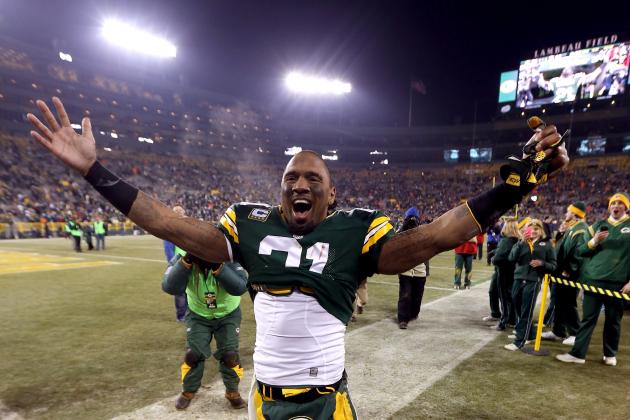 Andy Lyons/Getty Images

Suddenly, Charles Woodson has become the team's hottest free agent target.

After visiting with the Broncos last week and scheduling a visit with the Oakland Raiders for Tuesday, Woodson now says that he would also be open to playing for the Detroit Lions, if the price is right.
And that's what it seems to be all about at this point: the money.
It is understandable, too. Woodson wants to be paid like the talented defender that he is, and not at the veteran minimum, especially if he is going to see considerable playing time.
With that being the case, the Broncos may be his best option.
According to NFL Network's Ian Rapoport, the Broncos are the only team that has offered Woodson more than the minimum. In fact, Rapoport reports that other teams have "balked at eclipsing the minimum."
With $9.9 million in available cap space, the Broncos can afford to pay Woodson $2-4 million per season. If Denver is willing to raise their offer, Woodson may be a Bronco before the end of the week.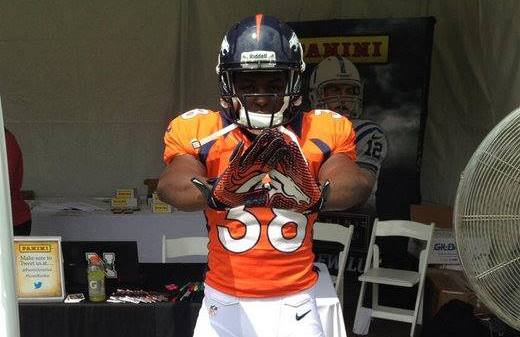 (Photo provided courtesy of @MonteeBall on Twitter)
This will mark the first time that all of the new Broncos—the drafted rookies, undrafted college free agents, returning practice squad players, free agent acquisitions and returning veterans—will be out on the practice field working together.
If seeing all of the news guys working with each other for the first times doesn't get you excited as a Broncos fan, then nothing will.
We are in the early stages of Denver's offseason program, but progress is being made everyday. That progress will continue this week.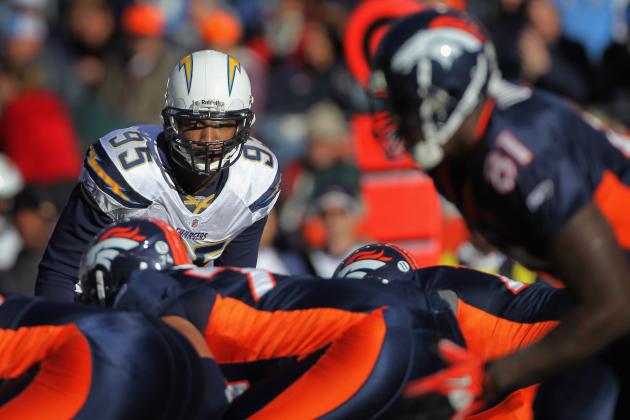 Doug Pensinger/Getty Images

When the Broncos signed former San Diego Chargers 3-4 outside linebacker Shaun Phillips to a one-year deal last month, the veteran pass-rusher said he would be moving to defensive end.
But in a post-draft press conference in April, Coach John Fox said Phillips will be moved around and serve as a backup to Von Miller, who is an outside linebacker in Denver's 4-3 base defense.
So what position will Phillips be listed as on the roster?
On DenverBroncos.com, Phillips is listed as a linebacker. But Phillips will be wearing jersey No. 90, which sounds a lot more like a DE than a LB.
This week, where Phillips lines up on defense will be telling on how the team plans to use him this fall.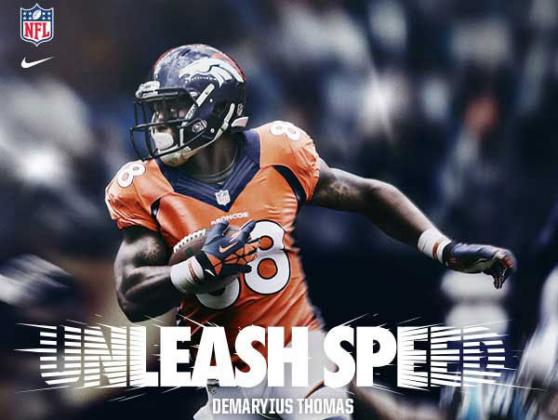 (NIKE, Inc.)
It sounds like newly designed all-blue collars are on the way for the Broncos.
But we won't get any sneak peeks at the collars this week.
The Broncos have had the same practice uniforms and ugly collar design for years.
If new collars are coming, Denver probably won't announce them anytime soon (they'll want to sell as many of the old jersey designs as possible before rolling out new swag).
In the meantime, the team has debunked the legitimacy of the image floating across the web that shows a newly designed Broncos helmet with two stripes. Like it or not, the team says no changes will be made to the team's current helmet design.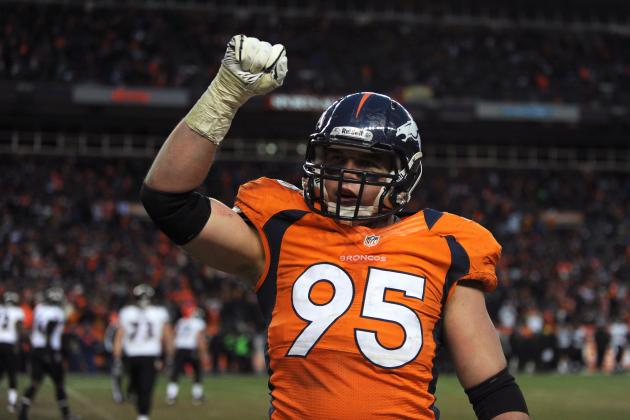 Dustin Bradford/Getty Images

Depth is a wonderful thing. On the defensive line, Denver has plenty of it.
From Robert Ayers, Derek Wolfe and Jeremy Beal to Malik Jackson and Quanterus Smith, defensive end has a wide-range of skill sets.
At defensive tackle, the notable candidates include Terrence Knighton, Sealver Siliga, Mitch Unrein, Kevin Vickerson and rookie Sylvester Williams. That's quite the lineup.
It will be interesting to see how Denver plans to rotate these defensive lineman, and where and when Miller and Phillips, who are both technically outside linebackers, will be asked to play with their hands on the ground.
This week, we'll get an early look at Denver's defensive line and how the linemen stack up.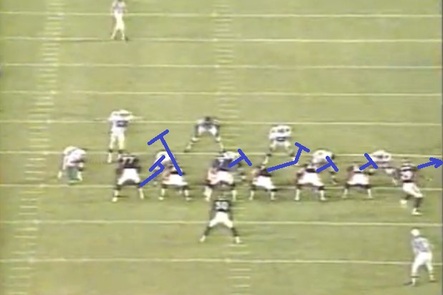 Last week, the Broncos signed Alex Gibbs as an offensive line consultant.
Gibbs, of course, is most notable for making the zone blocking scheme and Terrell Davis famous in the late 1990s. (More on that and Gibbs' impact on Montee Ball here.)
But Denver used power blocking schemes for much of last season.
So how much will the zone scheme be implemented in 2013?
We'll get a very early (and primitive) look on Monday,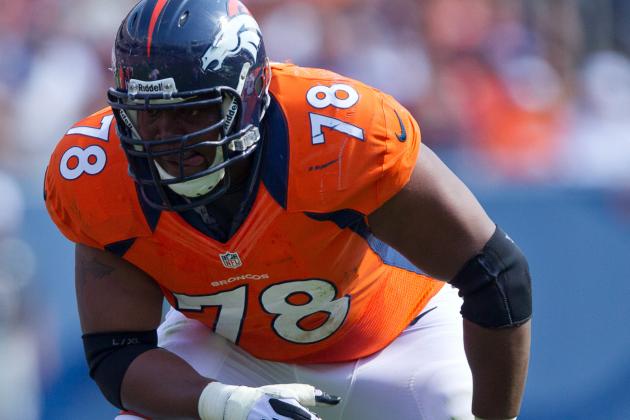 Justin Edmonds/Getty Images

In reality, we'll be really watching for just one player on Monday: Ryan Clady.
Clady, Denver's All-Pro left tackle, was slapped with a $9.6 million franchise tag by the team earlier in the offseason—but if he is going to come to work, he wants a raise.
Clady has been recovering from shoulder surgery on his own this offseason and hasn't yet showed up to the team's Dove Valley headquarters. Technically, everything team activity conducted so far this offseason has been "voluntary," so Clady hasn't truly been holding out.
But if the Broncos don't workout a long-term contract with him before training camp, this may turn out into a real holdout, and that's something the team does not want to see happen.
Perhaps some of the $5 million in cap space created by Peyton's restructured contract will be put towards Clady's new deal, but only time will tell.
Unless it is to discuss a new contract, don't expect Clady to show up this week.