Winners and Losers from Monday Night's NBA Playoff Action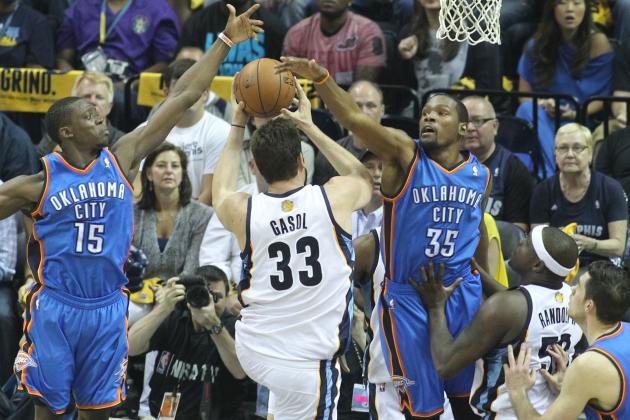 Nelson Chenault-USA TODAY Sports

The Miami Heat moved one step closer to their third straight Eastern Conference finals appearance on Monday night, while the Memphis Grizzlies rallied from a double-digit deficit to grab control of their series.
A 103-97 overtime win over the Oklahoma City Thunder left the Grizzlies as the biggest winner of the night. Memphis spotted the OKC a 17-point lead in the first half, then stormed back to take a commanding 3-1 series lead.
The Heat may well have vacated the Windy City for the final time with their commanding 88-65 victory over the Chicago Bulls in Game 4. The undermanned Bulls appeared to hit a brick wall on the offensive end (or was that just Miami's relentless defense?), while the Heat shook off another shaky night from Dwyane Wade to ease into a comfortable win.
LeBron James looked more like a one-man show than one-third of the mighty Big Three, but the main member of their three-headed monster provided a badly-needed scoring punch to help secure the win. For Memphis it was a matter of rinsing and repeating, relying on a time-tested method to secure a toughly contested win.
Just one win separates the Heat and the Grizzlies from a conference finals berth, while the Bulls and Thunder face the unenviable scenario of win-or-go-home.
So who's to blame for the steep climb that lies ahead for Chicago and Oklahoma City? And who's to thank for the favorable position for Miami and Memphis?
Read on to find out the biggest winners and losers from Monday night's NBA playoff action.
Begin Slideshow

»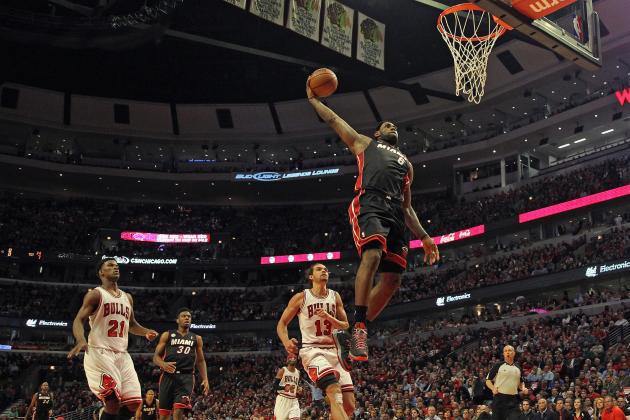 Jonathan Daniel/Getty Images

If you're grading on the insanely steep MVP curve of King James, he's had a bit of a rough series.
Which is to say he's having a ridiculous series by the standards of any of his other NBA peers.
He needed 20 field-goal attempts for his game-high 27 points and missed three of his four perimeter attempts. He also flirted with a triple-double (eight assists and seven rebounds) and added two steals to his stat line.
He's shown a bit of mortality against the Bulls, hitting on just 45.4 percent of his field-goal attempts after ripping the net on a career-best 56.5 percent of his shots in the regular season. He also turned the ball over five times in Game 4, the fourth time he's hit that figure this postseason.
But, as his been the case in each of his seven playoff games before Monday night, he left no doubt about who was the most talented player on the floor. Bosh was his only teammate to reach double figures, so he was facing the lion's share of defensive attention.
Chicago has at least shown that there may be a way to keep the King from reaching historic levels of efficiency over the course of these four games. Of course, that hasn't netted the Bulls anything better than a 3-1 series deficit or stopped James from putting up MVP numbers (23.8 points, 7.0 rebounds and 7.8 assists).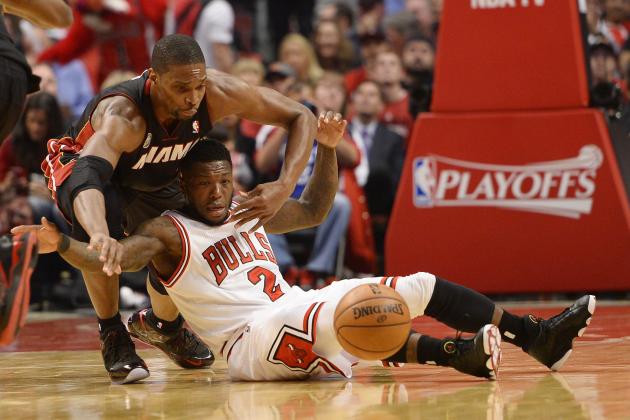 Mike DiNovo-USA TODAY Sports

It's hard to pile on a player who was brought in as third-string insurance and has since been tasked with carrying Chicago's heaviest offensive burden.
But Nate Robinson will never complain about the scoring load, so he has to be prepared for the criticisms that come with it on his off nights.
And this was one of those nights. Worse even.
He entered the night with nine double-digit outings in 10 playoff games, but did not find the bottom of the net once during his 32 minutes. He tried getting his offense going in every way imaginable: letting it fly from three-point range, attacking the basket and hoisting from mid range.
Whatever he tried, it didn't matter; the results were all the same. He misfired on all 12 of his field-goal attempts, registering his first scoreless effort since Jan. 16.
When he tried to involve his teammates, he didn't fare much better. He matched a team-high with four assists, but canceled out each one of them with his four turnovers.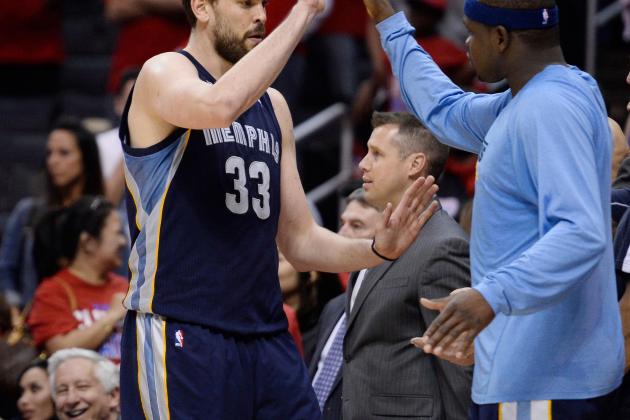 Robert Hanashiro-USA TODAY Sport

It wasn't always pretty, but then again, pretty is rarely a term that creeps into the Grizzlies' vocabulary.
Here's the bad: Marc Gasol and Zach Randolph were held to a 16-of-35 (45.7 percent) night from the field.
Here's the good: they each poured in 23 points and combined for 23 rebounds.
The pair had just 17 points in the first 24 minutes, then traded offensive responsibilities in the second half. Gasol carried the torch in the third quarter, contributing 10 of Memphis' 28 points in the period. Randolph then grabbed the reins in the fourth, scoring nine of the team's 18.
Gasol, perhaps fueled by becoming the fourth player in league history to be named the Defensive Player of the Year while not being selected for the All-Defensive first-team (via Adi Joseph of USA Today), showed which voters cast the correct ballots.
He swatted away six shots in the game and helped provide a defensive presence without fouling. Kevin Durant, who averaged 10.4 free-throw attempts in his first nine games of the playoffs, took 27 shots but managed only three free-throw attempts.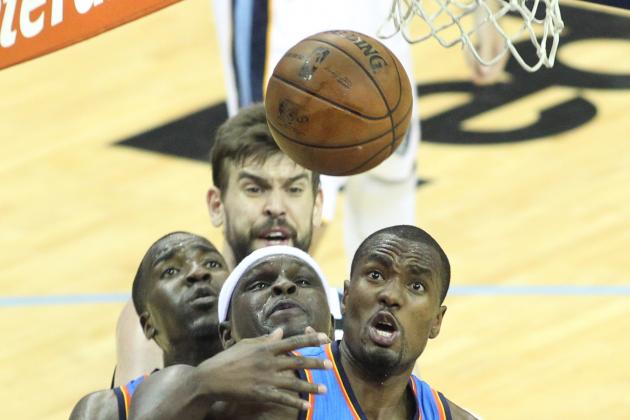 Nelson Chenault-USA TODAY Sports

With Kevin Martin and Serge Ibaka providing Durant some desperately needed support, the Thunder showed the championship merit they had been searching for since Russell Westbrook was lost for the postseason with a torn meniscus.
A three from Durant gave the Thunder a 46-29 lead at the 4:26 mark of the second quarter, with the trio combining for 30 of those 46 points. But the Grizzlies closed the period on a 19-10 run and carried a more manageable eight-point deficit into intermission.
Durant kept up his scoring numbers after the half with 13 of his game-high 27 points coming after the break. But Martin and Ibaka left their offense in the locker room. After totaling 24 points in the first 24 minutes, the duo put up just 11 over the final 29.
Oklahoma City lost the third quarter by a 28-20 margin, evened up the contest with an 18-18 showing in the fourth, then completely collapsed with three points in the extra session.
Stretching back to regulation, the Thunder had only two field goals in the final 10 minutes and 25 seconds of the game.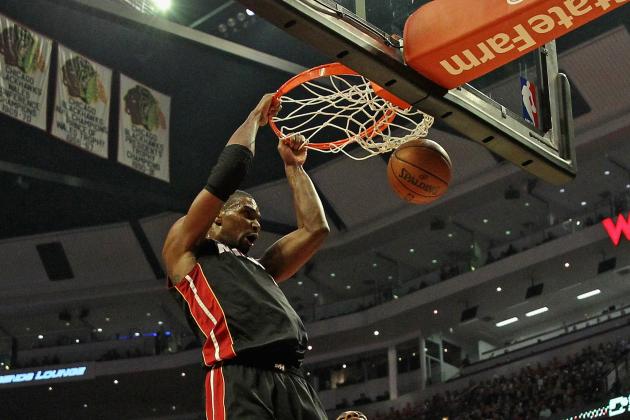 Jonathan Daniel/Getty Images

With Wade once again mired in a shooting slump (six points, 3-of-10) Miami needed another scoring threat to complement James.
And the much maligned Bosh was more than capable of providing that touch.
He poured in 14 points on the night on a blistering 7-of-10 shooting performance from the field. He quieted considerably as the game wore on, but his 10 first quarter points not only helped open up a 21-15 lead, but also pulled Chicago defenders away from the basket and opened driving lanes for James to exploit.
On a night when the Bulls managed only 65 points, defense was clearly a key to this victory, and that's where Bosh left his biggest imprint.
For the second time in his last four games, Bosh finished with four blocks. Chicago couldn't get anything going from deep (2-of-17 from three), so it tried attacking the basket to kick-start the offense. But Bosh gave Miami an intimidating presence at the rim, leaving the Bulls living (but mostly dying) with mid-range looks.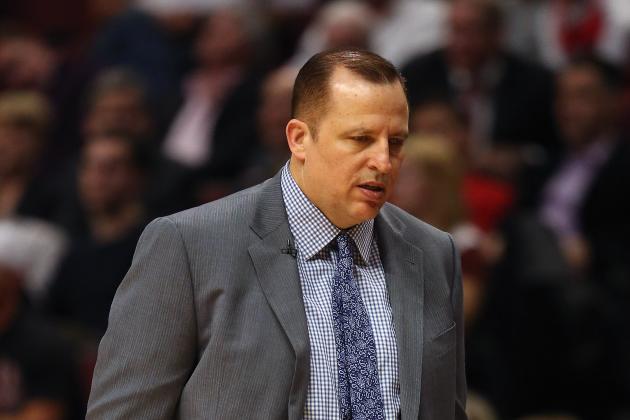 Jonathan Daniel/Getty Images

Bulls coach Tom Thibodeau has enjoyed a Midas touch this season, guiding Chicago to a favorable postseason position despite a crippling combination of injuries. The fact that he finished only eighth in the Coach of the Year voting is nothing short of a travesty.
But that's what made his stubborn coaching gaffes so glaring in Game 4.
He looked as if he was finally ready to expand his depleted rotation, giving first-half minutes to nine different players. His reserve squad didn't change the course of the contest, but left the Bulls well within striking distance at the end of 24 minutes, trailing 44-33 at intermission.
As his starters began to unravel in the third quarter, Thibodeau reverted to keeping a shallow bench. Chicago turned an 11-point halftime deficit into a 16-point gap, managing just nine points in 11-plus minutes before Thibodeau finally made a substitution.
His reserves have been anything but reliable this season, but actually supplied valuable production when given the opportunity in Game 4.
Richard Hamilton, who entered the contest with a total of 10 playoff minutes, tallied 11 points and four assists in under 22 minutes. Taj Gibson added 10 points, nine boards, two steals and a block in 21 minutes.
The bench shot 8-of-24 (33.3 percent) from the field, a clear improvement from the atrocious 11-of-50 (22.0 percent) showing by the starting five.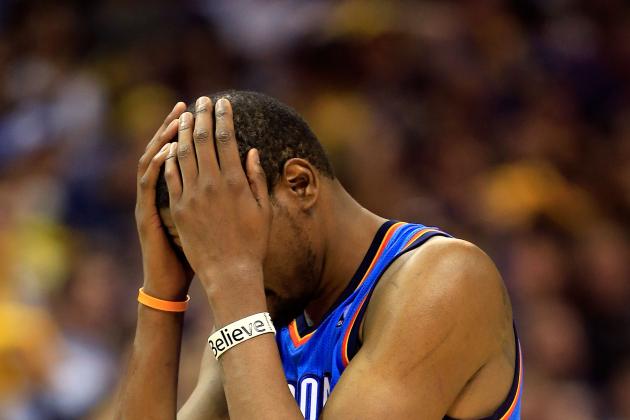 Jamie Squire/Getty Images

Bolstered by the contributions of his teammates, Durant imposed his offensive will on the Grizzlies early and often. By the time the halftime buzzer sounded, the three-time scoring champion had poured in 14 points on 4-of-8 shooting from the floor.
He picked up right where he'd left off after the break, connecting on his first three field-goal attempts (including two treys).
That's when the wheels started to fall off.
He misfired on his next three shots, and then briefly stopped the bleeding with a pull-up jumper at the 5:25 mark of the fourth quarter which gave the Thunder an 87-86 lead. He then missed on his next four looks, one blocked by Gasol and another blocked by Randolph.
He rolled in a game-tying layup with 6.4 seconds left in the fourth to force the game into overtime, but missed all five of his field-goal attempts in the extra session.
He's filling a number of roles for this team (he finished the night with 27 points, seven rebounds and seven assists), and that heavy workload appeared to take its toll late in the game.
What's worse is that Westbrook's not coming back, meaning the Thunder will be looking for even more out of their versatile leader if they hope to crawl out of this 3-1 series hole.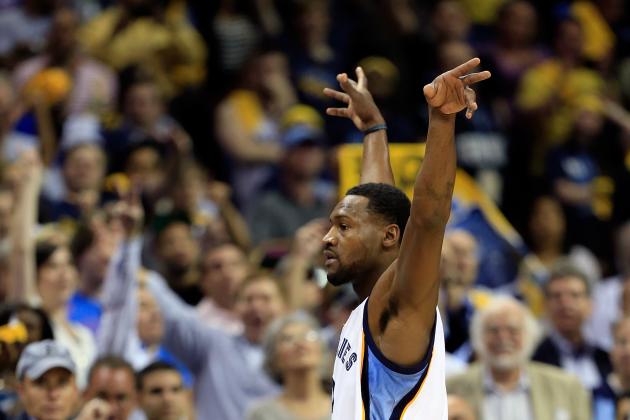 Jamie Squire/Getty Images

The typically stingy Memphis defense looked anything but over the first two quarters.
The Thunder racked up 56 points in the first half, building an eight-point lead in the process.
Then the Grizzlies unleashed their claws and showed their defensive grit. Oklahoma City labored through a 20-point period in the third, then scrounged up only 21 during the fourth quarter and overtime.
The Thunder also struggled through a five-plus minute field-goal drought over the final 5:11 of the third quarter as their nine-point advantage completely vanished.
Oklahoma City closed the contest with only seven field goals after the end of the third. Memphis tallied four blocks and forced four turnovers over that stretch.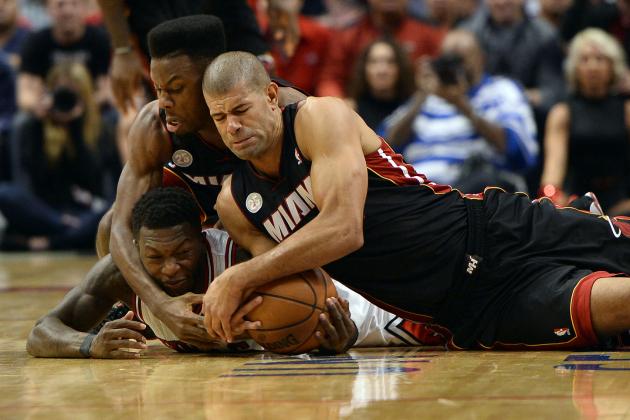 Mike DiNovo-USA TODAY Sports

With a star-studded roster befitting of its South Beach home, Miami's blue-collar players are rarely afforded their rightful praise.
But the Game 4 performances by the Heat's hustlers (Norris Cole, Chris Andersen, Udonis Haslem and Shane Battier) certainly merit some attention.
Cole finally missed a three-pointer in this series (he carried a perfect 8-of-8 line into the contest), then dropped in a buzzer-beating three to give the Heat a 61-42 lead after the third quarter. He also helped hold Chicago's guards to a 7-of-34 shooting night from the field.
Andersen and Haslem brought a physicality to the Miami frontcourt, and were rewarded with an impressive stat line combining for 15 points, 11 rebounds, two steals and two blocks in just over 30 minutes of action.
Battier continued to struggle with his perimeter stroke, missing five of his six three-point attempts. But he seamlessly transitioned through defensive assignments, bringing timely traps and flustering Bulls shooters throughout the game.
Miami's Big Three has done a masterful job of responding to the physical challenges set forth by Chicago in this series, but the Heat's unheralded players have been equally impressive in answering with their own physical play.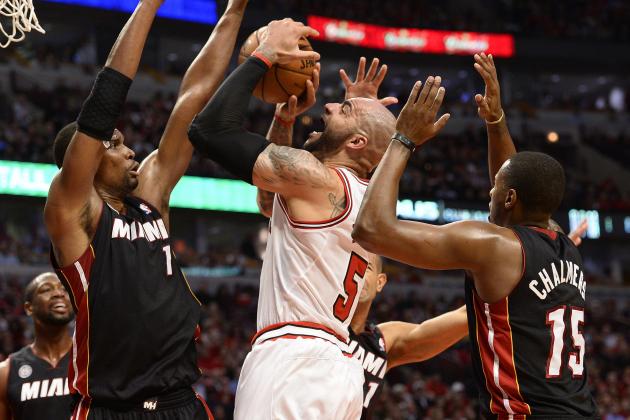 Mike DiNovo-USA TODAY Sports

With Chicago's shooters struggling mightily from the field, the Bulls needed their starting bigs to pack a formidable offensive punch.
What they ended up bringing was nothing more than two pairs of flailing arms, with little direction or impact.
Carlos Boozer led the Bulls with 14 points, but would not have sniffed those numbers without his game-high 12 free-throw attempts (of which he converted eight). He missed 11 of his 14 field-goal attempts, three of them coming less than five feet from the basket.
Like Boozer, Joakim Noah relied heavily on his chances at the charity stripe to scrounge up the few points that accompanied his name in the box score. He was held to six points on the night and misfired on all but one of his six field-goal attempts.
The pair combined for 21 rebounds in the game, capitalizing largely on the team's misses with 11 of those boards coming on the offensive end. They also managed just one assist against five turnovers, failed to record a blocked shot in their 68 minutes and scored only three points in the second half.