The Chicago Bulls and Golden State Warriors are staring up at the higher seeds in their series.
Even though both upstarts have given back the home-court advantage, there are ways for both teams to win—or at least make their series very interesting.
The Indiana Pacers and New York Knicks are locked in a battle, as are the Memphis Grizzlies and Oklahoma City Thunder. These series are tied at one game a piece.
What does each team need to do to take control? Check out the keys to victory for all eight remaining teams.
Keys to the Chicago Bulls and Miami Heat series
The Bulls Must Get Healthy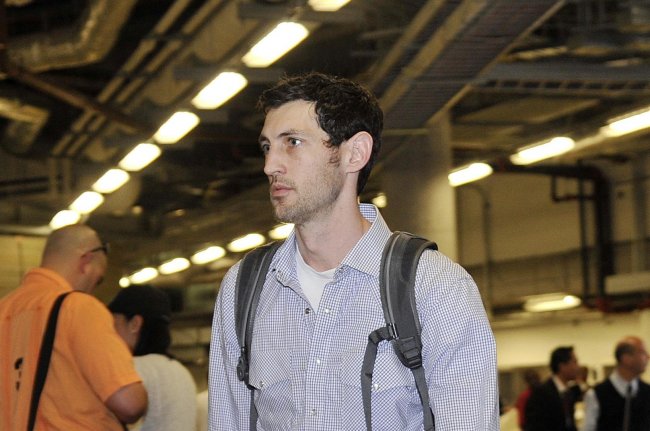 Steve Mitchell-USA TODAY Sports
Beyond missing Derrick Rose, the Bulls must at least get back Kirk Hinrich or Luol Deng if they are to have any shot at upsetting the Heat. With Deng's illness causing drastic weight loss, it would seem Hinrich has the best chance to make it back.
Neither man played in the Bulls 104-94 defeat on Friday night.
Jonathan Daniel/Getty Images
As valiantly as the undermanned Bulls has played, the deeper this series goes, the more the fatigue will take its toll on the team. This has been a very emotional matchup and that drains players as much as the physical action.
Dare I state the obvious: a Rose return would lift the team emotionally and tangibly, but I understand his position.
Still, the Bulls are looking at dropping the next two games unless they get some players back.
The Heat Must Not Reciprocate the Chippy Play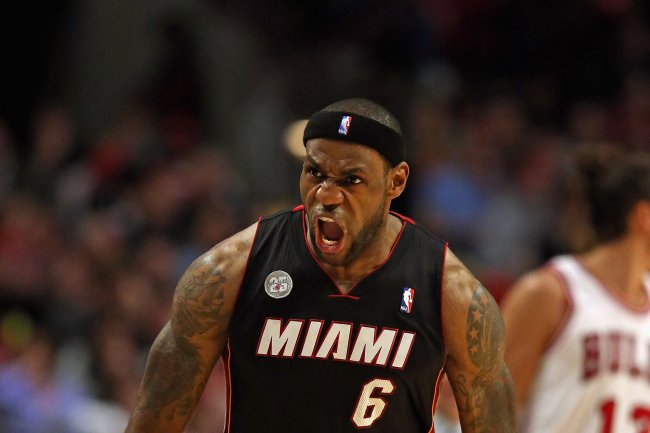 Jonathan Daniel/Getty Images
Being the more talented team, the Heat don't need to reduce themselves to exchanging trash talk and unnecessary hard fouls with the Bulls.
Chicago is doing what they believe they have to against Miami just to remain competitive. Some of the plays are actually a little dirty, such as Nazr Mohammed's mindless clubbing foul against LeBron James in Game 3.
The worst thing the Heat can do is to try and retaliate.
As things are progressing, the Bulls are beginning to look like the villains in this series. The officials will notice and likely give the them even fewer calls than they would get normally.
The Heat have the stars and that generally lends itself to favorable treatment from the officials. Chicago isn't doing itself any favors by going goon.
If Miami continues to play it straight, they will dispatch the pesky Bulls in five.
Keys to the Golden State Warriors and San Antonio Spurs series
Golden State Has to Shoot the Three Well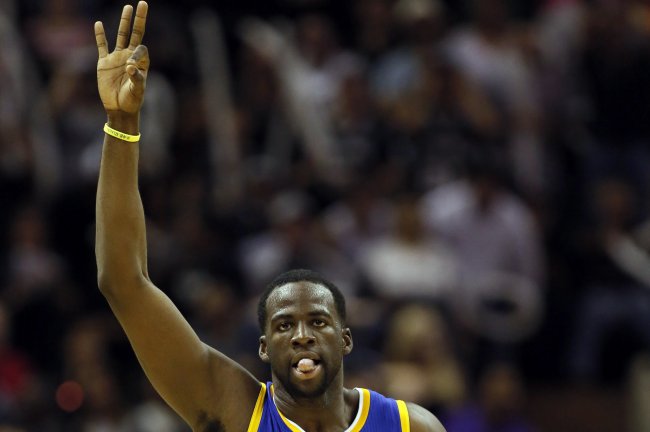 Soobum Im-USA TODAY Sports
The Warriors should be up two games to one in their series with San Antonio. After blowing a 16-point lead in Game 1, they took Game 2 to prove the near miss in the series opener was no fluke.
In Game 3, they experienced a bit of a letdown.
They shot just 31 percent from distance, which isn't horrible, but this team is capable of better. In Game 2, the "Splash Brothers," Stephen Curry and Klay Thompson, were 10-of-15 from three-point range.
When Thompson and Curry are on the floor, the Warriors as a team are shooting 49.6- 42.8-75.7 in the playoffs. THAT'S. IN. SANE.

— Hardwood Paroxysm (@HPbasketball) May 9, 2013
The entire team shot 47.8 percent from distance.
A percentage near 50 percent isn't required for victory, but Curry, Thompson and the secondary shooters must knock down shots with regularity.
Curry and Jarrett Jack's dribble penetration is only augmented when the wings are knocking down shots.
If this team shoots the ball they way they did in the first two games, they can still upset the Spurs.
Spurs Must Make Someone Other than Curry Beat Them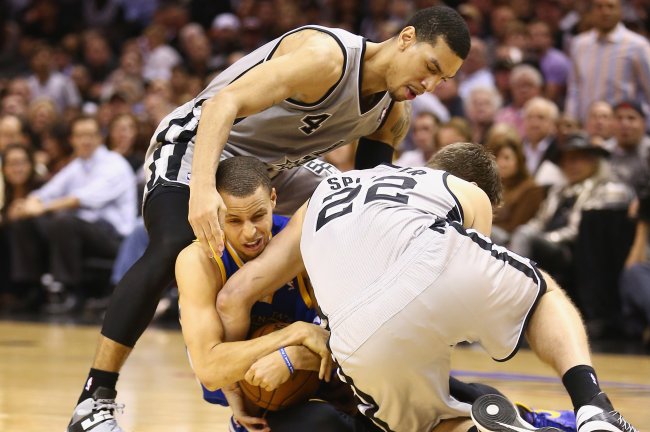 Ronald Martinez/Getty Images
Who has a better chance to win their second-round series?
Curry has proven to be the man and has earned star status during this postseason; he takes and makes big shots. His problematic ankle has flared up again, though.
Per J.A. Adande of ESPN, Curry is a game-time decision. In any case, the Spurs must approach the situation as if the Warriors' star will be available and in top form.
The Spurs can't wait for him to have an explosive stretch of shooting before forcing the ball out of his hands. San Antonio lucked out in Game 1 as the Warriors defense and lack of poise failed them late.
Curry's 44-point performance was wasted, but the Spurs can't bank on that happening again. If Curry catches fire like that for the rest of this series, the Spurs should trap him to force him to move the ball.
As good as Thompson, Draymond Green and others have been in stretches, I'd live with them beating me before I watched Curry build his legend with another amazing shooting display.
Keys to the New York Knicks and Indiana Pacers series
New York Knicks Must Compete on the Glass to Advance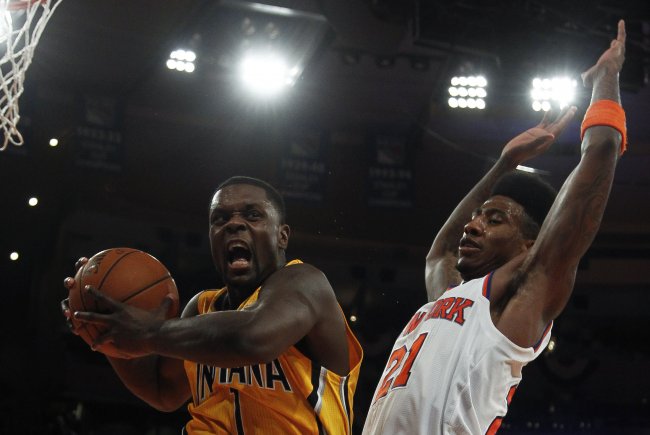 Jeff Zelevansky/Getty Images
The Knicks were blasted on the boards in Game 1, 44-30. When they blew the Pacers out in Game 2, they edged their opponents on the glass, 37-35.
Indiana is the better rebounding team overall; it led the league in that category in the regular season while the Knicks were 26th.
That said, New York has to give maximum effort to keep pace. The smalls have to help out in an effort to keep the totals in this important category respectable.
Knicks are pretty much in consensus about one fact: They need to get better rebounding from their guards with their smaller lineup playing.

— Chris Herring (@HerringWSJ) May 5, 2013
In Game 2, five different players had at least four boards, including guards Pablo Prigioni (four) and J.R. Smith (six).
With Smith's status for Game 3 up in the air, per Zach Schonbrun of The New York Times, the onus may fall on James White and Jason Kidd to pick up the slack.
Indiana Has to Take Better Care of the Basketball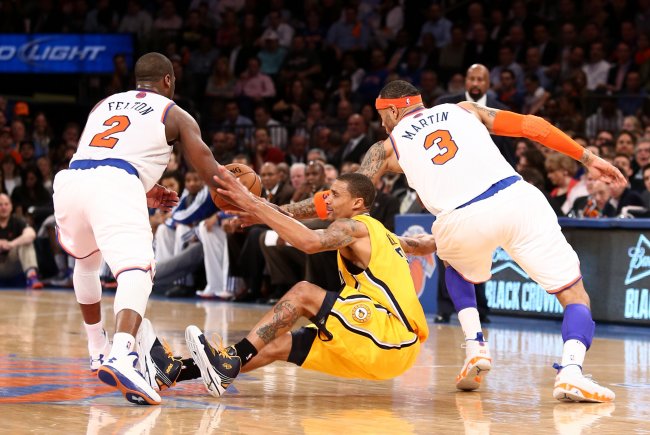 USA TODAY Sports
While the Pacers did get beat on the boards in Game 2, the most troubling aspect of their game was ball security.
The team turned the ball over 21 times in Game 2 and Paul George had seven miscues by himself. It is very difficult to win a playoff game—or any other game—when you're giving the ball away 20-plus times.
Because of the Pacers' advantage inside and ability to lock down on defense, they should win this series.
But if they don't limit their turnovers, the Knicks will beat them.
Keys to the Oklahoma City Thunder and Memphis Grizzlies series
Kevin Martin Must Shine For Thunder to Overcome Grizzlies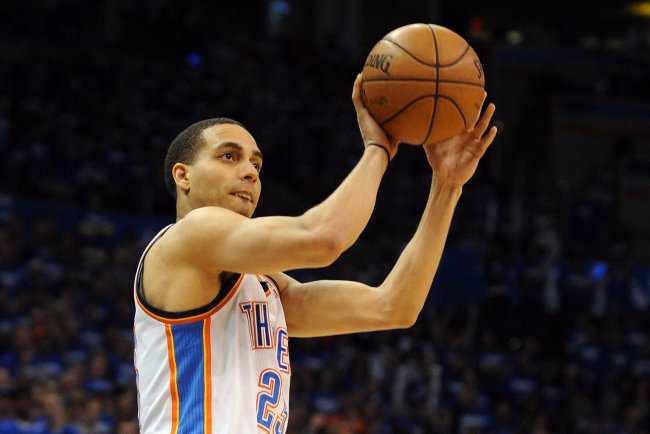 Mark D. Smith-USA TODAY Sports
Without Russell Westbrook, the Thunder-Grizzlies matchup is ridiculously close. The winner of this series will be determined by which team's secondary scoring option plays the best.
For the Thunder, that is Martin.
He gives OKC a huge advantage in bench production because of his ability to score points in bunches. When he's not on his game, the Thunder lack another man to go to for clutch buckets, besides Kevin Durant.
Durantula has been amazing this series averaging 35.5 points, 13 rebounds and 7.5 assists, but he needs consistent help.
In Game 1, Martin had 25 points off the bench and the Thunder won. In Game 2, he had just six points on 2-of-11 shooting, and his team fell by six points.
He will be catalyst for OKC in this series.
Mike Conley is to the Grizzlies, What Martin is to the Thunder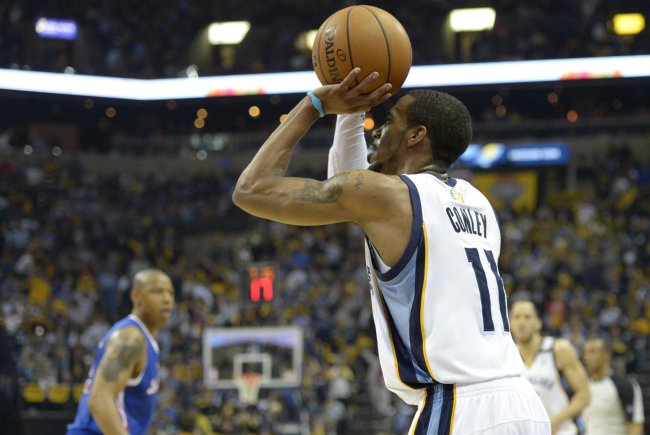 John David Mercer-USA TODAY Spor
When Conley plays like he did in Game 2, the Grizz are going to be tough. The biggest weakness this team has is it doesn't have a consistent perimeter scorer.
Conley's 26-point performance in Game 2 proved he can at times fill that gap. He complemented his solid scoring display with 10 rebounds and nine assists.
Mike Conley's line in the 4thQ alone last night: 13pts (5/6 FGAs, 2/3 3FGAs), 7rebs, 2asts. Had as many boards as OKC in the period

— NBA.com/Stats (@nbastats) May 8, 2013
It was a major step-up from the 13-point, five-rebound, three-assist game he had in the Grizz's Game 1 loss.
Memphis needs Conley to help balance Marc Gasol and Zach Randolph's inside game. This team always plays great defense, so the variable is on the other end.
When Conley scores well, he gives the Grizzlies the deciding factor.
Follow me, because I watch more basketball than anyone should admit.