Early Projections for Arizona Cardinals' Final 53-Man Roster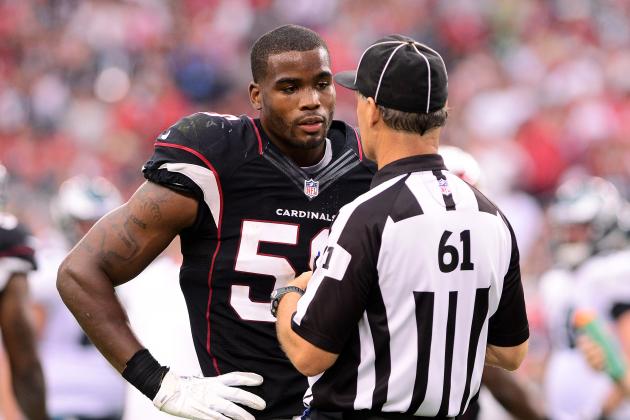 Jennifer Stewart-USA TODAY Sports
Will Daryl Washington be part of the 2013 Arizona Cardinals?
With the draft now in the rearview mirror and undrafted free agents signed and delivered, it is now time to project the first 53-man roster for the Arizona Cardinals.
I predicted the Cardinals' initial depth chart immediately following the draft, which was before general manager Steve Keim signed 16 UDFAs. It is not every year an undrafted free agent makes the season's first roster, but this year there could be two or more.
Is that because the roster has been depleted and head coach Bruce Arians needs to fill spots with young talent? Or could the talent among the undrafted rookies be so stout there will not be any choice but to include them?
Either is possible. Both are probable.
Here are your early projections for the Cardinals' 53-man roster.
Begin Slideshow

»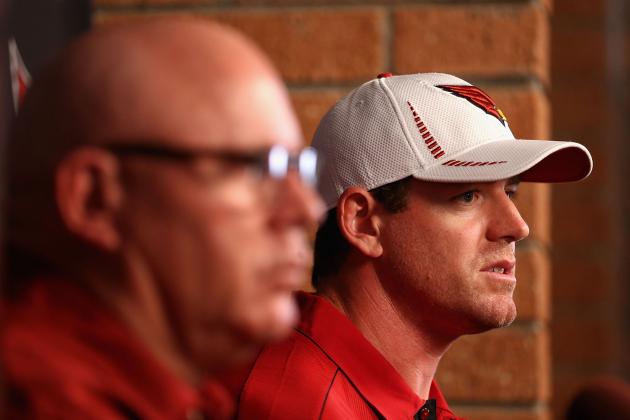 Christian Petersen/Getty Images

Starter: Carson Palmer
Backup: Drew Stanton
Third-String: Brian Hoyer
Analysis
With Carson Palmer being traded for after Arians added backup Drew Stanton via free agency, the quarterback room will be vastly different in 2013 than it was a year ago.
A veteran leader like Palmer will immediately improve the offense—seemingly by default—and give receivers a better chance to help the team on Sundays.
He threw for over 4,000 yards for the third time in his career last season with the Oakland Raiders, a team with less talent at receiver than your local community college. If he can do that with them, imagine what he will do with the arsenal he now has.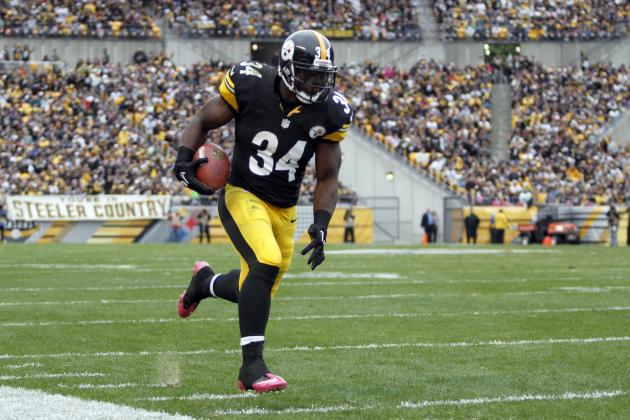 Justin K. Aller/Getty Images

Starter: Rashard Mendenhall
Backup: Ryan Williams
Rotation: Stepfan Taylor, Andre Ellington
Analysis
Not only did the quarterback room improve this offseason, but so did the stable of running backs. Rashard Mendenhall is an upgrade over injury-prone Beanie Wells, and everyone is hoping—praying—Ryan Williams can finally stay healthy and contribute to the full extent of his ability.
Rookies Stepfan Taylor and Andre Ellington are there for injury insurance, and if Mendenhall and/or Williams hit a road block at any point, they will have to step in and be contributors.
Ellington provides an intriguing element to the offense. His speed and vision can be a great asset to Arians' offense.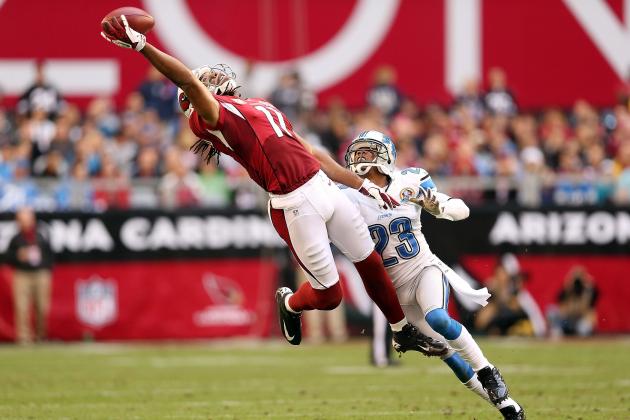 Christian Petersen/Getty Images

Starter 1: Larry Fitzgerald
Starter 2: Michael Floyd
Slot: Andre Roberts, Ryan Swope
Rotation: LaRon Byrd
Analysis
The subtraction of stone-handed receiver Early Doucet and subsequent addition of sixth-round pick Ryan Swope gives Arians a true deep threat from the slot. Swope can stretch the field, and that is just what the head coach needs in his vertical attacking offense.
Five rookie receivers were added following the draft, but none of them possess the talent to supplant anyone on the roster.
The Cardinals enjoy a solid corps of receivers, and with Palmer taking snaps this season, you can expect everyone's production to increase in some manner.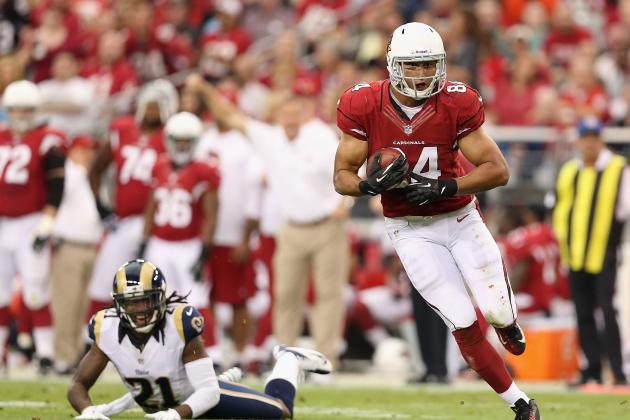 Christian Petersen/Getty Images

Starter: Rob Housler
Backup: Jeff King
Goal-Line/Rotation: Jim Dray, D.C. Jefferson
Analysis
Rob Housler can get vertical with the best of the NFL's tight ends. The offense has yet to reap the benefits of his speed due to inaccurate quarterbacks missing him with an extraordinary amount of regularity, but 2013 could be a breakout year for the third-year tight end.
While Jeff King is not as athletic as Housler is, he provides enough receiving and blocking ability to be very useful all game. Two-tight end sets will be used frequently by Arians, and King's blocking makes him almost an extra offensive lineman on the field.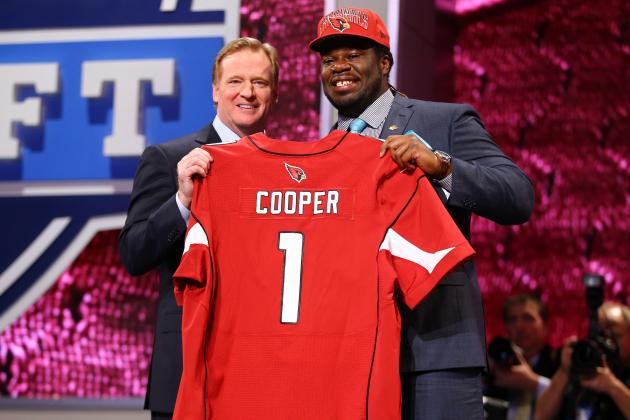 Al Bello/Getty Images

Tackle: Levi Brown*, Bobby Massie*, Nate Potter
Guard: Daryn Colledge*, Jonathan Cooper*, Earl Watford, Chilo Rachal
Center: Lyle Sendlein*
Analysis
Seventh overall pick Jonathan Cooper will play right guard from Day 1, as Adam Snyder was released just days after the draft. Although it remains to be seen, the switch must be considered an upgrade, and the entire offense will benefit from it.
With Levi Brown returning from injury to man the blind side and Bobby Massie hoping to show his performance over the back half of last season is the player he will be in the league, Arizona's offensive line should be much improved over last year's—which allowed an NFL-high 58 sacks.
*Denotes starter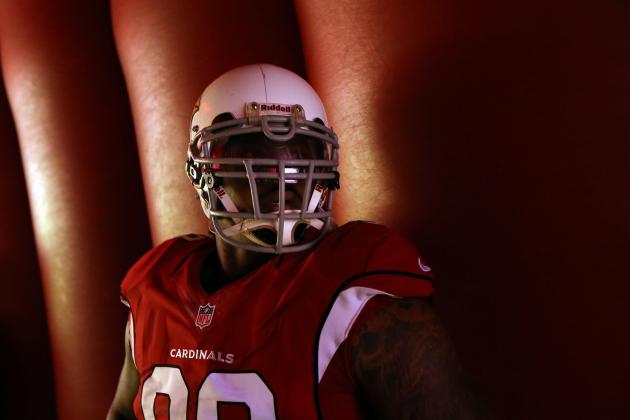 Christian Petersen/Getty Images

Nose Tackle: Dan Williams*, David Carter, Padric Scott
Defensive End: Calais Campbell*, Darnell Dockett*, Matt Shaughnessy, Frostee Rucker
Analysis
Padric Scott marks the first undrafted free agent to make the 53-man, and for good reason. He is a disruptive force in the middle, providing solid run defense and an ability to occupy multiple offensive linemen at one time in order to free up linebackers to get at the quarterback.
The starters on the line are some of the best at their positions, and as long as Darnell Dockett can return to his pre-Ray Horton pass-rushing form, the group should be one of the better units in the game.
Mark J. Rebilas-USA TODAY Sports

Inside: Daryl Washington*, Kevin Minter*, Jasper Brinkley, Reggie Walker
Outside: Sam Acho*, Alex Okafor*, Lorenzo Alexander, O'Brien Schofield
Analysis
There is speculation swirling about the offseason of Pro Bowl linebacker Daryl Washington. Some are assuming he will be cut by Arizona because of his legal trouble—first, with failing a drug test and being suspended the first four games of the 2013 season, then the altercation with his ex-girlfriend that left him accused of multiple charges.
The Cardinals would be foolish to cut loose a player of his caliber regardless of charges. I will not get into the "domestic violence" argument with anyone, so do not bring it up. Let the legal system play out before passing judgment on anyone.
Rookie Kevin Minter has the talent to start right away as long as he can learn the playbook—and it should be noted Minter likely will start anyway for the first four weeks of the season while Washington serves his suspension.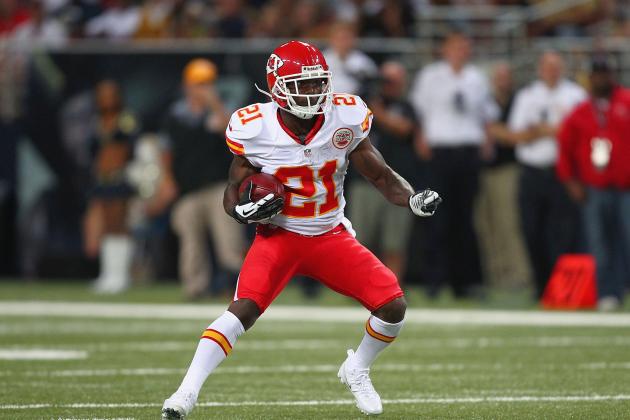 Dilip Vishwanat/Getty Images

Cornerbacks: Patrick Peterson*, Antoine Cason*, Jerraud Powers, Javier Arenas, Jamell Fleming, Justin Bethel
Safeties: Rashad Johnson*, Tyrann Mathieu*, Tony Jefferson, Yeremiah Bell, Javon Harris
Analysis
Tony Jefferson is the second undrafted rookie I have making the roster. He is a playmaker; a heady player who knows assignments and plays them well. The third is Javon Harris, Jefferson's Oklahoma teammate and the other half of the safety tandem they created as Sooners.
Both are smart players who give it all on every play. Harris is a pure strong safety, while Jefferson can play both strong and free.
Tyrann Mathieu makes it three rookies among the players serving as the last line of defense for the Cardinals' defense. He could start at free safety next to veteran Rashad Johnson.
His natural instincts when the ball is in the air could produce many turnovers for Arizona, and that is the reason Keim took a chance on him in Round 3.
The addition of Javier Arenas by way of a trade from the Kansas City Chiefs for fullback Anthony Sherman gives the secondary another depth piece and the special teams yet another dynamic return option. He is not great by any stretch, but he will be used in the slot to cover No. 3 and No. 4 receivers, and that should give him a chance to succeed.
Christian Petersen/Getty Images

Kicker: Jay Feely
Punter: Dave Zastudil
Long Snapper: Mike Leach
Analysis
These three players have a combined 35 years of NFL experience between them.
They do what they do at a high level, and until they cannot do that, their jobs are safe.
Here's to hoping Dave Zastudil does not have to break his own franchise record for punts this season. In 2012, he became the first punter in Cardinals history to record over 100 punts in a single season—his 112 are third all-time for a single season.