Grading the 1st-Round Performance of the Top 6 LA Lakers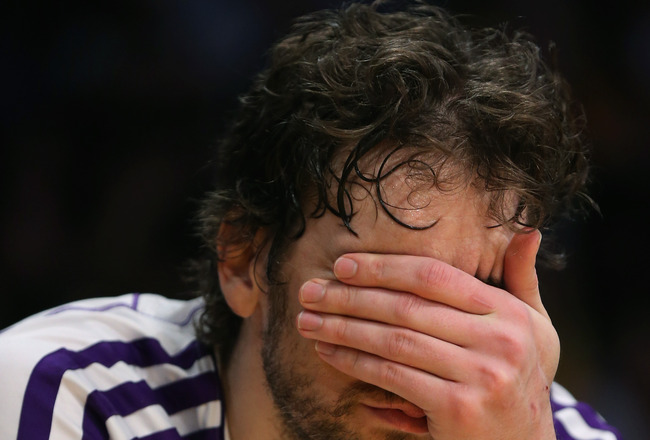 Jeff Gross/Getty Images
The Los Angeles Lakers' playoff performance was short-lived, to say the least.
However, while it is convenient to evaluate the team as a whole with regard to how it performed during the four games of the series, it will be more interesting to review the performance of the players themselves.
So, how did the top six do? Let's find out.
Steve Blake: B+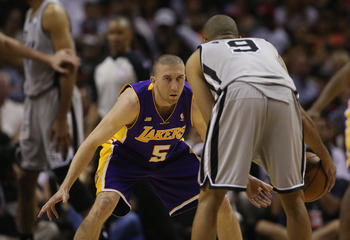 Ronald Martinez/Getty Images
Despite being out for the last two games of the series, Steve Blake, or the "White Mamba" as he is more well-known nowadays, was playing rather impressively throughout the beginning of the first round.
Blake put up solid numbers in Games 1 and 2, scoring 16 points and 12 points, respectively, and spending plenty of time on the court, shying just under 40 minutes each game.
Blake was the one who took the initiative upon the revelation that Kobe Bryant was out for the remainder of the postseason, and for that alone, he deserves a fair grade.
Steve Nash: C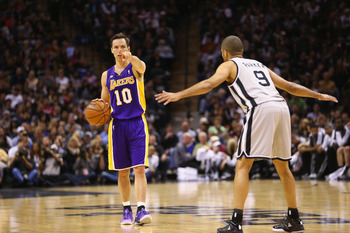 Ronald Martinez/Getty Images
In a related story falling under the category of "two and through," Steve Nash's playoff performance looked a little less appealing than that of his equally first-named counterpart. In his two-game showing, Nash's numbers were subpar, scoring only nine points in Game 1 and 16 in Game 2.
Now, Nash is known more for his assists than his scoring, which levels him out for this evaluation. Nash's six assists in Game 1 and three assists in Game 2 were somewhat helpful in helping the Lakers at least try to get in the lead.
It is still unknown whether or not this was Nash's final outing in postseason play, but we can only hope that there will be more to come. Nash is known for thriving in the playoffs, and it is owed to the Lakers faithful to see that side of the 16-year veteran.
Pau Gasol: B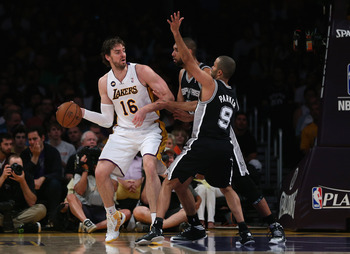 Jeff Gross/Getty Images
It seemed as though during the first round, Pau Gasol showed signs of returning to the top defensive form that made him such an asset just a few years ago.
Gasol was strong on the backcourt, racking up an average of 11.5 rebounds per game in just four games. His most impressive performance came in Game 3, in which he recorded 13 rebounds and 10 assists, silencing the critics yet again and proving that he may not be as soft as people make him out to be.
Gasol's defensive resurgence certainly left a lot to talk about, especially in such an inconclusive situation such as the first round of the playoffs. Who knows? Maybe this Gasol will show up come next season.
Metta World Peace: D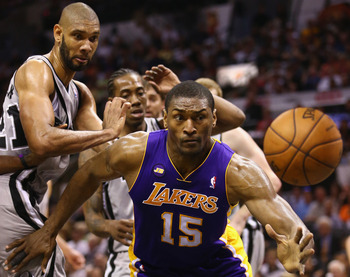 Ronald Martinez/Getty Images
Another victim of the injury bug, Metta World Peace left much to talk about after the Lakers' early exit. MWP did not really do much in the three games he played in the first round, putting up lackluster numbers on both ends of the court.
Because of this, there is not much to evaluate. World Peace was yet another star who suffered the consequences of the Lakers' "Murphy's Law" season. Make no mistake, World Peace still has plenty left in the tank, and we should be seeing plenty of the Lakers' wild card next season.
Dwight Howard: B+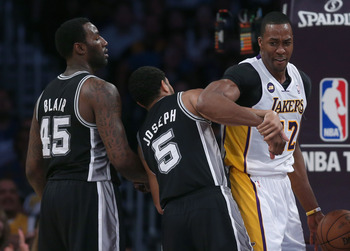 Jeff Gross/Getty Images
Dwight Howard was probably the most consistent player on the entire team during the first round. He was putting up steady numbers, both offensively and defensively, and was quickly emerging into the leader the Lakers needed in the absence of the Black Mamba.
And then he went and got ejected.
Howard's ejection during Game 4 of the first round was the proverbial final nail in the coffin for L.A., sealing its fate of early elimination. As an athlete, Howard has tremendous talent and ability, but if this latest incident has taught us anything, it's that he's still got a lot of growing up to do.
Antawn Jamison: C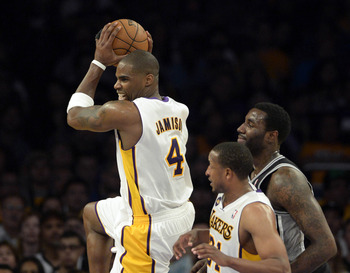 Richard Mackson-USA TODAY Sports
While he does get an "A" for effort, Antawn Jamison was the only bench player whose playoff performance was even worth noting. The 14-year vet was decent off the bench and performed his role adequately.
While his numbers weren't exactly stellar, he provided the veteran presence to at least keep the team together while its ship was sinking. Throughout the regular season, Jamison was a constant in a group filled with such uncertainty, and it proved no different throughout the first round.
Keep Reading

Los Angeles Lakers: Like this team?