Phoenix Suns' Biggest Disappointments and Surprises of the 2013 Season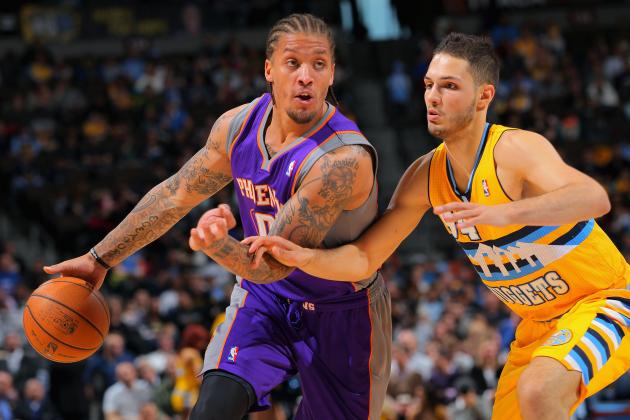 Doug Pensinger/Getty Images
Michael Beasley has without a doubt been the Suns' biggest disappointment in recent memory.
After closing out the regular season dead last in the Western Conference, many Phoenix Suns fans are despondent and dispirited given the current state of the team.
After one of the worst seasons in franchise history, there were clearly some disappointments. Most fans and columnists thought that the Suns could at least pull off 30-40 wins, but almost nobody predicted them to finish with the fourth worst record in the NBA.
But despite the general poor performance of the team, there were some bright spots. Some young prospects clearly developed after Lindsey Hunter took over as head coach in January, and the Suns also signed a few free agents in the offseason that performed much better than anyone might have expected.
There were clearly some underwhelming players, but that doesn't mean Phoenix didn't experience both the good and the bad this past year.
Begin Slideshow

»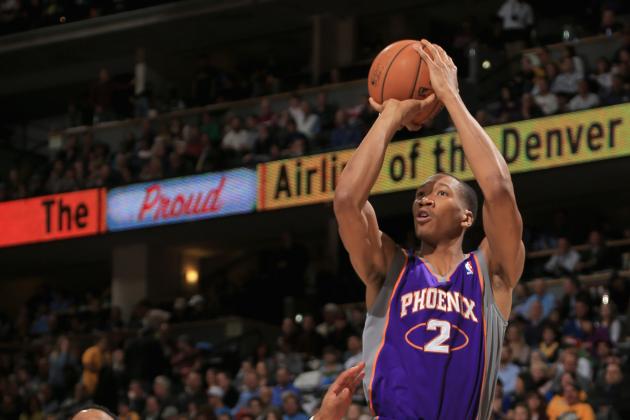 Doug Pensinger/Getty Images

When the Suns first acquired Wesley Johnson in July 2012, Johnson was not considered a key component of the trade. Suns fans rejoiced at the thought of ridding themselves of Robin Lopez and Hakim Warrick while acquiring a first-round pick, but few people thought much of Johnson and he was not expected to be a particularly important rotation player.
That stayed true under coach Alvin Gentry, and for a while it looked like the fourth overall pick of the 2010 NBA draft would be condemned to a bench role forever.
However, Johnson blossomed in the second half of the season, and he proved to the Suns and to fans everywhere that he does belong in the NBA.
Wes finally cracked the starting rotation in March, and he started 21 of 29 games after the All-Star break. During that span, he posted averages of 12.0 points and 3.6 rebounds per game while shooting 43 percent from the field and 33 percent from three-point range.
Johnson certainly has his faults. His shot selection is questionable, and there are games where he will take 15-plus shot attempts and still be unable to score 15 points.
But Johnson had some fantastic games this season as well. He topped 20 points three times, and in some cases was even a go-to scorer for Phoenix, a team that finished the season without one player scoring more than 15 points per game. Johnson has range, but also has all the length and athleticism required to get to the basket or be a solid defender on the other end of the court.
Although Johnson may not be a future star, he has shown that he can play a role on this team in the future. The Suns should strongly consider re-signing him, as he could be a key part of the rotation for several more years.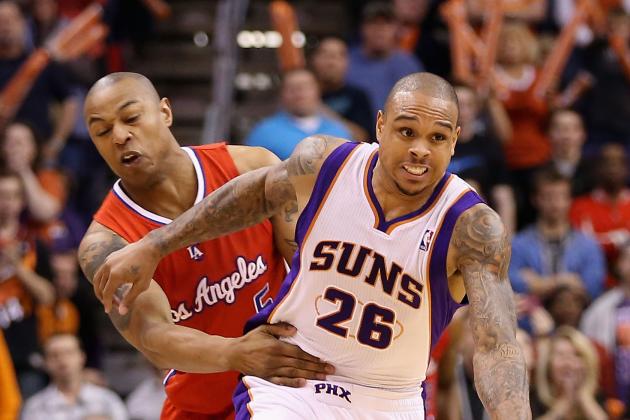 Christian Petersen/Getty Images

Shannon Brown has always been known for questionable shot selection, but it wasn't until this season that he really struggled with his shooting to the point where he was benched.
It might be difficult to remember, but Shannon Brown actually started 22 games at the beginning of the season. In fact, he was a regular part of the rotation under Alvin Gentry.
But in the second half of the season, Brown completely lost his spot and rarely saw playing time. Guards Kendall Marshall and Diante Garrett would get in the game before Brown.
Shannon Brown has talent, and he is an athletic freak of nature who can throw down some emphatic dunks. With his natural ability, he certainly isn't the worst player on the team.
However, Brown earned himself a spot as a benchwarmer because of his poor shot selection and low shooting percentages combined with a lack of effort on defense.
After a fairly successful season with the Suns last year, Brown struggled with his shot in 2013, shooting just 28 percent from behind the arc, a new career low.
He can occasionally have a great game and explode for 20-plus points, just as Michael Beasley will do. But for every time Brown wins a game with great three-point shooting in the fourth quarter, the Suns lose two or three games because he takes bad shots and hurts the flow of the offense.
Brown has spent enough time in Phoenix. The fans are not pleased with his performance, and I'm sure he is ready to move on to a team where he may actually receive playing time. He isn't in the Suns' future plans, and Brown may very well be released this offseason for the benefit of both parties.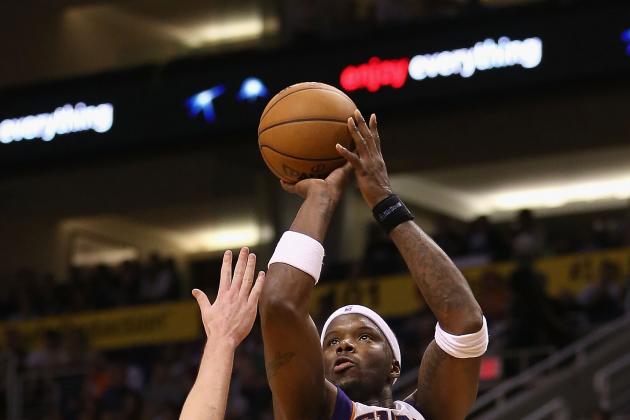 Christian Petersen/Getty Images

When the Suns signed Jermaine O'Neal to a one-year, $1.35 million contract this past offseason, he wasn't expected to contribute much.
Everyone knew that O'Neal was no longer the six-time All-Star and elite center who played for the Indiana Pacers several years ago. He had struggled in his past two seasons in Boston, where he played just 49 games and was unable to stay healthy. His All-Star days were long behind him, and he looked washed up.
This season, O'Neal was still no All-Star. But even so, like many others before him, his career was revived in Phoenix.
O'Neal played 55 games this season as the backup center, putting up 8.3 points, 5.3 rebounds and 1.4 blocks per game. He also shot 48 percent from the field, and his 84 percent shooting from the free-throw line was a new career high.
He serves as yet another success story of the Phoenix Suns training staff. Shaquille O'Neal, Grant Hill and Michael Redd are all veterans who traveled to the desert in their old age and ultimately had great seasons.
The 34-year-old still had some nagging injuries that kept him from playing 60-plus games for the sixth time in the past nine years. But even so, his per 36 minute stats were back at the level they were at five years ago, and he proved that he is capable of remaining healthy enough to help an NBA team on the court.
Furthermore, O'Neal was a great veteran for this young, rebuilding team. He never once complained about his limited role, and he never spoke out in frustration about the team's losing season.
He might have a bad reputation for his involvement in the Pistons-Pacers brawl several years ago, but this season O'Neal was nothing but a class act, which is exactly why Phoenix should look to bring him back for another season.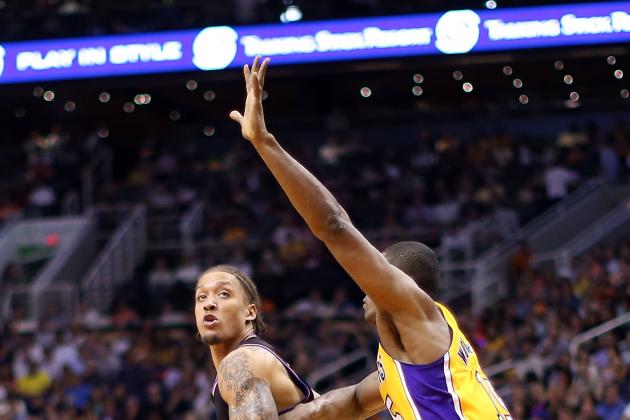 Christian Petersen/Getty Images

Where do you start with Michael Beasley?
After such a terrible season, you have to feel sort of bad for Beasley. He had so much talent and potential coming into the league, and yet this past season may have been his last chance to ever be an impact player in the NBA.
It is just so frustrating to see all that potential go to waste. Heat, Timberwolves and Suns fans alike are all wondering why Beasley still can't get his act together.
And now, after disappointing three separate organizations in five years, there may be no teams left willing to take a risk by signing or trading for Beasley.
This season was by far the worst of Beasley's career. He shot a career-low 41 percent from the field and averaged just 10.1 points and 3.8 rebounds per game. Because of his poor play, he lost his starting spot just 20 games into the season.
Beasley is much like Shannon Brown in that he will occasionally go on a hot streak or have a great game. In fact, Beasley had 12 games with more than 20 points, and in those games he can shoot the lights out and will do no wrong.
But Beasley is usually nothing other than a liability on offense, as evidenced by his minus-2.5 offensive win shares. He is also lacking on the defensive end and committed 33 more turnovers than he had assists.
By paying Michael Beasley $6 million per season, the Suns were expecting to have a potential go-to scorer, or at least an offensive threat to score about 15 points per game. After all, he did score 19.2 points per game just two years ago.
But Suns fans were left utterly disappointed, and now Beasley's playing career may be in jeopardy. Expect the Suns to try to get rid of him any way they can.
Going into the season, few people knew what to expect from P.J. Tucker. After a short stint in the NBA with the Raptors several years ago, Tucker played on various teams in Israel, Ukraine, Germany, Italy and Greece. Most Suns fans expected Tucker to receive little playing time and have a limited bench role in Phoenix.
But now, considering the fact that Tucker made less than $1 million this season, it is impossible to say that the Suns made the wrong move given his production.
Tucker played 79 games this season and started 45, with averages of 6.4 points and 4.4 rebounds per game. Those numbers aren't eye-popping, but Tucker contributes on the court in a number of ways.
First of all, he is a lockdown defender. That video shows footage of Tucker working defensively on Kobe Bryant, LeBron James and Carmelo Anthony, and he was effectively able to shut all three superstars down while he was on the court.
Tucker also held Kobe to four points on 1-of-8 shooting. He is athletic, he has a huge wingspan and, most importantly, he hustles more than anyone else on the court. He was a power forward in college because he often plays like one, and there is a reason Tucker has the second-most offensive rebounds on the roster despite being just 6'5".
Tucker may not be a legitimate offensive weapon you give the ball to in the fourth quarter, but he is a decent shooter. He shot 47 percent from the field and a solid 31 percent from downtown. He can't be relied on as a consistent scoring option, but he is great in the fast break and certainly doesn't hurt the team offensively as some people thought he might.
The Suns found a gem in P.J. Tucker. He is only 27 years old, and yet, with his great determination and work ethic, he is probably the best "veteran" for the younger players on that team.