Bonuses for the Best of the UFC in April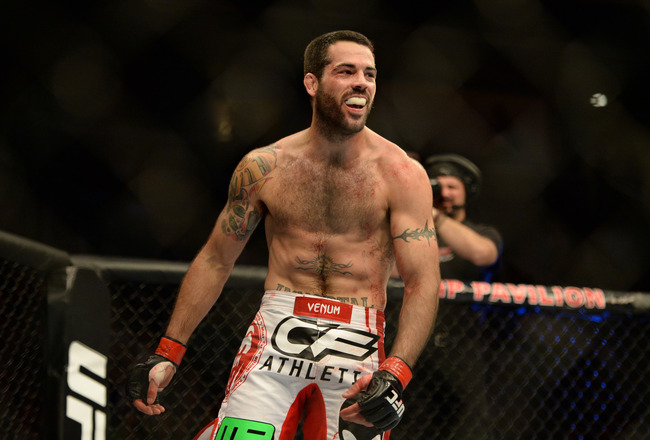 Kyle Terada-USA TODAY Sports
From Alexander Gustafsson's forehead to Chael Sonnen's mouth to Jon Jones' toe, April was a veritable Frankenstein's monster of action right here...inside the Octagon.
With four events and 48 fights going down, there's no denying April was a busy moon cycle for the UFC. With 30 bouts ending in stoppage (20 by knockout or technical knockout and 10 by submission), it was an action-packed 48, too. And that's to say nothing of all those technical decisions.
But enough nattering. Time to hand out the UFC post-fight bonuses for the best knockout, submission and fight of the month.
If you're just joining us, these are exactly like the UFC's post-fight bonuses, only the big prizes are slideshow slides instead of money, and the winners are decided not by the UFC but by myself—you know, Scott Harris, from Bleacher Report.
In addition, I've been known to throw some random bonus bonuses into the mix. Did I do that this month? Read on, why don't you. And if you're interested, check out the March bonuses here.
Knockout of the Month: Roy Nelson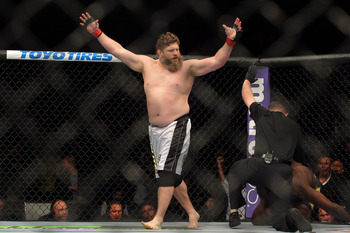 Brad Penner-USA TODAY Sports
This decision wasn't hard. But you know what was hard? What was hard was Roy Nelson's punch.
Did you get my joke? Nelson just continues to mow down opponents with that morning star at the end of his right arm. Cheick Kongo, who kind of sort of got pasted at UFC 159, was Nelson's third consecutive first-round knockout victim.
Plenty of interesting options out there for Nelson's next fight. Mark Hunt? Antonio Silva? Daniel Cormier? Personally, I'd watch him fight a phone book. I bet he could knock it out.
Knockout of the Month Part II: Anthony Njokuani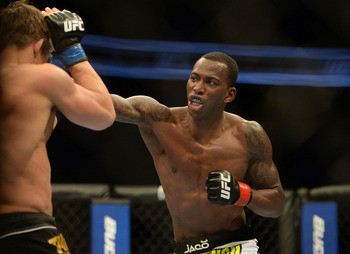 Kyle Terada-USA TODAY Sports
A bonus bonus right off the bat.
Anthony Njokuani got the short end of the stick after his picture-perfect one-punch knockout of Roger Bowling at UFC on Fox 7 went begging for bonuses. Just Njokuani's rotten luck that he fought on a card that saw eight knockouts or TKOs.
Here's hoping this is a suitable consolation prize for Njokuani. I'll just assume it is.
Submission of the Month: Urijah Faber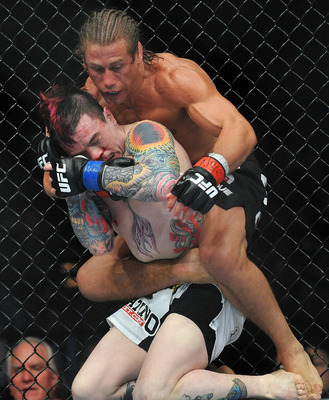 Gary A. Vasquez-USA TODAY Sports
Another great stoppage that got lost in a shuffle of great stoppages this month.
In the main event of the finale of The Ultimate Fighter's 17th season, Faber outgrappled a good grappler in Scott Jorgensen, grabbing his fellow bantamweight's back in a scramble and sinking in a choke in the fourth round for the win.
A terrific display from Faber, who is suddenly trending sharply upward at the head of a rejuvenated Team Alpha Male camp.
Fight of the Month: Matt Brown vs. Jordan Mein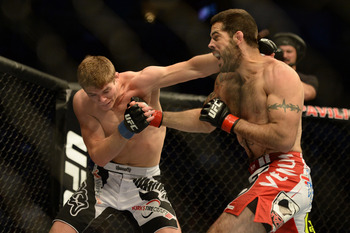 Kyle Terada-USA TODAY Sports
I'm glad Technical Brawling has become a thing. That allows me to dub this the fight of the month in a guilt-free fashion.
Young buck Jordan Mein grabbed the early momentum, even dropping Brown with a wicked body shot. But the veteran Brown regrouped and took the fight to Mein with aggressive hooks and knees. Brown sustained the attack in the second, eventually flooring Mein and finishing him on the ground.
Ask just about anyone, and you'll see that Mein still has a bright future in the UFC. Brown's future might be brighter than anyone previously thought.
Weird Stoppage of the Month: Gian Villante, Kevin Mulhall and Ovince St. Preux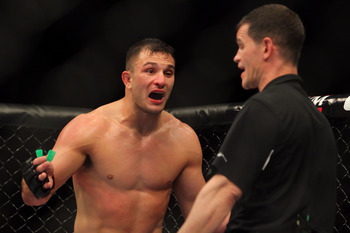 Brad Penner-USA TODAY Sports
Plenty of candidates here. Miesha Tate and Cat Zingano, Alan Belcher and Michael Bisping, Rustam Khabilov and Yancy Medeiros come to mind. But I give it to this one.
Villante got poked in the eye, told the ref he couldn't see, the ref stopped the fight immediately without offering any recovery time and Villante freaked out.
The phrase "comedy of errors" was made for this.
Important Cut of the Month: Alexander Gustafsson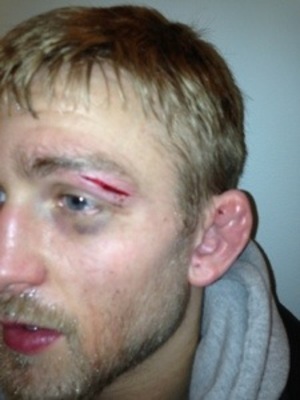 Photo credit: MMAnytt.se
This cut, which Gustafsson suffered in training, nearly forced a halt to UFC on Fuel 9.
Swedish officials failed to clear Gustafsson less than a week before the fight, touching off a scramble for a replacement. They found Ilir Latifi, who was in the neighborhood and had a pulse. Latifi lost. But thanks to him and no thanks to Gustafsson's eye, we might have had a mini-UFC 151 on our hands. Crisis averted.
Gnarly Disgusting Open Toe Fracture of the Month: Jon Jones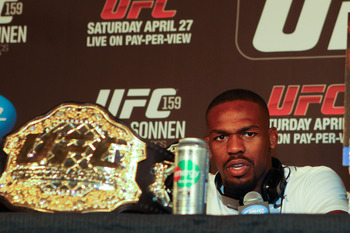 Brad Penner-USA TODAY Sports
I'm not looking at The Toe Film again for the rest of my life. Go Google it if you're just back from Mars and haven't seen it yet.
Either way, the compound fracture of his left big toe—which Jones sustained as he applied the final touches to his first-round TKO of Chael Sonnen at UFC 159—temporarily "fractured" the light heavyweight division, if you will. He was suspended indefinitely shortly after the fight.
It looks, however, like Gustafsson and Lyoto Machida will bring some order to the chaos in the coming months with a top contender match. And that's good news, because otherwise the division would have found itself twisted and mangled, clinging to sanity by a few shards of bone and shreds of tissue. And no one wants that.
Keep Reading