Final Regular Season Grades for Each Orlando Magic Player in 2013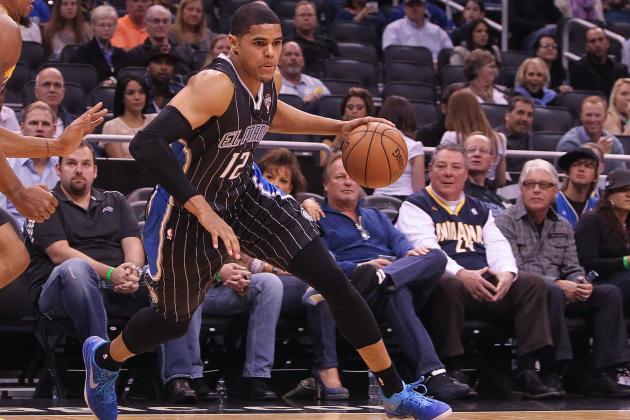 Kim Klement-USA TODAY Sports
In a harsh season for Orlando, Tobias Harris arguably had the best season of any player on the roster
As any Orlando Magic fan could tell you, the 2012-13 season was a rough experience.
The team took their lumps as the team continues its transition from the Dwight Howard-led 2009 NBA Finals team to one with a completely new identity.
Finishing with a record of 20-62, a league-worst mark, it is blatantly obvious that the team (as currently constructed) is not one capable of competing on a consistent basis.
Between the multitude of injuries, young prospects learning to play in the NBA and poor performances on an individual and team-wide basis, this Magic team was quite clearly one of the worst in the NBA.
However, several players on Orlando's roster showed the talent, growth and potential over the season to give the Magic faithful hope for the future. Other players performed at levels that will encourage the organization to show them the door as soon as possible.
So as we mercifully put an end to the season, we'll take a look at the players who finished on the team's roster, and give them a letter grade (with "A+" being the highest possible grade and "F" being the lowest) based on: performance, growth, age and overall contribution to the team.
Begin Slideshow

»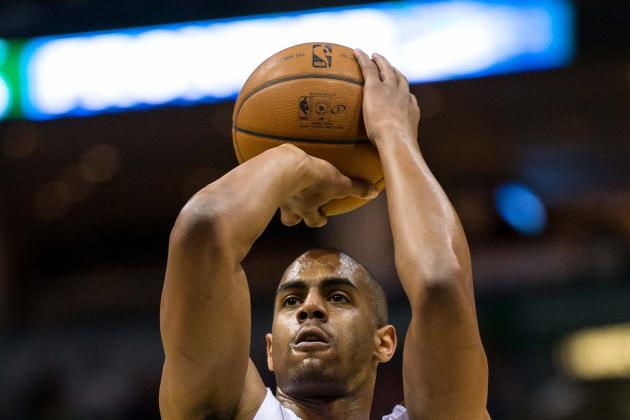 Jeff Hanisch-USA TODAY Sports
Arron Afflalo came into Orlando with high expectations, but didn't quite live up to the hype after posting below-average shooting numbers
After being acquired by the Magic in the Dwight Howard trade, Afflalo had a solid, but unspectacular year in Orlando.
While playing a more featured role than in his previous seasons, his shooting percentages took a big hit (Afflalo shot 47.1 percent from the field and 39.8 percent from three during the 2011-12 season and shot 43.9 percent from the field and 30 percent from three this past season), and his defense was not up to the standard he set before signing a hefty contract with the Nuggets.
And in addition to his drop in productivity, he missed 18 games due to various nagging injuries, and while injuries are not necessarily the player's fault, one would hope that a highly paid athlete would be able to earn his paycheck by being able to play.
Despite all the criticism we can give Afflalo, he played well this season on a team that was not very talented and had to appreciate the contributions he provided the team. But in the upcoming seasons, his level of play will have to rise or he will find himself on another team.
Final Regular-Season Grade: C+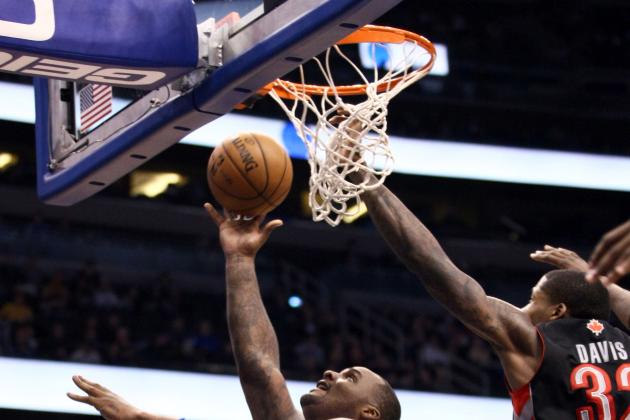 Douglas Jones-USA TODAY Sports
Glen Davis was in the middle of a career year before a broken foot sidelined him after only 34 games
Davis was enjoying one of his best seasons statistically until he broke his foot on January 30. Posting career-high averages in points (15.1), rebounds (7.2), assists (2.1) and blocks (0.6), it seemed like the veteran was finally getting a handle on how to be a solid NBA player.
However, Davis still is a liability on defense due to his lack of height and athleticism, and was far too dependent on mid-range jumpers (which sank his shooting percentage to 44.8 percent, an unacceptable mark for a big man). And because of the injury, he only played in 34 games.
And unfortunately for Davis, the emergence of Tobias Harris, Andrew Nicholson and Kyle O'Quinn may spell the end of his time in Orlando sooner than later. Davis had a good year, but it may not be enough for him to keep his job.
Final Regular-Season Grade: B-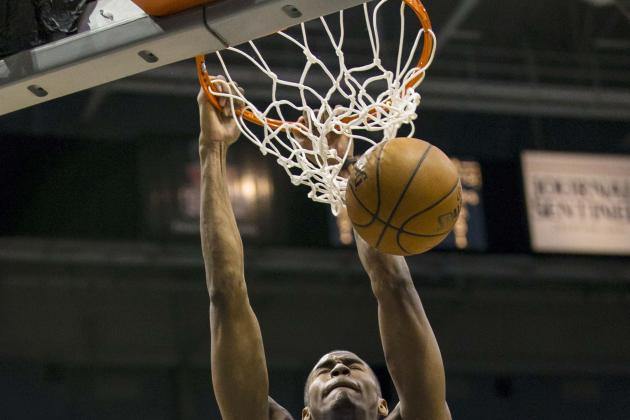 Jeff Hanisch-USA TODAY Sports
Moe Harkless was one of the most raw rookies in this year's class, but wowed everybody with his growth and potential
Harkless, a 19-year-old rookie, clearly showed how raw and unpolished his game currently is during his first season in the NBA, struggling with his shooting (27.4 percent from three and 57 percent from the line) along with other facets of his game. However, he also displayed extreme athleticism and potential (particularly as a defender) while continuing to grow throughout the season.
Initially coming off the bench, Harkless became a starter and major contributor for the team, especially after January, where his numbers began to shoot up (just look at his game logs via ESPN.com). As previously mentioned, Harkless is clearly still a project offensively and may never be a high-scoring player, but his upside seems limitless.
He will need to be more assertive in games next season and work hard this offseason, but it is hard to ask more of a young rookie than what Harkless provided this past season.
Final Regular-Season Grade: A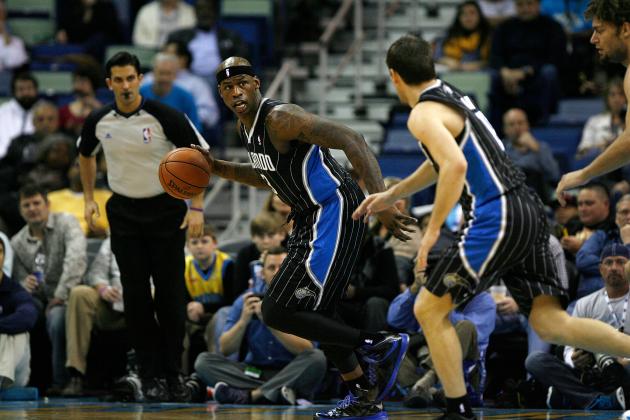 Tyler Kaufman-USA TODAY Sports
Al Harrington missed a majority of the season after complications from an offseason surgery and was not effective in the sparse time he played
With a season marred by complications following a knee surgery, Harrington only appeared in 10 games and was not particularly effective in the time he played. Whether it was a combination of the injury (entirely plausible) or if he is getting old and ineffective (also within the realm of possibilities), Harrington was a non-factor for the Magic.
While a grade of "incomplete" would probably be more appropriate for Harrington, he did play several times this season, and we can grade him based on the time, or lack thereof, he clocked.
Final Regular-Season Grade: D+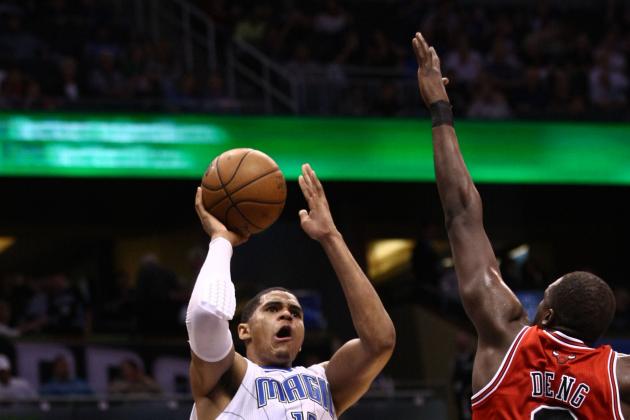 Douglas Jones-USA TODAY Sports
A benchwarmer in Milwaukee, Tobias Harris became one of the Magic's best players and saw his statistics explode after being traded to Orlando
The acquisition of Tobias Harris and his subsequent rise was among the highlights during a dreary season for the Orlando Magic.
Initially coming off the bench, the former Milwaukee benchwarmer battled his way into the starting lineup and eventually became one of the Magic's best players.
Displaying the versatility to play either small or power forward, Harris emerged as a force as a scorer (17.3 points per game), rebounder (8.5) and defender (1.4 blocks and 0.9 steals).
Harris still needs to work on his on-ball defense, but his play this past season was a revelation for Orlando, and is the most likely candidate on the Magic to be an All-Star.
Final Regular-Season Grade: A+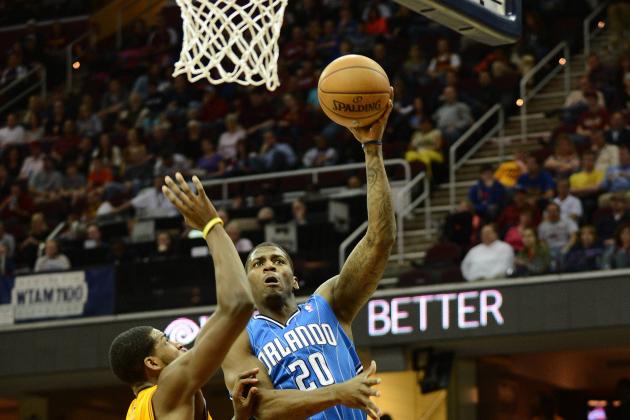 Eric P. Mull-USA TODAY Sports
DeQuan Jones, an undrafted rookie who signed with the Magic as a free agent, showed his athletic ability, but little else
Jones may have been a rookie this past season, but aside from some thunderous dunks, he really did not contribute much to the team.
He is not a good shooter (43.6 percent from the field, 25.7 from three and 66.7 percent from the line), averaged only 1.7 rebounds per game (with a 7.4 rebound rate via ESPN.com), isn't a distributor (5.6 assist ratio) and is not a talented defender.
While it is hard to judge a rookie so harshly, there was a reason Jones went undrafted last year, and that is because he is not an NBA player. The only real positive he provided this season was the filler minutes he was able to play because the team had no one else to sub in.
Final Regular-Season Grade: D-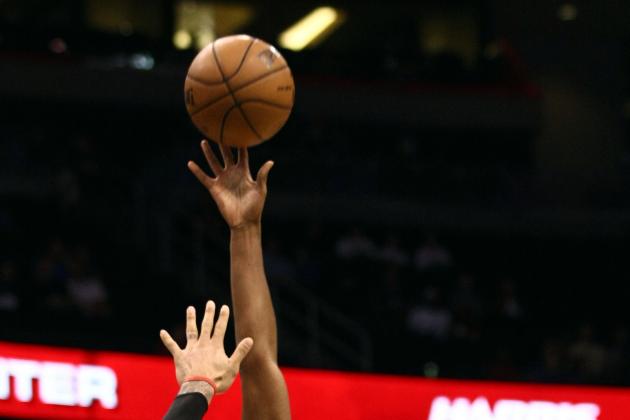 Douglas Jones-USA TODAY Sports
Doron Lamb struggled with the transition from college to professional basketball, playing at a low level in both Milwaukee and Orlando
Lamb was another rookie who struggled mightily this past season. Although his numbers improved slightly after being traded from the Milwaukee Bucks to the Magic, which really isn't saying too much, as Lamb's performance left much to be desired.
Lamb shot better overall and finally started hitting some threes after moving to Orlando (from the field, he increased his shooting percentage from 34.7 percent to 39.7, his three-point shooting from 25 percent to 47.6 and his free-throw shooting 53.3 percent to 63.2), but his field-goal percentage was still subpar and his free-throw shooting was atrocious for a player known as a good shooter.
He also failed to show much ability as a passer, which he was partially known for last year at Kentucky, and was not an impact defender. The only thing Lamb can do now is work hard this summer and come into next year with an improved game.
Final Regular-Season Grade: D+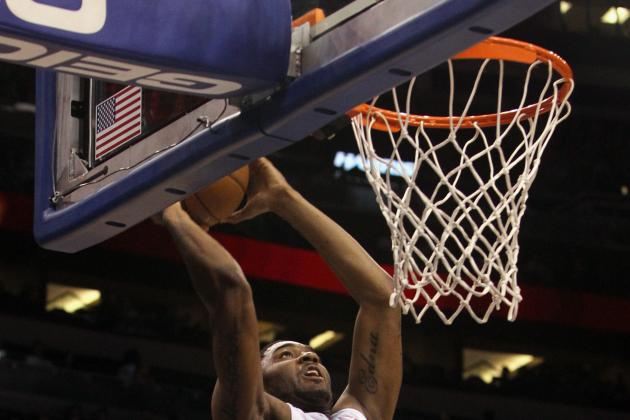 Kim Klement-USA TODAY Sports
E'Twaun Moore was a valuable combo guard for Orlando this past season, but must continue to improve his game to maintain a roster spot
The second-year combo guard enjoyed a fairly solid year, playing in 75 games and starting in 21 of them while several veterans sat out with injuries. Moore also provided valuable production off the bench as one of the top guards in the Magic's rotation.
With the ability to pile up assists while playing either as a point guard or a shooting guard, as well as being a threat with the long ball, Moore played well for a relatively young prospect.
However, his game was not perfect, and the guard has several aspects of his game he can improve upon. His overall shooting numbers (39.6 percent from the field, 34 percent from three and 79.7 percent from the line), while passable, need improvement, and although he finished the season with a 1.96 assist to turnover ratio, if Moore could cut down on his turnovers, he'd be an even more dangerous player.
Final-Regular Season Grade: C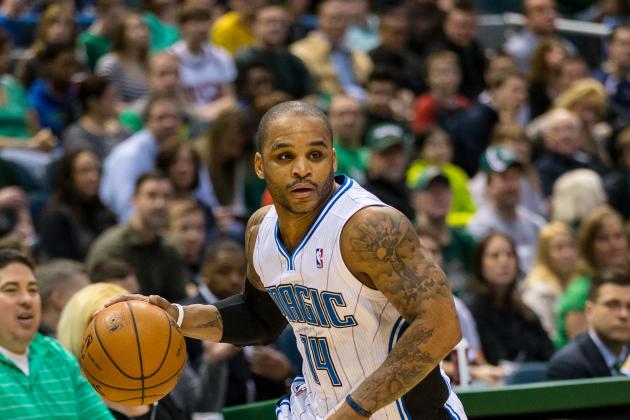 Jeff Hanisch-USA TODAY Sports
Jameer Nelson was a valuable leader and player for the Magic over the course of the season, but missed 26 games because of injury
One of the few remaining members of the Magic team that reached the 2009 NBA Finals, Nelson provided leadership and solid play during the time that he was on the floor. Unfortunately, Nelson's recent trend of missing time due to injury continued, forcing him to sit out 26 games.
His role as a featured player also hurt his overall shooting percentage, resulting in a career-low 39.2 percent shooting mark from the field.
In Nelson's defense, he also averaged career-bests in assists (7.4 per game) and rebounds (3.7). He also increased his scoring to 14.7 points per game, the highest since his All-Star season in 2009.
In the end, Nelson had a good year, but not a great one, and the chunk of games he missed hurt the team.
Final Regular-Season Grade: C+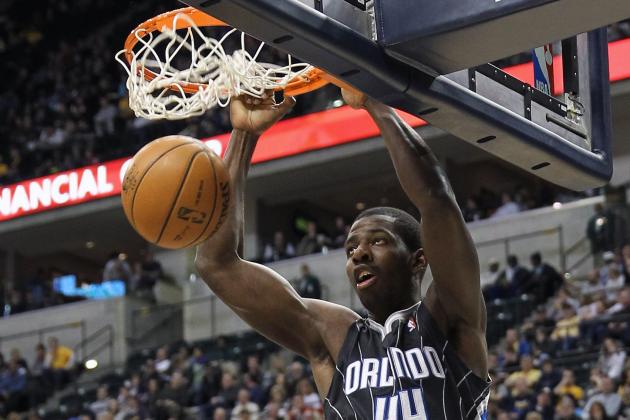 Pat Lovell-USA TODAY Sports
Andrew Nicholson proved to be one of the steals in the previous NBA draft, showing off a polished offensive game which allowed him to provide solid minutes in his rookie season
Nicholson may not have the star power of fellow rookies like Anthony Davis or Damian Lilliard, but he was one of the best rookies in the NBA this past season.
Displaying an offensive game that allowed him to score down low and from mid-range, the Magic are ecstatic to have gotten him with the 19th overall selection in the previous draft.
Unfortunately for Nicholson, the explosive play of Tobias Harris will likely force him to come off the bench, especially because his rebounding numbers were subpar (via ESPN's advanced statistics, he posted a rebounding rate of 11.7, 54th out of 72 qualified power forwards). But if Nicholson can improve his rebounding and add to his offensive game, he will be a dangerous weapon off the bench.
Final Regular-Season Grade: B+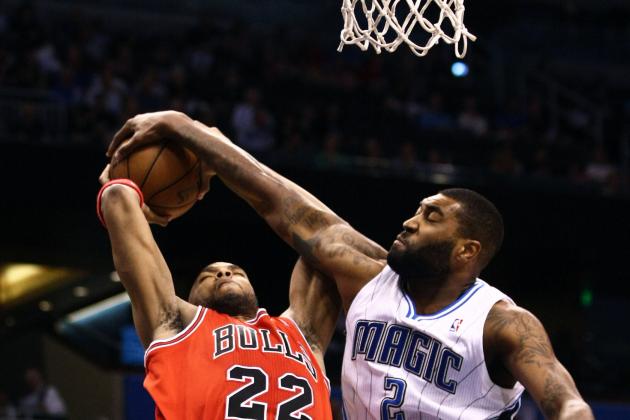 Douglas Jones-USA TODAY Sports
Kyle O'Quinn proved to be a superb second-round pick and enjoyed a great rookie year in Orlando
It's not often that a second-round pick comes in and provides valuable minutes for an NBA team, but O'Quinn did just that.
As I detailed in a previous piece on the young Orlando prospects, O'Quinn may not have provided eye-popping statistics overall, but his advanced statistics revealed his potential as a force in the paint and rebounding machine.
O'Quinn still must work on his defensive game, but considering the fact most second-round picks are benchwarmers, his play this previous season is nothing but encouraging.
Final Regular-Season Grade: B+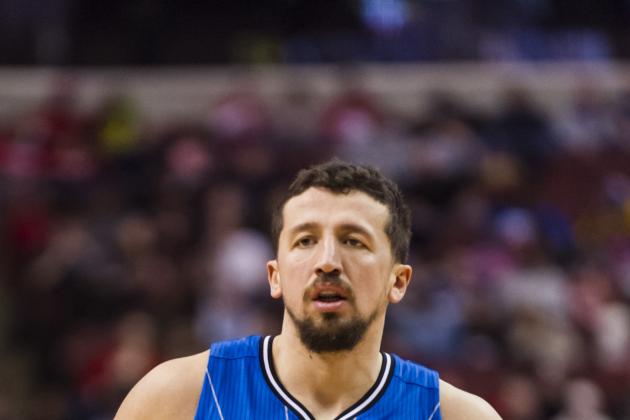 USA TODAY Sports
Between injury, suspension and career-low numbers around the board, Hedo Turkoglu had one of the worst seasons of any player in the NBA
Generally, fans hate to see when a veteran suffers a sharp decline in play, especially when they provided great play for their team in the past.
But nobody feels bad for Turkoglu.
Playing in only 11 games because of a broken hand and NBA-mandated suspension, Turkoglu was rarely seen in action. When he did play, it was usually disastrous, as he posted career-worst numbers in almost every statistic (via ESPN.com).
Throw in the fact he was grossly overpaid, making $11.8 million for the season (via Hoopsworld.com), it's hard to find a player on any NBA roster that had a worse season than Turkoglu.
Final Regular-Season Grade: F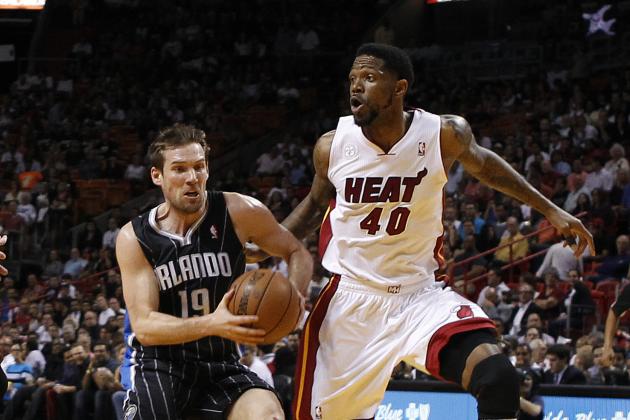 Robert Mayer-USA TODAY Sports
Udrih, a midseason acquisition by the Magic, contributed great play and veteran leadership after being traded from Milwaukee to Orlando
Udrih may not have played with the Magic for a long time, playing in 27 games after being traded from the Milwaukee Bucks, but he did play at a high level after coming to Orlando.
Backing up Jameer Nelson, and starting in several games, Udrih provided superb perimeter shooting (39.6 percent from three) and a floor general who helped spark the offense (averaging 6.1 assists per game in Orlando).
The only real knock on Udrih was that his field-goal percentage slipped dramatically, finishing at 40.8 percent from the field. But as a midseason acquisition, Udrih played very well, and the Magic were lucky to have him.
Final Regular-Season Grade: B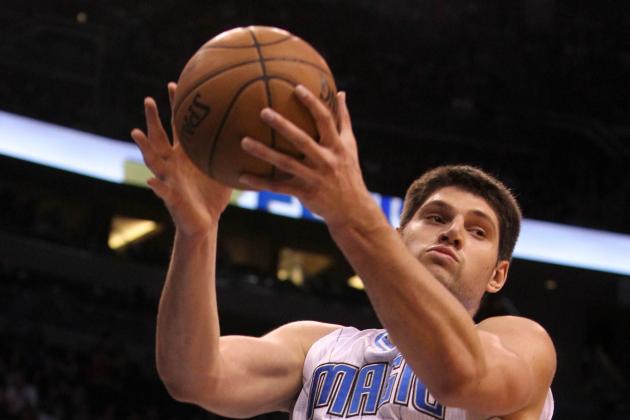 Kim Klement-USA TODAY Sports
Nikola Vucevic burst onto the scene in Orlando as a double-double machine, finishing second league-wide in rebounding behind former Magic star Dwight Howard
Initially viewed as a throw-in to the Dwight Howard trade, Vucevic emerged as a potential star for the Magic during his debut season in Orlando.
Vucevic was among the best rebounders in the league this past season, averaging 11.9 per game (second only to Dwight Howard), and had the most rebounds in a single game (29 against Miami).
Although the plodding big man was not a superb rim defender, his solid (and improving) offensive game, coupled with his gift for rebounding, allowed him to finish third in the NBA in double-doubles.
Hard to ask much more of a guy who was "a throw-in."
Final Regular-Season Grade: A