What's the Ceiling for Each Orlando Magic Prospect?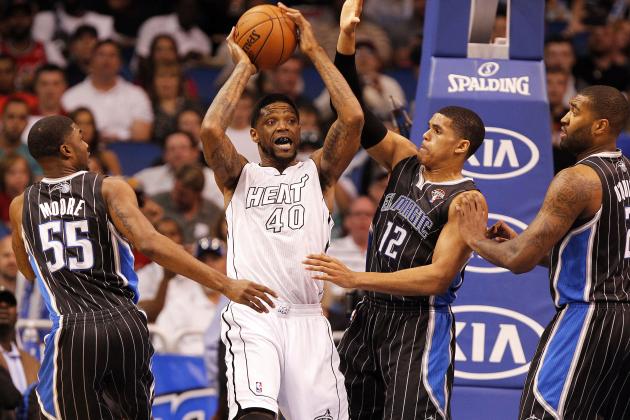 Gary Bogdon/Getty Images

Ever since Rob Hennigan replaced Otis Smith as general manager of the Orlando Magic, Hennigan has made it clear that the team is in a full-blown rebuilding stage, and adding young talent is the primary focus for the organization.
This philosophy is clearly shown by the returns that the team has received in trading star players Dwight Howard and J.J. Redick to the Los Angeles Lakers and Milwaukee Bucks, respectively. Through these deals, the Magic have received young prospects such as small forward Moe Harkless, center Nikola Vucevic, combo forward Tobias Harris and shooting guard Doron Lamb, who all figure to be pieces the team builds a future contender around.
And while each of the young players Orlando has acquired through the draft and trades during Hennigan's tenure has shown varying levels of talent, if the Magic hope to make the playoffs or contend for a championship, these prospects will have to reach their potential.
In this piece, we'll look at the "ceiling," or the highest role that a player can play for the team, as well as what level I expect them to reach. The rankings (in order) will be: All-Star, star, starter, role player and roster filler.
Begin Slideshow

»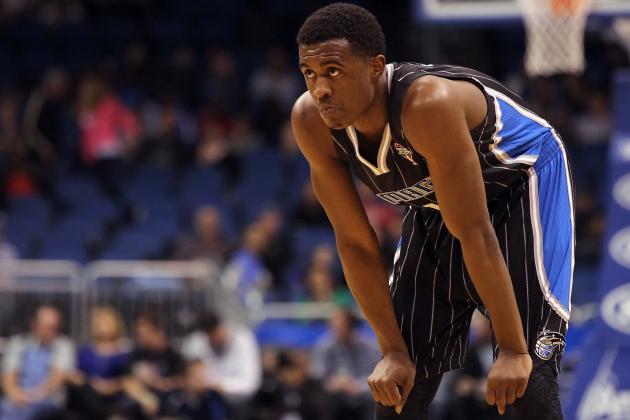 Kim Klement-USA TODAY Sports

Lamb, a rookie shooting guard who was acquired by the Magic in the J.J. Redick deal, has struggled mightily in the few minutes he has gotten since coming to Orlando. A talented guard for Kentucky's national championship squad last year, Lamb was known as a quality perimeter shooter and passer who could play either guard spot.
However, his supposed strengths have not translated to the NBA as Lamb has shot 29.6 percent from the field (including 25 percent from three) and has a 0.5 assist-to-turnover ratio since joining the Magic.
Being a rookie, he will likely get the benefit of the doubt and more opportunities to prove himself, but if he can't turn things around, he'll be playing overseas. If he can reestablish himself and his game, he can be a solid guard off the bench, and—in time—I believe he'll at least be a spot contributor for the team.
Ceiling: Role Player
Likely Role: Roster Filler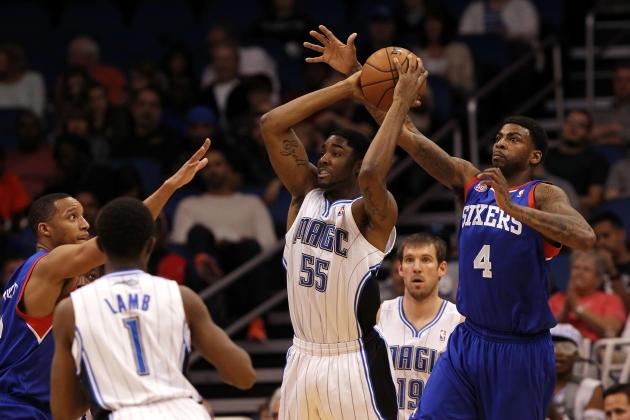 Kim Klement-USA TODAY Sports

Moore, a second-year combo guard who was signed as a free agent by Orlando last September, has had his ups and downs this season. He has played at levels where he has been one of the Magic's best players, while other times he has been the worst player on the team.
He certainly has potential as a lethal combo guard who can drill the long ball and rack up assists—not to mention he is a fairly decent defensive player—but until he can improve his consistency and ability to finish at the rim, he likely will not be a part of the Magic's future plans.
Ceiling: Backup Guard
Likely Role: Role Player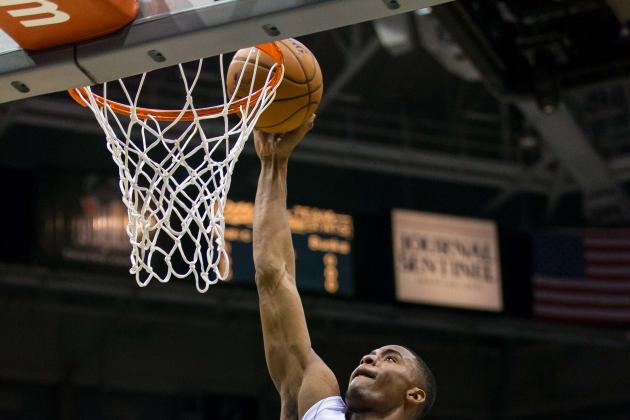 Jeff Hanisch-USA TODAY Sports

Harkless, a rookie small forward who was acquired by the Magic from the Philadelphia 76ers as part of the Dwight Howard trade, has been one of the most tantalizing rookies in the entire NBA.
An athletic specimen with a superb wingspan, Harkless is oozing with potential. He already is a talented defender and, according to John Hollinger's advanced statistics (available via ESPN.com insider), he is a very good rebounder, ranking 11th out of 68 qualifying small forwards in offensive rebound rate and 24th in total rebound rate.
The obvious hole in his game is that he is not a good shooter and is very raw offensively. However, as a 19-year-old rookie, it is reasonable to expect that Harkless will continue to improve his game and became an important player in Orlando's rotation. If he doesn't, he can still be a lockdown defender and quality starter for the team.
Ceiling: Star
Likely Role: Starter or Defensive Specialist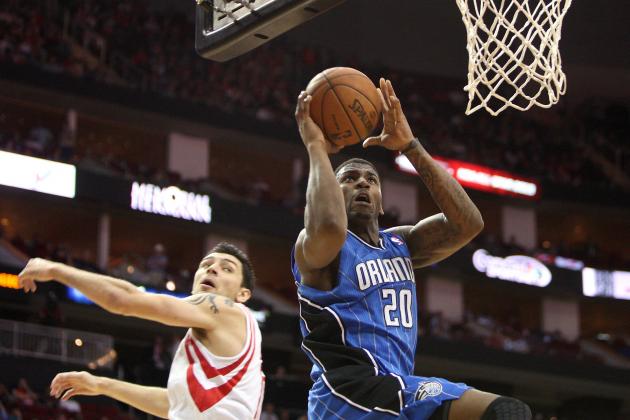 Troy Taormina-USA TODAY Sports

Jones, an undrafted rookie small forward whom the Magic signed last September, is an athletic player, but brings little to the table besides some rim-rattling dunks.
He is not a good shooter (44.9% FG, 24.1% 3PT, 61.1% FT) and, despite his athleticism, he is not a talented defender or rebounder. If Jones can harness his athleticism into a viable skill, then he might be able to stick on a NBA roster, but I would not bet on it.
Ceiling: Roster Filler
Likely Role: Playing Overseas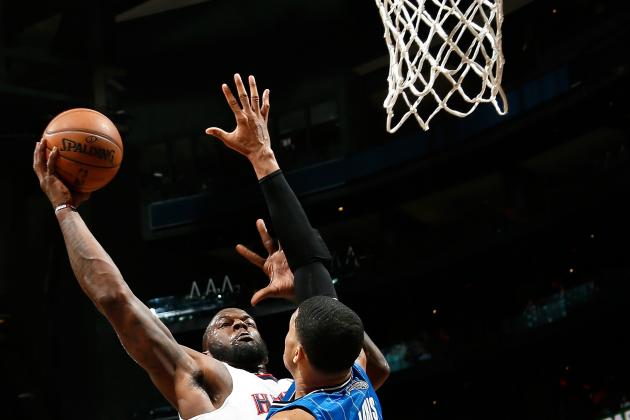 Kevin C. Cox/Getty Images

Harris, a second-year combo forward acquired by the Magic from the Milwaukee Bucks as part of the J.J. Redick trade, has gone from bench-warmer to star since changing scenery from the snow and cold of Wisconsin to the warm paradise of Florida.
Currently, Harris is averaging (on a per-game basis) 16.4 points, 8.2 rebounds, 1.7 assists, 1.5 blocks and 0.9 steals per game and seemingly sets a new career-high in points every other game. While his shooting numbers could stand to improve a bit, as well as his on-ball defense, Harris looks more and more like a future star with each passing day.
Although the number of talented forwards will make it hard for Harris to earn an All-Star bid, if he continues to improve at his current rate (which seems likely as he is only 20 years old), he'll be in contention to play in the All-Star game and make Orlando fans forget about "D-12" and start thinking about "T-12."
Ceiling: All-Star
Likely Role: Borderline All-Star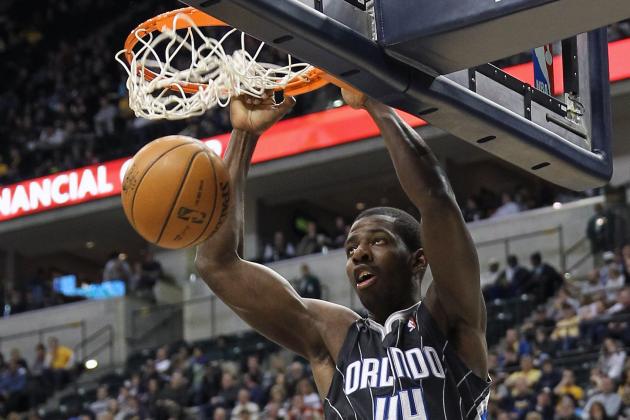 Pat Lovell-USA TODAY Sports

Nicholson, a rookie power forward drafted by Orlando with the 19th pick of the 2012 NBA draft, has been one of the most solid rookies in the entire league. He is clearly not as talented as several rookie sensations such as Damian Lillard, Anthony Davis or Bradley Beal, but he has played well when given the opportunity and shows a fair amount of potential.
Nicholson can shoot the ball well, boasting the 13th highest true-shooting percentage among the 72 qualified power forwards according to John Hollinger's Advanced statistics (available via ESPN.com insider) and has a solid offensive game, but has several limitations that lower his ceiling. He is not much of a difference-maker on the defensive side of the ball and doesn't rebound as well as a big man should (Nicholson ranks 53rd out of 72 in terms of total rebounding rate).
Another factor that is not in his favor is that Nicholson is already 23, which limits his potential growth. I believe that he'll continue to improve his game and be a key reserve for the team in the future.
Ceiling: Starter
Likely Role: First Big Man Off the Bench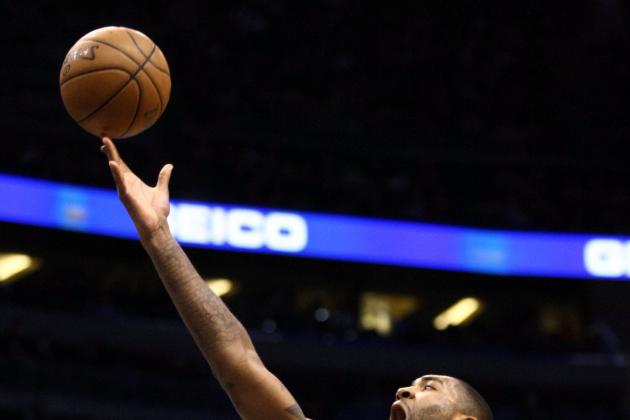 Douglas Jones-USA TODAY Sports

O'Quinn, a rookie power forward acquired by the Magic with the 49th pick in the 2012 NBA Draft, has been one of the most pleasant surprises of the season for Orlando. The Norfolk State star has been a sensational player off the bench, and while his raw numbers will not wow you, advanced statistics (via John Hollinger's advanced stats on ESPN.com insider) show just how much potential he has.
Out of 72 qualified power forwards, O'Quinn ranks in the top-21 in the following statistics: Player Efficiency Rating (21st), true-shooting percentage (16th), assist percentage (ninth), offensive rebounding rate (15th), defensive rebounding rate (10th) and total rebounding rate (seventh).
So while O'Quinn hasn't gotten a substantial amount of playing time this season because of Orlando's logjam at power forward, his potential is much higher than one would expect from a second-round pick, and he could possibly be a starter in the future. While this likely will not happen because of how well Tobias Harris has been playing at the 4-spot, he could develop into a key contributor off the bench.
Ceiling: Starter
Likely Role: Role Player/Second Big Man Off Bench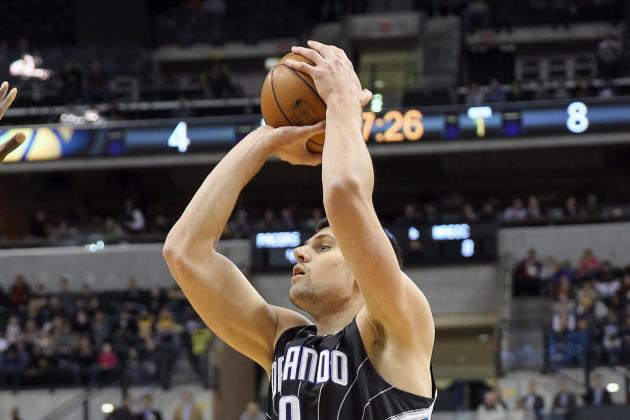 Pat Lovell-USA TODAY Sports

Until Tobias Harris burst onto the scene with his spectacular play, Vucevic, a second-year player acquired by the Magic from the Philadelphia 76ers as part of the Dwight Howard trade, was considered the undisputed franchise cornerstone.
Averaging a double-double for the season (with 12.5 points and 11.5 rebounds per game), Vucevic has established himself as one of the premier rebounders and among the most talented young centers in the league. According to John Hollinger's advanced statistics (available on ESPN insider), Vucevic boasts a defensive rebound rate of 28.1 and total rebound rate of 19.9, which rank fourth and fifth in the league respectively.
The only things that Vucevic needs to improve upon to truly become a star are his ability to protect the rim and his offensive game, which continues to improve throughout the year. While the plodding big man will never be the defensive force that Howard was as a member of the Magic, his post skills and shooting should continue to improve, making him a borderline All-Star in the East.
Ceiling: All-Star
Likely Role: Star