The Evolution of the Boston Celtics, Through the Eyes of Paul Pierce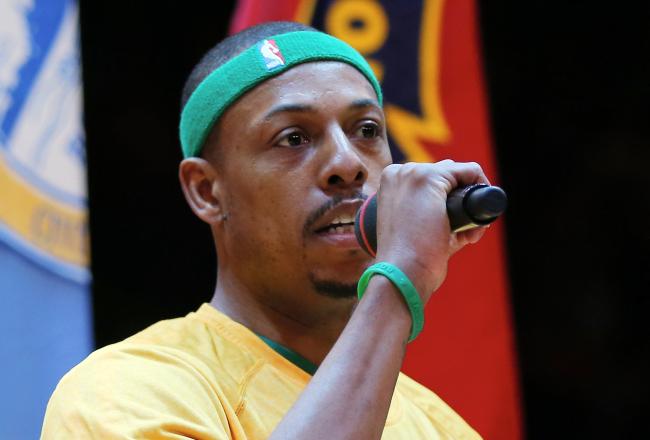 Elsa/Getty Images
Paul Pierce has seen a lot during his tenure with the Boston Celtics. Some of it good, some bad. Some of it was gruesome and some of it was triumphant.
Where were you on June 24, 1998?
Some of you were probably at work—it was a Wednesday after all. Others were on summer break from college or high school, frying burgers or waiting tables. Maybe you weren't quite as big of a basketball fan. The NBA draft received a lot less fanfare back then, and this one was held in Vancouver. Remember Vancouver?
Maybe you were like me, a kid spending his summer vacation playing whiffle ball and building sandcastles.
Wherever you may have been on that day, it is important to remember it as the day things changed for the winningest franchise in NBA history. Paul Pierce became a member of the Boston Celtics and what he saw from then on out is pretty special.
While you were hopefully enjoying an early summer evening, Pierce watched nine teams pass on him in the first round. He saw his teammate at Kansas, Raef LaFrentz, go No. 3 to the Denver Nuggets. He also saw Michael Olowokandi and Larry Hughes get chosen, coming out of tiny private schools. Then at No. 9, David Stern called the strange name of some German player that would wind up with the Dallas Mavericks.
Paul Pierce watched himself fall to the No. 10 spot in the NBA draft, where finally the Boston Celtics opted to pick him up. What happened that night would help shape his career and the path the Celtics would take over the next 15-plus years.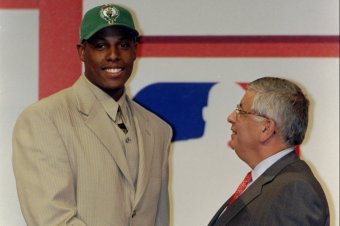 Jed Jacobsohn/Getty Images
Growing up outside of Los Angeles, Pierce had to have some familiarity with the storied Celtics franchise. He would have been between the ages of 7-10 when the Celtics and Los Angeles Lakers met in 3-of-4 NBA finals in the late 1980s.
The Celtics of Pierce's youth were not the ones he was joining, however. They were just a year removed from a franchise worst 15-67 record in 1996-97, the season that ended M.L. Carr's coaching career in Boston.
The team that drafted Pierce was coming off a 36-46 season, the first of the Rick Pitino Era. It had been six years since the Celtics had any postseason success, but a hot young coach and some talented youngsters gave off good vibes for the future.
However, Pierce's rookie season could not get started until February due to the NBA lockout, and after that the Celtics never got things under control, finishing just 19-31. He managed to score 16.5 points per game in a team-high 47 starts.
The Celtics were built around a young core of high-profile talents and personalities. Kenny Anderson had the flashy name and flashier game. Antoine Walker was a former No. 6 pick after helping to lead Kentucky to a national championship. Throw in Pierce and a coach still trying to make a name for himself at the pro level, along with what the NBA's image was in the late 1990s, and you had quite the powder keg.
Unfortunately, that left little room for sympathy when Pierce needed it most. It will forever be a mystery what his eyes saw at Boston's since-closed Buzz Club. However, the facts we know about are that he was stabbed 11 times in an altercation at the night club.
The event proved to be a minor hiccup in the development of Pierce and the Celtics, as he was back on the court the following month to start Game 1 of the 2000-01 season. That was the year Pierce and Walker exploded into the NBA stat books. Pierce averaged 25.3 points and 6.4 rebounds per game, while Walker chalked up 23.4 points and 8.9 rebounds a night.
It was in a game on March 13, 2001, that Pierce received his famous nick name, "The Truth," from Shaquille O'Neal. Pierce put up 42 points against the defending champion Lakers.
Still, the Celtics couldn't get over the hump and into the postseason. The mid-season resignation of Pitino left Jim O'Brien in charge. Under their new coach, the Celtics finished the year 24-24, paving the way to the following season's success.
Being that Pitino was the guy who drafted Pierce, this presented an interesting situation for him to handle. As he was supposed to be assuming a leadership role, he also had to adjust to a new coaching style.
Under O'Brien, the Celtics were granted permission to run and gun as they pleased. Pierce averaged a then career-high 26.1 points per game. He and Walker averaged 14.3 three-point attempts per game between themselves.
O'Brien's style brought good feelings back to the organization and the fan base. They had a star coming into his own and a sort of "buddy cop" vibe going on between Pierce and Walker. Boston finished 49-33, advancing all the way to the Eastern Conference finals. There they fell in six games to the New Jersey Nets.
Pierce fully endeared himself to the fans by leading a 21-point comeback in the fourth quarter of Game 3. The Celtics star scored 19 points in the final frame, giving Boston the series lead at 2-1.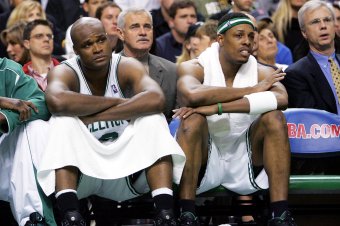 Jim McIsaac/Getty Images
The following year brought more of the same for O'Brien and the duo of Pierce and Walker. Pierce was named to his first All-NBA team, but the Celtics were once again ousted by the Nets in the playoffs.
Looking to build something more than a consistent playoff team, the Celtics brought in Danny Ainge to handle the basketball operations duties in 2003. Unfortunately for Pierce and the fans, he and O'Brien had differing views on the path of the franchise.
O'Brien was three pointers and instant gratification. He wanted to win now and take his chances in the playoffs. Ainge was more long-term focused, a new wrinkle into the evolution of the franchise during Pierce's tenure.
One of Ainge's first moves was to deal three-point happy Walker to Dallas. That left Pierce the lone star of the team, and Boston struggled. Due to different visions, O'Brien resigned mid-season, just like Pitino before him. John Carroll finished out the year as head coach, with the Celtics 10 games under .500. They were swept out of the postseason by the Indiana Pacers.
This all marked a turbulent time in the Celtics' evolution, and nobody felt it more than Pierce. He was really making a name for himself within the league, but trouble at home builds up over time.
Ainge brought in a new coach, Doc Rivers, who had had some minor success in Orlando but had been fired the previous season. Pierce went out and put up his usual stellar numbers. He was even reunited with Walker after a mid-season trade, but frustrations were mounting and the Celtics ran into the same Pacers team that embarrassed them the year before.
In a moment of control loss, Pierce got himself ejected from Game 6 of the first-round series. In Game 7, the Celtics put up only 70 points, fading out of the playoff picture quietly. Pierce, who scored 19 points, got nearly zero help from his teammates in the game, leading to even more frustrations in the offseason.
Walker was once again shipped off, leaving Pierce to lead a team full of mediocre talents. His career-high 26.8 points per game were almost out of spite for a franchise that didn't seem to care that he was wasting his prime. The team finished well below .500 and out of the postseason each of the next two years.
Approaching his 30th birthday, Pierce was left with little recourse but to give Ainge and the franchise an ultimatum. Either they make big moves to bring him something to work with, or he makes a big deal about wanting out.
This was the time Pierce exerted the greatest influence on the evolution of the Celtics. His push was necessary for Ainge to pull the trigger on deals that brought Ray Allen and Kevin Garnett to Boston.
Ainge is a man of a lot of words, however, the majority of those turn out to be hollow. He since threatened to disband the Big Three countless times, but didn't pull the trigger until Ray Allen forced himself out. The same was the case after the 2006-07 season.
Ainge had an idea of what he wanted to do with the Celtics and had been inching closer and closer to that breaking point. However, it wasn't until Pierce forced his hand, that Ainge could make the decisions.
Who do you credit with bringing the big three together?
Allen and Garnett joined forces with Pierce, and the Celtics' captain was never happier to lay off the scoring pedal. He dropped a full 5.4 points per game from 2006-07 to 2007-08.
With the Big Three together in Boston, a championship shortly followed, and Pierce's legacy and place in Celtics' lore got a whole lot bigger.
Pierce's eyes saw Allen and Garnett hit shots that used to be his, and only smiled. As he evolved into his 30s, the Celtics evolved into mature championship contenders.
The five-year run of the Big Three never once saw them eliminated in the first round of the postseason, and Pierce has become a hero to the city of Boston thanks to his loyalty and pedigree.
This postseason may be the last time we see Paul Pierce on a basketball court, but more importantly, the last time we see him in a green and white jersey. He was contemplating it openly after last season, and has only a partially guaranteed contract next year. There hasn't been a second of Boston Celtic evolution over the past 15 years that Pierce hasn't touched.
In the end, I don't know how we'll ever be able to fully grasp what those eyes have seen.
This article is
What is the duplicate article?
Why is this article offensive?
Where is this article plagiarized from?
Why is this article poorly edited?

Boston Celtics: Like this team?