Has Any NBA Team Had More to Lose in Playoffs Than This Season's Miami Heat?
Use your ← → (arrow) keys to browse more stories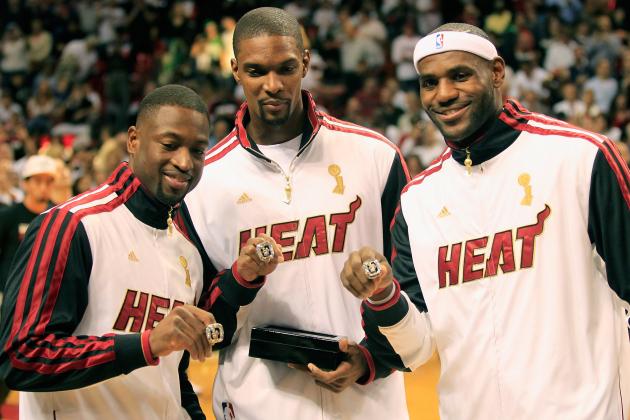 Chris Trotman/Getty Images
One ring...two rings...three rings...Dwyane Wade, Chris Bosh and LeBron James want more.
With their core intact and their first NBA title in the books, the Miami Heat almost have the most to lose in the 2013 playoffs.
One other team, however, has more.
The reigning champions have been the 2013 NBA title favorites since the day after last year's NBA Finals. By November, they were less than 2-1 to win it all, perched just above the Los Angeles Lakers.
Still, the Heat are under a lot of pressure, and not just due to preseason expectations.
Not only did they return with the best Big Three in the league—assumed-MVP LeBron James, Dwyane Wade and Chris Bosh—they also became a little more lethal with Ray Allen.
The result was Miami's best record ever at 66-16 on the back of the Heat's second-longest winning streak in NBA history at 27.
The Heat have the fifth-best offense and fifth-best defense in the league. No other squad is as balanced on both sides of the ball.
They are also the most accurate shooting team, score the most points per 100 possessions and are second-best behind the arc.
The Heat are better than last year. They have an obligation to defend their title, dammit.
Then there's this, of course.
LeBron and the Heat can always get back to that and (minus the hyperbole) win a more-realistic two or three additional titles although history says that's pretty optimistic. At least they have the chance to do so.
The Heat don't have to win all "seven" of their remaining titles this year. The Big Three are signed through early-termination options in 2014-15 and player options in 2015-16.
ESPN offered four reasons why "there will be another decision" in 2015 and there are rumors of a James return to Cleveland per Chris Broussard:
Nevertheless, the Miami Herald more recently reported that:
(Heat owner) Micky Arison said that even with tax penalties increasing, "we can keep )the three stars) together" in the new deal. "It's doable in this tax economy," (Heat President) Pat Riley said. "We've already had internal conversations. That will all be tackled after the season, but it's doable."
If Arison and Riley pull it off, we could be looking at this core beyond 2016.
Finally, the fact that having gotten the monkey off LeBron's back with championship No. 1—and with it being so recently—has taken a lot of heat off the Heat right now.
So what other playoff team has more to lose then?
Heading into November, some felt it was the Lakers. They acquired two of the best in the game last offseason in Dwight Howard and Steve Nash to produce an all-time starting five (with Kobe Bryant, Pau Gasol and Metta World Peace).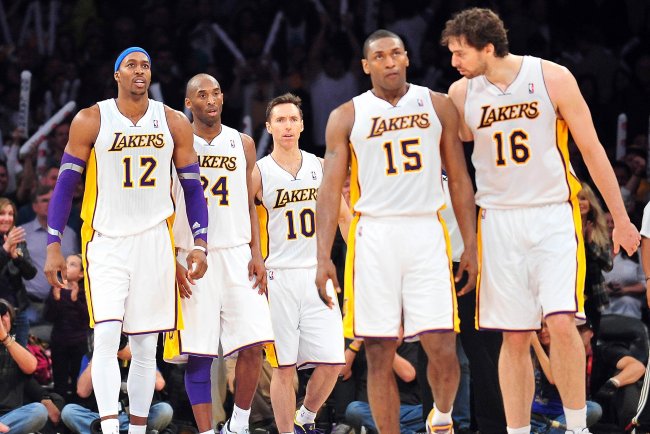 Gary A. Vasquez-USA TODAY Sports
But L.A. busted out most inauspiciously, dropping the first three, finishing January at 20-26 and looking like a longshot for the postseason.
There were chemistry issues that made the ones in New York (Carmelo Anthony-Amar'e Stoudemire) look like milk and cookies. There were alos roster-gutting injuries, the now-usual Howard chaos and a midseason coaching change for the Lakers.
There's not too much pressure on the Boston Celtics. They took it to Game 7 of the Eastern Finals last year and no one expected that. Now a year older, without Ray Allen and Rajon Rondo as the No. 7 seed, anything past the first round is a bonus.
Nor is there much pressure on another aged and injured team, the San Antonio Spurs, who already have four titles since 1999, the fourth-most of any team. Only the Lakers, Celtics and Michael Jordan's Chicago Bulls have more.
Did anyone expect the Spurs to win a fifth championship?
Which team has the most to lose in this season's playoffs?
They fizzled down the stretch to lose the No. 1 seed out west, just as they did in last season's Western Conference Finals. No one believes they have the gas to make it any further, that is if they don't sputter out in an earlier round.
The Oklahoma City Thunder are the No. 1 seed out west and arguably the greatest challengers to Heat supremacy. They are the league's other 60-game winners at 60-22 and the current favorites out in the west.
If the Thunder fail to win it all or make it to the Finals a second time in a row, there will be disappointment. An earlier ejection will hurt, but despair? Nah. This team is young and will be hanging around the postseason for some time to come.
Anything past the first round would be an improvement over last year for the Memphis Grizzlies. As for their opponents, the favored L.A. Clippers, there are more expectations this year, but not much more. A Western Conference title win would be wild.
The Denver Nuggets and Indiana Pacers are dangerous teams, but only in the Cinderella sense. Most expect both teams to get out of Round 1, but the rest is a crap shoot.
The Brooklyn Nets look to be their most dangerous since the Jason Kidd days of when the franchise was still known as the New Jersey Nets. Let's face it though, until they actually do something, there are no expectations.
There is one team, though, whose playoff stakes are highest of all—the New York Knicks. And it's not even about a championship.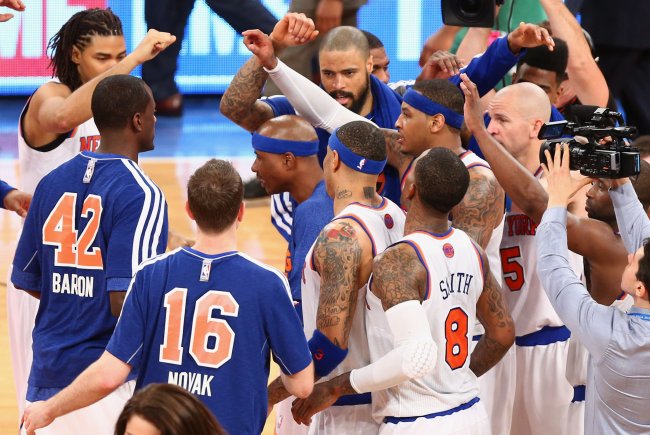 USA TODAY Sports
There's always a lot to lose come playoff time in New York. The truth is, fans have been preparing themselves with tempered expectations all year long, even in the face of the team's opening 21-9 start.
Those fans got more than they expected, or at least just as they expected with a No. 2 seed.
While some wanted the No. 1 seed and thought it was possible, no true New York fan (i.e. a hard-driving pessimist) after all these years was going to believe it until he or she saw it.
A hard-fought loss in the Eastern Conference Finals will be enough to satiate most Knicks fans and have them salivating for next season. They have known all season long that New York will have a better shot then.
A first-round exit, on the other hand, would be utterly devastating and hang in the air of the city's streets like an open sewer in the mid-day August sun for the next six months. The Knicks haven't gotten out of the first round since 2000.
A semifinals' exit won't smell as bad, but it would be unacceptable nonetheless to Gotham's masses and the media.
It's the Eastern Conference Finals or bust, Carmelo.