An NBA Fan's Guide to the NCAA National Championship Game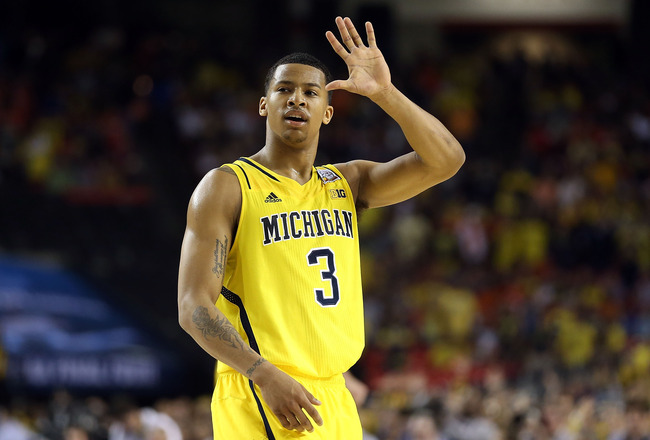 Streeter Lecka/Getty Images
If you're an NBA fan, then the NCAA championship bout between Louisville and Michigan is more than just the conclusion of March (and April) Madness. It's even more than the Association's return to the forefront of the basketball sphere.
It's a time to reminisce about what once was and ponder what will inevitably be.
Etched in the history of both collegiate enterprises are NBA roots. Past players who have traveled beyond Louisville and Michigan and played amongst the best in the Association, in some cases, actually playing as the best.
Both teams (especially the Wolverines) are also flush with NBA-caliber talent. These are the young guns who will be gracing the pros with their presence sooner rather than later.
What should you be watching for and thinking about as this championship matchup unfolds?
The NBA is everywhere. College basketball's biggest stage included.
*All stats used in this article were compiled from Basketball-Reference, Synergy Sports, 82games.com and NBA.com unless otherwise noted.
Prospect Watch: Russ Smith, Louisville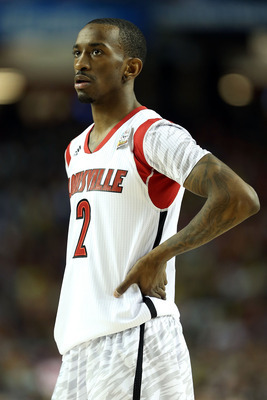 Andy Lyons/Getty Images
Age: 21
Year: Junior
Height: 6'1"
Position: SG
2012-13 Per-Game Stats: 18.9 points, 3.4 rebounds, 2.9 assists, 2.1 steals and 0.1 blocks on 42.1 percent shooting
Wily. That's how I would describe Louisville's Russ Smith.
He does a great job of getting to the basket, has a nice handle in traffic and is one of the best in college at splitting defenders.
Smith has phenomenal hands on the defensive end as well. He does become over-aggressive when looking for steals, but I'm not one to knock a player for trying too hard.
What worries me about Smith is his size. At 6'1", he's a shooting guard trapped in a point guard's body. He's athletic and resourceful enough—especially with the ball in his hands—to make a case for himself as an NBA player, but he lacks the tools of a point man.
For Smith to succeed as a pro, he'll need to become more of a combo guard, someone who can be relied upon to distribute the ball effectively and make plays for his teammates.
It will be quite an adjustment for the volume scorer, but he has the raw potential to make it happen.
Prospect Watch: Gorgui Dieng, Louisville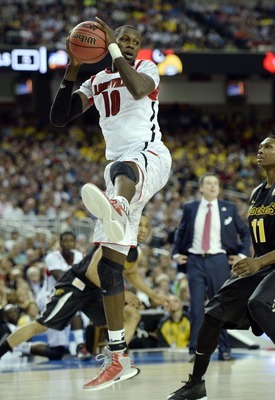 Robert Deutsch-USA TODAY Sports
Age: 23
Year: Junior
Height: 6'11"
Position: C
2012-13 Per-Game Stats: 9.8 points, 9.4 rebounds, 1.9 assists, 1.3 steals and 2.5 blocks on 53.1 percent shooting
Can you say "perpetual double-double threat?"
I sure hope so, because that's what Gorgui Dieng will eventually be.
Known and revered for his defense, the rim protector has become a versatile threat on the offensive end. Not only has he developed some nice footwork and a range of spin moves in the post, but he's groomed a consistent jumper as well.
Reverting back to that defense of his, he stands to be a major threat on that end of the floor at the next level. His wingspan is insane (7'4"), and it doesn't take long to notice the timing behind his jumps on blocks and rebounds is impeccable.
At this juncture, it's still difficult to pinpoint where he'll fall in the NBA's pecking order when he gets there, but that's fine. All we need to know right now is that he's going to get there.
Prospect Watch: Mitch McGary, Michigan
Robert Deutsch-USA TODAY Sports
Age: 20
Year: Freshman
Height: 6'10"
Position: PF
2012-13 Per-Game Stats: 7.5 points, 6.3 rebounds, 0.6 assists, 1.1 steals and 0.7 blocks on 60.1 percent shooting
It appears Mitch McGary will be returning to Michigan for his sophomore season, but you'll see him in the NBA before long.
McGary plays extremely physical in the post, but he has an air of finesse about him near the rim on offense. He goes hard on every play and is one of those "glue guys" coaches will love to have at the NBA level.
Though he may have some issues keeping pace with opposing power forwards in the Association, the framework for a more athletic version of him is there.
Given his obvious work ethic throughout the tournament, I'd say it's only a matter of time before he actualizes it.
Prospect Watch: Tim Hardaway Jr., Michigan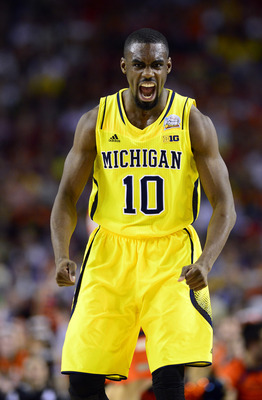 Bob Donnan-USA TODAY Sports
Age: 21
Year: Junior
Height: 6'6"
Position: SG
2012-13 Per-Game Stats: 14.6 points, 4.6 rebounds, 2.4 assists, 0.7 steals and 0.5 blocks on 43.8 percent shooting
Like I said earlier, Michigan has plenty of NBA-worthy players on its roster.
According to Darren Heitner of Forbes, Hardaway will forego his senior season and declare for the NBA draft.
Source: Tim Hardaway Jr. will leave MICH early & very strong chance he signs w/Henry Thomas of CAA.

— Darren Heitner (@DarrenHeitner) April 4, 2013
I envision Hardaway as one of those players coaches cringe at when they pull up for a three in transition. He's developed into a lights-out shooter from long range (38 percent) after knocking down just 28.3 percent of his deep balls last year, but the potential for him to become an erratic shooter is there.
He has to improve upon his shot selection at times, but if he can continue to hit the three ball consistently and do a nice job of getting to the rim, the NBA has another scoring terror on the way.
Prospect Watch: Glenn Robinson III, Michigan
Bob Donnan-USA TODAY Sports
Age: 19
Year: Freshman
Height: 6'6"
Position: SF
2012-13 Per-Game Stats: 10.9 points, 5.5 rebounds, 1.1 assists, 1.0 steals and 0.3 blocks on 56.9 percent shooting
Glenn Robinson III has plenty of NBA-esque potential.
He's an athletic wing who can make players on both ends of the ball. He moves especially well without the ball and has a knack for finding holes in the defense or reaching the rim untouched after rolling off screens.
Robinson's tendency to trail plays and follow shots is also something to commend.
If you have the opportunity, be sure to take a gander at the Association's next lethal transition threat. You won't be disappointed.
Prospect Watch: Trey Burke, Michigan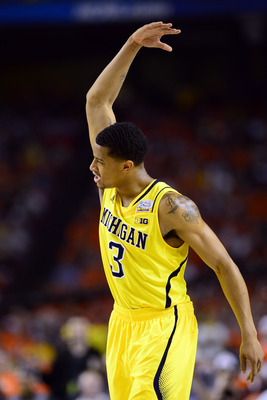 Bob Donnan-USA TODAY Sports
Age: 20
Year: Sophomore
Height: 6'0"
Position: PG
2012-13 Per-Game Stats: 18.5 points, 3.2 rebounds, 6.8 assists, 1.6 steals and 0.5 blocks on 45.9 percent shooting
The national championship game is only the beginning for Trey Burke.
Per Darren Heitner of Forbes, Michigan's point man intends to declare for the 2013 NBA Draft.
Source: Trey Burke will leave MICH early. Will interview 5 agents: Jeff Schwartz, Arn Tellem, Henry Thomas, Bill Duffy, Alonzo Shavers.

— Darren Heitner (@DarrenHeitner) April 4, 2013
Burke is easily one of the best (if not the best) point guards set to go pro. He can put points on the board in a hurry and does a nice job of balancing his scoring with distributing.
Throughout the NCAA tournament, he's proven tough to contain off the dribble and does some of his best footwork in the paint. Personally, I've found it hard not to admire his dexterity going from left-to-right either.
Standing at 6'0", size will be a concern as he makes the jump to the NBA, especially on defense. Height aside–and Ty Lawson would agree—Burke has more than enough tools to become an elite playmaker at the professional level.
Rick Pitino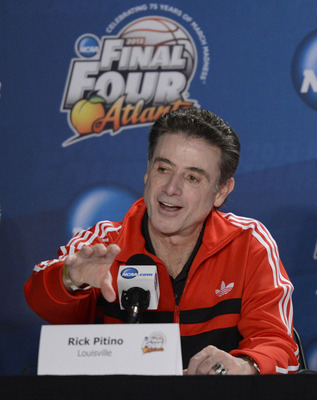 Richard Mackson-USA TODAY Sports
Louisville's head coach and soon-to-be Hall of Famer Rick Pitino is no stranger to the NBA.
Pitino has six years of coaching experience in the Association. He coached the New York Knicks for two seasons between 1987-1989, leading them into the playoffs both times. Nearly a decade later, he spent four seasons with the Boston Celtics, failing to reach the postseason each year.
He is perhaps best known for his infamous 2000 speech, when he preached bitter patience and tapered expectations to the Boston faithful (via Allen St. John of Forbes):
Larry Bird is not walking through that door, fans. Kevin McHale is not walking through that door, and Robert Parish is not walking through that door. And if you expect them to walk through that door, they're going to be gray and old. What we are is young, exciting, hard-working, and we're going to improve. People don't realize that, and as soon as they realize those three guys are not coming through that door, the better this town will be for all of us because there are young guys in that (locker) room playing their asses off.
That's only part of the speech, but you get the idea.
His sentiments came at time when the Celtics were in the midst of a season in which they finished 35-47, failing to meet what Pitino clearly considered unjust standards.
What I like about this speech is that it can be easily twisted into a fight song of sort. Change a few words and Pitino would have a motivational soliloquy on his hands.
In fact, maybe he adjusted its terms to inspire Louisville to come from behind and defeat Wichita. Maybe like a "Wes Unseld is not coming through that door, you need to win this on your own" type format was explored.
Just something to think about.
Louisville's Past NBA Studs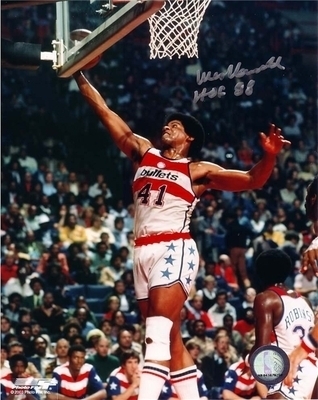 Photo via www.halloffamememorabilia.com.
I'm not going to lie to you—Louisville doesn't have many NBA legends to brag about.
The school has sent a total of 46 players to the Association. Most notable of the bunch is Hall of Famer Wes Unseld.
As it stands, Unseld remains one of only 12 NBA players 6'7" or shorter to have retired with averages of at least 10 points and 10 rebounds per game.
Unseld spent 13 seasons in the league, winning one title with the 1978 Washington Bullets. He was selected to five All-Star games as well.
Not bad for a school that produced just seven players who went on to average at least 10 points per game for their NBA careers. Not bad at all.
Michigan's Past NBA Studs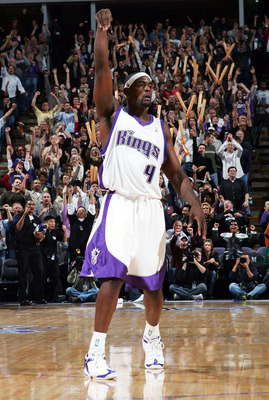 Jed Jacobsohn/Getty Images
Unlike Louisville, Michigan has plenty of past professional studs to brag about.
The Wolverines' list of who's who includes guys like Rudy Tomjanovich, Glen Rice, Jalen Rose, Cazzie Russell and Chris Webber.
My personal favorite has to be Webber. Despite battling injuries throughout his 15 years in the Association, Webber managed to rattle off five All-Star selections (four appearances) and remains one of just four players in NBA history to have posted at least 17,000 points, 8,000 rebounds, 3,500 assists, 1,200 blocks and 1,000 steals.
Any time you put yourself in the company of Kareem Abdul-Jabbar, Tim Duncan and Kevin Garnett, you're a legend.
Somewhat surprisingly, Michigan has sent 41 total players to the NBA compared to Louisville's 46. With that said, it's not about quantity, it's about quality.
And you'd be hard-pressed (okay, naive) to argue that Michigan's level of talent hasn't exceeded that of Louisville's over the past 60-plus years.
Louisville's Current NBA Representatives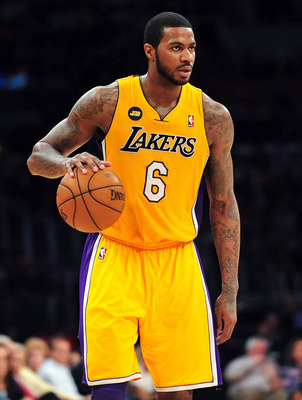 Gary A. Vasquez-USA TODAY Sports
Three active NBA players are currently representing the Cardinals.
Francisco Garcia is in his eighth season and currently plays for the Houston Rockets. Terrence Williams is in his fourth season and with his fourth team in the Boston Celtics. And Earl Clark is in his fourth as well (third team) and has emerged as a pleasant surprise for the Los Angeles Lakers.
Of these three players, Clark leads the bunch with 7.7 points per game, but it is Garcia who had managed to carve out the most consistent of roles before being dealt from the Sacramento Kings to Houston Rockets.
Former Louisville forward Samardo Samuels also appeared in 18 games for the Cleveland Cavaliers in the first half of the season.
My hope is that Gorgui Dieng reaches the NBA soon enough and becomes a star-like pillar that gives Louisville some additional name recognition.
Michigan's Current NBA Representatives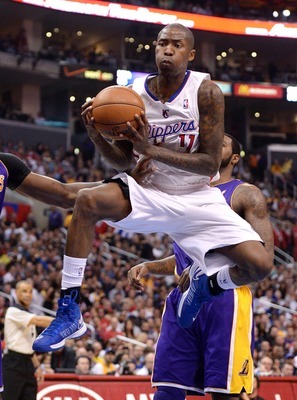 Jayne Kamin-Oncea-USA TODAY Spor
Like Louisville, Michigan also has three players currently emblematizing their good name.
Darius Morris is in his second season with the Lakers, while Juwan Howard is currently in his 19th and playing for the reigning champion Miami Heat.
At 40, Howard wasn't even a member of the Heat for most of the season and has seen action in just three games. He was, however, voted to the All-Star game in 1996 as a member of the Bullets.
Easily the most recognizable of the three Wolverines in the NBA is Jamal Crawford. He's in his 13th season and presently making a case for himself as the Sixth Man of the Year.
No, there are no perennial "superstars" who used to play for Michigan (or Louisville) currently tearing it up in the NBA, but there are a few interesting names to consider.
Plus, we also get to speculate about what kind of a bet Earl Clark and Morris have going on. Their alma maters are facing off in the championship, so something has to be going down.
Maybe something along the lines of the loser has to trim Mike D'Antoni's mustache? Give Kobe Bryant his ice baths? Massage Dwight Howard's shoulders?
Oh the possibilities.
Keep Reading