Portland Trail Blazers: Playing Survivor with the Current Group of Blazers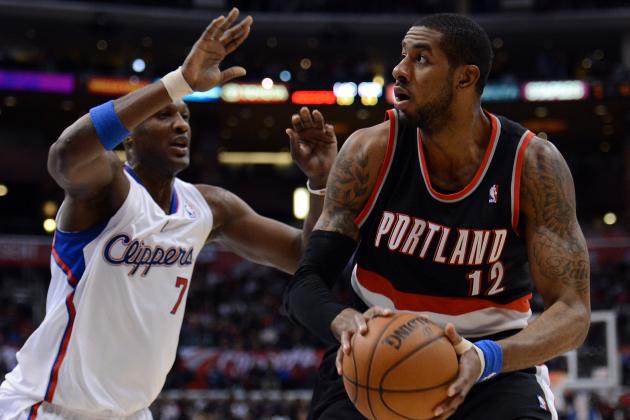 Harry How/Getty Images

A once-promising season will end with a second straight lottery appearance for the Portland Trail Blazers.
Playoffs were once discussed after the Blazers took down the Miami Heat, 92-90, on national television on Jan. 10. Portland stood at a season-high five games over .500 at 20-15. Since then, it's been a downward spiral as the Blazers have gone a disappointing 13-27.
There have been several bright spots, most notably the emergence of point guard Damian Lillard as the front-runner for the Rookie of the Year award. LaMarcus Aldridge has turned in another All-Star season, and Nicolas Batum proved worthy of his big contract signed last offseason.
With that said, Portland has many glaring weaknesses it has to address, mainly its bench. According to HoopsStats.com, the Blazers have the worst scoring bench unit in the NBA at just 17.7 points per game—nearly 10 points less than the next worst team, Indiana (26.3).
With significant changes expected this summer, who should stay and who should go heading into next season? Let's see who should survive the cut for the Blazers next year.
Begin Slideshow

»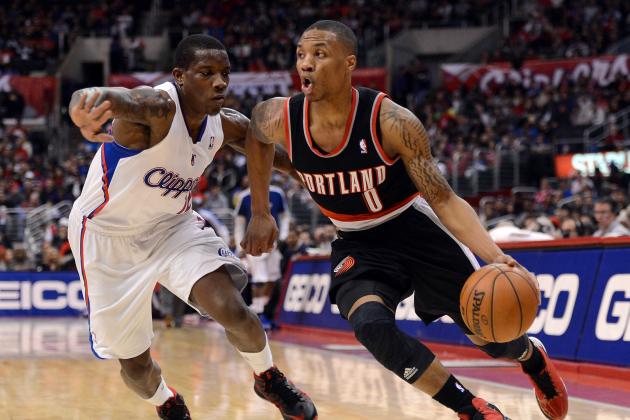 Harry How/Getty Images

Stay or Go: Stay
Statistics: 19.0 PPG, 3.2 RPG, 6.5 APG, 38.5 MPG (74 games)
This is a complete no-brainer.
Damian Lillard ranks first among rookies in points, assists and minutes per game. In the NBA's Rising Stars Challenge draft, the Weber State product was the first overall selection by Team Shaq over the likes of Cleveland's Kyrie Irving and New Orleans' Anthony Davis.
He owns the rookie record for most three-pointers in a season with 169 and counting, topping the previous mark set by Golden State's Stephen Curry (166) in 2009-10.
Lillard became the 10th rookie in NBA history with at least 1,350 points and 450 assists, joining the likes of LeBron James, Michael Jordan, Magic Johnson, Allen Iverson and Derrick Rose, according to Trail Blazers PR.
The records are endless and Lillard has cemented himself a long future in the league.
He's not shy either, saying he has some pretty lofty goals for his career.
"I think I can be a first team All-NBA, I think I can be an All-Star, I think I can be an MVP," Lillard told Comcast SportsNet's Chris Haynes. "That's just my opinion. I don't know when, but how I plan to work and how much better I want to be, I feel like anything is possible."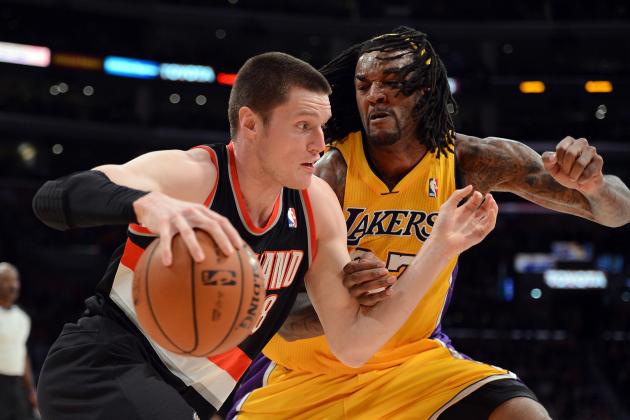 Harry How/Getty Images

Stay or Go: Go
Statistics: 3.8 PPG, 2.1 RPG, 0.4 APG, 11.3 MPG (56 games)
Luke Babbitt has definitely been a disappointment since being drafted 16th overall in the 2010 draft.
Hailed as a sharp-shooter and an athlete, Babbitt has been wildly inconsistent with his shot and been a liability on the defensive end. It appeared he may be turning a corner during a stretch in January where he averaged 12 points over three home victories, including wins over Denver and San Antonio.
Playing time, however, has sunk as Babbitt has scored in double figures just twice since then. He's shooting just 35.7 percent from beyond the arc.
Babbitt will become an unrestricted free agent after this season, and he will likely not be re-signed.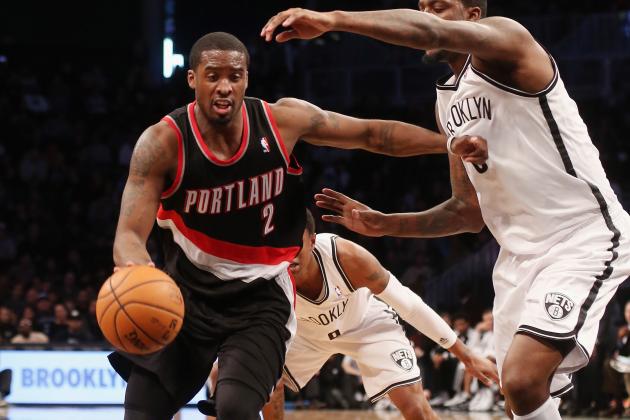 Bruce Bennett/Getty Images

Stay or Go: Stay
Statistics: 15.0 PPG, 2.8 RPG, 2.5 APG (66 games)
Wesley Matthews has had another solid season for the Blazers as the team's third-leading scorer.
He has greatly improved his outside game, shooting a career-high 41.1 percent from beyond the arc. He is signed for two more seasons and is a big part of the Blazers' future.
The question is, is Matthews good enough to be a starting shooting guard in this league? Concerns over his ball-handling have always been an issue. His health is another, as his style of play leads to nagging injuries over the course of the season.
His work ethic is never in doubt, but I believe he'd be best suited as tremendous sixth man if the Blazers could find an upgrade at the shooting guard spot.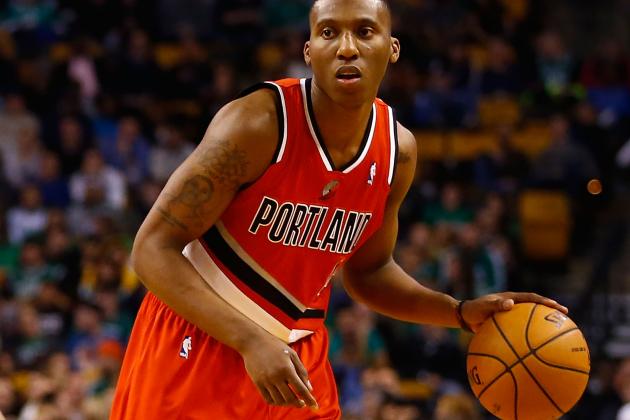 Jared Wickerham/Getty Images

Stay or Go: Go
Statistics: 2.8 PPG, 0.7 RPG, 0.9 APG, 7.6 MPG (37 games)
As far as draft busts go, Nolan Smith just hasn't found his role in the NBA.
His selection stings even more for Blazers fans after Denver drafted Kenneth Faried with the pick immediately after his.
Smith is most notably known for a disastrous stint in Portland's 110-104 loss to Milwaukee in mid-January, where the former Duke product recorded three turnovers in three short minutes. He was immediately pulled from the game and didn't get many chances to redeem himself since then.
Smith's team option was not picked up for next season, and hopefully, a change of venue will benefit the rest of his career as he is likely seeing his final days as a Blazer.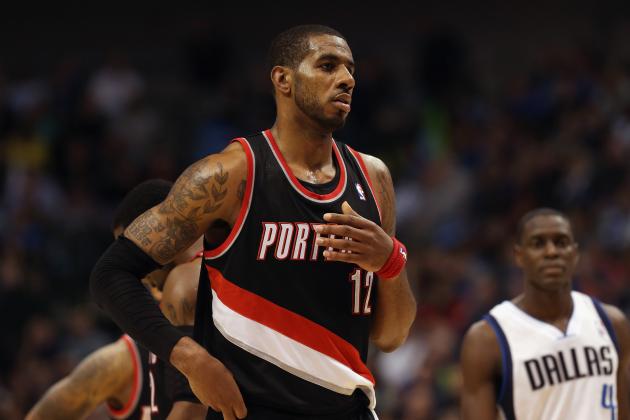 Ronald Martinez/Getty Images

Stay or Go: Stay
Statistics: 21.0 PPG, 8.9 RPG, 2.6 APG, 37.8 MPG (69 games)
As much of a no-brainer Lillard is, LaMarcus Aldridge is for sure the Blazers' franchise player.
While there were rumblings of whether Portland should trade Aldridge in his prime to find pieces to better fit with the team's younger core, GM Neil Olshey has stated several times that the University of Texas product is not going anywhere.
"Clearly, trading a 27-year-old All-Star like LaMarcus doesn't get you better today," Olshey told Jason Quick of The Oregonian.
Aldridge is a two-time All-Star and ranks 10th in the NBA in scoring. Only two players today average at least 20 points and eight rebounds—Aldridge and LeBron James.
He became the third player in franchise history to win the Western Conference Player of the Week award three times, joining Clyde Drexler and Brandon Roy.
Aldridge is arguably the best power forward in the game today, and is definitely a keeper.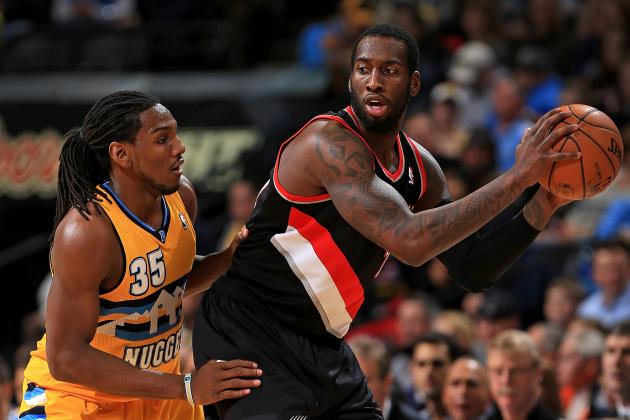 Doug Pensinger/Getty Images

Stay or Go: Stay
Statistics: 13.0 PPG, 10.7 RPG, 1.1 APG, 29.4 MPG (73 games)
J.J. Hickson is one of the more polarizing players on the Blazers.
He has flourished since joining Portland last season after being claimed off waivers. He's become a double-double machine with 40 this year. He is one of 13 players in the NBA today averaging at least 10 points and 10 rebounds.
On the other side, his biggest criticism includes missed assignments defensively and momentum-killing plays down the stretch.
However, with quality big men at a premium nowadays, Hickson should be kept at a reasonable price. He will make $4 million this season, which has been great value.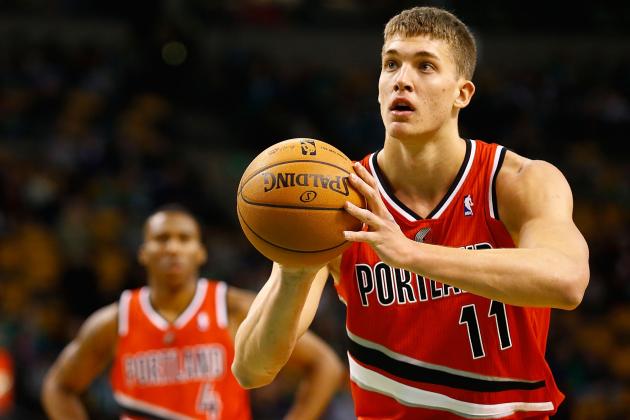 Jared Wickerham/Getty Images

Stay or Go: Stay
Statistics: 5.2 PPG, 3.6 RPG, 0.4 APG, 16.5 MPG (61 games)
Meyers Leonard's development over the next few years will be a big key for the Blazers in determining whether he can be the center of the future.
He had a career night against Golden State on March 30 with 22 points and 10 rebounds in 41 minutes. But probably his biggest area of improvement is on the defensive end.
Too many times, Leonard can be found giving up on a play and allowing the opposition easy second-chance points. If he can become a defensive presence, he will be an excellent complement to Aldridge up front.
Leonard is not going anywhere, as he will be a Blazer for a long time.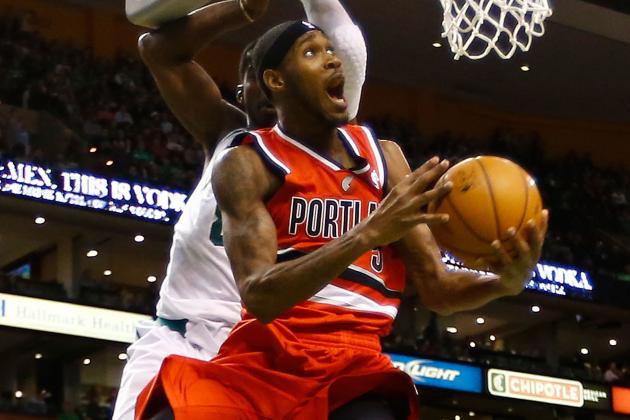 Jared Wickerham/Getty Images

Stay or Go: Go
Statistics: 2.9 PPG, 1.4 RPG, 0.5 APG, 9.9 MPG (65 games)
Will Barton was hailed as a potential first-round pick in last summer's draft before he was selected 40th overall by Portland.
While Barton has shown flashes of the ability to score, he is still a defensive liability and his size (6'5" and 170 pounds) gets him easily pushed around by bigger and stronger players.
The 22-year-old might be kept around since he comes at a cheap price. However, if a better alternative comes with his roster spot, then the Blazers shouldn't hesitate to let him go.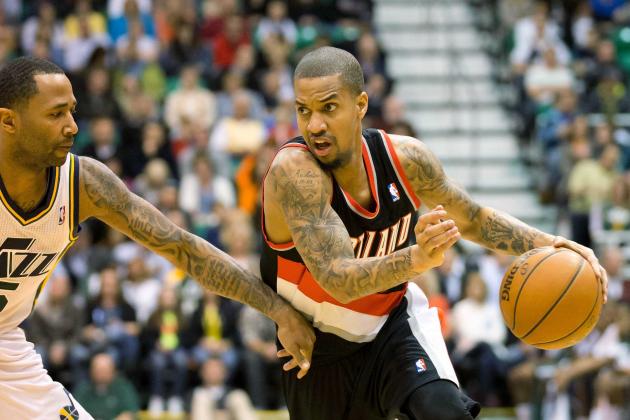 Russ Isabella-USA TODAY Sports

Stay or Go: Stay
Statistics: 7.4 PPG, 1.2 RPG, 4.1 APG, 21.2 MPG (19 games with Portland)
Eric Maynor was acquired at the deadline for a trade exception and has been the backup point guard the Blazers have been seeking for a long time.
He was considered one of the top rising young players in the league before tearing his ACL last season. It was well worth the risk for Portland to take a flyer, especially after Maynor tallied 12 assists in his third game in Rip City.
When he was acquired, coach Terry Stotts immediately named him the backup point guard before Maynor even stepped onto the floor. His presence also allows him to be paired up with Lillard, who can play off the ball and focus on scoring.
Maynor will be a free agent this offseason, and his re-signing should be a priority this summer.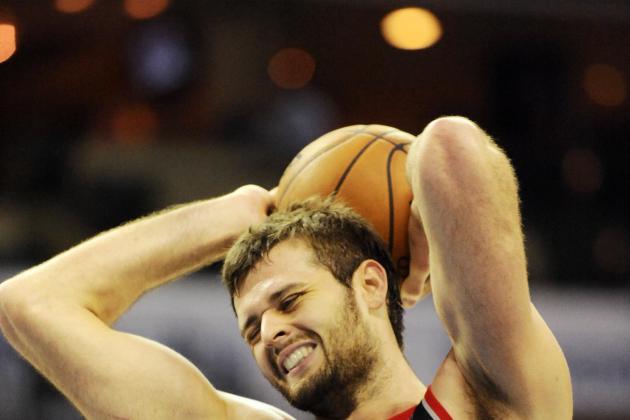 USA TODAY Sports

Stay or Go: Go
Statistics: 2.3 PPG, 2.2 RPG, 0.2 APG, 8.6 MPG (45 games)
Joel Freeland's arrival was a long time coming after being made a first-round pick in 2006.
The 26-year-old was a member of the England national team in last year's Olympics, but still hasn't found his niche in the NBA yet. It's also questionable whether he eventually can as his playing time has been wildly inconsistent.
Freeland has the skills to be an effective NBA player on the offensive end, but defensively, he has struggled. He is signed for two more seasons at around $3 million, but the Blazers need to see a significant improvement in his game this offseason if he wants to stick around long-term.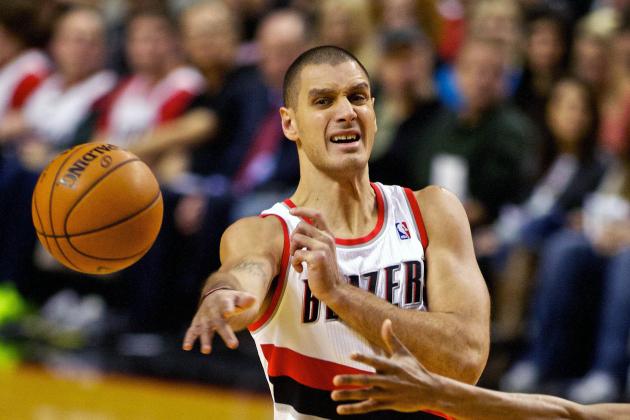 Craig Mitchelldyer-USA TODAY Sports

Stay or Go: Go
Statistics: 2.1 PPG, 1.4 RPG, 0.8 APG, 12.8 MPG (33 games)
Sasha Pavlovic was one of the Blazers' top reserves early in the season, as he played a vital role in taking down the Lakers in the home opener.
But with the team's commitment to its youth, Pavlovic's future in Portland became all but over. To his credit, he has stayed a professional as he hasn't played since Feb. 22.
The journeyman has played for seven teams over the course of his career. He was acquired in a three-team trade that sent Courtney Lee from Houston to Boston. The Blazers also received two second-round picks in the deal.
Pavlovic hasn't played in a long time, and he likely has played his final game in a Blazer uniform.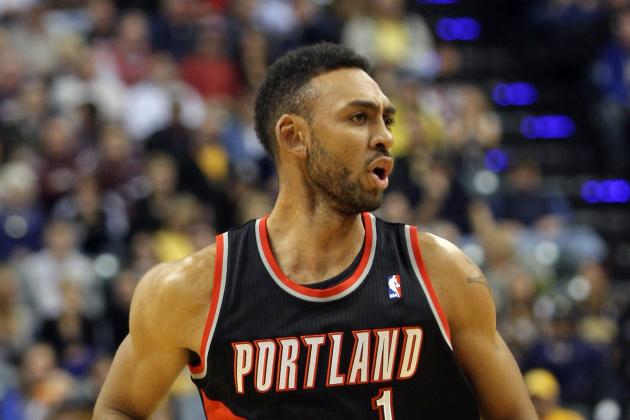 USA TODAY Sports

Stay or Go: Go
Statistics: 1.2 PPG, 1.6 RPG, 0.4 APG, 9.2 MPG (38 games)
Jared Jeffries is in the same boat as Pavlovic.
The 31-year-old has been effective in stretches when he's played, but he has fallen victim to the Blazers' youth movement.
He was acquired in a deal that sent Raymond Felton and Kurt Thomas to the New York Knicks. The Blazers also received a 2016 second-round pick.
While Jeffries has provided a much-needed veteran presence in the locker room, he will most likely not be brought back next season.
Kyle Terada-USA TODAY Sports

Stay or Go: Stay
Statistics: 3.2 PPG, 2.3 RPG, 0.7 APG, 14.5 MPG (41 games)
Victor Claver has been identified as a core piece by management, receiving eight starts this season and the third-most minutes out of the reserves.
His versatility is his biggest asset as a 6'9" small forward who can handle the ball, shoot and defend. Gaining confidence will be the next step in his development, as he is shooting just 40.6 percent from the field.
Claver has NBA size, and his arrival has been long-awaited after being a first-round pick in 2009. He was a member of the Spanish national team alongside former Blazers Rudy Fernandez and Sergio Rodriguez.
The 24-year-old rookie is an intriguing prospect and should stick around, as he is under contract for two more seasons.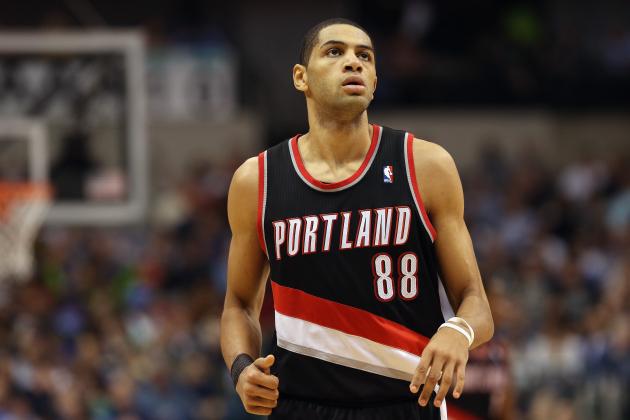 Ronald Martinez/Getty Images

Stay or Go: Stay
Statistics: 14.3 PPG, 5.6 RPG, 4.9 APG, 38.5 MPG (73 games)
Big questions arose when Nicolas Batum signed a four-year, $46 million deal last summer.
It's safe to say that Batum will be well worth it, averaging career-highs across the board in points, rebounds, assists, blocks and steals. He even has two triple-doubles this season.
He joined LeBron James and Scottie Pippen as the only players in NBA history with at least 100 3-pointers, 350 assists and 80 blocks in a season, according to Trail Blazers PR.
Batum, Kevin Durant and Josh Smith are also the only players this year with at least 80 blocks and 80 steals.
Injuries have hurt his effectiveness over the last couple months, but when healthy, the 24-year-old has an extremely bright future in this league.