1 Bold Prediction for Every Player on the Oakland A's 25-Man Roster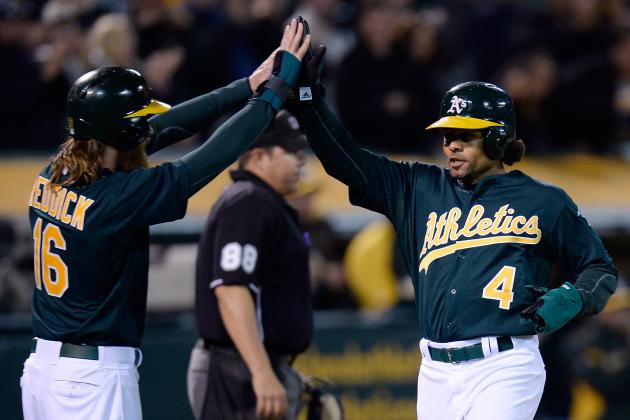 Mike McGinnis/Getty Images
One might lose his hair soon, the other will hit 20 home runs. Which is which?
This time last year I boldly predicted the Oakland A's would win the AL West. This year, it's not bold enough to call for a repeat (or is it?), so let's individualize a prediction for each player on the active roster.
The pitching staff must be dominant.
The Los Angeles Angels added Josh Hamilton to their already stacked lineup of Mike Trout, Albert Pujols and Mark Trumbo. The Seattle Mariners bolstered their offense with power bats such as Michael Morse, Kendrys Morales and Raul Ibanez. The Texas Rangers still have Ian Kinsler, Nelson Cruz and Adrian Beltre at the top of their lineup.
A year ago, it was hard to recognize the faces in the Oakland bullpen. This season likely won't be much different. A's fans know them now, but the rest of the country still may not.
Then there's the lineup.
Brilliant pitchers can only do so much toward a win. The hitters still have to produce runs in the end.
So who will play hero in 2013? Who will lead in a statistical category, and who will regress? Keep reading to find out.
All statistics courtesy of Baseball-Reference.com
Begin Slideshow

»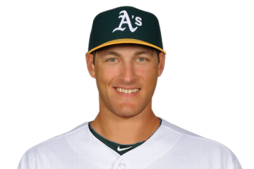 Photo Courtesy of ESPN.com
Bold Prediction: Nate Freiman will be the least used Athletic.
It is widely assumed that Freiman would fill the void left by Chris Carter, who platooned with Brandon Moss at first base last season.
In Freiman's major league debut, he went 2-for-3.
He certainly has pop. Last season, he hit 24 home runs, but unfortunately, that was in Double-A.
The A's have some depth at first base. Jed Lowrie can move to the corner position, and Adam Rosales can fill in when needed. In a worst-case scenario, outfielder and DH Seth Smith has taken ground balls at the position too, so he is an option.
With Rosales, Hiroyuki Nakajima and Bartolo Colon set for returns soon, the active roster is about to become very crowded. Sending him down isn't an option either. It's keep him on the active roster or return him to the Padres (Rule 5 draft).
The A's have a few days to decide if he stays. But even if he does, his lack of versatility and Moss starting in front of him means he will see the field the least.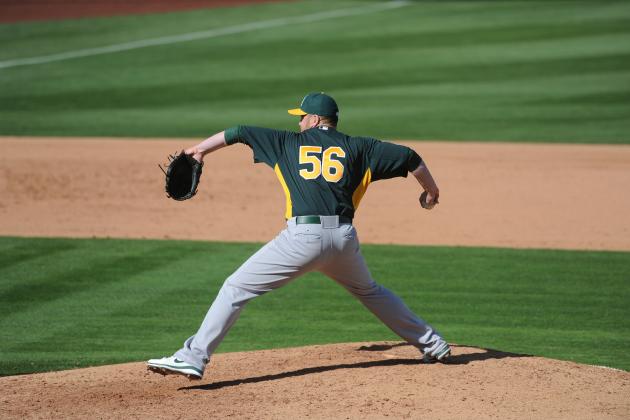 Rich Pilling/Getty Images
Chris Resop pitches in spring training.
Bold Prediction: Chris Resop will only allow one home run all year.
Sounds like a funky prediction right out of the gate, right?
In an eight-year career, Resop has allowed 20 home runs, for an average of 2.5 per year. When used in under 25 innings in a season, he averages under two. But when he is used in more than 65 innings per season, the number spikes to seven.
One thing that bodes well for Resop is his position in the bullpen.
The team is more likely to go to Grant Balfour to close, Ryan Cook and Sean Doolittle to handle the eighth inning and Jerry Blevins to be one of the first relief options. Oakland also has Pat Neshek and Evan Scribner, both of whom were on the team last year (read: familiar).
To be safe, let's put his innings pitched right in the middle at 45.
So why would he get better?
He's older, more experienced, has a role with less pressure, will pitch less altogether and makes the jump from the National League to the American. It might very well be coincidental that his two "worst" home run numbers came in 2011 and 2012 with the Pittsburgh Pirates.
Hopefully a change of scenery does Resop good.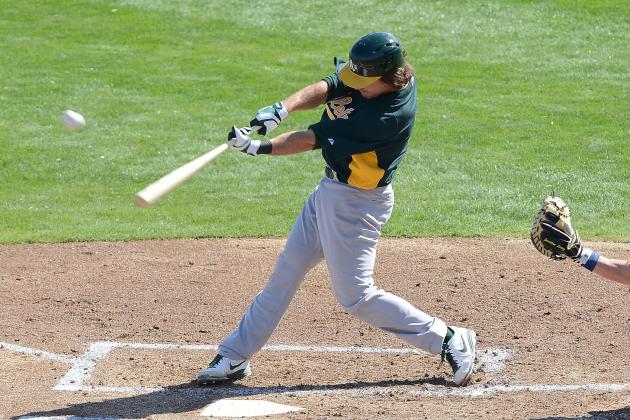 Jennifer Stewart/Getty Images
John Jaso had the first A's hit of the season.
Bold Prediction: John Jaso will hit .225 or lower.
Talk about an up-and-down player, Jaso consistently follows up good hitting years with bad. Unfortunately, last season was a good year.
In 2008, he hit .200, then did not appear in a Major League Baseball game in 2009. The following season, he hit .263. That number dipped to .224 in 2011.
Last season with Seattle, Jaso hit a career-high .276.
Perhaps it was comfortability in Seattle or experience. Maybe it was a fluke. We'll find out in 2013, but he's switching teams for the second time in his five-year career. Not only does he have to hope he can hit well, he must also concentrate on learning his third set of pitchers.
That can't be an easy task.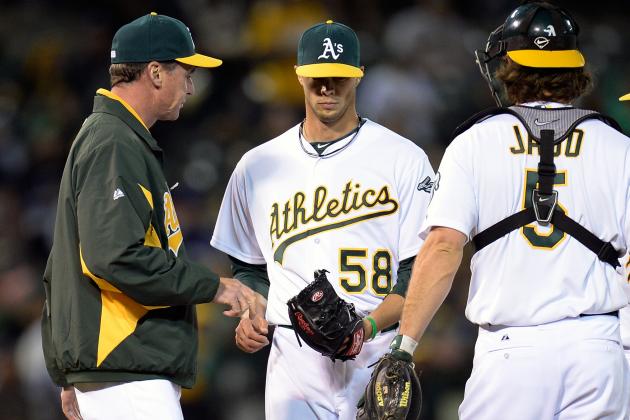 Thearon W. Henderson/Getty Images
Scribner leaves the second game of the season.
Bold Prediction: Evan Scribner will pitch more but not as effective.
Though he didn't pitch much in '12, Scribner effectively kept batters in check with a 2.55 ERA in 30 games. The reliever came through in a variety of scenarios, closing 13 games and saving another.
He will come back down to earth in 2013.
Scribner owns a great slider which contributes to a high strikeout per nine ratio, but two years into the league, MLB hitters are going to catch on at some point. This becomes more likely the more he pitches.
Expect 35 games of work with an ERA closer to 3.00 and no saves.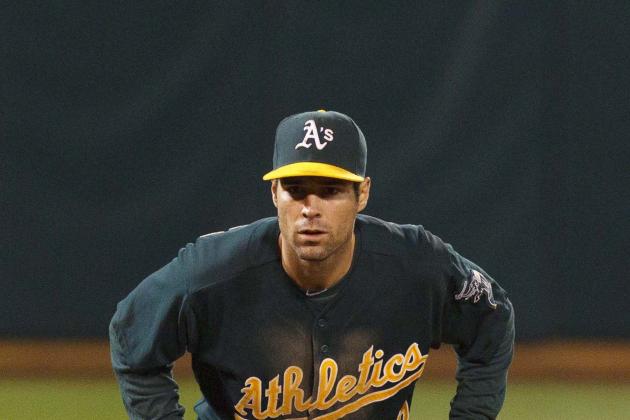 Jason O. Watson-USA TODAY Sports
Sizemore missed the entire 2012 season.
Bold Prediction: Scott Sizemore will start 100 games at second base.
The A's sent Jemile Weeks down. Adam Rosales got injured, as did Hiroyuki Nakajima, forcing Jed Lowrie to shortstop. That left Eric Sogard and Scott Sizemore as the sole competition for second base.
It's only been two games and frankly no one is hitting yet, but Sogard as a starter possesses a batting average of .200. The scary thing is, that's not too far from his career batting average of .190.
Sogard starts because of his glove.
Sure, he hit .444 in spring training. He hit .302 last spring but only .167 in the regular season. So spring is no indication of how Sogard will hit during the regular season.
Sizemore holds a career average of .240. At some point, the A's are going to switch Sogard back into a utility role—a role he plays very well—in hopes that Sizemore contributes more production. The stats say he will.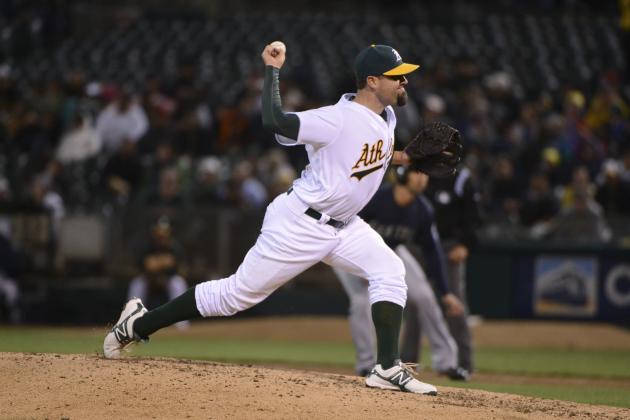 Kyle Terada-USA TODAY Sports
Neshek pitches relief in the second game of the season.
Bold Prediction: Pat Neshek will walk more batters than he strikes out.
Not everyone in the bullpen (or on the roster) can be perfect. Someone regresses; someone has to be the "worst."
That doesn't mean Neshek is going to be awful. The prediction is merely that he will have one particular stat he won't be a fan of, and that's more walks than strikeouts.
The stats show an alarming trend for Neshek.
In his last three years, his ratio has not only been the worst of his career, but it has also dropped considerably. Check out his walks and strikeouts:
2010: 8 BB, 9 K
2011: 22 BB, 20 K
2012: 6 BB, 16 K
He's not overwhelmingly dominant, he's 32 years old and his walks to strikeouts are dangerously close.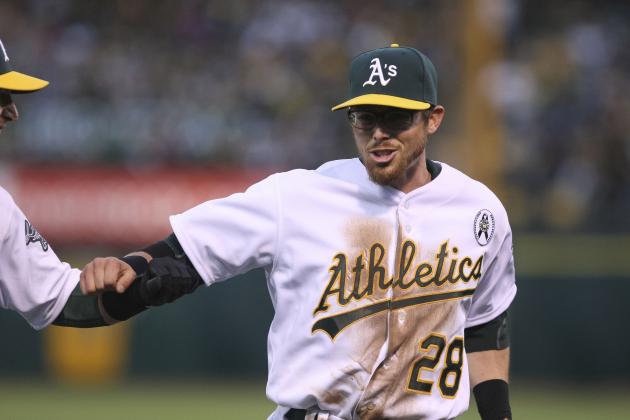 Kelley L Cox-USA TODAY Sports
Sogard made the No. 1 web gem on Opening Day.
Bold Prediction: Eric Sogard will play 30 games at second base, shortstop and third.
Don't get used to Sogard as an everyday starter. His career hitting shows he's a career backup. But it's his glove that constantly earns him looks. That, and he can play three infield positions.
For those reasons, his real value is as a defensive utility man.
While Sogard doesn't hit well enough to be in a lineup 150 games per year, he is hands down the best option when Scott Sizemore, Jed Lowrie and Josh Donaldson require rest.
Sogard is to baseball what the Sixth Man of the Year player is to basketball: They may not be good enough to start, but you need them to win.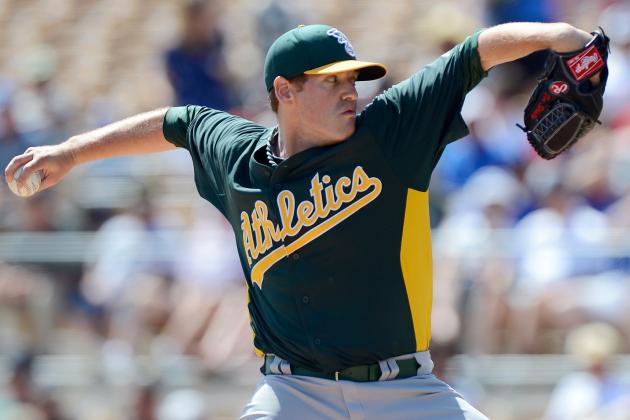 Jake Roth-USA TODAY Sports
Dan Straily will pitch the fifth game of the season, but then what?
Bold Prediction: Dan Straily ends the season as the fifth starter.
Bartolo Colon may block Straily's way now, but Colon is also soon to be 40 years old. He's also coming off a suspension (which also means he's hopefully coming off performance enhancers as well).
Throw out last season due to PEDs and Colon accumulated a 22-31 record in 2006 and 2011. His ERA in that span jumped around, hitting as low as 3.92 and as high as 6.34.
Straily—in his incredibly young career—owns a 3.89 ERA, near Colon's career ERA.
So, if you're the manager, who do you go with: the 40-year-old that has a high-3.00/low-4.00 ERA, or the 24-year-old kid with the same stats so far?
The best option is to let Colon start a month or so while Straily treats Triple-A as an extended spring training, honing his skills. Unless Colon is lighting up the stat sheet when Straily is ready, he gets bumped for the young man.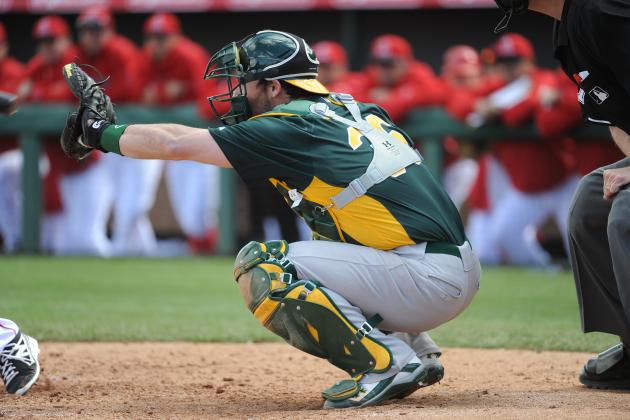 Rich Pilling/Getty Images
Derek Norris must outright earn the starting catcher job.
Bold Prediction: Derek Norris will increase his caught-stealing percentage from 26 percent to 30.
That may not sound like a big jump, but realize the league average is 25 percent.
The ability to throw out 30 percent of base stealers would help Norris join the likes of Kurt Suzuki, Alex Avila and Buster Posey.
So why will he increase this particular stat? Focus and determination.
According to Susan Slusser of the San Francisco Chronicle, Norris completely overhauled his offseason training. Slusser notes that Norris "lost more than 10 pounds and increased his strength" and "did a lot of position-specific work."
The cardio, side-to-side shifting, shoulder stability exercises and muscle growth could lead to the huge bonus of arm strength. Throwing the ball harder combined with better balance and spring should mean one thing: more runners caught stealing.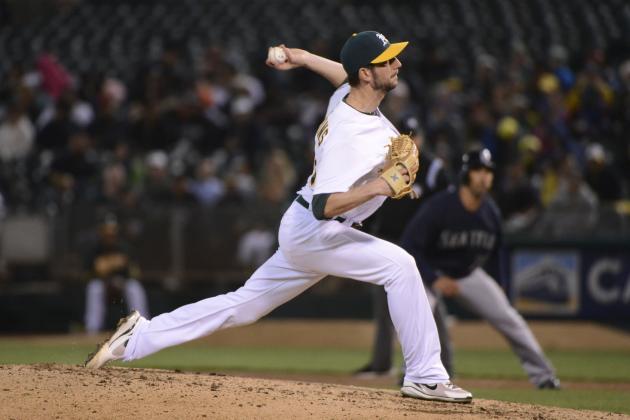 Kyle Terada-USA TODAY Sports
Jerry Blevins pitched in the first two games of 2013.
Bold Prediction: Jerry Blevins' ERA goes down—again.
Over the course of the last four seasons, Blevins' ERA continues to drop (from 4.84 to 2.48). Before you think it might have something to do with innings pitched, know that last year he pitched in 65.1 innings—17.2 more than his next highest.
So far in 2013, he's pitched in two out of three games and has yet to allow a hit.
Look for Blevins to earn the nickname "Old Reliable" on his way to yet another effective season.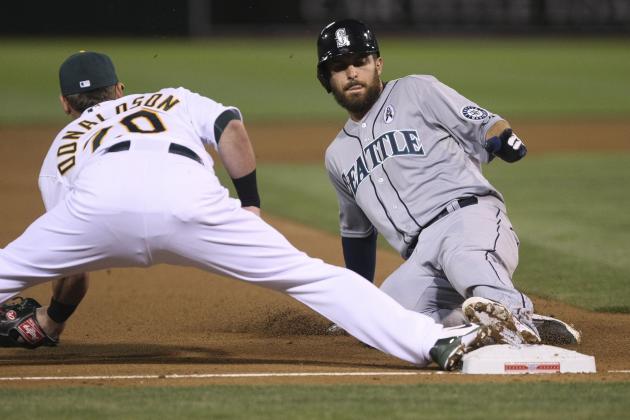 Kelley L Cox-USA TODAY Sports
Donaldson stretches to attempt a putout on a tagging up runner.
Bold Prediction: Josh Donaldson plays Gold Glove-caliber defense.
Twelve errors in 71 games is not good. Donaldson knows this. He told Comcast SportsNet BayArea (via Mark Inabinett of AL.com):
Defense has always been a very special part for me. I take a lot of pride in that. I know as a catcher when you get that ground ball to an infielder and it's booted -- the pitcher executed his pitch -- it's tough. I don't ever want that feeling to happen to our guys
Furthermore, CSN's Shooty Babbit says Donaldson has "an incredible amount of confidence and if you talk to him, there's no way in the world to get him to believe he wasn't supposed to do the things that he did last year. He showed ability and confidence."
Third is his to lose. He's clearly working hard to keep it and to better himself. Combine hard work with a confident state of mind, and you have a recipe for success.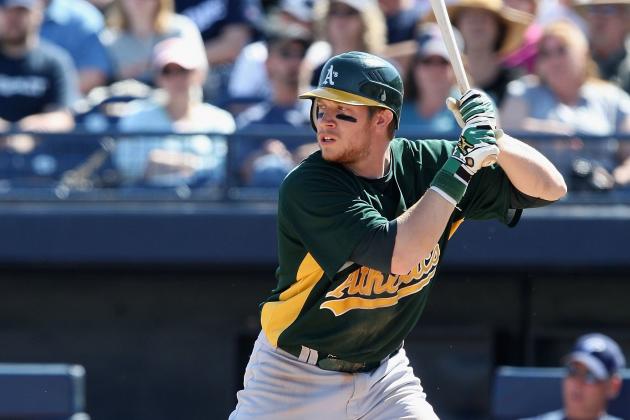 Christian Petersen/Getty Images
Don't adjust your focus, that is Doolittle with a bat.
Bold Prediction: Sean Doolittle will pinch hit this season.
Here's a quirky one: The relief pitcher will actually pinch hit at some point this season.
It's not uncommon to see games go into extra innings and a manager run out of bench players. If he's desperate for a pinch hitter, there's little choice but to call upon a pitcher.
Lucky for Bob Melvin, Doolittle used to play first base.
Of course, Doolittle is a reliever now, but if the odd situation occurs, count on Doolittle to get the call to put a batter's helmet on.
Wondering why on earth this strange thing would occur?
Pies, comebacks, Spider-Man costumes and Bernie Leans happened last year, and a beard-off is taking place already in 2013. So would a pitcher pinch hitting once really be that out of place in Oakland?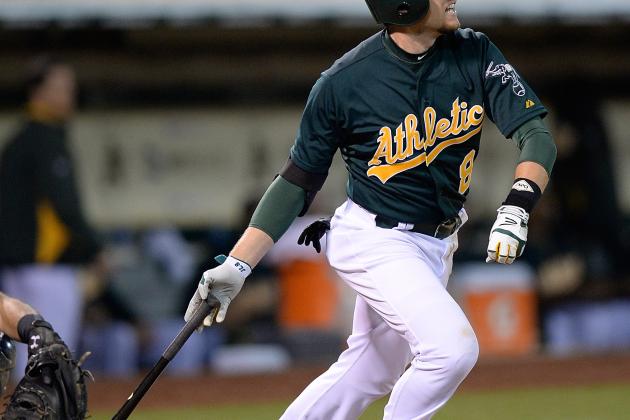 Mike McGinnis/Getty Images
Jed Lowrie finds a gap.
Bold Prediction: Jed Lowrie will keep the starting shortstop role all season.
If not for Hiroyuki Nakajima, Lowrie would automatically be the A's starting shortstop. Lowrie started 90 games at short for the Houston Astros a year ago.
With Nakajima starting the season on the disabled list, Oakland had little choice but to plug Lowrie in. So far, so good.
It's only been three games, but Lowrie is hitting .444 including a 3-for-3 effort on Wednesday night. He contributed three of Oakland's six runs in that game. Throw in three double plays turned in the first two games and Lowrie is hot offensively and defensively.
At this pace, Nakajima won't have a job to return to.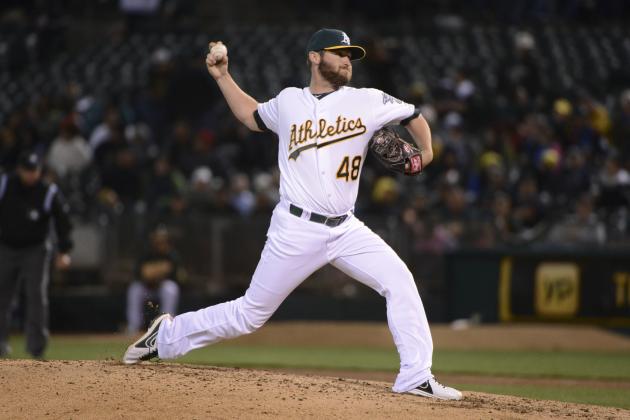 Kyle Terada-USA TODAY Sports
Ryan Cook played in an All-Star Game last year.
Bold Prediction: Ryan Cook will be half of what he was last season.
That sounds like a rude and critical statement to make, but take a minute to understand the meaning behind it.
Cook emerged in 2012 when Grant Balfour hit a road bump early on. Cook closed out 14 games and earned an All-Star nod. He posted a 2.09 ERA in 73.1 innings pitched. All of these are impressive.
But 2013 will be different.
Balfour is now an established, effective closer. It's unlikely he loses his job so easily this time around. Then there's the emergence of Sean Doolittle, who struck out six batters to every walk and held a 3.04 ERA.
Having the options leads to less dependence on Cook.
Less opportunity means statistics such as innings pitched and saves will decrease. Hence: "half" of what he used to be.
Kyle Terada-USA TODAY Sports
Don't get cozy, Chris.
Bold Prediction: Chris Young will play 30 games each at DH, left field, center field and right field.
Talk about a super utility guy, Young is the man for the job.
He's versatile, so he can play all the outfield positions, which he will. Any time Yoenis Cespedes, Coco Crisp and Josh Reddick require a day off, Young immediately slides in. Imagine what last season could have looked like if Young played during Crisp and Cespedes' injuries, or Reddick's struggles.
No need to worry about rust either. In his first start of the season, he hit a solo shot in the seventh inning.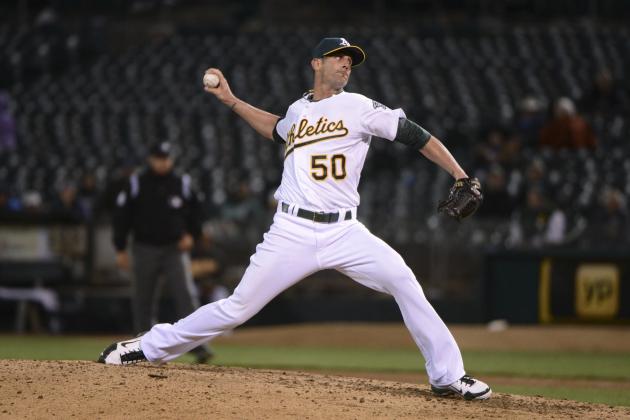 Kyle Terada-USA TODAY Sports
Balfour is the clear closer of the bullpen.
Bold Prediction: Grant Balfour will save 35 games or more.
If you really think about it, this one isn't even all that bold.
Balfour saved 24 games last season. Ryan Cook added another 14 saves during Balfour's early-season slump. Erase the slump, and most of Cook's saves go to Balfour.
It's also worth noting that oft-grumbled about closer Jose Valverde managed to save 35 games in 2012. So it's feasible for Balfour.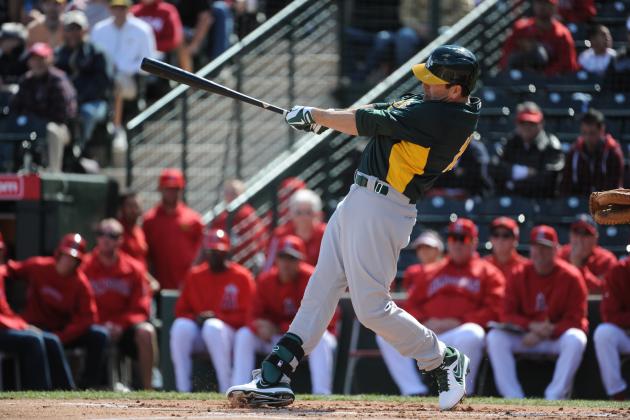 Rich Pilling/Getty Images
Seth Smith swings away during a spring training game against the Angels.
Bold Prediction: Seth Smith's name hits the trade rumors first and fast.
Smith is 30 years old and on a roster filled with DH options. The idea—for now—is to split DH and all three outfield spots evenly between Smith, Josh Reddick, Yoenis Cespedes, Coco Crisp and Chris Young. That's great for hypotheticals, but what happens when reality strikes?
It's hard to ever bench Reddick and Cespedes.
Crisp is a team leader who has great speed and plays solid defense. He's a threat to get on base and steal bags. Young is incredibly similar.
Then there's Smith.
He'll quietly put his head down, go out and hit somewhere around .260 on a fairly consistent basis. He'll even add double-digit home runs and tons of walks.
But other guys can do that too.
If Scott Sizemore, Josh Donaldson, Jed Lowrie and Eric Sogard all do well, and Hiroyuki Nakajima and Jemile Weeks make their way back to Oakland too, then there's a logjam in the infield. Rotating those guys through the DH spot could help.
Depth is a great thing, but when there's too much, the least versatile guy is the one lost in the fray.
If the A's find themselves comfortably in contention but need to find creative ways to play the hot hands, Smith could be traded to clear room. If the A's are out of contention this year but feel good about next year, Smith could be the ideal trade candidate too.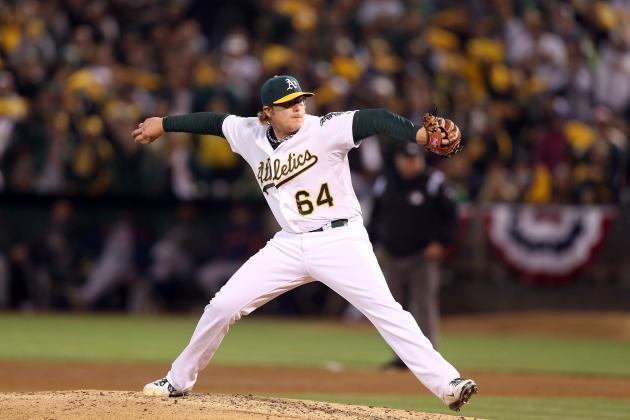 Ezra Shaw/Getty Images
A.J. Griffin surprised many in 2012.
Bold prediction: A.J. Griffin wins 12 games in 2013.
Jarrod Parker and Tommy Milone each won 13 games in 2012. Inverse those numbers, and you have 12 wins in 2013—and that's your stat for Griffin.
If last year is any indication, Griffin has the stuff to do it.
The 25-year-old made his debut late in 2012, finishing 7-1 with a 3.06 ERA in 15 games. Hypothetically, if he doubles the amount of starts, he could double the amount of wins too.
Of course, that's oversimplifying things just a bit.
Let's be more realistic and say instead of 14, Griffin wins 12. With a high strikeout per nine, he either had the element of surprise (which I doubt in today's world of film, technology and scouting), or he has legitimate stuff. If he keeps that and lessens the amount of home runs allowed, he's in good shape for a win every time he takes the hill.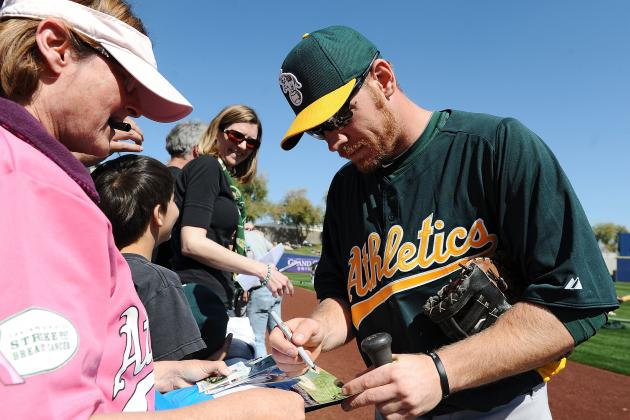 Jennifer Stewart/Getty Images
Brandon Moss signing autographs.
Bold Prediction: Brandon Moss will no longer platoon at first, and it will hurt him.
Between arriving in Oakland late and splitting time with Chris Carter, Moss played in half of last year's games with the A's. He made the most of it, though, hitting .291 with 21 home runs and 52 RBI.
This year, there's no Carter to platoon with. As I wrote in a prior slide, Nate Freiman won't be used often and might not hang around long either.
That leaves Moss as the primary first baseman. No more safety net.
He owns a powerful bat, there's no denying that. But he has never shown or proven consistency over the course of 162 games (or 140 for that matter). The most he's played in one season is 133 games four seasons ago. He hit .236.
Expect him to hit another 20-something home runs. Twenty-one in 84 games is impressive. The same amount in 140 games is still pretty good, but it would be disappointing. Couple this with a batting average that will suffer and 2013 might not be the year fans hoped for from Moss.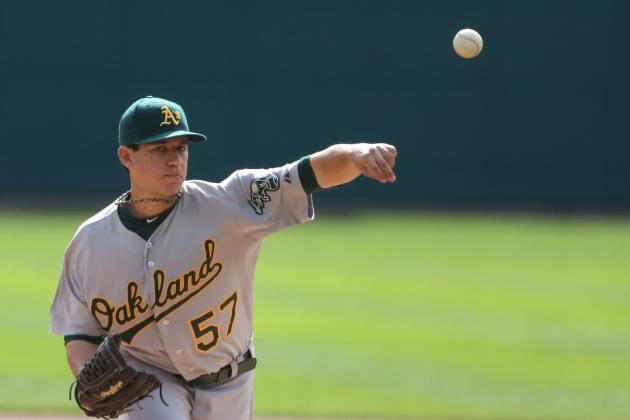 Leon Halip/Getty Images
Tommy Milone entered 2012 as an unknown.
Bold prediction: Tommy Milone will finish in the top five in the American League in strikeout/walk ratio.
In 31 games in 2012, Milone kept a 3.81 K/BB ratio, meaning he struck out nearly four batters for every one walk. That number placed him ninth in the AL and 20th in Major League Baseball. Throwing out right-handers, Milone actually finished with the sixth-best ratio in the league and second in the AL.
This year it's going to get even better.
Milone will leap over guys like Colby Lewis, Max Scherzer and Bartolo Colon. With a little extra help, he'll have to jump a James Shield or a Jake Peavy as well to sneak into fifth. But it's doable.
In 190 innings, Milone logged a mere 36 walks to 137 strikeouts.
If Milone can reduce his walks per nine from 1.7 to 1.5, increase his strikeouts per nine from 6.5 to 7.0 and pitch in just 10 more innings, his K/BB ratio increases from 3.81 to 4.70. That would be second best in the entire league last year.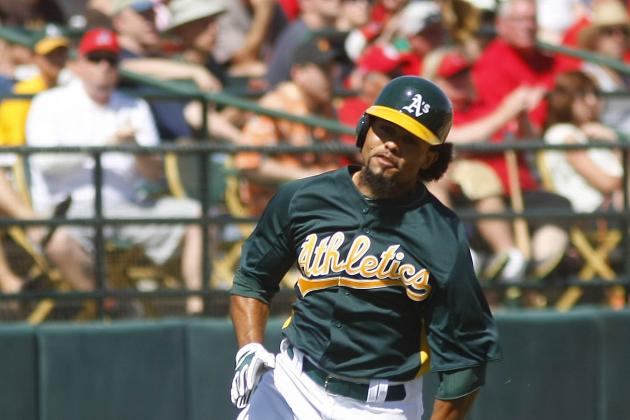 Rick Scuteri-USA TODAY Sports
Crisp rounds third and hustles home.
Bold Prediction: Coco Crisp will be a 15/45 player in 2013.
Crisp stole 39 bases last season, so increasing the number by six shouldn't be too difficult. Imagine how many bags he could have added to that total had his May on-base percentage been higher than .154.
All he has to do is shed the slow start and get on base. When that happens, he'll have plenty more opportunities to swipe bases.
Home runs are another story.
He only hit 11 in 2012, and he's only touched double digits three times in an 11-year span. If you watch Coco, though, you get the sense he has sneaky power. In the first two games of the 2013 season, Crisp sent a deep fly ball to the warning track in his first at-bat.
The potential is there.
Those 11 home runs from a season ago came in 120 games. At that pace, he'd still come up just short of 15 in 162 games. So not only will he have to remain healthy, he'll have to flash that hidden pop a bit more too.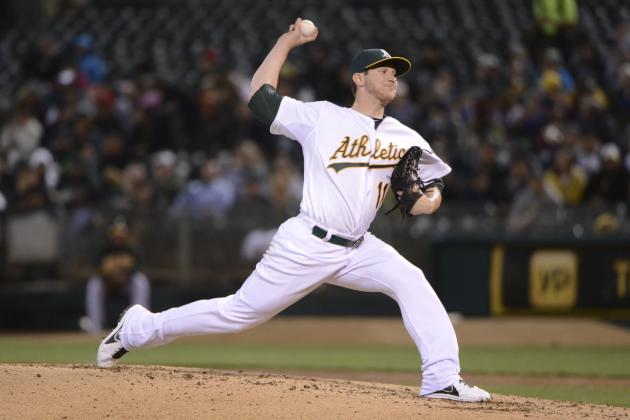 Kyle Terada-USA TODAY Sports
Parker is No. 2 in the A's rotation.
Bold Prediction: Jarrod Parker places in the top 12 for the AL Cy Young award.
In his first year as a Major League Baseball player, Parker placed fifth in AL Rookie of the Year voting. In his second, he'll finish as one of the 12-best American League pitchers.
Twelve may not seem bold, but consider two things: He's beginning his second year and his competition is steep.
Not sure what a top-12 candidate looks like?
Last year, Matt Harrison of the Texas Rangers placed eighth in voting. He owned an 18-11 record with a 3.29 ERA. He logged 213.1 innings and struck out 133 batters.
Parker won 13 games and lost eight. He struck out 140 batters in 180.1 innings while holding a 3.47 ERA.
If Parker logs a few more innings (not too many though) and racks up more wins while keeping a similar strikeout ratio, he should have no problem sliding into the top 12. Even the top 10 would be possible at that point.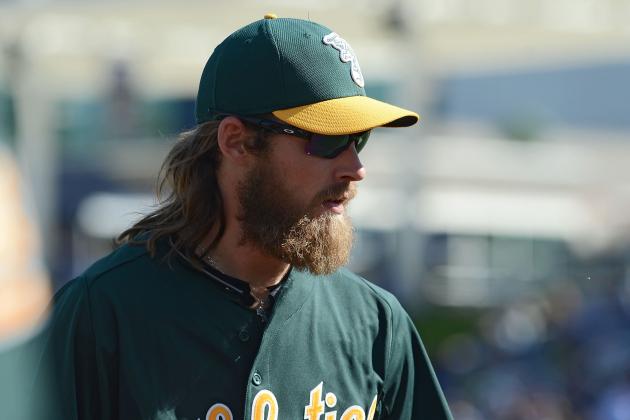 Jennifer Stewart/Getty Images
Caveman? Lumberjack? You name it, he's probably been called it.
Bold Prediction: Josh Reddick will shave his beard.
Don't hurt me A's fans. Hear me out at least.
If you haven't heard, Reddick is currently in a competition with WWE's Daniel Bryan in a "beard-off." The goal is simple: grow your facial hair out, without touching it, until the end of the year.
But Bryan has such an easier shot at winning.
Bryan wrestles for up to 20 minutes at a time in an air-conditioned building. Reddick plays baseball, outside, for a minimum of two hours. Imagine playing baseball in Texas against the Rangers or Astros in the middle of summer. The temperature nears 100 degrees.
I would make the claim he even started with a longer beard than Bryan's in the first place.
Reddick is already at a disadvantage. If anything goes wrong this season, the beard is the first thing he changes.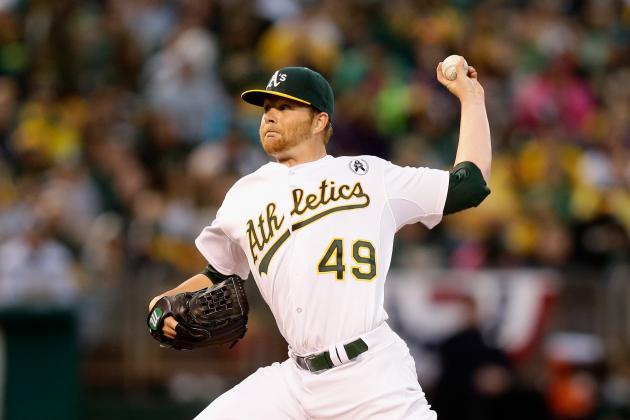 Ezra Shaw/Getty Images
Oakland A's ace and Opening Day starter Brett Anderson.
Bold Prediction: Brett Anderson won't miss one start in 2013.
After pitching in 30 games as a 21-year-old in 2009, Anderson hasn't been able to log the same amount of innings since.
In the last three years, he has pitched in 19, 13 and six games, respectively. Granted, halfway through the 2011 season, Anderson suffered an injury resulting in Tommy John surgery. He wouldn't return until late in the 2012 season. Then of course he spent more time sidelined from an oblique strain.
We'll call that rust.
Anderson spent the entire offseason healthy. He made it through spring training healthy. There doesn't appear to be any medical issues yet, though it is early. On just the second batter of the season, Anderson kicked at a ball hit up the middle, forcing the medical staff to do a mound visit.
That could have killed this prediction quickly.
I'm going to chalk Tommy John and the oblique strain up to dumb luck. Anderson will remain healthy the entire season and pitch like an ace in the process.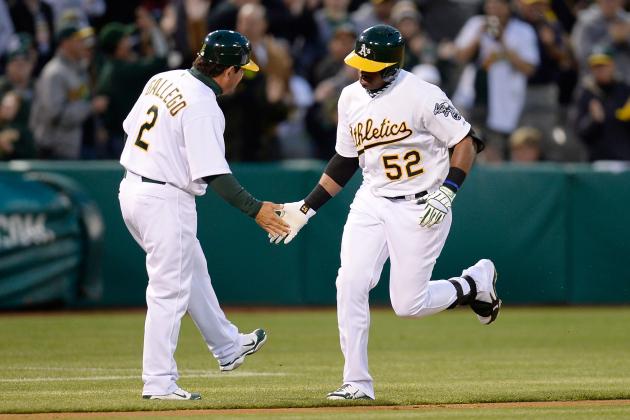 Thearon W. Henderson/Getty Images
Yoenis Cespedes rounds third after hitting a home run.
Bold Prediction: Yoenis Cespedes will be a 30/30 player.
In 2012, Cespedes hit 23 home runs and stole 16 bases, all in 129 games.
It's clear he has tons of potential and is arguably the best player on the team. A dangerous combination of speed and power, Cespedes has the tools to easily steal 30 bases and hit 30 home runs in the same season.
Simply put: If he's healthy, he will have more opportunities to steal bags and hit dingers.
The talent to do so isn't even a question.