Oakland A's: 7 Reasons Athletics Will Win AL West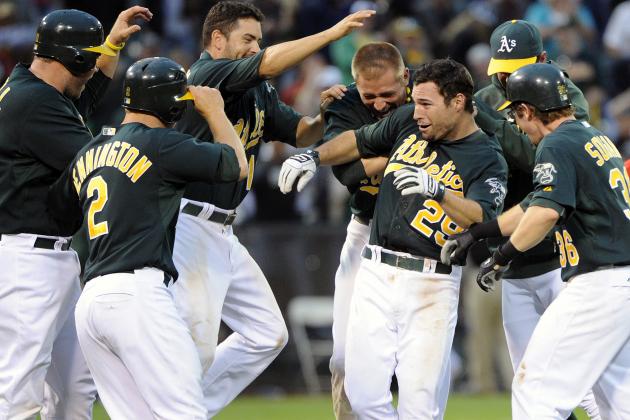 Thearon W. Henderson/Getty Images

Most consider the Texas Rangers and Los Angeles Angels to be the front runners for the AL West crown, but the Oakland Athletics have a shot too.
Impossible you say?
The great Muhammad Ali once said:
"Impossible is not a fact. It's an opinion. Impossible is not a declaration. It's a dare. Impossible is potential. Impossible is temporary. Impossible is nothing."
Sure, winning the AL West is going to be a difficult task. Improbable, maybe. Impossible, no.
Here are seven reasons Oakland has the makeup to shock the baseball world and win the AL West.
Begin Slideshow

»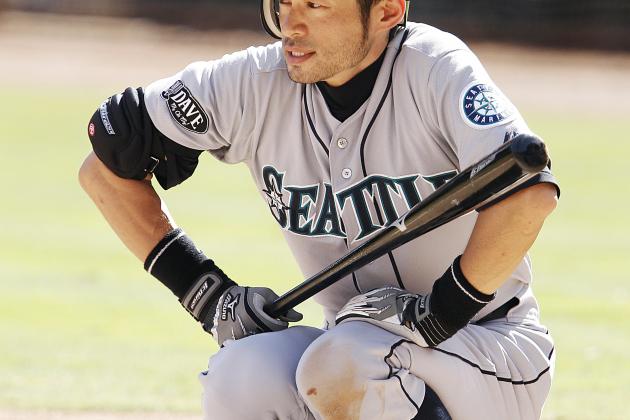 Brandon Wade/Getty Images

The Seattle Mariners ended 2011 in last place by 29 games. They trailed Oakland by seven games.
In 2012, nothing will change.
Sure, Felix Hernandez will be the Felix Hernandez everyone expects him to be, but outside of the King, who else does Seattle really have?
There's hoopla over newly acquired Jesus Montero. He could be the next big thing in Seattle.
The jury is still out however. After all, he's only played in 18 games in the major leagues. He could be a bust.
Ichiro Suzuki is 38 years old. In 2011, he produced the worst season of his career, hitting less than .300 and 200 hits in a season for the first time. With his age, he isn't likely to rebound.
Dustin Ackley is reliable, but will he be a big enough superstar to carry the Mariners? It's doubtful.
Mike Carp and Justin Smoak have proven to be average at best so far in their careers.
Then there's Chone Figgins. After playing so poorly last season that he was benched, Figgins is back in the lineup in 2012. He's now one year older and essentially hasn't played everyday for almost a year.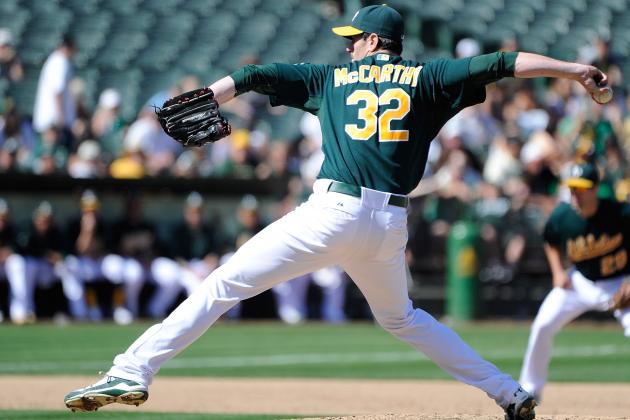 Thearon W. Henderson/Getty Images

With most in awe over the Angels' new rotation and intrigue in Texas over the changes in their starting five, Oakland's staff haven't gotten any love.
Good.
Now they'll have even more of an element of surprise.
Brandon McCarthy has such undeniable talent he skipped over Brett Anderson and Dallas Braden to secure the ace spot.
The two aren't a bunch of chumps either.
Braden is the owner of a well-documented perfect game and Anderson at only 24 years old now, came over from the Arizona Diamondbacks as Dan Haren's replacement in 2007.
Though Bartolo Colon's stat line doesn't appear great, he pitched decently for the New York Yankees last season. He's a crafty veteran who's been around the league long enough to know much of the competition. He'll be a quality pitcher to throw out on the hill from the fourth spot in the rotation.
The fifth spot is a toss up at this point but Jarrod Parker is already good enough that GM Billy Beane confidently traded away Trevor Cahill.
The bullpen is filled with more than effective pieces such as Grant Balfour, Brian Fuentes, Tyson Ross and up-and-comer Fautino De Los Santos.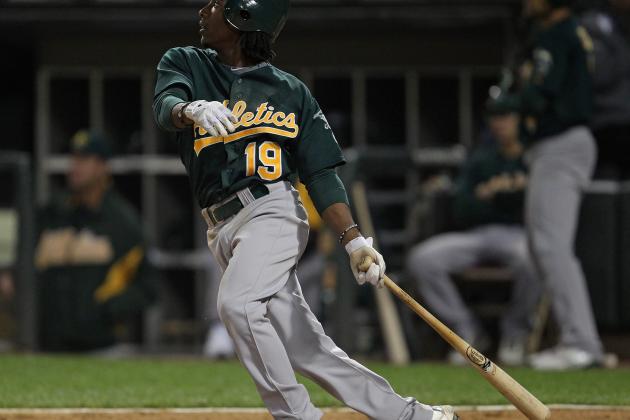 Jonathan Daniel/Getty Images

Jemile Weeks is the best second baseman in the American League West.
He's better than Dustin Ackley. He's better than Howie Kendrick.
Yes, he's even better than Ian Kinsler.
Kinsler has more power, but even so, it's sporadic. From 2006-11, Kinsler hit 14, 20, 18, 31, 9 and 30 home runs respectively.
But Weeks has more speed. He'll steal more and get caught less. His range is better, which means his defense in 2012 will be better. He hits for average better too.
Kinsler will be 30 this year. Weeks is just entering his prime.
So he may not get as many home runs, but Weeks will have more hits, singles, doubles, triples and stolen bases than any other second baseman in the West.
Does having the best second baseman in the division equate to winning it too?
No. But Weeks is just one example of the young talent that will lead the way to the best record in the West.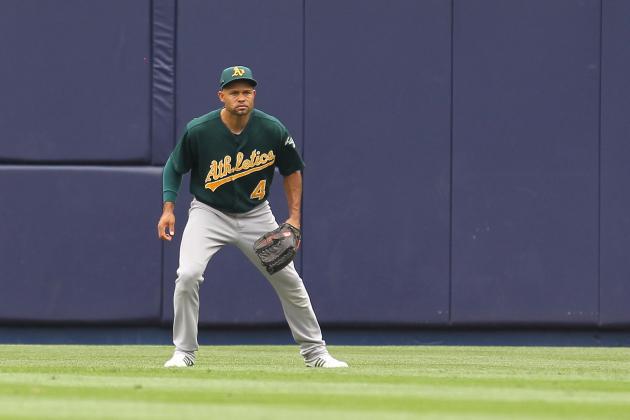 Al Bello/Getty Images

Let's break them down one by one, starting with the Mariners.
Mike Carp might be a bust as he hasn't lived up to expectations yet. After seven years, it's clear Franklin Gutierrez is average at best. Ichiro Suzuki's age is catching up to him as reflected in his 2011 stats.
The Angels' three are similar.
Vernon Wells was terrible in 2011. Entering his 14th season, Wells has been on a downhill slide for a few years. It looks like the Toronto Blue Jays knew what they were doing unloading Wells.
In Peter Bourjos' first full season, he hit .271, 12 HR and 43 RBI. He stole 22 bases, struck out 124 times while walking 32 times. Respectable numbers, but there's better in Oakland.
In the last two seasons, Torii Hunter has shown visible signs of slowing. Rightfully so as he's been in the MLB 15 years. He's already moved from center to right field. His batting average continues to drop as does his stolen bases. His speed and defense used to be the biggest factors in putting fear into opponents.
For the Rangers, Josh Hamilton is a beast. His power is obviously his best attribute. Nelson Cruz adds more power into the lineup with a touch of speed. The third spot is where the Rangers lack. David Murphy, Chris Gentry and Julio Borbon are average options who each hit about .270 when given intermittent chances.
Now for the A's.
Coco Crisp has immense speed as proven by his 49 stolen bases in 2011. He's arguably the fastest of any outfielder in the AL West right now. He might hit for average less than most but he more than makes up for it in every other aspect of the game.
Yoenis Cespedes is a 26-year-old phenom who was signed to a $36 million contract without ever having set foot in Major League Baseball. He looks to be a five-tool player with the speed of Torii Hunter in his prime, the power of Josh Hamilton and the defense of Ichiro Suzuki.
If the third spot is Josh Reddick's, Oakland has a big league ready 25-year-old with speed, power and contact. He's good enough the A's accepted parting ways with closer Andrew Bailey in the offseason.
It's a dangerous combination of veterans with plenty left in the tank and bright youngsters entering their premier years.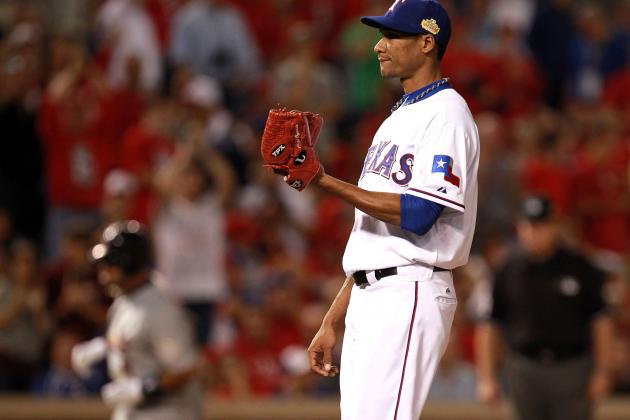 Ronald Martinez/Getty Images

Getting to the World Series only to lose motivates a team to work harder and take the next step, get over the hump and become winners.
Getting to the World Series in back to back seasons, losing yet again, completely deflates the same team.
Factor in the loss of C.J. Wilson, Texas' best pitcher, and the team has a glaring hole.
There are so many question marks in the rotation. How will Yu Darvish adjust to pitching in the United States? Can Neftali Feliz be reliable as a starter? Who steps up in Wilson's absence?
In 2011 the Rangers were firing on all cylinders. It's going to be very difficult for them to do it a third time. Especially considering they're all older.
Stars Josh Hamilton, Michael Young, Nelson Cruz, Joe Nathan, Mike Napoli and Adrian Beltre are all over 30 years old.
Napoli has to prove the benefit of a change of scenery was not a fluke. Hamilton is already talking about his next contract and it sounds like it may not be in Texas.
In 2012 the Texas Rangers languish.
Stephen Dunn/Getty Images

That's right, I said it. The Angels are overrated.
When the Philadelphia Eagles signed a couple of big name free agents, everyone in America deemed them the "Dream Team." Philly didn't even make the playoffs.
Big names don't necessarily translate into wins.
Vernon Wells, Torii Hunter and Bobby Abreu are nearly done in the MLB. Abreu isn't facing the situation well and has entered spring training as a distraction. The bullpen is full of unrecognizable names and over-aged arms.
Then there is the matter of Albert Pujols. What if he busts? It could happen.
Remember, nothing is impossible.
A's fans should know big names can bust after signing large contracts. Ask San Francisco Giants fans how $126 million pitcher Barry Zito turned out.
It's happened before. It could happen again.
Pujols is older and switching leagues after 11 years in the MLB. There's a small chance of failure but if it happens, the A's can definitely capitalize.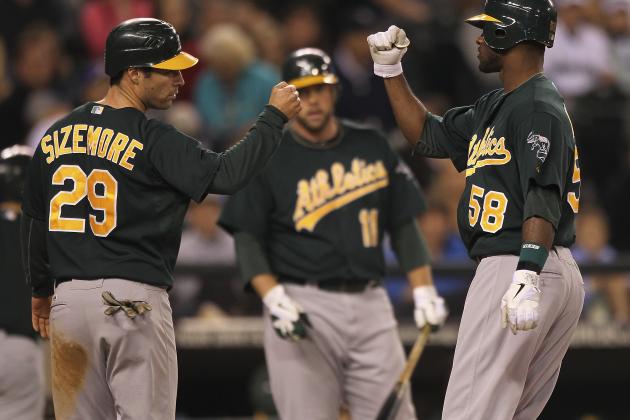 Otto Greule Jr/Getty Images

I just pointed out the Angels and Rangers are older than the A's.
The youth and depth of these teams are going to play a huge factor late in the season.
It's plausible the energy of the younger Oakland players remains firm while the Rangers and Angels falter.
Hopefully, maybe a desperate hope, the Angels and Rangers split enough times to keep the A's close. If they did so, it'd almost be as if they cancelled each other out.
It'd be even nicer if the Angels and Rangers used up their best lineups and pitchers on each other and gave their starters rest against the "lesser" teams. This point is naturally the most inconceivable.
But Oakland also seems to be one of those pesky teams that rather than going away late in the season, they find a spark.
In August and September of 2002, the Oakland Athletics stunned the AL West winning 20-straight games on their way to a 103-59 record with many underrated players.
No one expects them to win 103 games. All they need to do is win more than the Rangers, Angels and Mariners.