LA Lakers vs. Sacramento Kings: Postgame Grades and Analysis for LA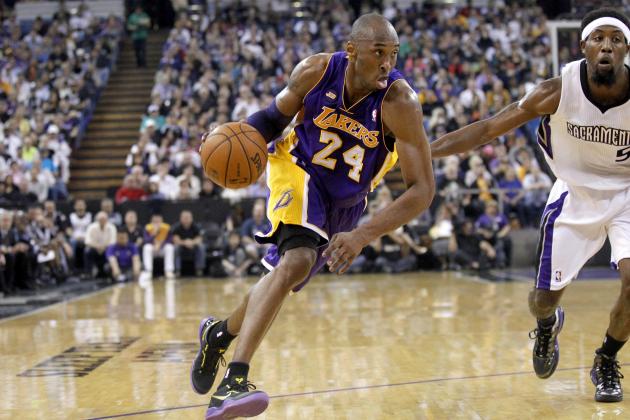 Cary Edmondson-USA TODAY Sports
Kobe Bryant made history in what could be his final game at Sleep Train Arena.
If the Sacramento Kings end up moving at the end of the season, the Los Angeles Lakers gave their rival fanbase something to remember them by Saturday night.
The Lakers hit the road and won a crucial matchup, 103-98. It wasn't always pretty, but it's fitting that this rivalry went down to the game's final possession.
Early in this one, offense wasn't a problem for the Lakers. Despite losing Steve Nash to the locker room in the first two minutes, they finished the first quarter having shot 11-of-20 from the floor, and they scored a respectable 25 points heading into the second.
The problem, as it's been so many times this year, was defense, as the team allowed 37 points on 71 percent shooting.
The second quarter saw L.A. find similar offensive production, but the difference was an improved effort on defense. The team began defending better in transition, and more importantly, Sacramento stopped hitting shots under duress.
The second period also saw Bryant make history, as he passed Wilt Chamberlain for fourth on the all-time scoring list.
The second half proved to be a game of runs, but neither team could truly pull away. It would come down to late-game execution, and while that hasn't been L.A.'s forte this year, it managed to escape with the win.
Sacramento opted to let DeMarcus Cousins take the final two shots of the game. Both were from behind the arc, which is something the Lakers can live with any day of the week.
Begin Slideshow

»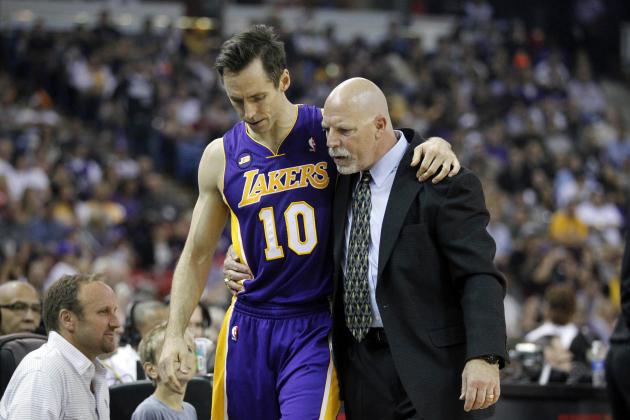 Cary Edmondson-USA TODAY Sports

Steve Nash had a short night Saturday in Sacramento.
Just two minutes into the game, the point guard went to the locker room, and he would never return to action. According to Mike Trudell of Lakers.com, he went out with a right hamstring strain.
While on the floor, Nash provided good energy. He was attacking the basket, and as a result, he was creating open looks for both himself and his teammates.
Without him in the game, Steve Blake took over much of the floor-general responsibilities. Blake did a good job of finding his teammates, but Nash's ability to drive the lane and kick outside is irreplaceable on this roster.
L.A. would have loved to have Nash in this one, but the long-term health of the 39-year-old has to be a priority moving forward.
Grade: Incomplete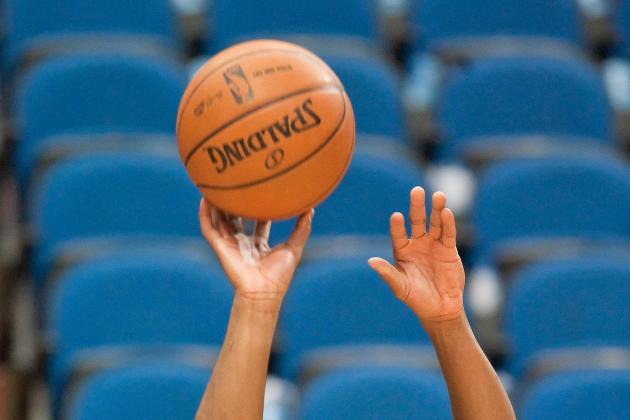 Greg Smith-USA TODAY Sports

With Metta World Peace out for the foreseeable future, Jodie Meeks earned the nod as the starting shooting guard with Kobe Bryant sliding to the small forward spot.
Meeks played a good, clean offensive game without many mistakes. He did go just 3-of-10 from the three-point line, but he managed to make five of his 10 attempts and scored 14 points.
Defensively is where you have to be critical of his efforts. Tyreke Evans earned too many looks at the rim, as Meeks had a tough time staying in front of his man.
You can't take away what the 2-guard did on offense, but you also can't ignore his deficiencies on the other side of the floor.
Grade: C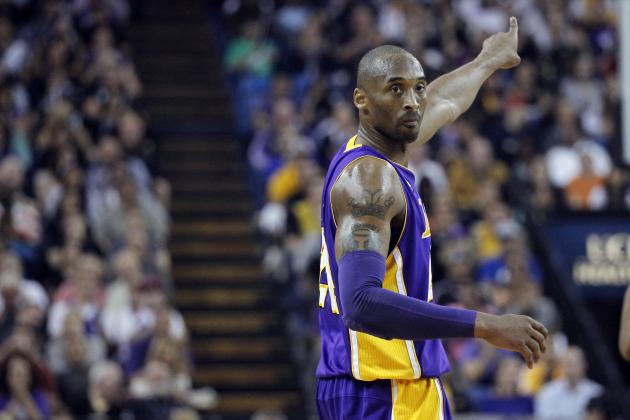 Cary Edmondson-USA TODAY Sports

Kobe Bryant got off to an extremely slow start Saturday night. He missed his first five shots and didn't complete one until about the eight-minute mark of the second quarter.
Fortunately for Bryant, the historic nature of his first field goal outweighed his early struggles, as the shot at the rim tied him with Wilt Chamberlain for fourth on the all-time scoring list.
On the very next possession, Bryant pulled up for a jumper at the foul line, knocked it down and became the sole owner of that No. 4 spot.
History aside, Bryant was able to impact this game early without scoring. He was controlling the offense with Steve Nash out, and he was collecting assists at a rate that made up for his shooting woes.
Once Bryant hit that first bucket, that's when he began to take over the scoring role. He finished the night with 19 points and 14 assists and nine rebounds, once again proving that he can take over in a multitude of ways.
Grade: A-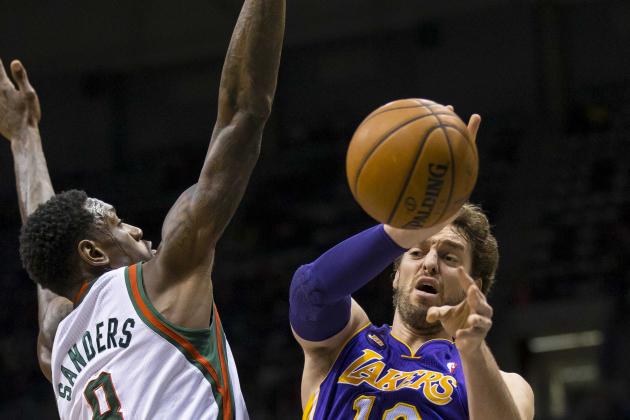 Jeff Hanisch-USA TODAY Sports

Pau Gasol was quiet throughout spurts against the Sacramento Kings, but he played a smart game during his 33 minutes.
It was easy at times to forget he was on the floor, but his hot streaks helped make up the difference. The power forward played above the rim in this one, as he took advantage of lackadaisical defense.
Where he really stood out was in the facilitating department. His high-low game with Dwight Howard was effective almost the entire way, and his ability to find backdoor cutters was on full display.
On the night, Gasol finished with 12 points on 6-of-11 shooting, but his 10 assists is what people will remember about this one.
Grade: B
Cary Edmondson-USA TODAY Sports

Dwight Howard is no stranger to efficient starts. The Los Angeles Lakers have been known to look his way early, and that's exactly what happened against the Sacramento Kings.
Howard made five of his first six shots. He was doing a good job of getting into position against DeMarcus Cousins, and he was putting himself in the right spot, possession after possession.
Even with his back to the basket, he managed to find success, as he displayed an array of fakes and spin moves—moves that Lakers fans would love to see more of.
Defensively, Howard was extremely active both on and off the ball. He was helping out when the guards got beat off the dribble, and he was asserting himself as a presence down on the block.
The big man finished with 24 points on 10-of-14 shooting, as well as 15 rebounds and five blocks.
Grade: A+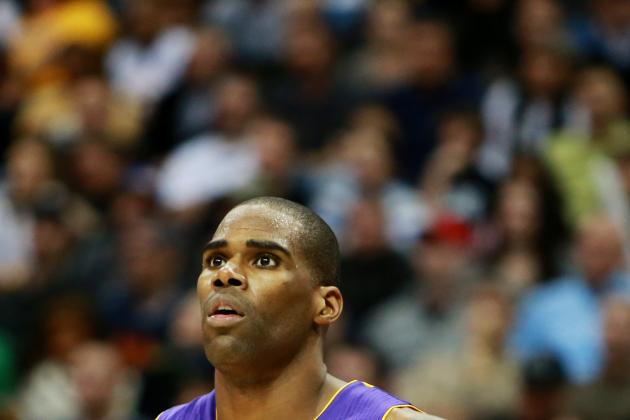 Chris Humphreys-USA TODAY Sports

Although Steve Blake was the first man off the bench, it'd be tough to consider him the sixth man, considering the extenuating circumstances that landed him 32 minutes.
Antawn Jamison, however, has been the sixth man on and off during the season, and he essentially played that role again Saturday night.
It took Jamison a while to find his shot. He entered halftime 0-of-4 from the field, but he ended up making three of his six second-half attempts.
Jamison also played a good game on the glass, as he pulled down seven rebounds in 22 minutes.
Overall, you would have liked to see the forward shoot a better percentage, but when the rest of the team is shooting so well, you can live with him impacting the game in other areas.
Grade: C+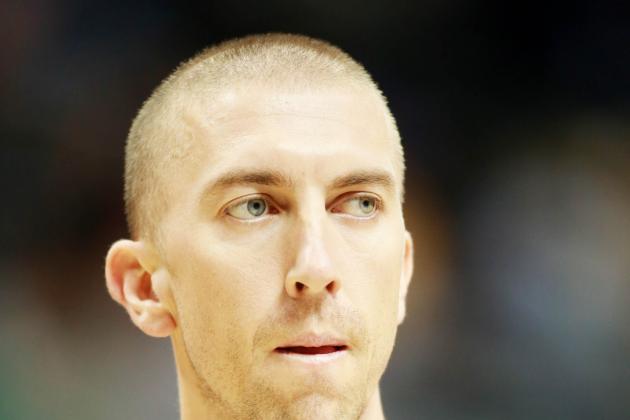 Chris Humphreys-USA TODAY Sports

Steve Blake was forced to play starters' minutes with the injury to Steve Nash, and while Kobe Bryant ran most of the offense, the point guard did a good job of filling his own role.
Blake planted himself in the corner for much of this one, but he made three of his first five shots from behind the arc. He finished with 15 points on 5-of-9 shooting, and despite collecting just one assist, he did a good job of making the right passes all night long.
Earl Clark and Antawn Jamison were the only other reserves to play meaningful minutes. Jamison impacted the boards, despite an inefficient shooting night, while Clark did a decent job playing man-to-man defense.
Needless to say, Blake's performance is the only one that people will talk about, but overall, the three players combined for a decent all-around effort.
Grade: C+