Most Difficult Decisions Facing the Washington Wizards This Offseason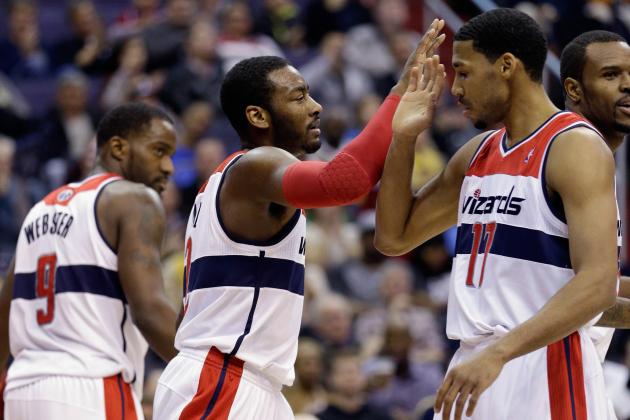 Rob Carr/Getty Images
While the Washington Wizards are much improved since John Wall returned to the lineup, they still face a number of difficult decisions in the offseason.
While the Washington Wizards have won six out of their last 11 games, giving fans hope for the coming years, the team still faces a daunting offseason after the conclusion of the 2012-2013 season.
These decisions range from bringing in new players, to re-signing current ones, to dealing with the coaching staff and the front office.
If the Wizards make the right decision with these problems, then they are sure to be one of the best teams in the league in the coming years.
All of the items on this list, ordered from least important to most important, are things that the Wizards must address if they want to have a successful offseason and be fully prepared for next year.
It's not out of the question to think they would avoid some of the items on the agenda, but that would be a huge mistake for a team that has a bright future.
Washington will presumably have money to spend, although the salary cap hasn't been determined yet, the cap this season was set at $58.044 million. Heading into the offseason, the Wizards only have $34.85 million in guaranteed contracts, according to HoopsWorld, leaving them with just about $23 million in cap space.
Presumably, Washington will want to use that money to improve them team, setting itself up for a playoff run in 2014.
Begin Slideshow

»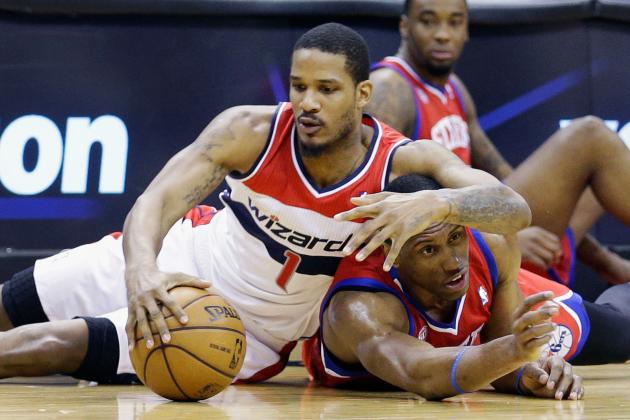 Rob Carr/Getty Images
Small forward Trevor Ariza will be in the last year of his deal in the 2013-2014 season.
Small forward Trevor Ariza, who came over to the Wizards after spending two years with the New Orleans Hornets, has a player option for next year and it remains to be seen if he will accept it or not.
Either way, the Wizards should strongly consider giving Ariza a new contract, whether it be during free agency should Ariza decline the option or as soon as he accepts the option.
He only made a little over $7 million this year, and is slated to make $7.7 million if he accepts the option next year.
That is good money for a player who has been in the league for nine years now, and averages just under 10 points per game coming off the bench.
Ariza has spent the majority of the season backing up Martell Webster, but still averages over 20 minutes per game, putting up 9.6 points and 4.6 rebounds per game.
Webster's contract is also expiring (we'll get to that in a little) and if he doesn't return to Washington, the starting job could be open to Ariza.
Even if he declines the player option, it would be smart for Washington to pursue Ariza in free agency, as he brings much-needed experience to an otherwise very young team.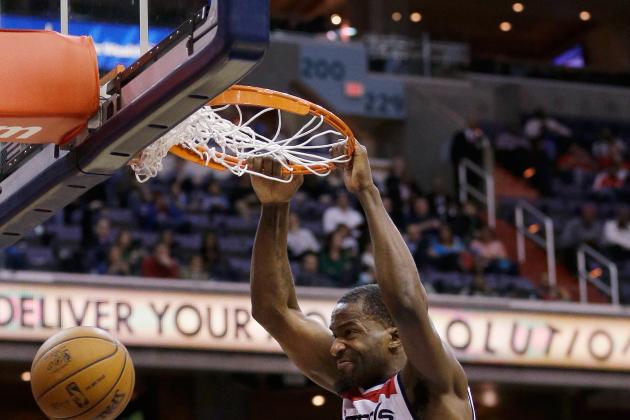 Rob Carr/Getty Images
Small forward Martell Webster has started the majority of the games this year for Washington at SF, but his contract is expiring at the end of this season.
Speaking of small forwards, Martell Webster has been in that role for Washington for the majority of this year.
Webster has started 54 games this year for the Wizards, playing in his eighth year in the league.
The 26-year-old's contract expires at the end of this year, and the Wizards must decide if they want him back. Despite starting a high volume of games, he only averages 11.6 points and 1.9 assists per game, not great numbers for a starter.
However, he only cost Washington $1.75 million this year, and isn't worth much more than that.
This is his highest point production in his eight years, but he still only averages 8.9 points per game in his career.
Webster only shoots 45.6 percent from the floor, and brings down 3.8 rebounds per game.
Yes, he comes at a small price, but it's probably best for the Wizards to go in a different direction at small forward next year.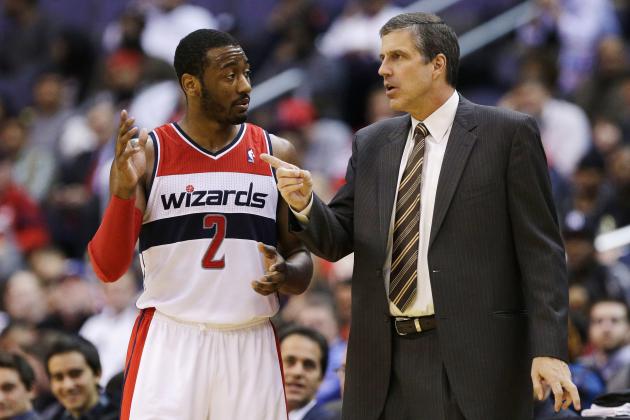 Rob Carr/Getty Images
When Randy Wittman was promoted from Interim Head Coach to Head Coach in 2012, he was only given a two-year deal.
Randy Wittman was promoted from assistant head coach to interim head coach after former coach Flip Saunders was fired back in 2012.
Wittman was eventually given the gig full-time, receiving a two-year deal from the Wizards.
He'll be entering the final year of that deal at the start of the 2013-2014 season, but it remains to be seen if Washington wants him around for longer.
After the most recent collective bargaining agreement reached by the NBA and the NBA Players' Association, teams have started to cut back the pay of coaches and front office personnel.
However, that does not mean that it's out of the question for Washington to reward Wittman for at least improving the team from last year.
While Washington has already surpassed its win total from last year (although it was a shortened season), Wittman hasn't necessarily proven that he deserves to lead this team in the coming years.
It's best for the Wizards to wait and see what Wittman can do in the 2013-2014 season with a fully healthy John Wall, partnered with younger players like Bradley Beal, and whoever they decide to take in the draft.
That's certainly not knocking Wittman and the job he's done in improving the team already, but a contract extension may not be the best decision for Washington right now.
Bruce Bennett/Getty Images
Josh Smith, currently of the Atlanta Hawks, is an unrestricted free agent at the end of this year, and will be one of the hottest free agents this offseason.
With the amount of cap space that Washington is taking into the offseason, it would be wise for the team to pursue several bigger names via free agency.
Some notable unrestricted free agents this year include Josh Smith of the Atlanta Hawks, David West of the Indiana Pacers and Dwight Howard of the Los Angeles Lakers.
It's highly unlikely Washington could land Howard, but West is certainly a good player for the Wizards to target.
West is certainly better than the other options at power forward currently, as he averages 16.1 points per game on his career.
West is playing his 10th year in the NBA, and could bring some veteran leadership to a team whose two best players, John Wall and Bradley Beal, are in their early 20s.
There are tons of big names at point guard who could be entering the free-agency pool, including Chris Paul of the Los Angeles Clippers, Brandon Jennings of the Milwaukee Bucks and Tyreke Evans of the Sacramento Kings.
However, with Wall on the team it wouldn't be smart of Washington to pursue any of those players.
Another great free-agent option for the Wizards is Andrei Kirilenko, who has a player option for next year with the Minnesota Timberwolves.
Kirilenko would be huge for Washington, especially if it decides to let Martell Webster go.
Kirilenko has averaged over 12 points per game this year, and is a great defensive player, averaging 5.6 rebounds, two blocks and just over one steal per game on in his career.
The 32-year-old could decline the option with Minnesota, making him a solid option for Washington at power forward.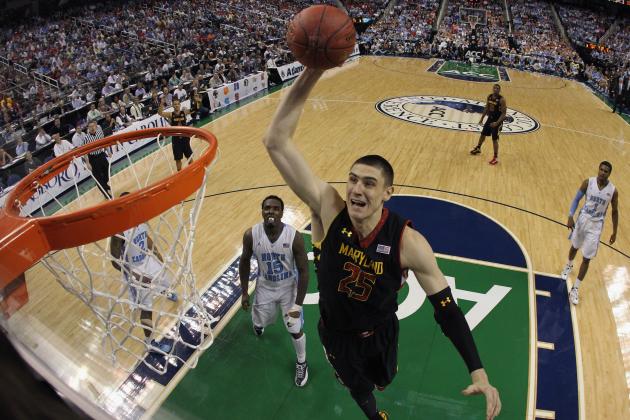 Streeter Lecka/Getty Images
Alex Len, a center from the University of Maryland, could be available for the Wizards to pick up in the NBA Draft come June.
While big-name free agents are a great way to build up any team, the Wizards have been attempting to rebuild through the NBA draft.
The past several years, Washington has picked toward the beginning of the draft but will pick further down this year with its improved record.
According to ESPN, Washington only has a 1.5 percent chance to win the lottery this year, but it would likely pick around the eighth or ninth spot.
If it were to get the ninth spot, ESPN has the Wizards taking center Alex Len out of the University of Maryland, while CBS Sports has shooting guard/point guard Marcus Smart from Oklahoma State going at ninth overall, and Len at eighth.
Len, who could choose to stay with the Terrapins, would be a great addition to Washington's roster, as its production at center severely drops after Emeka Okafor, who has an early termination option going into the offseason.
Len averaged 11.8 points and 7.8 rebounds for Maryland this year, while shooting 53 percent from the floor.
Smart is a great player, averaging over 15 points per game, but the Wizards already have John Wall at point guard and Bradley Beal at shooting guard.
Depending upon where Washington ends up in the draft order, center Cody Zeller out of Indiana could be within its reach.
CBS has Zeller going at fifth overall, while ESPN has him falling to tenth. If he falls, or if the Wizards get a higher pick than they are projected to, he would bring a great skill set to the roster.
The seven-footer averaged 16.7 points per game this year for the Hoosiers, and pulled in eight rebounds per game, all while blocking 1.3 shots per game.
No matter who Washington pursues through the draft, it will surely add to the young base the Wizards have to build around for years to come.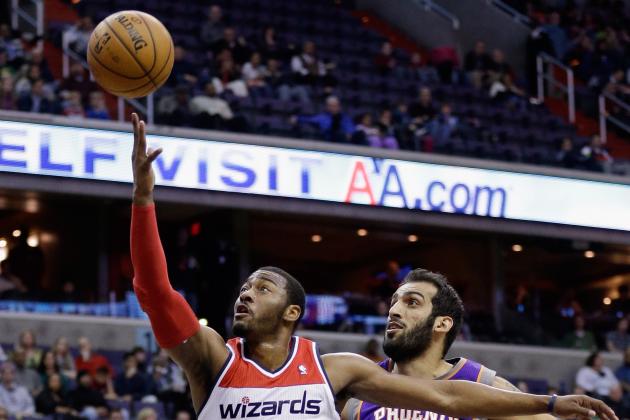 Rob Carr/Getty Images
John Wall has said that he believes he is deserving of a maximum contract.
While John Wall is under contract through 2014, this might be the perfect time for Washington to give him the maximum contract extension he says he is worthy of.
The most recent reports make it appear that he's going to get that extension, but the Wizards should still take the time this offseason to consider the money it could cost them.
A max contract currently starts at $13.5 million, but the high price would be well worth it for Washington to lock down its best player for years to come.
Wall's been productive every year that he's been in the league, and has most recently been in the headlines for putting up 47 points against the Memphis Grizzlies.
Despite missing the first 33 games of the season, Wall has come on strong in 2013, averaging 16.8 points and 7.7 assists per game.
With Bradley Beal in and out of the lineup with injury, Wall has easily been the best player for Washington this year, and should the Wizards not lock him down for several more years, he could easily find a starting job for a much bigger team.
He may not have the biggest name in the league, and the team could face a lot of criticism for giving him a bigger contract than players like Rajon Rondo, but it's a must if the Wizards want to be successful going forward.
So far, the team has done all it needs to rebuild with younger players, and giving Wall a max extension would prove to fans that ownership is serious about making a run for a NBA championship in the near future.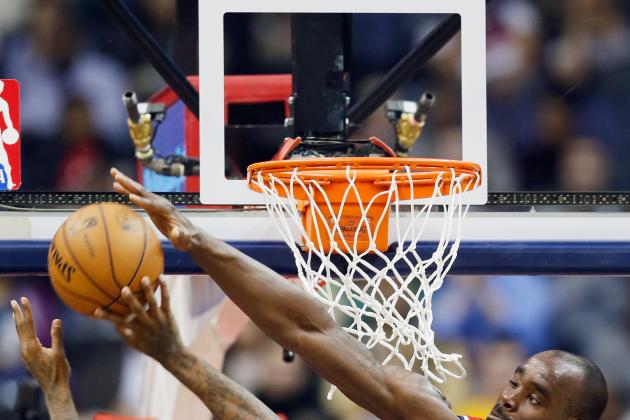 Rob Carr/Getty Images
Center Emeka Okafor has been the best defensive player for Washington this year, but faces a player option at the conclusion of this year.
While there are a number of other issues the Wizards need to address in the offseason, they do not compare to the biggest items on their agenda.
However, these smaller moves could pay off in the long run for a team that has struggled in recent years.
Emeka Okafor's contract - Washington's center and best defensive player has a player option worth roughly $14.45 million this offseason. If he accepts, the Wizards should look into re-structuring his contract to save them some money in the future, but it's important they keep Okafor around, who averages 8.9 rebounds per game
A.J. Price's contract - Backup point guard A.J. Price will be an unrestricted free agent this offseason, but it may be time for Washington to let him go. Price averages over 22 minutes per game, but only shoots 37.8 percent from the floor this year, and has never averaged more than 7. 3 points per game in a year. Either way, Washington will need to make a decision regarding Price.
Who to take in the second round of the draft - Most second-round draft picks don't work out, but that doesn't mean it should be overlooked by the Wizards this offseason. Should they end up with the ninth pick in the draft, they would pick in the second round at 39th overall. CBS Sports has Tony Mitchell going near that spot, a forward out of North Texas. Mitchell averaged 13 points per game this year, and pulled in 8.5 rebounds per game.