Why Kevin Garnett's Injury Will Be Blessing In Disguise for Boston Celtics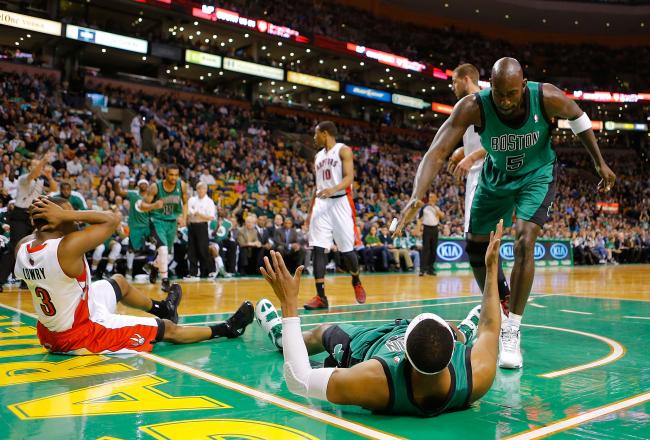 Jared Wickerham/Getty Images
Kevin Garnett's ankle injury means the Boston Celtics will be without their most effective big man for the next two weeks, but that might not be as bad as it sounds.
Garnett has been in and out of the lineup for a few games, missing one game because of a strained hip and another because of the flu, and the Celtics were able to put up a fight in either game.
The first game he missed, their two-point loss to the Miami Heat, was the most explosive Jeff Green performance of the young fellow's career, as he put up 43 points and checked LeBron James for the entirety.
Garnett's next absence was a four-point road loss to the Memphis Grizzlies, a game filled with great play from Paul Pierce, as well as inefficient yet consistent scoring from Jordan Crawford.
Boston is slowly figuring out where their pieces fit together, and one of the things that seems to have helped them out over the past few months is being forced to fill in holes along the way.
Adversity has created success.
Sure, the Celtics have been incredibly up-and-down since Rajon Rondo tore his ACL, but they've shown that they can fill holes in their roster and skate by at the very least—but also play inspired ball at their best.
A run of seven straight wins following Rondo's ACL tear was followed by a 2-4 stretch, another five straight wins, and finally a 2-6 stretch of games.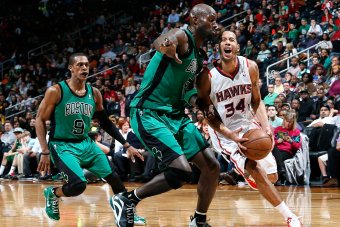 Kevin C. Cox/Getty Images
Now that they've got to fill another hole, that should ironically help them in the long run.
Realistically, the worst thing that can happen to the Celtics down the stretch would be sinking to eighth place in the Eastern Conference, but even that seems unlikely with how much the Milwaukee Bucks have struggled over the past few weeks.
In all likelihood, Boston will float on, winning enough games to keep them right around the sixth or seventh spot in the East, a position that they seemed locked into for the past few games.
However, the Celtics also have the opportunity to try out some new things and give a few players more burn in preparation for the playoffs.
Obviously it means more minutes for Green, a guy who has been vacillating between looking like the next solid starter for the Boston Celtics and merely a very good player off the bench.
This is a chance for the 26-year-old forward to build up some confidence, not just in himself but in Doc Rivers' opinion of the young dude. More confidence on either side of the relationship will mean more trust going into the playoffs, and eventually going into next season.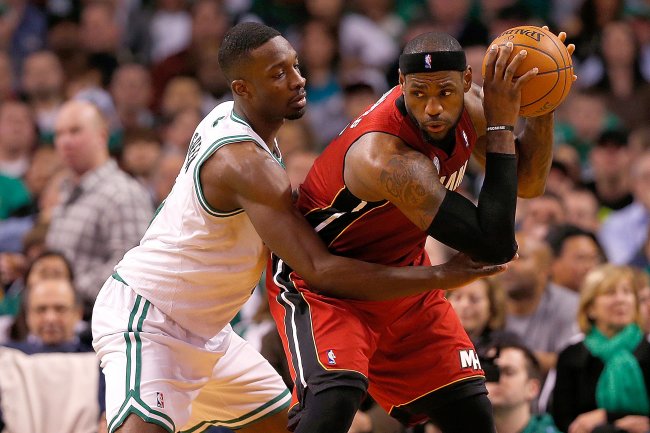 Jim Rogash/Getty Images
This is the time for Green to prove that he's worth a starting spot in the rotation, something that he could very well earn over the next two weeks.
While it's not as big a time for the likes of Brandon Bass, Jason Terry, Crawford and Pierce, it is an important stretch for them nonetheless.
Bass and Terry have been inconsistent shells of themselves this season, and this stretch suddenly makes their production much more important. They've got a chance to put some pep back into their seasons just in time for the playoffs.
Jared Wickerham/Getty Images
Crawford is just looking to carve out a solid role for himself, nail down minutes in the rotation and get in Rivers' good graces—something that inefficient scorers haven't really been able to do over the course of his tenure in Boston.
Then there's Pierce. He's been the leader of this team for what seems like forever, but this is the first time in years that he has had to step up and be the superstar to be relied upon. It's his chance to throw back the clock and get back into a superstar groove for the playoffs.
Most importantly, however, it gives Garnett the chance to take a much-needed rest.
Rivers has been limiting his minutes all year long in anticipation for the playoffs, but nothing can replace actually taking time off.
The biggest reason for limiting Garnett's minutes this season has been the fact that he's had periods of sluggishness near the end of the year and in the playoffs in the past few seasons, leading to inconsistent play and a bit of a hobbled look.
In other words, he's old.
Giving Garnett time off to heal, with plenty of time left over to rejoin the team and work his way back into the lineup for the playoffs, could end up being the biggest blessing for the Celtics.
This article is
What is the duplicate article?
Why is this article offensive?
Where is this article plagiarized from?
Why is this article poorly edited?

Boston Celtics: Like this team?