Predicting Oakland Raiders' Starting Lineup After Week 1 of Free Agency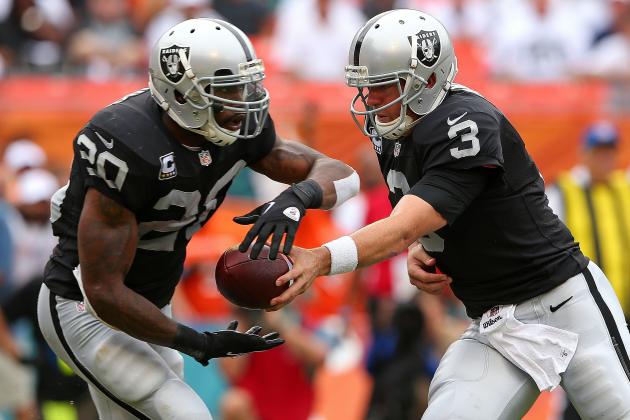 Mike Ehrmann/Getty Images

After just one week of NFL free agency, we already have a significantly better idea of how the Oakland Raiders' starting lineup is shaping up for the NFL season.
On the offensive side of the ball, all positions will feature returning players, most of which are subject to potential upgrade.
On the defensive side, recent signings at defensive tackle and linebacker have all signs pointing toward sticking with a 4-3 base front. As far as the secondary goes, there are many more questions than there are answers.
The offseason is still in its early stages, but there is never a bad time to look ahead to how a given team's roster is shaping up for the upcoming season.
Here is a look at the Oakland Raiders' predicted starters after Week 1 of free agency.
Begin Slideshow

»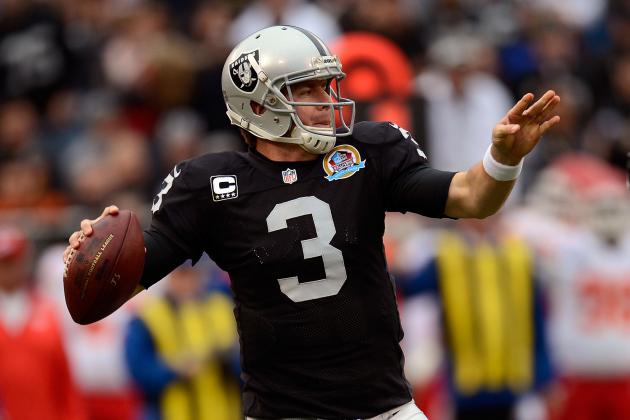 Thearon W. Henderson/Getty Images

Starter: Carson Palmer
With a player as polarizing as Terrelle Pryor already on the roster, there will always be a debate surrounding whom the starting quarterback should be. Considering his experience and his salary, if Carson Palmer is on the Raiders' roster, he is the starting quarterback.
Now, if the Raiders choose to select a quarterback like Geno Smith at third overall in April's draft, then they could very well move on from Palmer and his extremely high cap number. At this point, only Reggie McKenzie and his personnel staff know the likelihood of such a move.
Should the Raiders again enter the season with Palmer as the starting quarterback, it is nowhere near as bad as many make it out to be. While he has a penchant for some untimely turnovers, the Raiders' new offensive system should benefit both Palmer and the rest of the team greatly.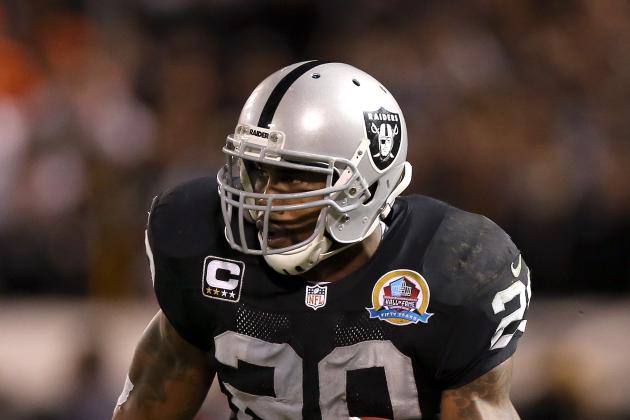 Ezra Shaw/Getty Images

Starter: Darren McFadden
This is one of the easier designations on the entire Raiders' roster as Darren McFadden is undoubtedly this team's star player.
Yes, he has certainly struggled with injuries to this point in his career, but as a running back, that doesn't necessarily garner an "injury prone" designation. Some of those relatively fluke injuries, like sustaining turf toe and a Lisfranc fracture, cause many to overlook just how tough of a runner and overall football player he really is on the field.
If the Raiders can get a full season out of McFadden in the offense's return to a power running game, they'll be in good shape. When operating with the same running scheme under Hue Jackson, McFadden was easily one of the league's most dominant running backs.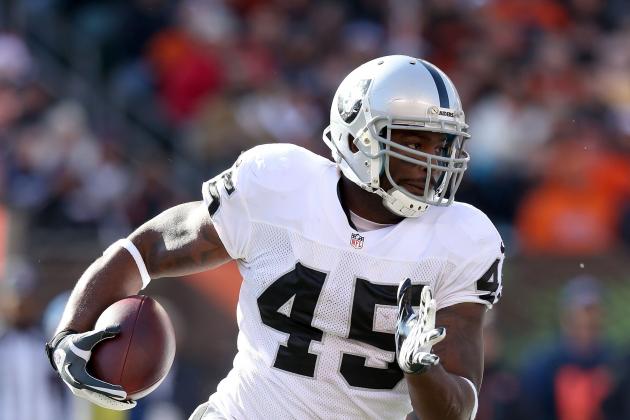 Andy Lyons/Getty Images

Starter: Marcel Reece
Marcel Reece is penciled in as the Raiders' starter at fullback, but that designation almost doesn't do justice to everything that he is capable of on the football field.
Reece is a dynamic ball-carrier, route-runner, and pass-catcher, and his blocking as an I-formation fullback has improved significantly with every season under his belt.
If the Raiders and new offensive coordinator Greg Olson are wise, they will do a much better job of making Reece a focal point of their game plans in 2013. If used correctly, Reece's explosive playmaking ability from the fullback position is a matchup nightmare for opposing defenses.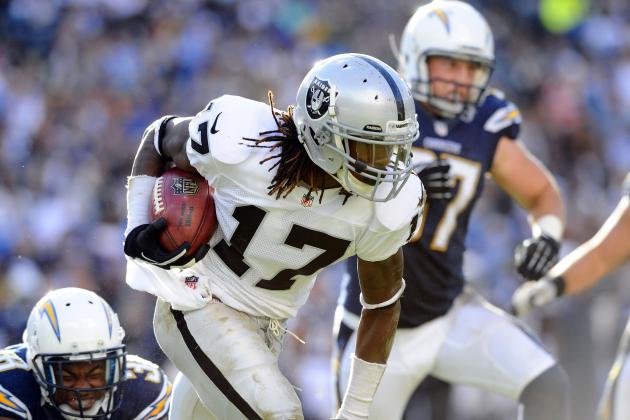 Christopher Hanewinckel-USA TODAY Sports

Starter: Denarius Moore
After a big start to his career as a rookie, Denarius Moore cooled off in 2012. Much of which, as was seemingly the case for many players on the offensive side, can be attributed to being a poor fit for the West Coast scheme.
With the Raiders' new offensive system in place, expect Moore to have a bounce-back season. Under Greg Olson, he will likely be used as the vertical threat that he is, and should see plenty of targets downfield.
Moore was one of the most misused players on the Raiders' offense this past year. If they can get back to using him the way Hue Jackson was able to do, his big-play ability makes him an integral part of this team's success.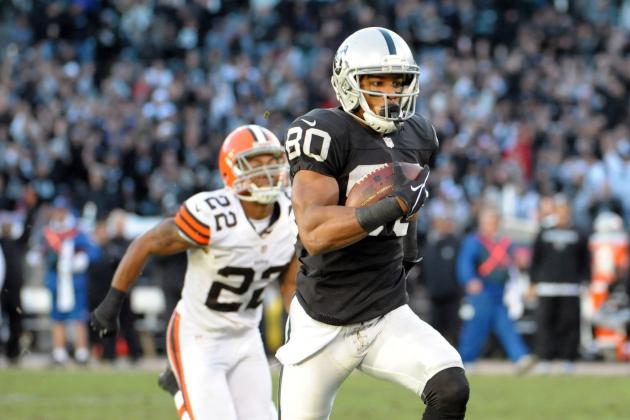 Kirby Lee-USA TODAY Sports

Starter: Rod Streater
Rod Streater was the most pleasant of surprises in what was a horrid offensive season for the Raiders last year. An undrafted free agent out of Temple, Streater finished as arguably the team's most consistent pass catcher, receiving more and more playing time as the weeks went on.
The position overall is thin, but with pressing needs up and down the roster, it is unlikely that wide receiver will be a high-priority addition in either the draft or the remainder of free agency. As such, Streater will likely enter training camp as the starter alongside Denarius Moore.
If last season was any indication, Streater has all the tools to take his opportunity and run with it in a big way.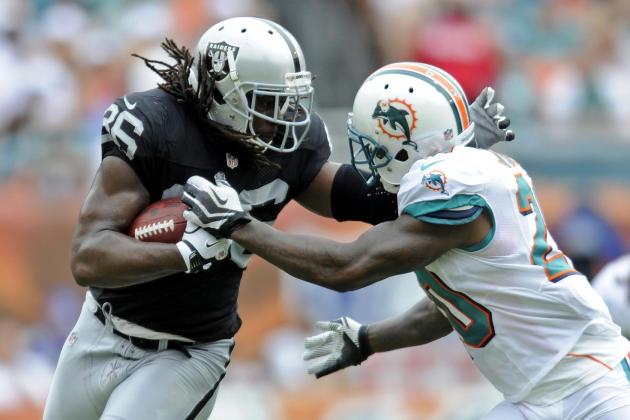 Steve Mitchell-USA TODAY Sports

Starter: David Ausberry
After losing Brandon Myers in free agency, David Ausberry is the projected starter at tight end.
With free agency having only just begun, the draft yet to come, and a heap of league-wide veteran cuts to follow, this is one position that remains up in the air.
There is no denying Ausberry's physical ability as a pass-catcher, but there are still improvements to be made in his blocking game. This could certainly be the year that he takes that step and seizes the starting role, but expect the Raiders to add another tight end for competition.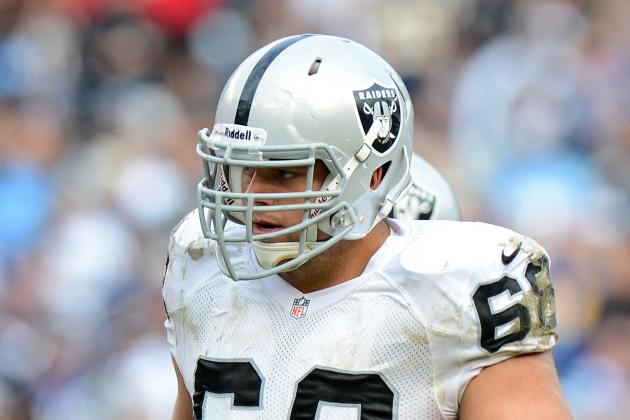 Jake Roth-USA TODAY Sports

Starter: Jared Veldheer
Jared Veldheer is entrenched as the Raiders' starting left tackle and has become one of the best players on the team overall.
With as many disruptive pass-rushers as there are around the NFL, left tackle becomes that much more of a key position to build with on the offensive line. A free agent after the 2013 season, the Raiders should do their best to sign Veldheer to a long-term contract well before they get to next offseason.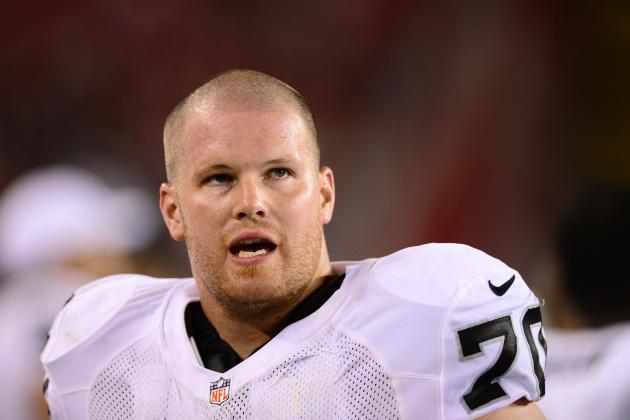 Mark J. Rebilas-USA TODAY Sports

Starter: Tony Bergstrom
With Cooper Carlisle a free agent, second-year pro Tony Bergstrom will likely get his shot to step in as the starting left guard.
Bergstrom was drafted for his fit with last year's zone-blocking scheme, so the possibility exists that he may not be a fit for Greg Olson's man/gap scheme this time around.
If that proves to be the case, the Raiders can certainly look to free agency or the draft to help ease the transition. Either way, Bergstrom's status as a third-round draft pick will bring him a chance to show what he can do regardless of scheme.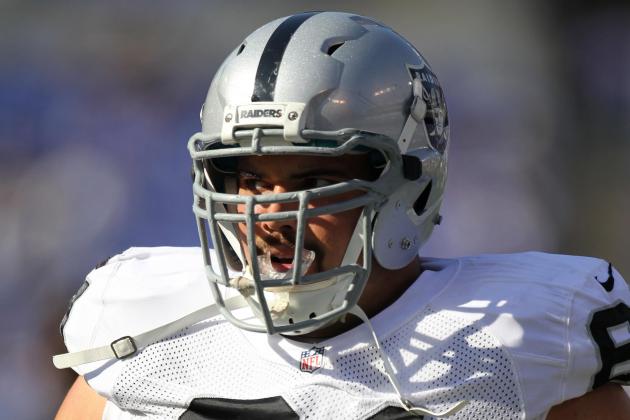 Mitch Stringer-USA TODAY Sports

Starter: Stefen Wisniewski
Stefen Wisniewski, like Jared Veldheer, is entrenched in his position as a starter on the offensive line.
Going into his third year, Wisniewski has continued to improve his game on many levels. It remains to be seen whether the switch back to a gap-blocking scheme is the best fit for him in particular, but his performance as a rookie under Hue Jackson in 2011 should ease any concerns about the transition.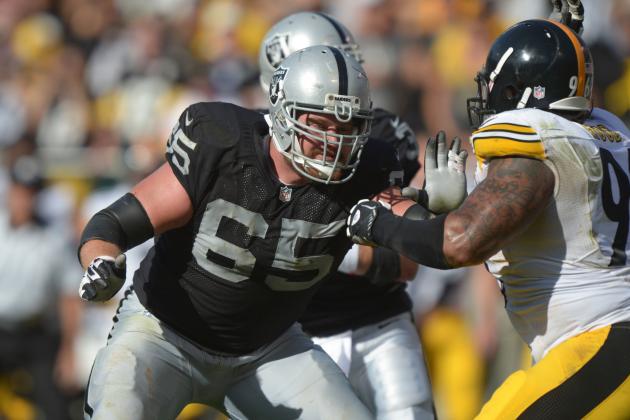 Kirby Lee-USA TODAY Sports

Starter: Mike Brisiel
Upon a scheme change, and considering his big-contract numbers, there were questions as to whether or not Mike Brisiel was in the plans for the Raiders moving forward.
After restructuring his deal, those questions have been answered. Brisiel will be back in 2013, and will most likely hold onto his starting right guard position.
If he can enter the year healthy after battling injuries for much of the 2012 season, expect Mike Brisiel to perform much better this time around.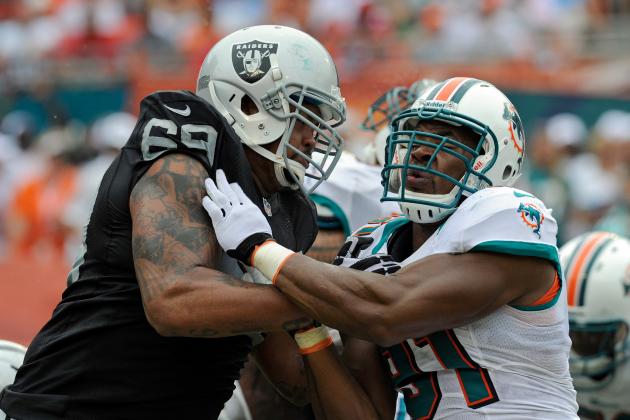 Steve Mitchell-USA TODAY Sports

Starter: Khalif Barnes
As of now, the recently re-signed Khalif Barnes is penciled in as the starting right tackle. Whether the signing was with that intention rather than for depth purposes, we likely won't know until after April's draft.
Should he win the starting job, being able to play in the gap-blocking scheme again will help his game tremendously. If he instead finds himself as a backup, Barnes provides the Raiders with a veteran presence that can play several different positions on the line in a pinch.
Either way, bringing Barnes back was a smart decision moving forward.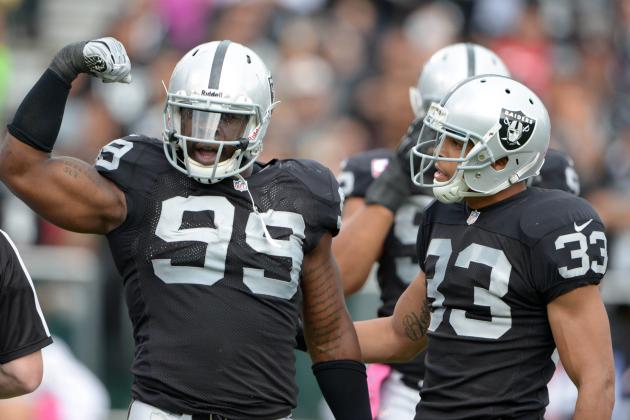 Kirby Lee-USA TODAY Sports

Starter: Lamarr Houston
Lamarr Houston is certain to be a starter on the Raiders' defensive line, but it won't necessarily be at the left end position.
Houston's combination of size, strength and quickness afford him the ability to play any of the four positions across a four-man front. Where he starts in 2013 will likely depend upon whom else the Raiders are able to add throughout the offseason.
As of now, Houston is the starter at left end, but his quickness and stout play against the run may portend a move to the inside in his future.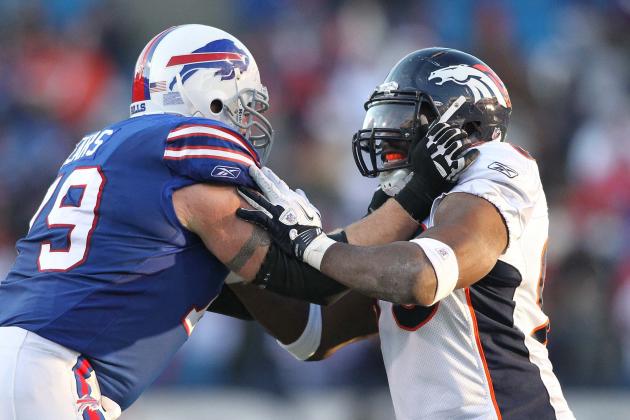 Luc Leclerc-USA TODAY Sports

Starter: Jason Hunter
The newly signed Jason Hunter is the current starter at right defensive end.
This is one of several positions that the Raiders will most certainly look to upgrade as the offseason continues. They are in dire need of a disruptive pass-rusher.
Hunter, who didn't play in 2012, would be best suited to a rotational role for this season. If the Raiders choose to select one of the extremely talented pass-rushing defensive ends in the first round of the draft, that's likely what he will be.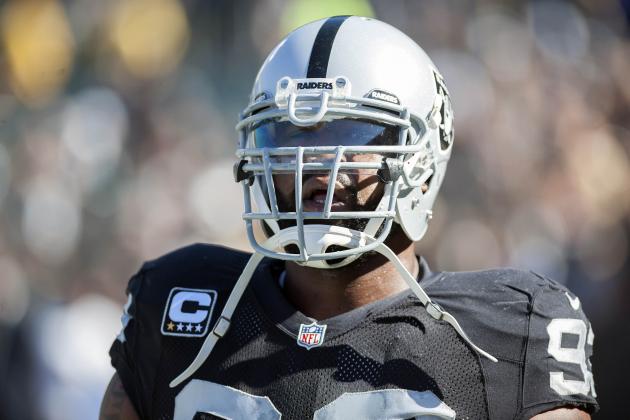 Ed Szczepanski-USA TODAY Sports

Starter: Tommy Kelly
Tommy Kelly presents an interesting situation for the Raiders moving forward. Since the end of the offseason, both the media and Kelly have predicted his release from the team. At the same time, that may not be necessary quite yet or even at all.
There is reason to believe that Kelly can still be a productive pass-rusher, and especially so when sliding to the three-technique defensive tackle position. Should the Raiders not have any other pressing positions to allocate significant salary cap money, they could choose to hold on to him.
A versatile, and at times, productive player, having him return to the team along with the recent defensive tackle additions could make for an impressive rotation.
Fernando Medina-USA TODAY Sports

Starter: Pat Sims
Pat Sims is the type of run-stuffing defensive tackle that the Raiders have been missing for quite some time now. With him Sims in the fold, he is likely to start from day one at nose tackle.
Sims has both the size and strength to take on the double team in hopes of blowing up running plays before they get started.
His lack of pass-rush ability makes him only a two-down player, but that's all he needs to be for the Raiders. Vance Walker, another recent free-agent signee, would likely take his spot on passing downs to make for a deep rotation at defensive tackle.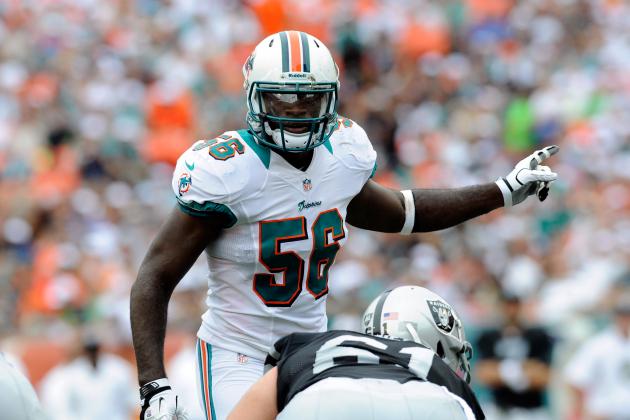 Steve Mitchell-USA TODAY Sports

Starter: Kevin Burnett
Kevin Burnett recently signed as a free agent with the Raiders, coming over from Miami as fan favorite Philip Wheeler went the opposite way.
Burnett, like seemingly all of the Raiders' free-agent acquisitions thus far, is a vastly underrated, but big-impact, player on many levels. In each of his past two seasons with Miami, he has totaled over 100 tackles while not missing a start.
Raiders fans were certainly pleased with how Miles Burris was able to play throughout his rookie campaign, but Burnett presents an immediate and significant upgrade on the weak side.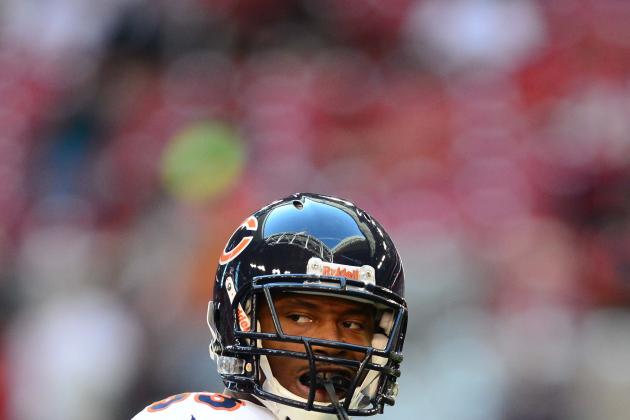 Mark J. Rebilas-USA TODAY Sports

Starter: Nick Roach
After being known as a versatile player who could fill any of the linebacker positions while in Chicago, Nick Roach entered free agency looking for his chance at a full-time starting spot. With the Raiders, he now has that at middle linebacker.
While likely-to-be-released middle linebacker Rolando McClain excelled in run defense, it was in the passing game that opposing defenses took advantage of him.
In spot duty filling in for the injured Brian Urlacher, Roach proved to be productive against both the run and pass. For the Raiders, that kind of balance is exactly what is needed, and Roach will be a welcomed addition to the middle of the defense.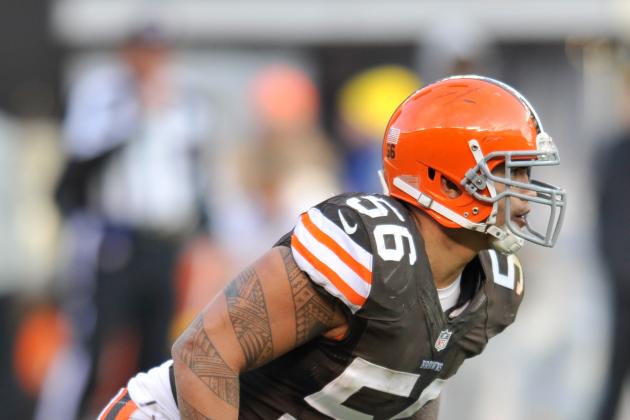 USA TODAY Sports

Starter: Kaluka Maiava
Replacing the departed Philip Wheeler on the strong side will be the former Cleveland Brown Kaluka Maiava.
A two-down linebacker in Cleveland, Maiava started 13 games in 2012, finishing with 53 tackles, two sacks and two forced fumbles.
Raiders fans no doubt wanted to see Philip Wheeler return to Oakland, but the addition of Maiava is a much more cost-effective move which may garner relatively similar production.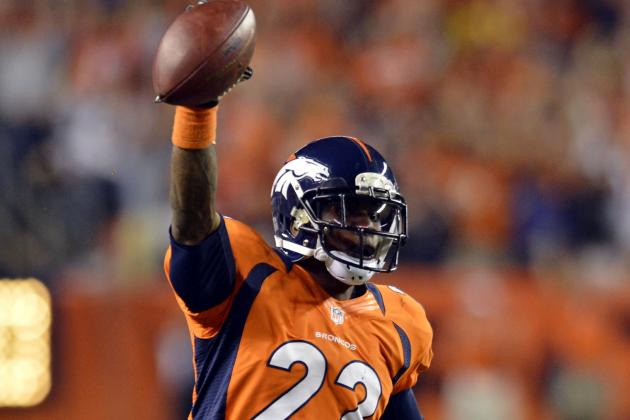 Ron Chenoy-USA TODAY Sports

Starters: Pending Free Agent/Draft Acquisitions
Unfortunately for the Raiders, both starting cornerback positions are currently wide open. At this point, it is very reasonable to believe that both Week 1 starters are not yet on the roster.
The free-agent market at the position was slow to get started, but most of the bigger names have signed elsewhere. For the Raiders, that is not necessarily the worst news. They were unlikely to be able to compete on a financial level anyway.
Still remaining on the market are some veteran cornerbacks like Terence Newman, Tracy Porter and Rashean Mathis. They could all provide instant upgrades and some much-needed experience in what is otherwise a very young secondary.
Also an option, and very likely to be explored, is adding cornerbacks through the draft. Just like the free-agency crop, this draft is thought to be very deep at the position and some quality players can be had in the mid-late rounds.
Either way the Raiders choose to upgrade, it is evident that cornerback is among the most- pressing needs remaining on their roster.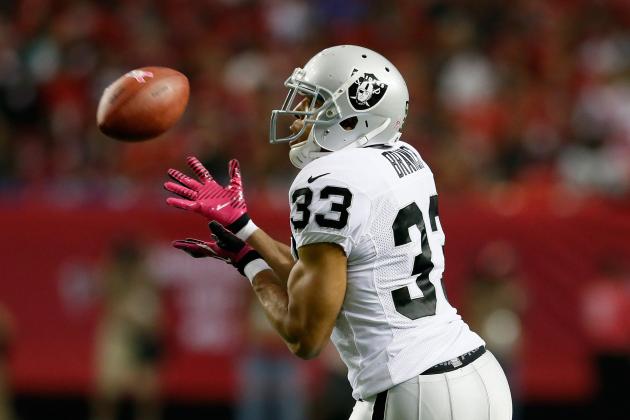 Kevin C. Cox/Getty Images

Starter: Tyvon Branch
Tyvon Branch is the only player in the Raiders' secondary who can even be projected as a starter for the upcoming season. Fortunately for the Silver and Black, he is indeed one of their best defensive players.
The key for the Raiders in maximizing Branch's impact is surrounding him with talent so that he is not relied upon too heavily in the secondary.
Branch is an incredible athlete at the safety position, capable of contributing in coverage and run support. At the same time, the lack of playmakers around him has forced the coaching staff to ask too much of him in their schemes, and his impact hasn't been as visible as it would be otherwise.
Should the Raiders effectively build the secondary around him, we should see Branch become more of an impact player.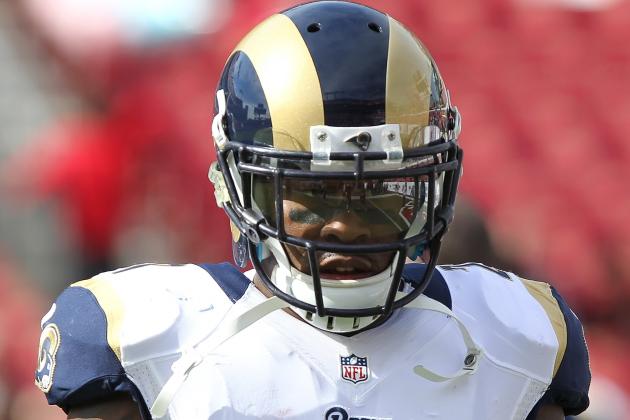 Kim Klement-USA TODAY Sports

Starter: Pending Free Agent/Draft Acquisition
After the release of Michael Huff and with Giordano remaining a free agent, there is no in-house candidate to start the season at free safety for the Raiders. Much like cornerback, we can expect Reggie McKenzie to address this area in the draft, free agency, or both.
Still on the free agent market are names like Kerry Rhodes, Quintin Mikell and O.J. Atogwe. Atogwe would be the most interesting candidate provided that his health issues checked out. However, given that he sat out the entire 2012 season, the odds of that aren't great.
Either way, free safety is another position in which the Raiders' starter will be someone who is not yet on the roster.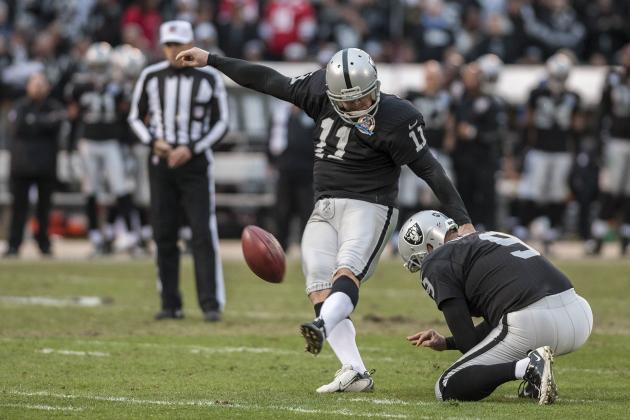 USA TODAY Sports

Starter: Sebastian Janikowski
The NFL's highest-paid kicker, Janikowski has been one of the Raiders' most reliable players over the extent of his career.
He has always had that rare power when kicking field goals, but has only continued to get more accurate with age as well.
While it may not come at the same cost as his last contract, the Raiders should do everything they can to make sure Janikowski is in Silver and Black well beyond the 2013 season.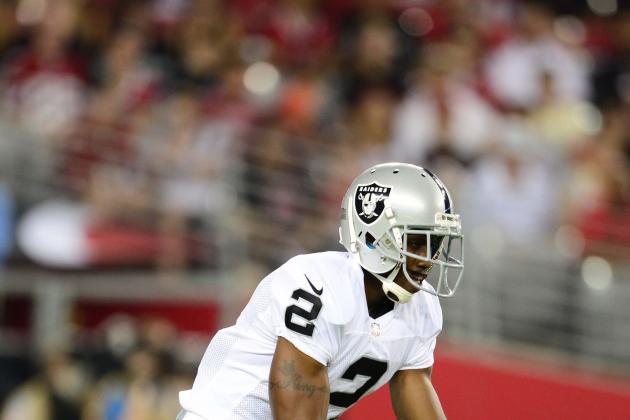 Mark J. Rebilas-USA TODAY Sports

Starter: Marquette King
For the first time in what will feel like forever in the eyes of Raiders fans, Shane Lechler will not be punting in Oakland.
Now a free agent coming off somewhat of a down year, the Raiders have decided to move on from Lechler and will likely hand the job to King, a second-year punter.
Like Lechler, King has a very strong leg, but developing consistency will be the key for him. If he can do that, the choice to let the pricey Lechler depart will look all the more wise in the long run.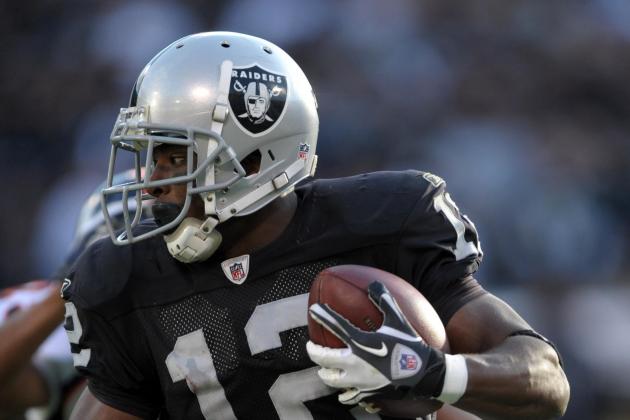 Kirby Lee-USA TODAY Sports

Starter: Jacoby Ford
The return of a healthy Jacoby Ford will be huge for the Raiders. His natural position at receiver is undoubtedly included in that impact, but in his young career, Ford has already established himself as one of the NFL's most explosive return men.
The field-position battle is one of the most underrated aspects of a football game altogether. Ford's presence in the return game will not only consistently give the Raiders' offense better starting field position, but he has the ability to take it to the end zone at any moment.
With a player of Ford's ability, you want to get the ball in his hands in every way possible. Should he be able to return and remain healthy, the Raiders will do just that.