New York Giants: Grading Big Blue's First Week of Free Agency in 2013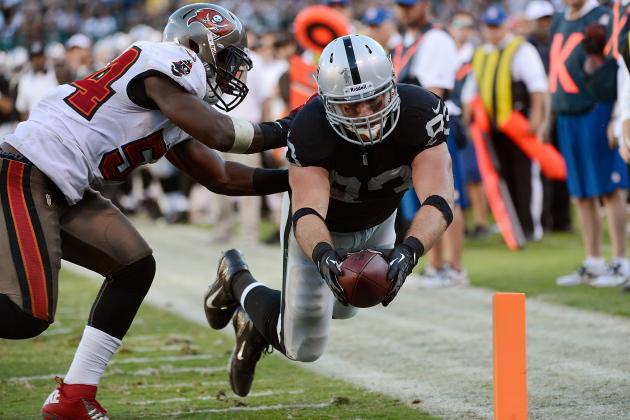 Thearon W. Henderson/Getty Images

We have officially completed the first week of free agency in the NFL.
We saw a lot of the top names come off the board and sign to some lucrative deals that made a lot of guys very rich.
The New York Giants were active during the first week of free agency and made necessary moves.
In the first week, they lost Martellus Bennett on a four-year, $20 million deal to the Chicago Bears and Kenny Phillips on a one-year, $1.85 million deal to the Philadelphia Eagles.
The Giants placed a first-round tender on Victor Cruz, and the team is hopeful of signing him to a long-term deal before the start of the season.
With that, let's take a look at the Giants move from the first week and grade each move that Jerry Reese made.
Begin Slideshow

»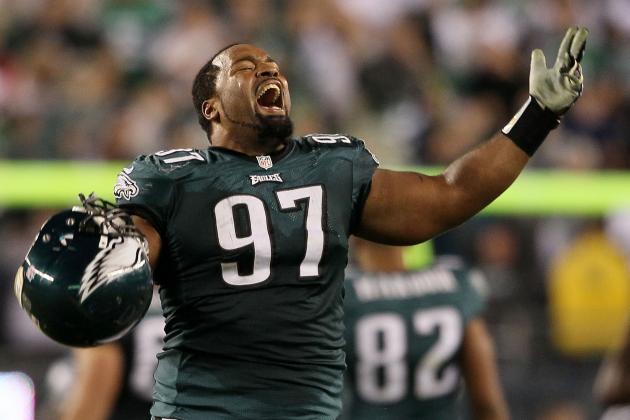 Alex Trautwig/Getty Images

Signed on March 11, three years, $8 million
Two days before free agency started, the Giants made a bold move to improve their defensive line.
They released Chris Canty back in February, leaving Linval Joseph as the only holdover from 2012.
The Giants landed veteran defensive tackle Cullen Jenkins away from the Philadelphia Eagles and signed him to a three-year deal.
Jenkins was a member of the 2010 Green Bay Packers who won Super Bowl XLV and then signed a five-year deal with the Eagles once the lockout ended in the summer of 2011.
In the two seasons with Philadelphia, Jenkins had 9.5 sacks and was one of the few bright spots of their defense in two underachieving seasons.
The Eagles have slowly been breaking off all of the moves they made that summer and the Giants benefited from the Eagles dumping him off.
Jenkins will be in a rotation with Joseph, Shaun Rogers, Marvin Austin and Markus Kuhn that will provide depth and some strength in the middle of the line.
Jenkins was a move the Giants needed to make because of Canty's departure.
Grade: A
Sam Greenwood/Getty Images

Signed on March 12, one year, $715,000
After 2011, the Giants had to make a choice between Aaron Ross and Terrell Thomas.
The Giants decided to sign Thomas long-term and let Ross walk away as a free agent to the Jacksonville Jaguars.
Unfortunately, they lost Thomas for a second straight season due to a partially torn ACL, and weakened their thin secondary.
During 2012, I kept saying to myself, the Giants could really use Aaron Ross right about now, and five minutes before the news broke, I was writing a story stating why the Giants should explore getting Ross back.
And then, on the first day of free agency, Ross came home to the team that drafted him in the first round of the 2007 NFL draft.
Ross never wanted to leave the Giants and had always thought once he was done with Jacksonville, he would come back to New York.
Instead of three years away, it was just one year and he was quickly brought back after being cut by Jacksonville.
Ross brings depth and will provide veteran leadership along with Corey Webster to youngsters Prince Amukamara and Jayron Hosley.
Ross had his struggles in 2011 late in the season, but for depth purposes, Ross can still be an effective corner in the Giants secondary.
Grade: B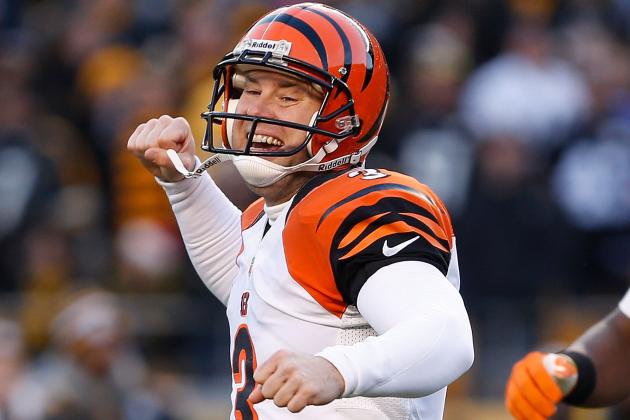 Gregory Shamus/Getty Images

Signed on March 13, one year, $940,000

The Giants have been preparing for the departure of Lawrence Tynes in the offseason.
The team brought in former Cowboys kicker David Buehler as insurance, but honestly, I never really expected the Giants to go with Buehler as their kicker due to his extreme inaccuracy in his career.
So on the second day of free agency, the Giants finally found their kicker by signing veteran Josh Brown.
Brown was a longtime veteran of the Seahawks and Rams and spent 2012 with the Bengals.
Brown was brought in to replace the injured Mike Nugent and was the team's kicker for December and January.
The one knock on Tynes is that he didn't have the strongest leg and was at times limited in his range past 45-48 yards.
Brown has a very big leg and can make a field goal past 50 and even up to 55 yards if needed.
Tynes was a very steady kicker that will always be remembered for kicking the Giants into two Super Bowls, but it was time to make a change at kicker.
Landing Brown was a nice move.
Grade: B+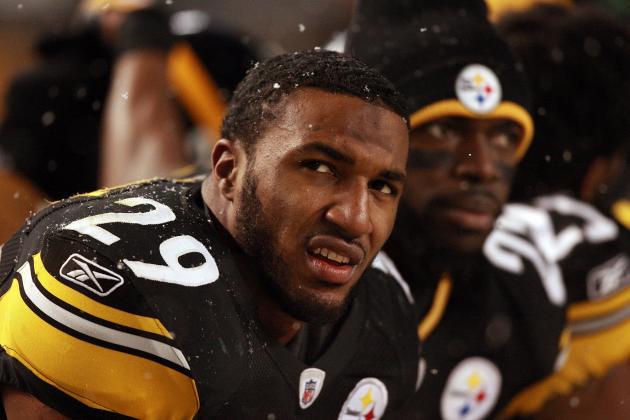 Karl Walter/Getty Images

Signed on March 14, one year, $715,000

When Kenny Phillips rejected the Giants offer to stay with the Giants in 2013, I think they knew he wasn't going to be coming back to the team.
So to prepare and add depth to the team, they brought in former Steelers safety Ryan Mundy on a one-year deal.
Mundy won't be a starter with the Giants, but he'll be competing with guys like Will Hill and Tyler Sash for the backup spots on the team.
Mundy will also likely get some looks on the special teams unit as well for the Giants.
It's a depth move at best for the Giants.
Grade: C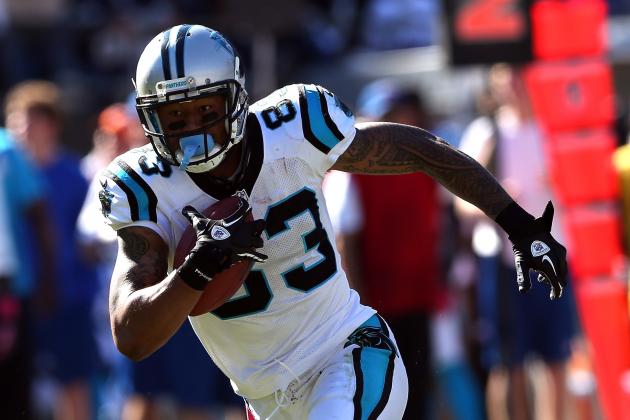 Streeter Lecka/Getty Images

Signed on March 17, one year, $715,000

Two players who might not be back in 2013 are Domenik Hixon and Ramses Barden.
It really never worked out with Barden since he was drafted back in the 2009 NFL draft, coming into the league with high expectations and never living up to them.
Hixon has been a decent receiver and return specialist for the Giants, but has also been often injured, suffering two ACL injuries back in 2010 and 2011.
So for wide receiver depth, the Giants brought in Louis Murphy on a one-year pact.
Murphy doesn't have flashy numbers with the Raiders or the Panthers, but the Giants could find some use in their offense.
What Murphy has is pure, raw speed and can burn it in the open field when he's got the ball.
Eli Manning might be able to throw Murphy a slant route and let him take off, getting a ton of yards after the catch.
This signing has the potential to be a major boost for the Giants offense, especially the receiver corps.
Grade: B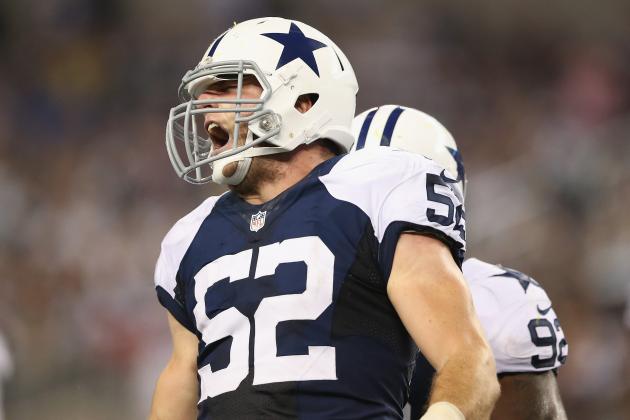 Ronald Martinez/Getty Images

Signed on March 17, one year, $715,000

The whole linebacker unit of the Giants needed a face lift, as it suffered from inconsistency and injuries.
Chase Blackburn was one of the consistent players on the Giants defense in 2012, and the team attempted to bring him back before free agency started.
The Giants were unable to, so to replace him, the Giants signed former Cowboys linebacker Dan Connor to a one-year deal.
Connor has spent most of his career as a backup with the Carolina Panthers and got some starting time in Dallas in 2012, playing in 14 games while starting in eight of them.
Connor wants to be the starter and is envisioning competing with Mark Herzlich for the starting job, but honestly, I think Connor would be best served as a backup.
Deep down, I think the Giants would be best to draft someone like Arthur Brown from Kansas State in either the first or second round of the 2013 NFL draft next month.
Grade: C-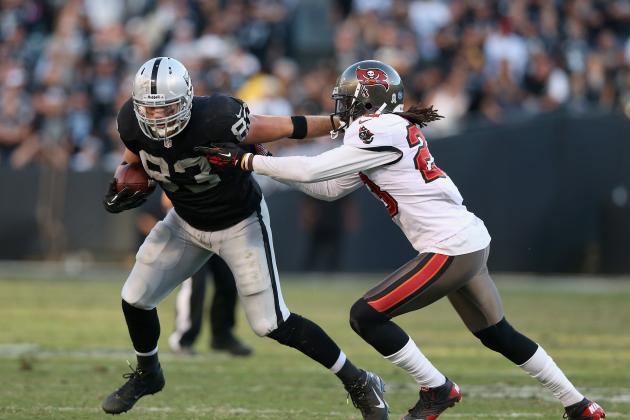 Ezra Shaw/Getty Images

Signed on March 17, four years, $14.25 million
Martellus Bennett left the Giants after one season and struck a nice four-year deal with the Bears after his breakout season in 2012.
Bennett got exactly what he wanted with the Giants—a chance to start and show the league he was capable of being a reliable target.
I think part of it had to do with tight end coach Mike Pope and Eli Manning throwing to him every game.
To replace Bennett, the Giants hit the jackpot by landing Brandon Myers from the Oakland Raiders on a four-year deal.
To fit Myers into the salary cap, Jerry Reese worked it out so the first year is guaranteed, while the other three years could be voided at any time, thus making it essentially a one-year, $2.25 million deal.
Myers had a very good season in Oakland, catching 79 passes for 806 yards and four touchdowns in a lackluster Raiders offense.
Myers will be used as a big part of the Giants offense, as Manning loves to throw to the tight end in key situations like third down and goal-line downs.
His blocking skills aren't where the Giants would hope they would be, but that's where Pope comes into play, as he can make a good tight end an even greater one.
As a pass catcher, Myers is an amazing talent and this was a home run of a deal for Reese to land.
Grade: A+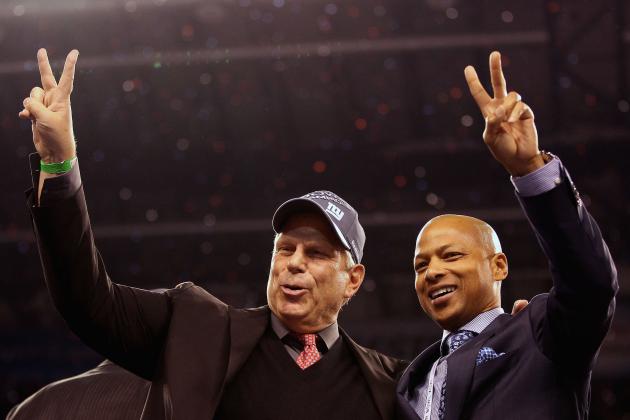 Ezra Shaw/Getty Images

I was very curious to see some of the comments during the week when the Giants made their moves.
Some questioned what Jerry Reese was doing when he made these signings.
The picture above should be a reminder to everyone why nobody should ever question what the Giants' GM does, as he has not one, but two Super Bowls under his belt since taking over in 2007.
As far as the moves he made, and using the old college grading scale of 4.0, an A, to 0.0, an F
Cullen Jenkins: A (4.0)
Aaron Ross: B (3.0)
Josh Brown: B+ (3.3)
Ryan Mundy: C (2.0)
Louis Murphy: B (3.0)
Dan Connor: C- (1.7)
Brandon Myers: A+ (4.3)
Overall Grade: B, 3.1