Factors That Could Influence LeBron James' 2014 Free-Agent Decision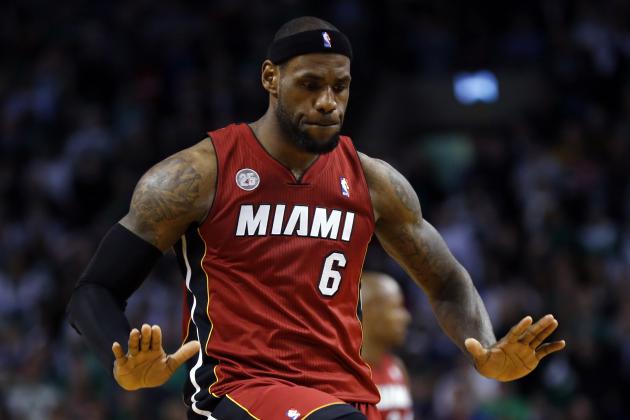 Greg M. Cooper-USA TODAY Sports
LeBron James will be dominating and celebrating for the Heat through the summer of 2014. And then what?
It may seem an odd time to stress about 2014.
After all, LeBron James and the Miami Heat are in the midst of a 23-game winning streak, the second-longest in history and one that is likely to continue with upcoming games against the four worst teams in the East: Cleveland Cavaliers, Detroit Pistons, Charlotte Bobcats and Orlando Magic.
It is that first contest, however, that will restart the conversation about what James—now cruising toward his fourth NBA MVP—plans to do in the summer of 2014, when he can opt out of his Heat contract two years early.
Odds are that he will, regardless of whether or not he plans to return.
That's because even in walking away from more than $42.7 million, James would stand to recoup that and more over the course of a long-term deal. But it's not just about money, especially if he signed for the maximum, which he did not do when joining Miami.
As James recently noted, his true value to a team can't "really be compensated for, anyways, because of the CBA....If you want the truth. If this was baseball, it'd be up, I mean way up there."
That's true, but James is minting money with his off-court endorsement activities, activities that appear to be increasing as his image continues to improve.
So this would be about flexibility—another opportunity to weigh his options, albeit without making the public relations mistakes that marked his 2010 recruiting tour, culminating with "The Decision."
So what could affect his—lowercase—decision in 2014?
(All quotes for this piece were collected through the course of the author's coverage of the Miami Heat for the Palm Beach Post. All statistics were accurate as of Tuesday afternoon.)
Begin Slideshow

»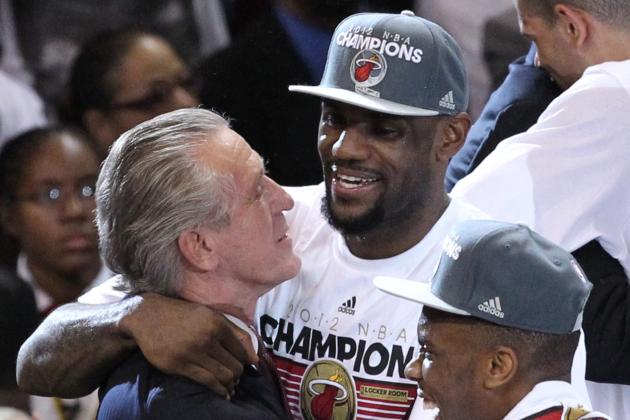 Derick E. Hingle-USA TODAY Sports
Pat Riley promised LeBron James that they could win rings together in Miami.
Pat Riley has coached Kareem Abdul-Jabbar, Magic Johnson, Patrick Ewing, Alonzo Mourning, Tim Hardaway, Dwyane Wade, Shaquille O'Neal and even a past-his-prime Gary Payton.
He will never coach LeBron James.
That decision was made when James made his own decision to join the Miami Heat in 2010. Riley had committed to Erik Spoelstra as the coach, and Spoelstra has rewarded that trust by taking the Heat to two NBA Finals and growing enough to help them win the second one.
Yet Riley is still a constant presence—observing practices, consulting daily with Spoelstra and directing the overall organizational course, while answering only to the Arison family. He has constructed a veteran roster, with Spoelstra's input, that has suited James's talents, with plenty of shooters to space the floor.
The question is whether or not Riley, who turns 68 this week, will stick around to restock the shelves again.
The Heat are in luxury tax territory, and the harsh penalties that come with repeat offenses could make it prohibitive, even for an owner as wealthy as Micky Arison, to keep a solid supporting cast together. If James, Dwyane Wade and Chris Bosh all opt out of their contracts in 2014, as is their right, and Miami amnesties Mike Miller after this season, as expected, the Heat might have just a couple of contracts (Udonis Haslem and Joel Anthony) on the books for 2014-15.
That would seem to give Riley some maneuverability, and we've seen the magic he worked with that back in 2010. That, and a fistful of rings, was enough to get James's deal done.
But what if someone less savvy is at the helm? What if that someone is not Arison and James' friend Mike Krzyzewski, who would seem to be the perfect successor should he choose to stop coaching?
What if it's someone untested?
That could be unsettling for a 29-year-old superstar hoping to add to his own ring collection.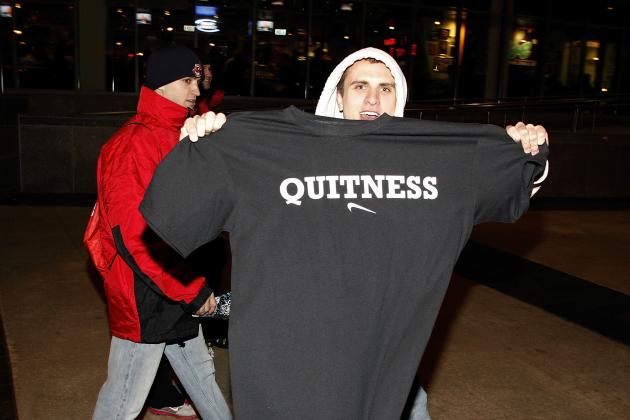 Gregory Shamus/Getty Images
Has Cleveland forgiven LeBron James? Maybe if he comes back.
The scene was scary.
If you were there, on Dec. 2, 2010, you didn't know what was falling faster, the Cleveland Cavaliers' hopes of retaining their former teammate LeBron James or batteries from the upper bowl.
Cleveland was angry, and understandably so, not just about James leaving for the Miami Heat, but about the publicly humiliating way in which he did it, with a one-hour "The Decision" special on ESPN.
They weren't swayed in the slightest by so much money from that event going to charity.
They burned jerseys.
They created posters.
They tore down billboards.
They told jokes... with the best ones earning free shots.
They even decorated the men's bathrooms at their bars with red urinal covers, featuring illustrations of James with his mouth agape.
So has that subsided enough for James to ponder a return after he likely opts out of his contract in 2014? Have his staggered apologies, for at least the way he handled the exit, softened the Cleveland fans, especially as he has continued to hold charity events in nearby Akron? Did his surprising comments in February 2012 about how it would "be fun in front of these fans again," and how he didn't rule out a return, turn the tide?
We may get some answers in his return this week, his first of this season.
And would it appeal to James, who likes to be liked—and was admittedly uncomfortable with playing the villain role in his first season in Miami—to return to Cleveland as the conquering hero?
We won't get that answer for quite a while.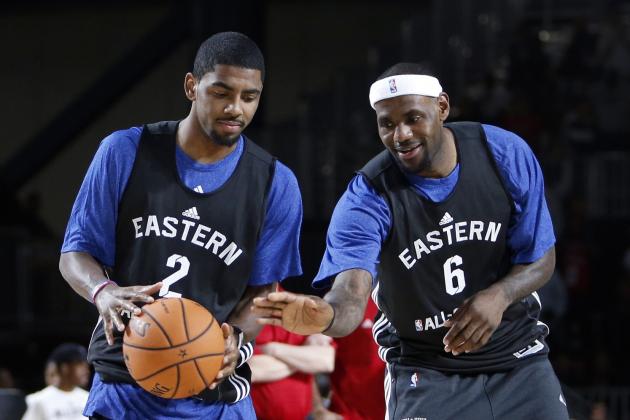 Brett Davis-USA TODAY Sports
On the All-Star team, LeBron James and Kyrie Irving appeared to connect rather well.
Erik Spoelstra could have put Kyrie Irving and LeBron James out there together at the start.
Rajon Rondo's knee injury opened a spot in the East All-Star lineup, and Spoelstra, as the East coach, had the power to make an appointment for the Sunday showcase.
If he went by position, Irving, Cleveland's up-and-coming point guard, should have been the call.
Instead, Spoelstra went with loyalty and chose center Chris Bosh, sliding James into the backcourt.
That was Spoelstra's prerogative, and perhaps his motives were pure, but the Miami Heat brass certainly didn't want to make the Irving-James pairing the talk of All-Star weekend.
As it was, James gushed plenty about Irving, who turned in memorable performances in Friday's Rising Stars Challenge and Saturday's Three-Point Shootout before sharing a few minutes on the floor with James as an All-Star reserve.
"He's gonna be unbelievable," James said. "He's already unbelievable in this league, first of all. What he's doing right now, and what he's going to do in the future, it's going to be crazy."
So it is crazy to think that James would want to play with someone like that, someone who won't turn 21 until March 23?
Certainly not. And the Cavaliers are hording cap space for 2014, which has sparked reports that they are not only planning to make a bid to bring James home, but also hoping to lure him by surrounding him with better talent than he had in his first seven seasons.
Maybe James would find that appealing.
Or maybe if he is coming off of three straight championships, he wouldn't want to start over. And maybe Irving continues to struggle to stay on the floor after injuries have shortened his only college season and first two pro seasons and he simply can't stay healthy enough to establish himself as the sort of star for which someone leaves the Miami sun.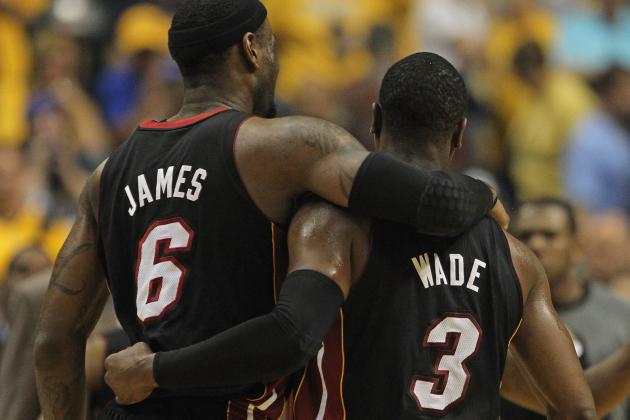 Jonathan Daniel/Getty Images
Since they teamed up in Miami, LeBron James and Dwyane Wade have been joined at the hip.
LeBron James is not shy about sharing his bromances.
James refers to his childhood friends as "la familia" and employs many of them among his marketers and managers. And while he appears to have a good rapport with just about every teammate, it's also apparent from the way they interact in the locker room to the way they wait for each other after shootarounds that Dwyane Wade is his closest friend on the Miami Heat.
As James tweeted the night before Miami won its 22nd straight game:
"Chillin with my bro dwyanewade at Real Sports Toronto! Can't name a better duo on and off the court"
And, as always, Wade spent the night prior to the game in Cleveland at James's house in Akron.
The two have never been better bonded on the court either. Whereas in their first season together they were either taking turns or tripping over each other after being accustomed to working from similar spots on the floor, they have both learned to better operate without the ball.
Wade in particular has taken the necessary step back so the Heat could take a step forward. As Wade put it, "It's kind of simple. You either figure it out or you don't."
He has. He is playing more efficiently than ever, and his plus-minus is slightly higher than James's astronomical number during the streak.
But this is now. What about later? Can Wade continue to defy odds, beating back doubters, shaking off injuries and staving off age? He will be on the wrong side of 32 when James next needs to make a decision. He also can opt out, though Miami—whether led by Pat Riley or someone else—will surely aim to keep him, for legacy and community as well as basketball reasons. And there's nothing that suggests his personal relationship with James will be strained.
The issue is whether or not James begins to believe there's a younger "Robin" elsewhere and if he will feel comfortable leaving his close friend behind.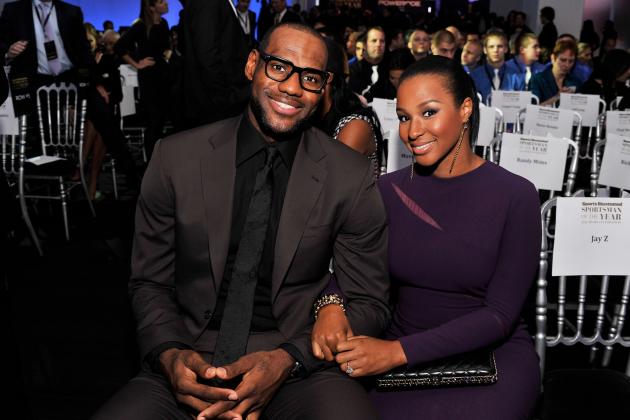 Stephen Lovekin/Getty Images
LeBron James is scheduled to marry Savannah Brinson in September.
LeBron James recently made something plain when word of his September wedding save-the-date cards leaked to the entertainment media.
"The one thing I really don't talk about is my personal life," James said.
That is his right.
Even so, it's a stretch to say that any athlete isn't affected by what is happening at home. James has been quite public through social media about his feelings for his fiancee, Savannah Brinson, and their two kids, LeBron Jr. and Bryce. He has posted his sons' basketball videos, talked about taking them to school and even featured them in television commercials.
So, yes, they matter in every way, and one way that no one seems to discuss will be in his decision about where to next ply his trade when he has the opportunity to opt out of his contract in 2014.
Last April, James spoke openly about how the choice to move Brinson, their sons and even her parents to Florida had improved his peace of mind. For his first season with the Miami Heat, they stayed in Akron, Ohio, in part so he wouldn't need to pull them out of school. Their absence only exacerbated his issues with the transition.
"I'm leaps and bounds more comfortable than I was last year. I don't think a lot of people understand, but it was the first time for me ever leaving the state of Ohio. It was the first time for me ever leaving the city of Akron. Even when I played in Cleveland the last seven years, I stayed in Akron. So it was a transition for me, going into a different state, going to a different place, and then learning the city, learning the people and learning all that. It was challenging for me for sure."
By now, James has acclimated to Miami, and his kids have made friends, especially in the area of Coconut Grove where they live.
But where will they be most comfortable? What about the soon-to-be-Mrs. James?
And what about James?
There's no way to know that now, 16 months prior to the next chance for James to chart his Hall of Fame course.