Titans Free Agency Tracker: Updated Signings, Rumors and Grades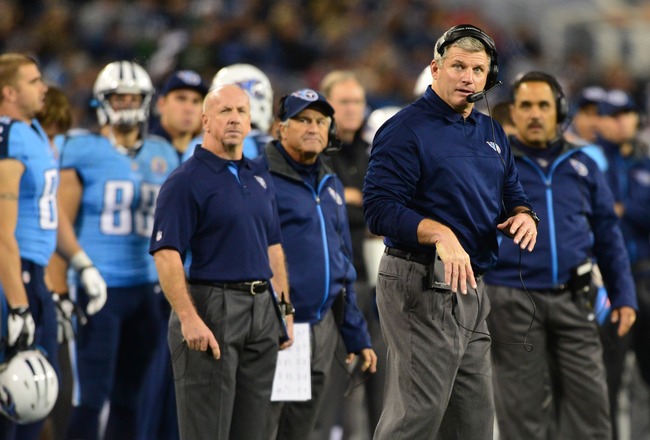 Don McPeak-USA TODAY Sports
The Tennessee Titans will enter Tuesday's official beginning of free agency with enough cap space to make a splash or two on the open market.
According to Spotrac, the Titans have roughly $19.3 million in available spending money as the new league year begins.
While the team still has a sizable amount of its own free agents, no one player will completely sap the Titans of its ability to sign a marquee free agent. But will they pull the trigger on such a player? Time will tell.
Be sure to check back here, as we'll have continuous updates as they come in on the Titans front. We'll include real-time analysis, reports and grades, too.
Reports and Rumors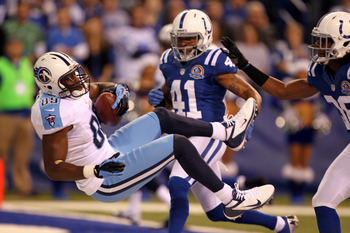 Brian Spurlock-USA TODAY Sports
March 21: According to Jim Wyatt, the Titans have shown "interest" in defensive end Israel Idonije.
March 21: According to Adam Caplan, free-agent defensive end Ropati Pitoitua visited the Titans earlier this week.
March 18: According to Jason La Canfora, the Titans will "inquire" about quarterback Jason Campbell.
March 18: Per Terry McCormick, the Titans have a "serious interest" in quarterback Ryan Fitzpatrick.
March 18: Per Aaron Wilson, the Titans are interested in free-agent safety Michael Huff.
March 18: According to Kimberly Jones of NFL.com, free-agent quarterback Ryan Fitzpatrick has visited the Titans.
March 16: Aaron Wilson reports that safety Bernard Pollard is visiting the Titans Saturday.
March 15: Mike Garafolo reports that linebacker Brad Jones is visiting the Titans Friday.
March 15: Jim Wyatt reports that free-agent defensive end Matt Shaughnessy will vist the Titans this weekend, if Arizona Cardinals don't sign him first.
March 13: Jim Thomas reports that free-agent receiver Brandon Gibson will visit the Titans Friday as part of a three-team trip.
March 13: Jim Wyatt reports that the Titans are planning on signing running back Shonn Greene.
March 13: According to ESPN Dallas, the Titans are showing interest in free-agent safety Gerald Sensabaugh.
March 12: Ian Rapoport of NFL.com reports that the Titans will host running back Shonn Greene Wednesday.
March 12: ESPN's Paul Kuharsky reports the Titans have an interest in defensive tackle Sammie Hill.
March 12: Jim Wyatt reports that that the Titans have set up a visit with guard Andy Levitre for Wednesday.
March 12: ESPN's Adam Schefter reported on NFL Live that the Titans have interest in receiver Danny Amendola and tight end Delanie Walker.
March 12: Jim Wyatt reports that the Titans are the "favorites" to land free-agent guard Andy Levitre.
March 12: According to Ian Rapoport of NFL.com, the Titans are one of several teams interested in free agent Ricky Jean-Francois. He'll make a series of visits before deciding his next team.
March 11: Jay Glazer of Fox Sports reports that Titans guard Steve Hutchinson will retire, which clears nearly $7 million off Tennessee's 2013 cap.
March 11: Terry McCormick of Titans Insider reports that both Sen'Derrick Marks and Jared Cook will hit free agency Tuesday without new deals from the Titans. Both players are expected to garner interest on the open market.
March 11: The Titans gave restricted free agent Fernando Velasco a second-round tender, according to McCormick.
March 9: According to Jim Thomas of the St. Louis Post-Dispatch, free agent Jared Cook is expecting $6 million-plus in free agency.
Free Agent Re-Signings/Acquisitions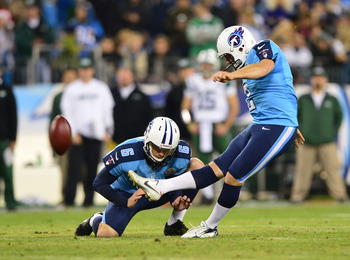 Don McPeak-USA TODAY Sports
S Bernard Pollard: Signed to a one-year deal, per Josina Anderson.
QB Ryan Fitzpatrick: Signed to a two-year deal, per Adam Schefter.
KR Darius Reynaud: Re-signed to a one-year deal, per Terry McCormick.
LB Moise Fokou: Signed a two-year deal worth $2.8 million, per Jim Wyatt.
DL Sammie Lee Hill: Signed a three-year, $11.4 million deal, per Jason La Canfora.
RB Shonn Greene: Signed a three-year, $10 million deal, per Adam Schefter.
FB Quinn Johnson: Re-signed to a two-year deal, per Jim Wyatt.
TE Delanie Walker: Signed a four-year, $17.5 million deal per Adam Schefter.
G Andy Levitre: Signed a six-year, $46.5 million deal, per Adam Schefter.
K Rob Bironas: Re-signed to a two-year, $6.675 million deal, per Jason La Canfora.
C Fernando Velasco: Tendered at $2.025 million, or second-round RFA tender, per Terry McCormick.
DE Keyunta Dawson: Re-signed to a one-year deal, per Jim Wyatt.
S Georgie Wilson: Signed to a two-year deal worth $4 million, with $1 million in incentives, per Wyatt.
Free Agent Subtractions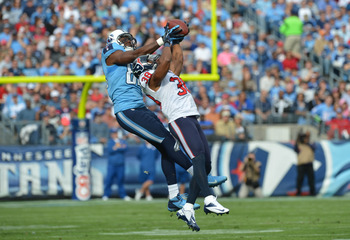 Don McPeak-USA TODAY Sports
QB Matt Hasselbeck: The Titans informed the veteran quarterback of his release Monday, according to Jim Wyatt.
TE Jared Cook: The St. Louis Rams have come to terms with Cook on a five-year deal, according to Adam Caplan.
S Jordan Babineaux: The Titans waived Babineaux Tuesday, according to the team's official site. The safety was scheduled to take up $1.8 million on Tennessee's cap in 2013.
G Mitch Petrus: The Titans also waived Petrus, saving $630,000 in cap room next season.
Titans Re-Sign K Rob Bironas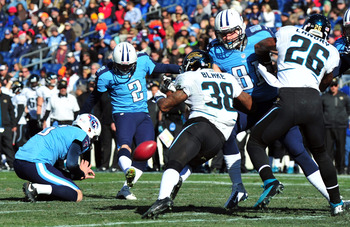 Don McPeak-USA TODAY Sports
Bironas made just six of 12 attempts beyond 40 yards last season, and his overall percentage of 80.6 (25-of-31) was his lowest since 2006, but this was a no-brainer move.
Thanks to Bironas, the Titans have had one of the better kicking situations in football over the last eight seasons.
The 35-year-old kicker went over 100 total points for the sixth consecutive year, and his 85.6 career accuracy still ranks in the top 10 in NFL history. Bironas is also durable, having never missed a game since entering the league with the Titans in 2005 (streak of 128 straight games).
His average salary over the next two seasons will be the third-highest at his position (behind only Sebastian Janikowski and Josh Scobee), but Bironas is worth the two-year investment. Solid move.
Grade: A-
Titans Sign G Andy Levitre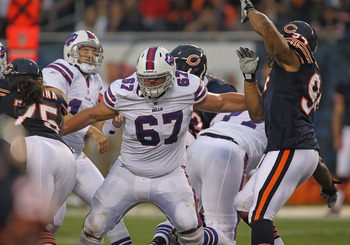 Jonathan Daniel/Getty Images
The aggressive move to snag the top guard on the open market certainly makes sense for the Titans, who struggled on the inside of their offensive line in 2012 and recently lost guard Steve Hutchinson to retirement.
Levitre, who is one of the game's better pass-blocking interior lineman, should help fix what was a major hole on the Titans roster last season. According to Pro Football Focus, Levitre graded out as the NFL's ninth best guard in 2012.
That said, the Titans spent a boatload of money to make the deal. Maybe too much.
Levitre will make an average of $7.75 million a season over six years, making him one of the top paid interior linemen in the NFL. It's worth wondering if Levitre is worth such a chunk of change.
The fit is a strong one for Levitre in Tennessee, but the price is a bit too rich, keeping the move from receiving too high of grade.
Grade: B
Titans Sign TE Delanie Walker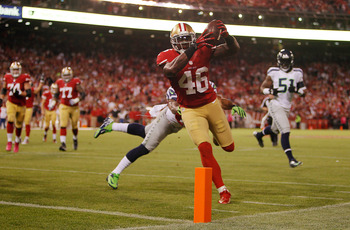 Brian Bahr/Getty Images
With tight end Jared Cook are his way out of Tennessee, the Titans decided to replace him with a versatile and underrated player in Walker.
Playing second-fiddle to Vernon Davis in San Francisco, Walker was used as both a split-out tight end and inline blocker, and he was successful at both. His best asset is likely as a blocker, which running back Chris Johnson will certainly enjoy.
Walker may not be the kind of receiving mismatch that Cook was, but he's a more versatile option and fits better for what the Titans want to do on offense.
We'll wait until the financials come out in full to give a final grade, but this deal looks like a smart one for Tennessee.
UPDATE: Walker received four years and $17.5 million, with $8.6 million guaranteed. Again, the price was probably higher than the quality of player, but the Titans were aggressive in filling a hole. Walker fits better in the Tennessee offense, too.
Grade: B+
Titans Sign RB Shonn Greene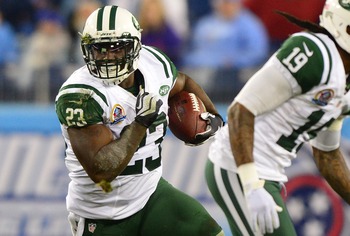 Don McPeak-USA TODAY Sports
This one is difficult to understand.
Not only are the Titans paying $10 million over three years (and $4.5 million guaranteed) to a backup running back, but they are also giving that money to an average to below average player.
Just 27 years old, Greene plodded his way to a 3.9 average last season. His longest run in the NFL remains just 36 yards.
Greene will now fill the role as second-fiddle to Chris Johnson, while also taking some short-yardage situations. It's not a bad gig, and he could be good in the role, but the Titans spent much more than Greene's price tag was believed to be.
Grade: C-
Titans Sign DL Sammie Lee Hill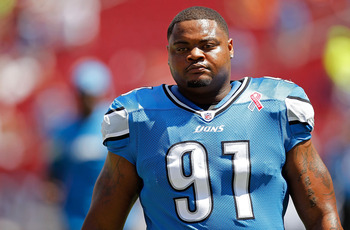 Mike Ehrmann/Getty Images
Over $11 million with $4 million guaranteed is a good chunk of change for Hill, who spent his days in Detroit as nothing more than a rotational player. He should get an opportunity for more snaps in Tennessee, especially with that price tag.
Even at 6'4" and 329 pounds, Hill is a good athlete for his size and can collapse the pocket as an interior rusher.
With Mike Martin and Karl Klug still on the roster, it's worth wondering if the Titans needed to spend the money on more pass rushers inside. Tennessee was poor against the run in 2012, especially in the interior, but Hill was never much of a force in that area while in Detroit.
Hill has upside, and pass rushers can be worth their weight in gold if they pan out, but Hill feels like a little bit of stretch here.
Grade: C+
Titans Sign LB Moise Fokou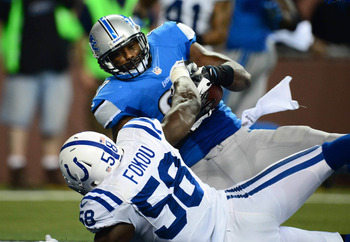 Andrew Weber-USA TODAY Sports
The Titans will be Fokou's third team in as many years, having played three years in Philadelphia (2009-11) and last season in Indianapolis.
A backup and fill-in starter for most of his NFL career, Fokou should arrive in Tennessee as an able-bodied insurance plan for Colin McCarthy and core special teams player.
Over 16 games and one start with the Colts last season, Fokou registered 43 tackles and one sack. Pro Football Focus gave him a positive grade over his 405 snaps, including a solid mark against the run.
On the cheap, Tennessee upgraded their depth at linebacker and added a potential asset on special teams (five special teams tackles in 2012). It's not a splash move, but it works for the Titans.
Grade: B
Titans Sign QB Ryan Fitzpatrick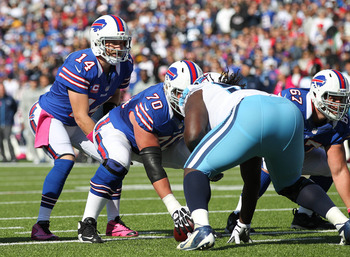 Kevin Hoffman-USA TODAY Sports
The Titans essentially swapped veteran Matt Hasselbeck for Fitzpatrick, who started all 32 games for the Buffalo Bills over the last two seasons.
Without much doubt, Fitzpatrick is a better long-term option than Hasselbeck, who turns 38 in September. That doesn't mean he'll be a legitimate threat to take starts away from Jake Locker, a former first-round pick of the Titans in 2011.
Fitzpatrick has 54 interceptions over the last three seasons and possesses a below-average NFL arm. He's best suited for a backup role.
As long as the Titans didn't have to overspend for Fitzpatrick, it's hard not to like the swap of backup quarterbacks. Tennessee will have a better chance of winning a game next season if Fitzpatrick starts than if Hasselbeck was still in town.
Grade: B
Titans Sign S Bernard Pollard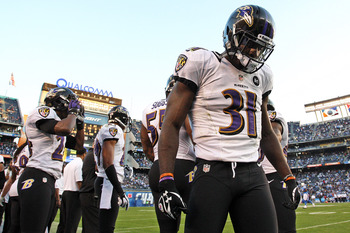 Jake Roth-USA TODAY Sports
After giving up the most points in franchise history a season ago, it's no wonder why the Titans are being aggressive in free agency to shore up that side of the ball.
The hard-hitting Pollard brings both production (98 tackles in 2012) and championship experience, having started 13 games for the Baltimore Ravens last season. He's also only 28 years old, so there shouldn't be too much worry about a regression in 2013.
The Titans have already signed safety George Wilson this offseason, but Pollard's arrival will likely push him to the No. 3 safety spot. Pollard and Michael Griffin should make an intriguing safety combination in Tennessee next season.
Grade: B+
Keep Reading

Tennessee Titans: Like this team?