Early Signs Ryan Howard, Roy Halladay Will Be the Stars of Old in 2013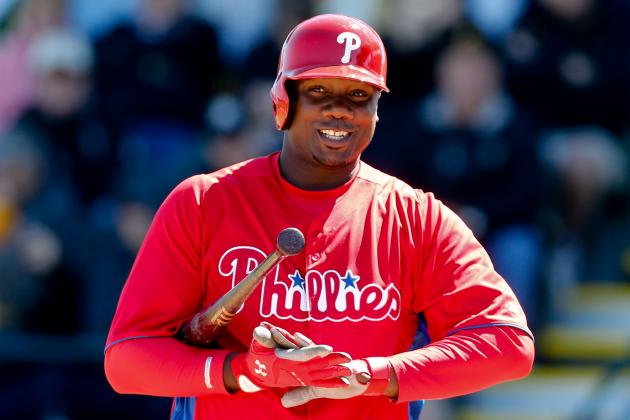 Derick Hingle-USA TODAY Sports

Something was missing last season.
The Philadelphia Phillies spent the following offseason trying to figure out what it was, adding a setup man, a fifth starter, a center fielder and a third baseman. On paper, is this a better team than the one that was listed for the 2012 campaign? It's close.
So what was the biggest difference for the Phillies between then and now? With optimism abound, at least some of those missing pieces must be in place.
The simple answer is that the return of aging, injured stars has given Phillies fans a reason to be optimistic. Players like Chase Utley, Roy Halladay and Ryan Howard have the potential to drastically alter the dynamic of a ball club.
Earlier this spring we took a look at ways to keep Utley healthy. Now we need to get to the bottom of why the Phillies can contend this spring, and that begins with early looks at reasons to be excited about a huge part of the club's payroll—Howard and Halladay.
Begin Slideshow

»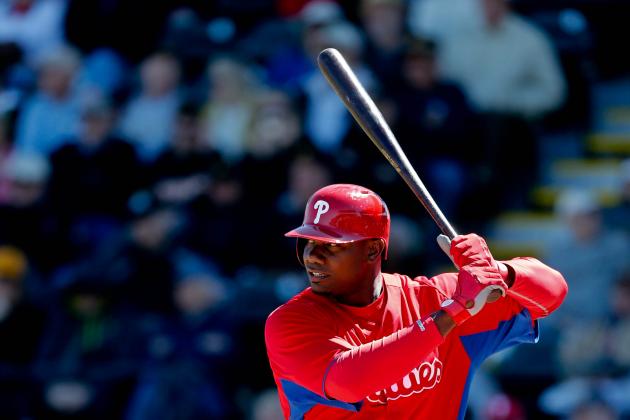 Derick Hingle-USA TODAY Sports

The first step on the long road to redemption for Ryan Howard begins with his health. After partially tearing his Achilles on the final play of the Phillies' 2011 season, Howard spent the first half of the following year recovering.
Then again, that may not be entirely accurate. Howard was clearly not the same player upon his return and took the rest of the year to readjust to game speed at the major league level.
Now, Howard can put his health to the test. So far this spring, it's hard to argue that he isn't 100 percent healthy. He looks much stronger and has played all but one game this spring.
In the early stages of his career, Howard made a name for himself by being an "iron man"—a guy who was a realistic possibility to play in 162 games. While that may be unreasonable this season, his durability early in the Grapefruit League could be a good indicator that he is ready to return to form.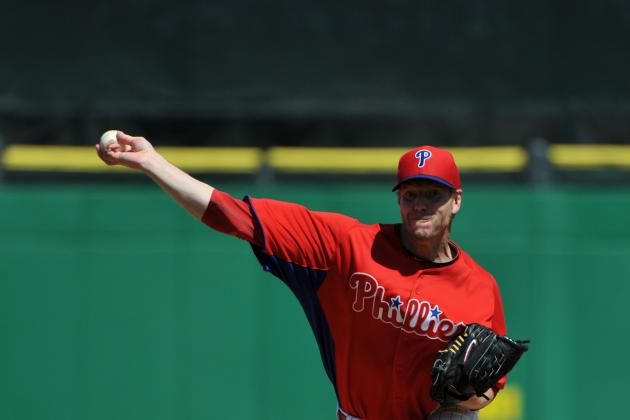 Al Messerschmidt/Getty Images

Roy Halladay is the kind of pitcher that it is easy to give the benefit of the doubt to. Prior to last season, there hadn't been a year that saw Halladay post an ERA north of three since 2007 as a member of the Toronto Blue Jays.
The Phillies' ace has built his reputation on his durability and skill. It's easy to look at his 2012 season and assume that one of those have finally eroded, but which was it? My answer is the durability.
Halladay was bothered by a number of ailments last season, including a strain of the right latissimus dorsi, that we were well aware of, and a lower-back issue that the pitcher mentioned for the first time this spring.
He spent the offseason recovering and rehabilitating before strengthening his core in hopes of avoiding a similar injury in 2013.
Early in the spring, there haven't been many concerns. There has been some worry over his lack of velocity early in the spring, but we'll see where that leads later on. Otherwise, he has tossed 8.1 innings prior to his start on Monday and has pitched well—showing good control and movement.
This is an important step for him to get back on top.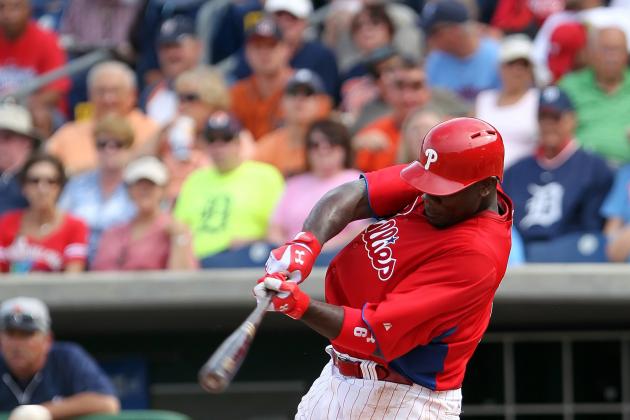 Kim Klement-USA TODAY Sports

Ryan Howard has never been considered much of a "contact hitter" in the sense that he is going to register a high batting average, but when he is playing at his top level, he is making solid contact with the baseball.
That never showed up last season.
To put it plainly, 2012 was a miserable season for Howard at the plate. He started to turn it on at the end of the season (before breaking his toe), but still hit just .219 after his return from the Achilles injury. He also struck out 99 times—or 33.9 percent of his plate appearances—and was particularly bad against left-handed pitchers.
So far this spring Howard has made a strong effort to turn those numbers around. While I wouldn't emphasize small sample sizes, particularly in the spring, like Howard's batting average, it should be noted that he has very good contact and struck out in 25 percent of his plate appearances—a number that is still high, but improving.
If Howard is going to return to form, it starts here. Squaring up a round baseball with a round bat isn't easy, but if Howard is playing well it's something that he is very capable of.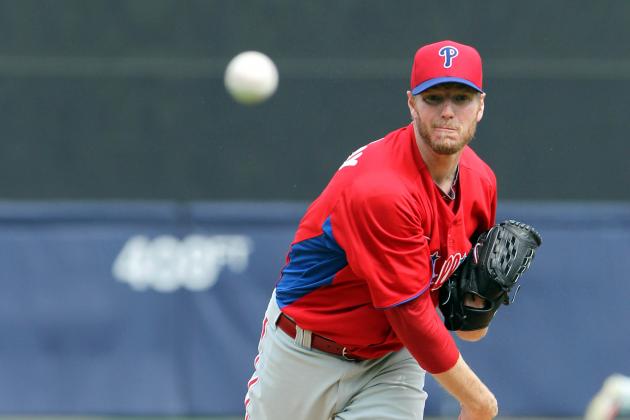 Kim Klement-USA TODAY Sports

Prior to last season, one of the things that you never had to worry about with Roy Halladay was whether he was going to be able to get enough movement on his pitches. When he wasn't going well, that was a recurring issue in 2012.
There were times during the campaign when Halladay's famous cutter looked like a straight fastball. His changeup was flat. He all but abandoned the sinker. The only pitch that was moving with any significant break was the curveball.
Early in the spring, some of those concerns seem to have been erased. Halladay has thrown a few nasty changeups with a lot of dive. The cutter has the usual bite that makes it such an effective pitch and he has baffled a few left-handed hitters with that sinker that runs back over the plate.
This is one of the major reasons why some people aren't overly concerned with Halladay's fastball velocity. He is one of the few starting pitchers in this league that has the pitch movement and command to make up for a lack in speed.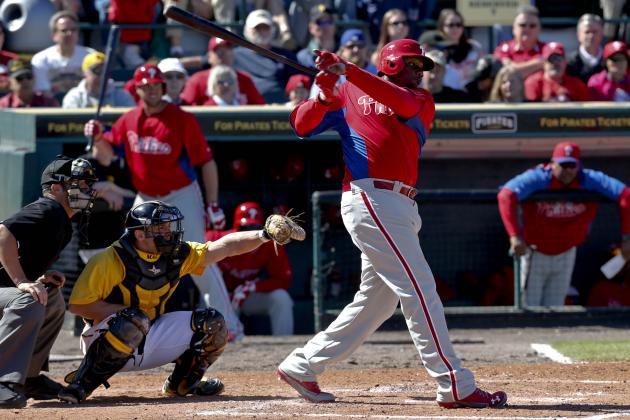 Derick Hingle-USA TODAY Sports

The tell-tale sign of Ryan Howard's health is the one aspect of his game that made him a household name: power.
And we're not talking about ordinary power here. Howard has some of the best power in the game when he is swinging the bat well. He has the ability to turn on pitches on the inside half of the plate and pull the ball, or drive a pitch on the outer half of the plate over the left -ield wall.
If Howard is driving the ball well, we'll know that he is healthy. It sounds like an oversimplification, and in some ways it is, but when the Phillies' first baseman is driving the ball well, he is healthy. It's the culmination of all areas of his game coming together.
Howard obviously needs to hit for power for this team to succeed, and with a (slightly) revamped lineup surrounding him this season, there is a good chance Howard can put up numbers closer to the level of production the Phillies are paying him for.
With three doubles and four home runs this spring, he's off to a good start.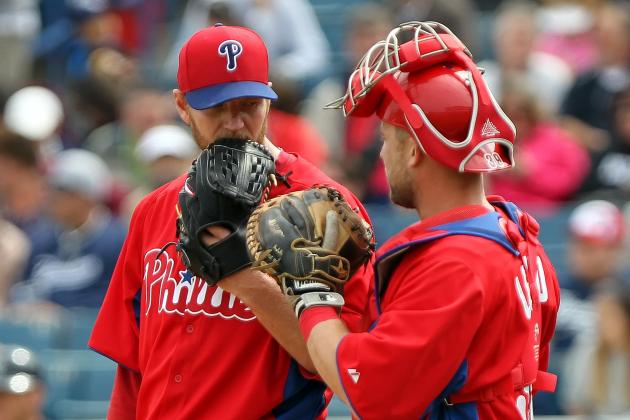 Kim Klement-USA TODAY Sports

If we weren't talking about Roy Halladay, this wouldn't even be an issue. This is a starting pitcher with some of the most impeccable command in the game, so when he is off, even if it's just by a little bit, you notice it.
There were times during the regular season when Halladay was off by a little bit, but there were also times during the regular season where Halladay was off by a lot. That's when the injury concerns were kicked into high gear.
This is a pitcher that can hit the catcher's glove with ease, so when he is missing wildly, you know something is wrong. Halladay had trouble locating all of his pitches and mixed in a high number of curveballs to try to compensate.
But again, if this wasn't Halladay, it may not even be noticeable. His walk rate fell from a stellar 3.8 percent in 2011 to an above-average mark of 5.6 percent in 2012.
Halladay has had some control issues this spring, but that's to be expected. The good news is that he is throwing a lot of strikes and doesn't look as though he is forcing the ball. He is locating his pitches well and they're breaking where he wants them to.
That's a good sign.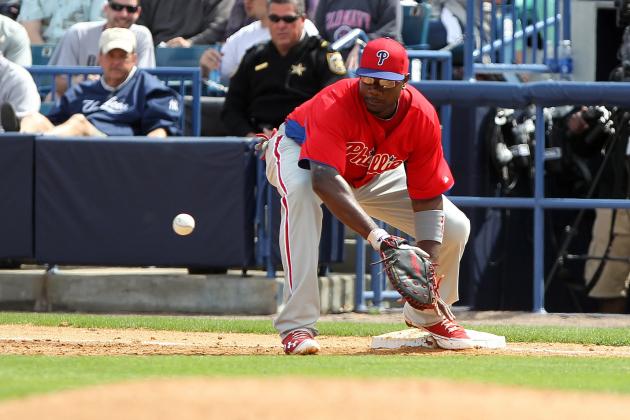 Kim Klement-USA TODAY Sports

It almost sounds like a joke, but hang with me for a moment.
Over the course of his career, Ryan Howard has earned the reputation of being a bad defensive first baseman. While some of that reputation may be blown way out of proportion (and Howard has made big strides at first base), he certainly isn't going to win a Gold Glove any time soon.
But if Howard is 100 percent healthy—something that he will need to be if he wants to be the "star of old"—it will show up in his defense.
The Achilles injury really sapped the strength out of Howard's legs. It was noticeably visible in his conditioning, but even more so when he tried to run the bases and play the field.
With the injury in the rear-view mirror, Howard can let it fly over at first base. He should have better range to either side of his body and look smoother around the bases. If he is going to be anything close to the "star of old," he'll need the mobility that he was desperately lacking in 2012.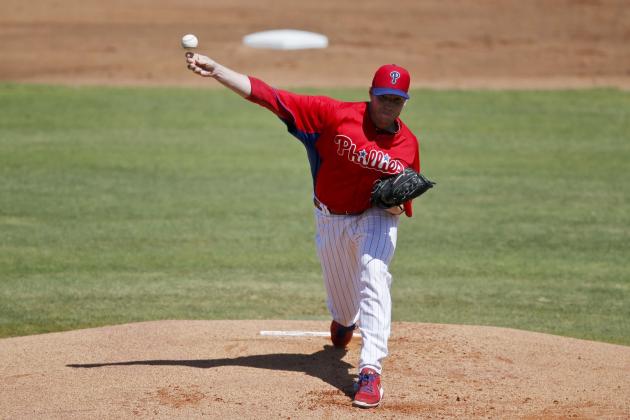 Derick Hingle-USA TODAY Sports

Roy Halladay is the kind of pitcher that would prefer to evolve ahead of the league, as opposed to being forced to evolve when hitters begin catching up to him, so a change this subtle may have gone unnoticed.
Forced to compensate for his lack of velocity last season, Halladay's pitch selection was interesting. Here's a chart with information provided courtesy of FanGraphs:
| | | | | | |
| --- | --- | --- | --- | --- | --- |
| | Sinker | Cutter | Splitter | Curveball | Changeup |
| Percentage Use | 20.3 percent | 40.2 percent | 13.9 percent | 23.9 percent | 1.8 percent |
Now, a couple of notes. Halladay all but did away with the straight changeup last season, so it can be argued that the changeups that did register are actually split-fingered pitches—Halladay's new changeup.
He also threw nearly twice as many cutters last season as he did the year before and abandoned the straight, four-seam fastball all together.
The bottom line is that Halladay utilized a very different selection of pitches last season. One thing to watch this spring is whether this is a trend that continues into 2013 or a result of his health, which forced him to use a strange pitch selection.
I'm willing to bet that the latter is more accurate.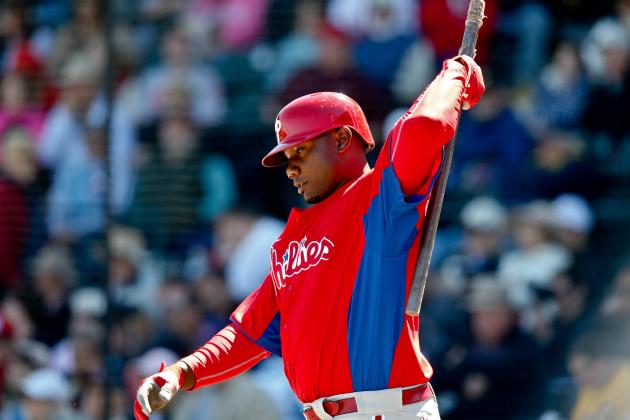 Derick Hingle-USA TODAY Sports

Being an All-Star caliber player in this league requires confidence, something Ryan Howard was lacking in 2012.
And that's understandable. Howard was recovering from a serious injury and never looked like himself at the plate, in the field or on the base paths. He was miserable against left-handed pitching, played defense that was sub-par even by his standards and would have gone first to third better on a scooter.
One surefire way to determine whether or not Howard is ready to return to form is to keep an eye on his confidence. How does he stand in against left-handed pitching? Can he go first to third and second to home?
If this spring is any indication, he should have that confidence return in 2013. He has regained most of his mobility following the Achilles injury and has hung tough against lefties. Those are good signs this spring.
Confidence may be the key.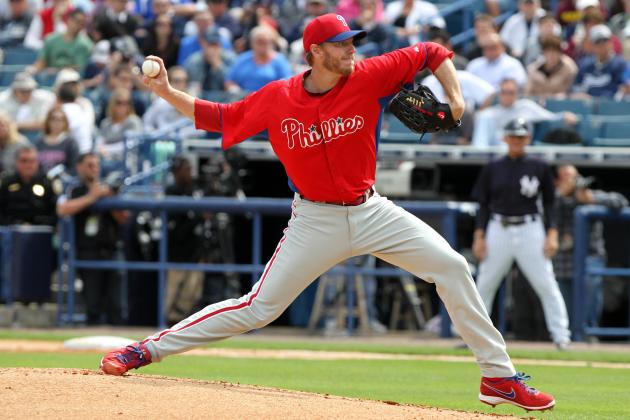 Kim Klement-USA TODAY Sports

As was the case with Ryan Howard, when you are a player of the caliber of Roy Halladay, a lot of this game comes down to confidence. For a pitcher, it's about being confident enough to use that pitch, throw it in that location, make it break in this manner.
When you're injured, as Halladay was in 2012, that becomes an arduous task. He didn't have the command he was accustomed to. He didn't have the velocity to blow a cutter by good hitters anymore. As a result, he compensated with more curveballs and was roughed up a bit.
This season is going to be about rebuilding confidence for Halladay, and that starts this spring. He needs to learn how to pitch with average velocity, but above-average movement. He is an older pitcher who has thrown a lot of pitches over the course of his career.
But he still has some bullets left to burn. If Halladay is structurally healthy, he'll be the top-of-the-rotation starter that people expect him to be this season.