8 Keys to Phillies Second Baseman Chase Utley Staying Healthy This Season
Drew Hallowell/Getty Images

Playing a grueling game like baseball at the professional level is no walk in the park. Playing baseball on a pair of chronically degenerating knees is something that would not be feasible for most athletes, but Chase Utley isn't like most athletes.
For the last decade, the former first-round pick out of UCLA has been one of most integral parts of this Philadelphia Phillies team, captivating fans and players alike. When he isn't in the lineup, this is a different team, and they're certainly not better without him.
Utley, who has suffered from numerous injuries throughout his career, has had the most trouble with his knees, suffering from a wide array of conditions including cartilage damage, bone inflammation, patellar tendinitis and chondromalacia.
For the first time since 2010, the Phillies second baseman is participating in the Grapefruit League, a good sign that he'll be prepared for the regular season, and this is a club that definitely needs him in the lineup.
But how does a guy like Utley, who has had a smorgasbord of knee injuries, stay on the field for an entire season? The following slideshow will try to answer that question by taking a look at all of the possibilities.
Begin Slideshow

»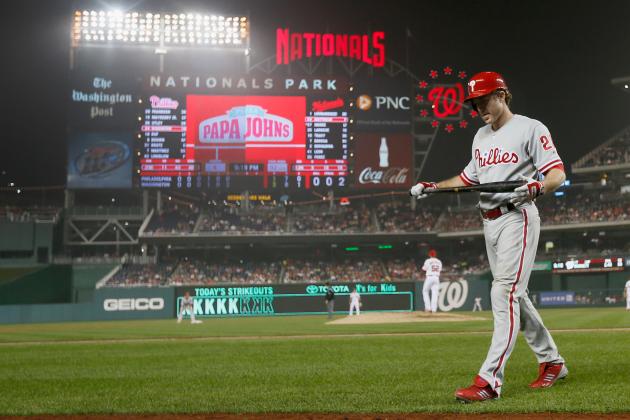 Rob Carr/Getty Images

The best way to handle any difficult situation is to know your enemy like the back of your hand. Chase Utley has been dealing with his archenemy for a few years now. The best way to beat it is to know it.
The longtime Phillies second baseman is entering his 11th MLB season with a pair of rundown knees. Not only is he dealing with the normal wear and tear that a professional athlete can expect, but Utley also has a chronic, degenerative condition called chondromalacia.
Chondromalacia is an irritation under the kneecap. Whereas a normal knee cap glides across soft cartilage, someone with this condition lacks that buffer. The kneecap is nearly grinding against bone, causing intense pain.
Utley, who has worked with several specialists since being diagnosed, needs to gather as much information about his condition as possible, never resting on his laurels. The more he knows about the condition, the easier it will be to treat it and move forward.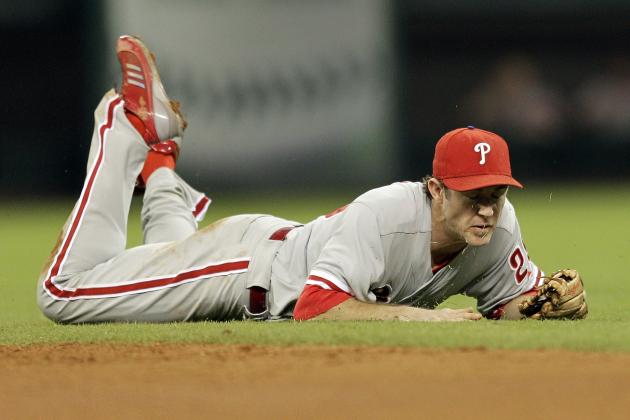 Bob Levey/Getty Images

When a player has an injury like Chase Utley's you try to look for all of the positive signs. The biggest one so far this season is the simple fact that he has already played in a Grapefruit League game this spring—something that he hasn't done since the 2010 season.
It may seem like a small thing in the grand scheme of it all, but a lot of work went into Utley being prepared for that first game of the spring.
Over the last couple of seasons, Utley has worked with a number of specialists in order to develop a routine of stretching, strength building and conditioning that best suits his chronically degenerating knees.
The Phillies ended the 2012 season as one of the year's biggest disappointments, missing the postseason and allowing them a full offseason. Utley used that time to continue conditioning his knees, developing a strong regimen that has kept him healthy.
Now, the key for Utley is going to be finding a way to take that strong offseason regimen and find a way to adapt it to playing in the regular season. This is a Phillies team that really needs Utley healthy and on the field for something that can be considered a full season.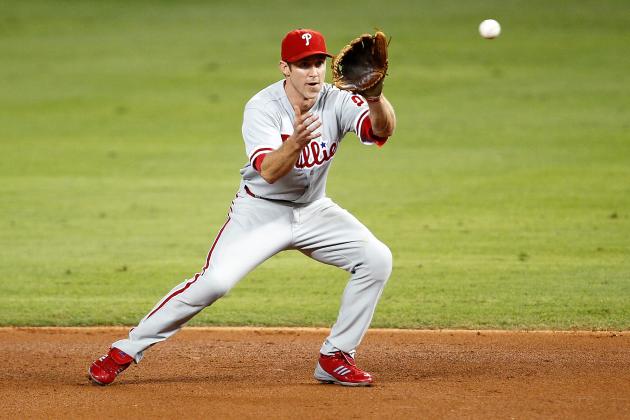 Sarah Glenn/Getty Images

Chase Utley came into this league as a hard-nosed player who was ready to give it his all on every single effort, and that quickly made him a fan favorite in the minds of Phillies fans. Now he'll have to tone that approach down if he wants to stay on the field.
Listen, no one is going to question Utley's heart. He is well known for his approach to the game. But he's also a 34-year-old second baseman with a pair of chronically degenerating knees. It would be unreasonable to expect 162 games out of him.
Utley needs to accept the fact that he is going to have to take scheduled days off this season. While every game means something in the end, there are spots on the schedule where the Phillies can rest a guy like Utley to keep him healthy.
With names like Freddy Galvis and Kevin Frandsen expected to be on (or competing to be on) the 25-man roster, there is no reason that Utley can't take a few days off every month. It just makes sense at this point.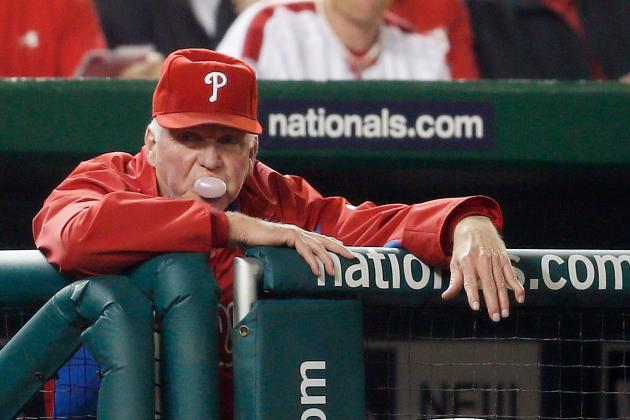 Rob Carr/Getty Images

We'll start this one with an obvious fact: The Phillies need Chase Utley in the lineup if they want to have any shot at the postseason in 2013. That's just the way that this club is built.
Keeping him on the field for an entire season is going to require scheduled days off in order to keep him fresh and healthy, and part of that onus is on Utley. An equally large obligation, however, is on Charlie Manuel's shoulders, and that is something to consider.
Manuel is a notorious "players' manager." He's the kind of guy who goes on gut instinct and the word of his guys. That's not necessarily a bad thing, but when you have a player like Utley who will do just about anything to get in the lineup, there are going to be times where he has to put his foot down.
This spring, Manuel is going to have to build a bench that will allow him to rest his veteran infielders—not just Utley. That may mean keeping a pair of infielders on the bench in names like Freddy Galvis and Kevin Frandsen.
In any situation, it will ultimately be the obligation of the manager to keep his All-Star second baseman fresh (and healthy).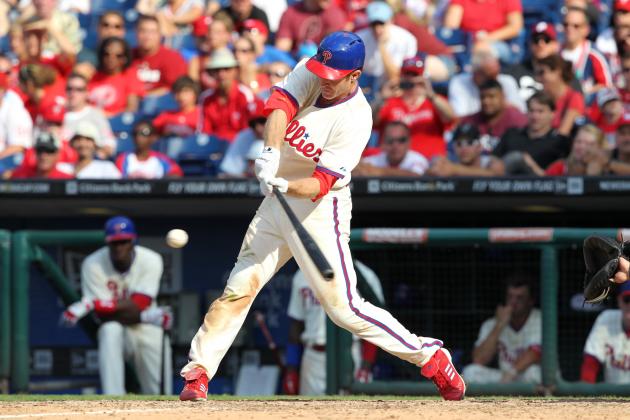 Hunter Martin/Getty Images

Chase Utley is the kind of guy who would run through a brick wall to score. He plays a brash style that quickly made him a fan favorite and an All-Star in this league. He's a hard-nosed, blue-collar kind of guy and it certainly shows on the field.
To stay healthy and effective in 2013 he'll have to change just about everything.
Something that you'll hear a lot in this game involves players "reinventing" themselves. That's a statement normally reserved for pitchers, but can certainly apply to a guy like Utley. The question is this: How can a 34-year-old second baseman with chronically degenerating knees play a full season?
The answer is much more difficult to find.
One of the things that Utley is going to have to do is tone down his style of play. That doesn't mean taking a lackadaisical approach to every situation, but if he can get away without sliding, diving or running into something, that's something to strive for.
Utley needs to avoid the rough seas and troll the calm waters.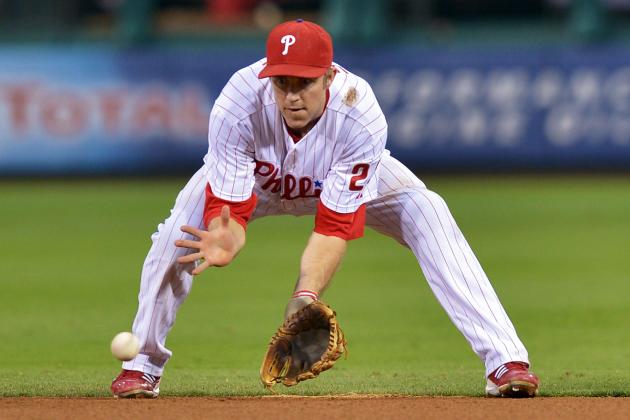 Drew Hallowell/Getty Images

The 2013 season is going to be an uphill battle for the Phillies. They're an older team with a lot of question marks set to square off with two of the best teams in baseball, the Washington Nationals and Atlanta Braves, often this season.
It isn't hard to imagine a scenario where it seems like an absolute necessity that Chase Utley plays, regardless of the circumstances.
That's going to be something to avoid this season and a big key to keeping the second baseman healthy. If Utley is feeling any kind of pain or discomfort this season, the first thought should be to treat the condition and not play the game.
The Phillies are going to need Utley to be in this thing for the long haul. That involves Utley being honest with his team and himself about his knees. If he can't play on any given day, it will be important to make sure that he has the necessary rest to get back on the field.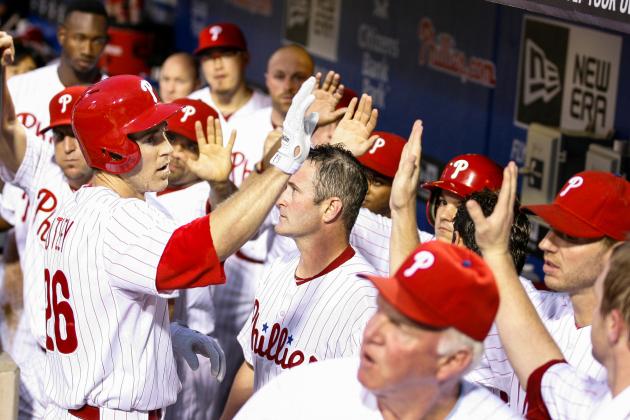 Brian Garfinkel/Getty Images

As if Chase Utley didn't have enough on his mind early in the season, he approaches the 2013 regular season with an uncertain future. The second baseman's current contract is set to expire with the conclusion of the upcoming campaign.
A contract year can weigh on some players. A good recent example is former Phillies center fielder Shane Victorino, who struggled through the first half of his contract year in 2012 before the Phillies traded him to the Los Angeles Dodgers.
The one thing that Utley undoubtedly wants to do, first and foremost, is prove that he is healthy. This is the kind of player who shows his worth on the field day in and day out, but in order to do so, he must prove that his knees are in good shape.
Utley is one of the few players around the game who it will be hard to imagine wearing a different uniform. You have to imagine that if he is able to stay healthy throughout the regular season, his contract situation will all but sort itself out.
A big fraction of staying healthy this season is going to rely on Utley focusing on things that he can control and letting the distractions fly by the wayside—contract situation included.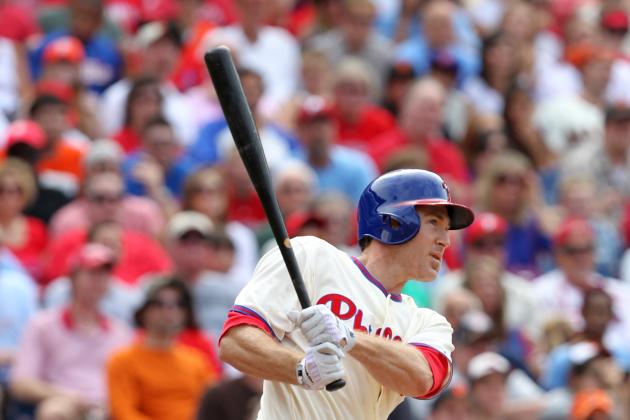 Hunter Martin/Getty Images

You would think that a lot of Chase Utley's concern is physical, what with the chronically degenerating knee condition. But there is a method to treat the physical ailments. Doctors and specialists have spent parts of the last few years developing a course of action for Utley's condition.
A big key to keeping Utley healthy this season, however, is going to stretch beyond the physical realm and become a mental state.
Utley is a proud, talented player and it isn't hard to picture him getting down over some soreness that will keep him out of games, but he has to realize that this is who he is as a player right now. The goal is to stay on the field as much as possible. Part of doing so will be staying upbeat about the situation.
A strong mental approach is necessary in this game and Utley is one of the smartest "baseball minds" around. Part of keeping his knees healthy, however, will be keeping his mind healthy. That will go a long way in helping him play a full season, and the Phillies will be a much better team because of it.