The Complete Guide to Arizona Cardinals' Free Agency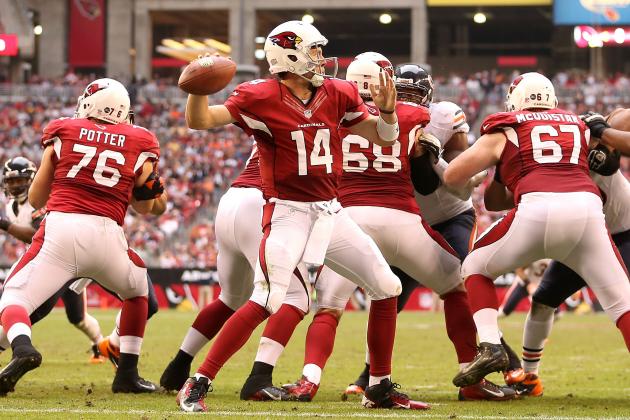 Christian Petersen/Getty Images
Which quarterback will be standing behind the offensive line in 2013?
The Arizona Cardinals will dive into the free-agency pool next week and look to fill in some of the holes that the team has remaining from the 2012 campaign that saw them go 5-11.
The Cardinals' needs are very widespread on both sides of the ball. Arizona was last in rushing offense and one of the worst in rushing defense last season. The passing game never got off the ground and the team went eight weeks between passing touchdowns in the second half of the season.
Arizona won't have much room to work with under the salary cap as it stands now, so there are likely to be more moves made before the official opening of free agency on March 12.
There are plenty of names that the Cardinals could pursue but the rumor mill has been quiet heading into next week's free-agency period.
Start the slide show and see exactly where the Cardinals stand as they head into free agency.
Begin Slideshow

»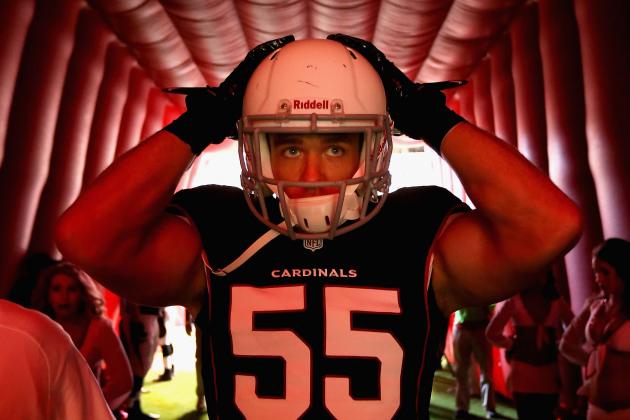 Christian Petersen/Getty Images
Stewart Bradley was released to give the Cards salary cap relief.
The NFL has set the salary cap at $123 million for next season, an increase of $2.4 million over last season, the league announced.
Arizona was over the cap by $1.2 million, according to Adam Schefter on Twitter.
Teams with least room this am: CAR $8 mil over cap; NO $5.5 mil over; WASH $3 mil over; AZ $1.2 mil over; OAK $800k over.

— Adam Schefter (@AdamSchefter) March 1, 2013
They then released linebacker Stewart Bradley and cornerback William Gay, according to Schefter.
Cardinals announced they released LB Stewart Bradley and CB William Gay.

— Adam Schefter (@AdamSchefter) March 1, 2013
According to Jason La Canfora of CBS, these two moves now have the Cardinals under the cap by $5.78 million. The deadline to get under the cap is March 12 at 4 p.m. ET, and Arizona is under it.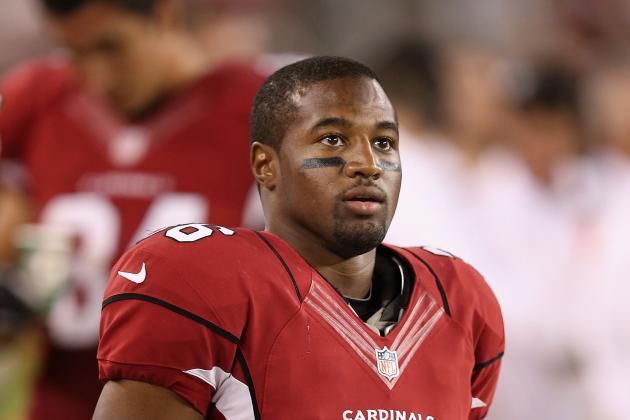 Christian Petersen/Getty Images
Running Back LaRod Stephens-Howling is one of the Cardinals free agents.
The following players are unrestricted free agents from the Arizona Cardinals:
Cornerbacks Michael Adams and Greg Toler
Safeties James Sanders and Rashad Johnson
Linebackers Quentin Groves and Paris Lenon
Tackle D'Anthony Baptiste
Defensive tackle Nick Eason
Guard Pat McQuistan
Defensive end Vonnie Holiday
Running back LaRod Stephens-Howling
Center Rich Ohrnberger
Quarterback Brian Hoyer and linebacker Brandon Williams are the team's only restricted free agents. Running backs William Powell and Alfonso Smith are exclusive-rights free agents as is defensive end Ronald Talley.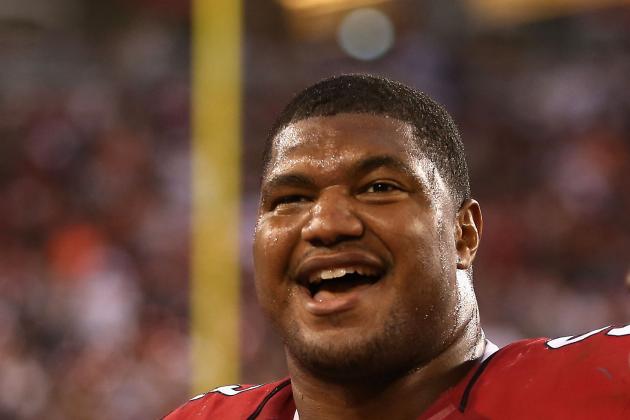 Christian Petersen/Getty Images
Calais Campbell was the last Cardinal to get the franchise tag.
Arizona didn't use the franchise tag nor the transition tag this offseason. Calais Campbell (pictured) was the last Cardinal to get the tag, and that happened in the last offseason.
There was some chatter around trying to use the franchise tag on cornerback Greg Toler, according to Pro Football Talk, but the amount of money involved was a deal breaker.
Toler would have received $10.66 million if he was given the franchise tag or $8.93 million if he was given the less frequently-used transition tag.
Realistically, Arizona didn't have any impending free agents that would have commanded that tag money on the open market, so the Cardinals did the wise thing by not using it.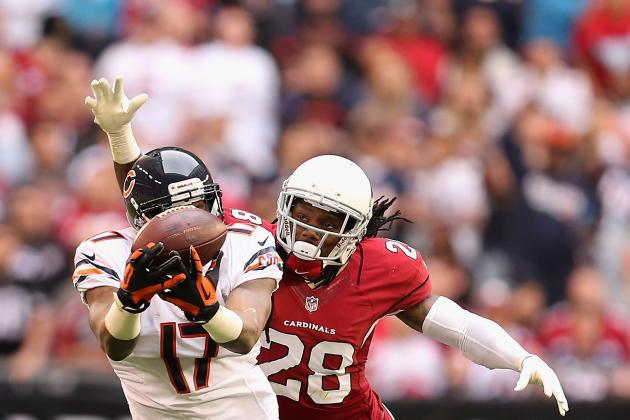 Christian Petersen/Getty Images
Toler (right) is a free agent the Cardinals will try to re-sign.
Since the new league year hasn't officially started, the Cardinals can't announce any players that they have re-signed.
Toler would be a boost to the defensive backfield if he were to re-up with the team. Running back LaRod Stephens-Howling could also be a re-signee depending on what the team decides to do with Beanie Wells.
There aren't any widely-known rumblings either way about which free agents the Cardinals are looking to bring back.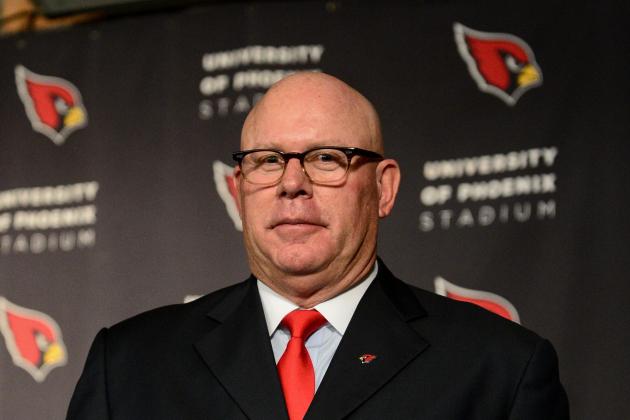 Matt Kartozian-USA TODAY Sports
Arians and the Cardinals have many team needs.
The Cardinals have a laundry list of team needs heading into 2013.
The quarterback situation is unsettled at best since the team had four different starters last season. Kevin Kolb is set to make a massive amount of money starting with his base salary of nine million dollars. John Skelton and Ryan Lindley were ineffective, and Brian Hoyer wasn't much better.
The running back situation is up in the air. Injuries cost Beanie Wells half of the season, and Ryan Williams went down for the season in week five with a shoulder injury.
The wide-receiving unit needs a complementary figure to take some of the pressure off of Larry Fitzgerald.
The Cardinals need to find a tight end who can block but also be active in the passing attack.
The offensive line allowed 58 sacks last season and is need of an overhaul.
Arizona was one of the worst teams against the run, and the unit of linebackers could use an upgrade.
The cornerbacks could be in line for an upgrade if the Cardinals can't get Toler signed.
Safety could also be a position of need as Adrian Wilson doubts he'll be coming back to the team in 2013, according to the Arizona Republic.
It's safe to say the only places the Cardinals should feel secure are on special teams, with kicker Jay Feely and punter Dave Zastudil.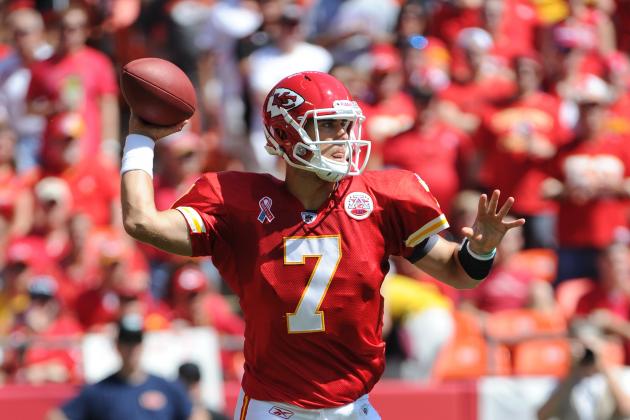 Peter Aiken/Getty Images
Could Matt Cassel trade in his Kansas City red for Arizona red?
The list of quarterbacks the Cardinals could target is shrinking.
Joe Flacco was a free agent, but he signed up for another six years (and $120 million) with the Ravens.
Alex Smith was on the Cardinals' radar, but the 49ers have reached an agreement to trade him to Kansas City.
With that trade just waiting to be made official, it makes Matt Cassel an option for Arizona, according to NFL.com's Chris Wesseling. Cassel would be a poor target for Arizona to go after. He's only played in nine games each of the last two seasons and missed time with concussions.
On top of that, he's only thrown 16 touchdown passes and been picked off 21 times. Cassel has also been a favorite of opposing defenders as well, getting sacked 41 times over his last two seasons in Kansas City.
There were even rumors a couple months ago of Tim Tebow possibly coming to Arizona, according to FoxSports.com, but those have apparently since died down.
Other names that are out there include Matt Moore and David Garrard, but neither have been linked to the Cardinals.
With a thin class of free agents at this position, Arizona could have a very difficult time trying to find a new starting quarterback via free agency.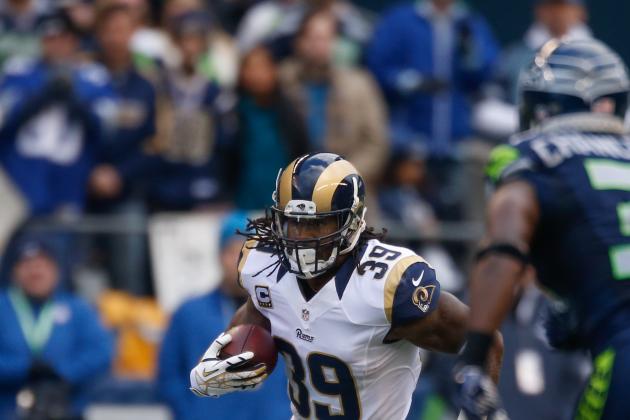 Otto Greule Jr/Getty Images
Steven Jackson could draw some interest in the free-agent market.
The Cardinals have needed running back help for years and maybe this is the year they get it.
Head Coach Bruce Arians is looking for a three-down back who can block as well, according to Darren Urban on AzCardinals.com. Those don't come around very often, so this could be a hard find on the free-agent market.
Some of the names mentioned in that article are Chris Ivory of the Saints and Rashard Mendenhall of the Steelers, in terms of speculation about possibly coming to Arizona.
Other possible names in the free-agent pool include Steven Jackson, Reggie Bush, Ahmad Bradshaw and Shonn Greene. Here again, none of those names have been directly linked to the Cardinals.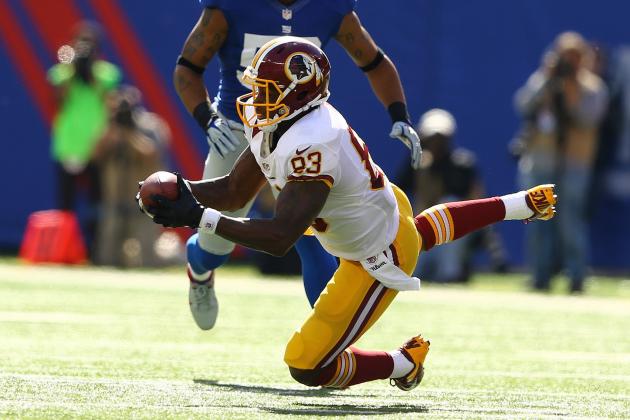 Al Bello/Getty Images
Fred Davis might be on the Arizona radar.
The Cardinals are looking for more out of the tight end spot and they could have several targets on their radar. Fred Davis of the Redskins could be on Arizona's radar. Perhaps Dustin Keller or Dallas Clark might also be under consideration.
Either way, Arizona needs to find tight ends who can block and still get involved in the passing game. That's something Arizona hasn't had in many years.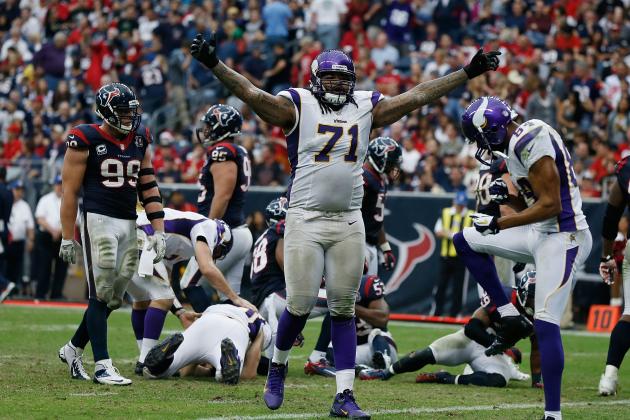 Scott Halleran/Getty Images
Phil Loadholt is scheduled to be a free agent.
Offensive line is one of the areas with plenty of options in this free-agent season.
Andre Smith, Jake Long and Phil Loadholt are some of the bigger names that figure to be available at tackle. Andy Levitre of the Bills leads the list of potential free agents at guard, and there are definite needs on the inside of the line as well.
Center might be the most stable position on the Arizona offensive line, but Lyle Sendlein is coming off of knee surgery at the end of last season.
The bigger question is how many of them can Arizona afford under the cap?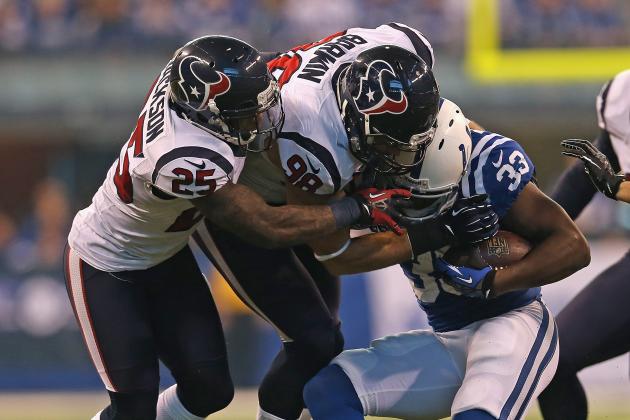 Jonathan Daniel/Getty Images
Connor Barwin (center) lays a hit on a Colt ball carrier.
Arizona needs to generate more of a pass rush and clamp down on opposing running backs as well. Connor Barwin of the Texans could be a target for the Cardinals. He was part of the Houston defense that filled in after Mario Williams bolted for Buffalo after the 2011 season.
Paul Krueger led Baltimore in sacks last season and is expected to be available. Phillip Wheeler posted career highs in tackles with 109 for the Raiders and is looking to test the free-agent waters. Erin Henderson might be on his way out of Minnesota.
On the inside, Dannell Ellerbe of the Ravens could hit the market but might have a high asking price that Arizona can't afford. E.J. Henderson was also on the market, and his price tag might be lower to the point where he could get some attention from the Cardinals.
There are plenty of available linebackers, and Arizona should be looking into for making an upgrade at the position.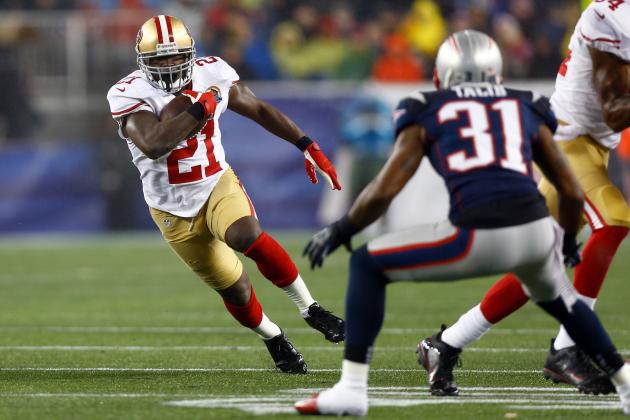 Jared Wickerham/Getty Images
Aqib Talib is one of the free agents in the secondary that's available in 2013.
Arizona already lost starting cornerback William Gay when he was released to free up room under the salary cap. Gay has since re-signed with the Steelers.
With the possibility of not having Greg Toler back and Adrian Wilson being a question mark, the Cardinals may have a need at these positions. These are the positions on the defensive side of the ball that could be Arizona's biggest needs.
The rumor mill has been quiet at this position as well for Arizona. New England's Aqib Talib is likely to be available as a free agent. Brent Grimes from the Falcons could also be a target, but he lost most of 2012 to an Achilles injury. Perhaps a reunion with Dominique Rodgers-Cromartie is in the Cards as he's available.
Quentin Jammer, Antoine Cason and Dunta Robinson are also out there, so Arizona has plenty of options to shore up that position.