Grading Each Position on Seattle Seahawks Roster Heading into Free Agency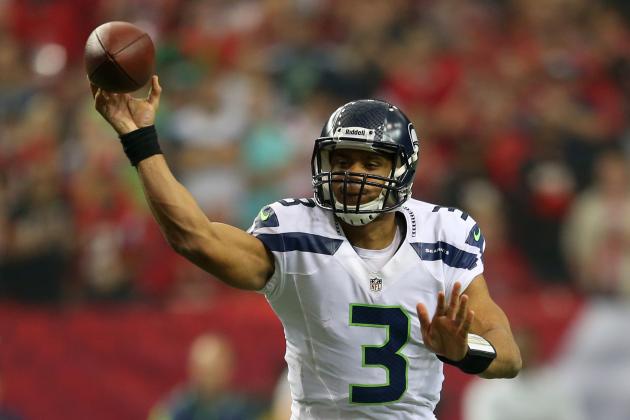 Mike Ehrmann/Getty Images

The Seattle Seahawks have many strengths, which is why fans are excited about what might happen in 2013. A team can always improve, but the 'Hawks are arguably a team that has many pieces already in place.

For Seattle to succeed, some positions simply need to mature a bit more and play as a unit. Other positions could use an upgrade or a measure of depth.

Over the last couple of seasons the Seahawks have not been overly active in the free-agent market, but that could change going into 2013. Many needs may be filled through the draft, but one assumes that Pete Carroll and John Schneider will at least look around.

For the purpose of evaluation, here is a grading scale for measuring the strength of each position on the Seattle Seahawks roster heading into free agency.

A = No free-agent signing needed
B = Minor free-agent signing needed/desirable
C = Major free-agent signing needed/desirable
D = More than one major free agent needed/desirable
F = Whole group could be replaced
Consider the word "desirable" to mean that certain positions may be acceptable going into 2013, but could certainly benefit from an upgrade.
Begin Slideshow

»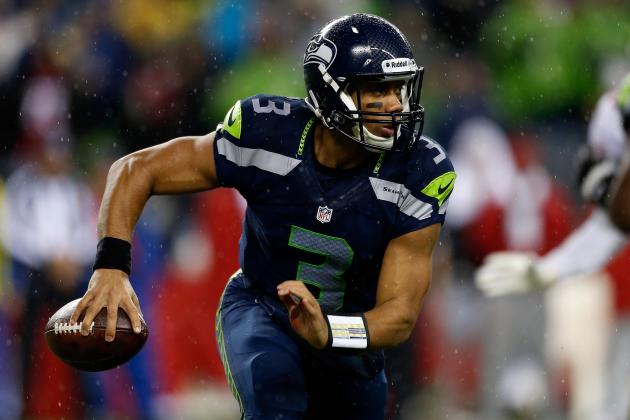 Otto Greule Jr/Getty Images

Grade: A-

Going forward, Seattle looks to be set at quarterback for a very long time as Russell Wilson looks like the type of guy who could lead a team for a decade. Obviously there has to be a cautious optimism about a player like Wilson. He could experience a sophomore slump or get injured. It happens.

For the Seahawks, the A- grade is more about the overall position of quarterback. If Matt Flynn was definitely going to be with Seattle in 2013, a grade of A might be appropriate.

However, if the Seahawks do end up dealing Flynn, they might think about bringing in a veteran quarterback to fill the role. Therefore, you split the grade between A and B just because that is a speculative scenario that is not actually a need until a move is made.

For now, this is a very strong position for Seattle.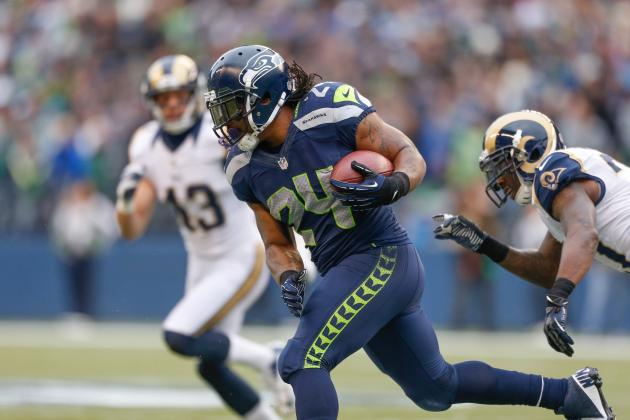 Otto Greule Jr/Getty Images

Grade: A

Speaking of strong positions, running back is also a strength for Seattle.

Marshawn Lynch is coming off a career season with 1,590 yards and 11 touchdowns. Michael Robinson is a very effective fullback leading the charge for Lynch. In addition, Robert Turbin put up a respectable 354 yards as a rookie backup.

On paper, this position group is arguably one of the strongest and most stable on the team. You do worry about the bruising style of Beast Mode and what it may do to his back in the next year or two.

However, for the purposes of free agency in 2013, there doesn't seem to be any reason that Seattle would do any shopping for a back.

Leon Washington will turn 31 before the start of the season, but it seems likely that he will again be the featured return man in 2013.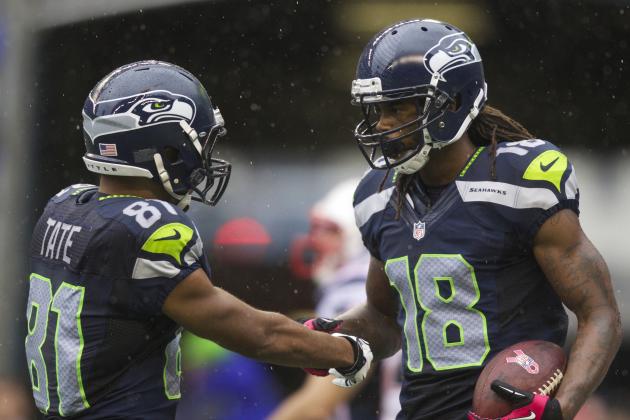 Stephen Brashear/Getty Images

Grade: C

Get ready for some debate on this one. There are certainly those that feel like this receiving corps is just fine and simply needs more time to build rapport with Russell Wilson.

Others see a lack of speed or "big play" capability. It is unclear whether Pete Carroll wants a marquee receiver, or whether he believes in this group and will continue to add young wideouts through the draft.

Given the number of free-agent choices, assume that Seattle will at least consider adding one veteran receiver from the marketplace.
Perhaps it is appropriate to give a grade of C and suggest that a talented free-agent receiver is in the "desirable" category.
Kevin C. Cox/Getty Images

Grade: C
More debate. The debate isn't about Zach Miller, as the starting tight end developed a very good relationship with Russell Wilson in 2012, particularly in the latter part of the season.
Miller's eight-catch, 142-yard performance against the Falcons in the playoffs was particularly impressive.

The question is Anthony McCoy. Seattle must decide if having two quality tight ends is crucial, or if it is content to have its second tight end catch 15 to 25 balls per year.

If the Seahawks would like to have dual threats at tight end like the New England Patriots, they might have to spend some money in the market. If not, Seattle will hope that McCoy continues to develop, or the team may start over with the draft.

Call it a grade of C because another quality tight end would certainly be desirable.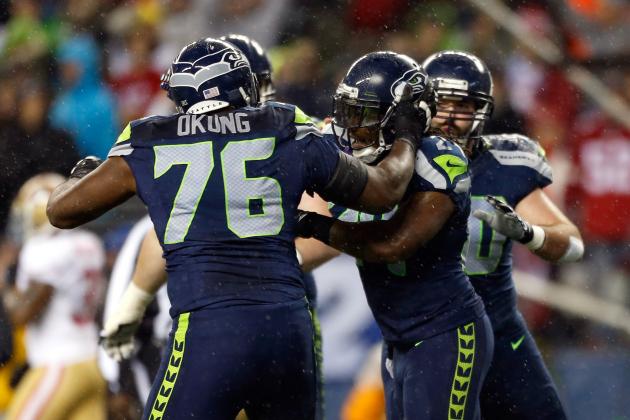 Otto Greule Jr/Getty Images

Grade: B

This is where it gets complicated. The offensive line has been debated all year, and the 'Hawks had to do some swapping around due to injuries and inconsistent play.

Russell Okung? Solid. Pro Bowler. Healthiest season of his career.

Breno Giacomini? Tough call. Giacomini played better in the second half of the season, but he certainly has his critics. This makes the position tough to grade, because it is hard to know how Carroll and Schneider feel about the future of their 27-year-old right tackle.

Seattle may go shopping in the free-agent market, or it may look to add some depth. Hence the compromise grade of B.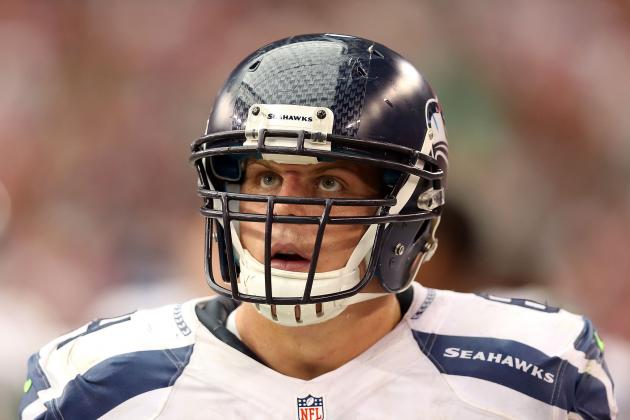 Christian Petersen/Getty Images

Grade: C

Who is your favorite offensive guard on the Seahawks?

Paul McQuistan? J.R. Sweezy? How about John Moffitt? Do you still believe in James Carpenter? Choices, choices.

It would not be a shock if Seattle went out and signed a veteran guard, hence the grade of C. Still, there is the philosophy that constant change is bad for the continuity of an offensive line. Granted, injuries have messed with the 'Hawks' continuity all season.

The Seahawks may stick with what they have and hope that the youngsters (Moffitt, Carpenter and Sweezy) can stay healthy and develop into a solid unit.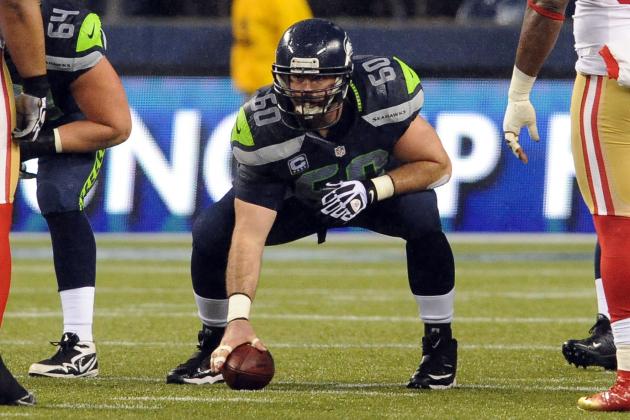 Steve Dykes/Getty Images

Grade: A

There are always critics, but at the moment it seems reasonable to assume that few people have a problem with the center position on the Seattle Seahawks.

Max Unger is a 26-year-old Pro Bowler who started all 16 games in 2012. Prior to the 2012 season, the Seahawks signed him to a four-year extension. Needless to say, Unger responded.

No action needed.

Any questions?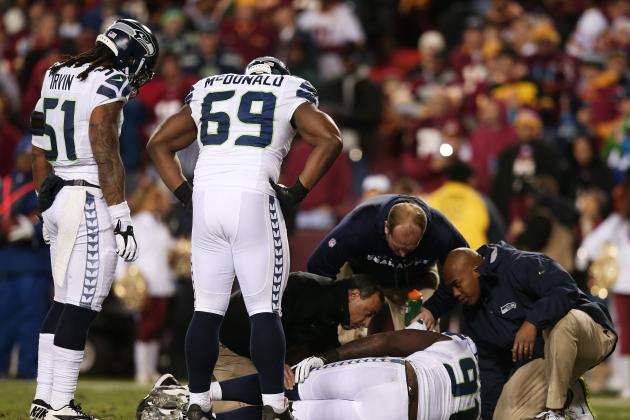 Win McNamee/Getty Images

Grade: C

This will be a position category that requires some tough decisions. Specifically, how will a 31-year-old Chris Clemons (32 in October) return from injury? Is Bruce Irvin big enough to play defensive end in the NFL on a consistent basis?

Again, the Seahawks have worked hard to rebuild their defense through the draft, so they may not want to change their strategy and shop for an expensive free-agent defensive end.

Then again, Seattle may feel motivated to get an established veteran who can propel this team to a Super Bowl in 2013 rather than draft a project that may take some time to adjust.

Needless to say, one could make an argument that a major free agent might be needed.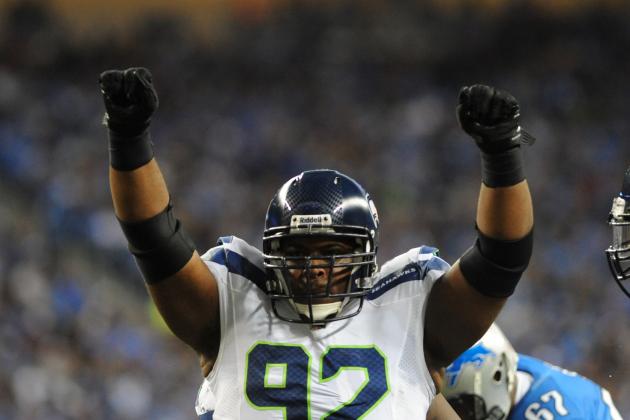 Al Messerschmidt/Getty Images

Grade: C-

What do you do with the defensive tackle position? Brandon Mebane has been solid, but Jason Jones ended the season by getting hurt and Alan Branch is a free agent.

This is a position where Seattle could sign a major free agent, if not two. That is why the C- grade is justified. The Seahawks were solid against the run throughout the season.

Unfortunately, the defensive tackles had trouble putting pressure on the quarterback, particularly late in the year.

Again, Seattle may choose to address its defensive tackle concerns through the draft rather than the high-dollar free-agent market. Carroll and Schneider do love to build the defense with young, aggressive talent.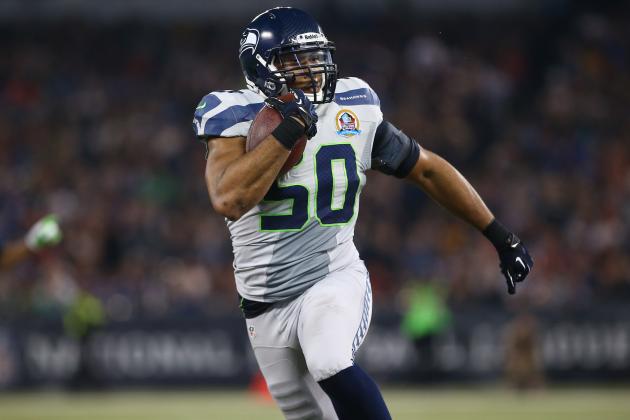 Tom Szczerbowski/Getty Images

Grade: C

This is another position of contrasts for the Seahawks.

K.J. Wright is a talented outside linebacker and the 23-year-old has a bright future. Then there is Leroy Hill, who has had his share of off-field issues.

Hill may not return to Seattle, which means that Seattle may need a weak-side linebacker. There will be some choices on the market, but the Seahawks may not want to pay a lot of money to someone in their late 20s or early 30s.

Perhaps Malcolm Smith will fill the role as heir apparent, but a veteran may be needed for depth and insurance purposes.

The need is there, even if it ends up being filled through the draft.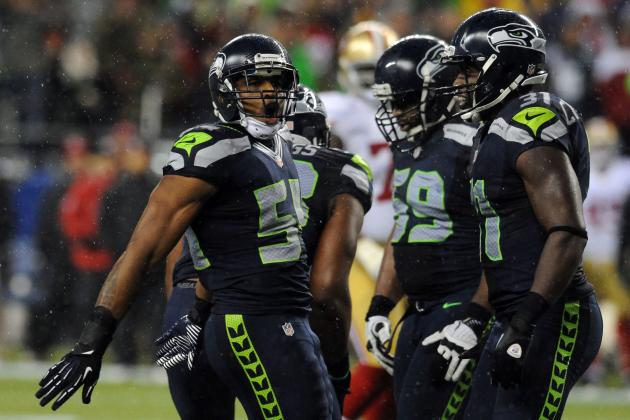 Steve Dykes/Getty Images

Grade: A

Bobby Wagner is a stud, even if he did not win defensive rookie of the year honors. He was fun to watch in 2012, and he certainly lived up to his second-round selection.

Assuming that Wagner stays healthy, Seattle can pencil him into the middle linebacker spot for many years to come.

Do the 'Hawks need any help at this position? They have a more veteran presence in Health Farwell at the backup spot, so the team may not feel a great need to shop for a free agent.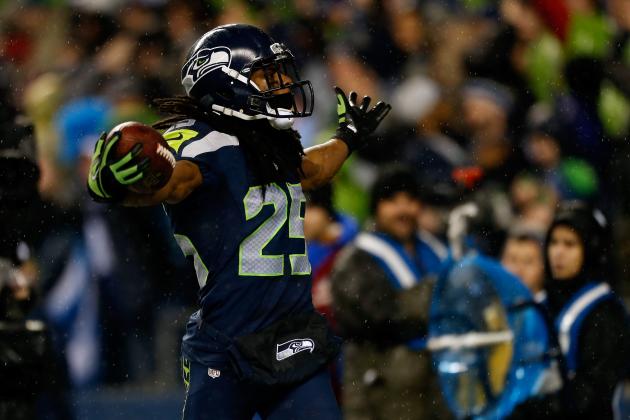 Otto Greule Jr/Getty Images

Grade: B

A position grade of B may not seem to fit when you have talented players like Richard Sherman and Brandon Browner at cornerback. To be sure, those two are part of what many consider to be the best secondary in football.

The issue for the cornerback position may be depth, specifically because Marcus Trufant is old and players like Walter Thurmond, Jeremy Lane and Byron Maxwell may not be ready to handle the load.

Once again, there is the reality that Seattle has built the defense with young players, but there may be wisdom in signing a minor veteran free agent who can provide a level of steady depth.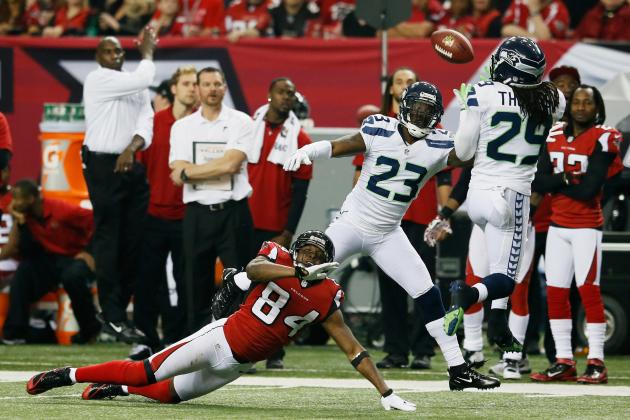 Kevin C. Cox/Getty Images

Grade: A

Earl Thomas and Kam Chancellor are great assets to this defense, and at this point they really do not need any major free-agent help.

Assume that Seattle will try to bring along its youngsters rather than bring in outside safeties that are either too expensive or are too many seasons past their prime.

This is a very solid position for Seattle.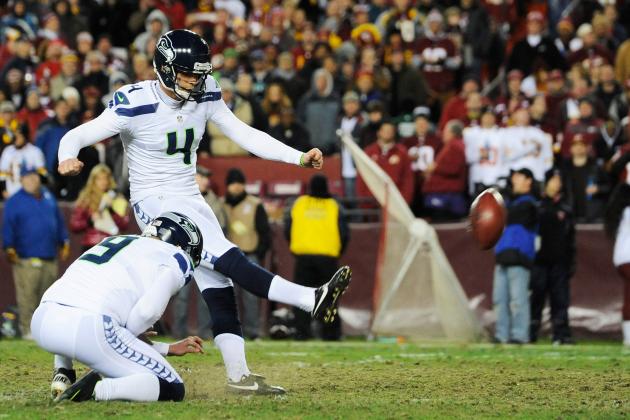 Patrick McDermott/Getty Images

Grade: B

Steven Hauschka did not end the season in a way that helps his status as a free agent. Hauschka was 11th in field-goal accuracy during the regular season. However, getting put on injured reserve before the game against the Atlanta Falcons was a tough break.

It is unclear whether Seattle will consider signing Hauschka a priority, or if they will examine other avenues.

For now, consider this an area that will not necessarily be addressed immediately through free agency. Seattle may draft a young kicker in the later rounds. Or, the team may deal with the position through free agency later in the year if they cannot work out a deal with Hauschka.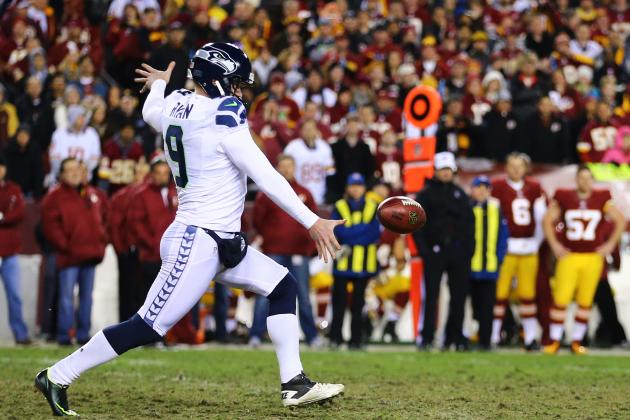 Al Bello/Getty Images

Grade: A

The position of punter is not exactly a celebrity position on most teams, but it is certainly crucial in key situations.

Jon Ryan has been a solid punter for the Seahawks over the last few years, and it seems reasonable to assume that he will be the punter going forward.

Ryan's numbers were not dominant during the regular season, though he was ninth in the NFL in net yards per kick (40.8).

For the purposes of free agency it seems unlikely that Seattle will do any shopping. Given that Ryan is 31, there might be some competition invited to camp, but that will not be a key concern at this point of the free-agency period.

Follow @tpheifer