5 LA Lakers Who Must Step Up After Pau Gasol's Injury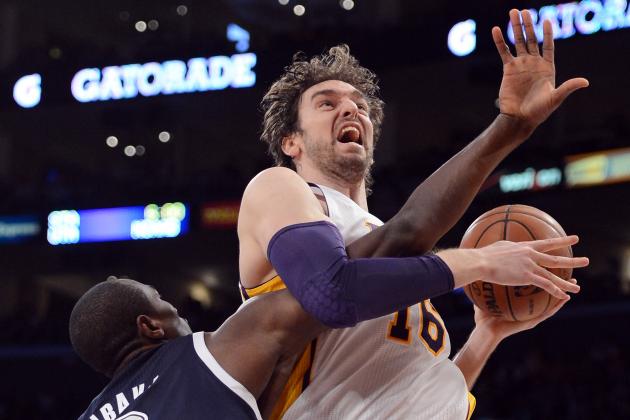 Harry How/Getty Images

During the Los Angeles Lakers' 92-83 win over the Brooklyn Nets, Pau Gasol went down with an injury to his right foot that sent yet another dagger into the hopes of the Lakers.
Gasol had an MRI today on the sore foot after telling reporters that he felt a "pop" when the injury occurred, and it seems that the news is not good.
Pau Gasol has a partial tear of his plantar fascia and is expected to be out at least six weeks, league source tells @cbssports.

— Ken Berger (@KBergCBS) February 6, 2013
One option for Gasol is rehab, with estimated timetable of 6-8 weeks. Surgery would mean 10-12 weeks, with better chance of full recovery.

— Ken Berger (@KBergCBS) February 6, 2013
Gasol, who had an MRI in Boston today after injuring foot in Brooklyn last night, is expected to get a second opinion in the coming days.

— Ken Berger (@KBergCBS) February 6, 2013
This creates a bit of a conundrum for the Lakers.
Dwight Howard has been habitually injured this season, the Lakers have no reward in terms of a lottery pick if they miss the playoffs, and there's seemingly nothing left for them to use as trade bait to make a decent-sized move and fill Gasol's role.
The only thing left to do is improve from within, and that's going to mean other players stepping up.
Begin Slideshow

»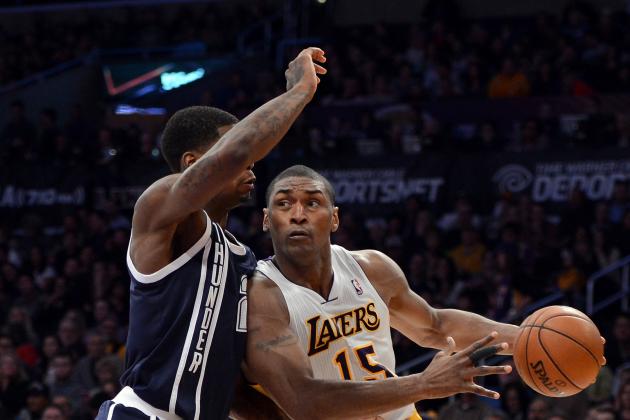 Harry How/Getty Images

Metta World Peace has been constantly vacillating between frontcourt spots this season, and he's been a trooper all year long.
Now that Gasol's down for another extended period of time, World Peace will have to step back into the power forward role every once in a while over the next few months.
That's not necessarily bad news, as World Peace has played relatively well from the larger forward spot. He's been able to use his surprisingly still spry body to outmaneuver, and even overpower some of the other power forwards he's come up against.
In his limited time at the power forward spot, World Peace is shooting an impressive 58 percent. In that role, he gets a chance to work in the post rather than clank corner threes off the front of the rim, and he's been averaging 25 points and 11 rebounds per 48 minutes as a power forward.
Compare that to the guy he's guarding and he's been incredibly effective. His opponents average 22 points and 10 rebounds per 48 minutes on just 54 percent shooting when he's guarding them at the 4.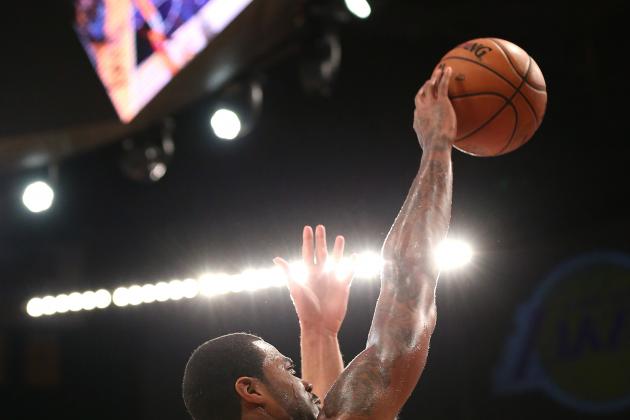 Stephen Dunn/Getty Images

What more can Earl Clark realistically do at this point? He's already stepped into the starting lineup out of obscurity, taken on more than anyone could have asked of him at the beginning of the season and looked completely confident every step of the way. Not only that, but he has been a huge part of the recent Lakers' winning streak.
After bouncing around the league, Clark has come on with the Lakers this season and is nearly averaging a double-double—11 points and nine rebounds—as a starter over the course of the past 13 games.
He hasn't been a guy who should be relied upon, and the Lakers have never asked him to be relied upon, but they might need to squeeze just a bit more out of this tube of toothpaste.
Clark has a tendency to disappear every once in a while offensively, which is something they need him to stop doing.
Get rid of the games where he shoots 25 percent from the floor or scores just five points. I'm not saying he needs to suddenly average 15 points per game, but he's got to be a tad bit more reliable.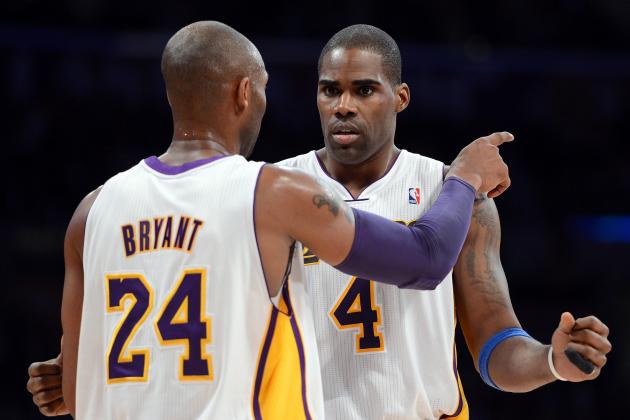 Harry How/Getty Images

It's time for Antawn Jamison to get his stretch-four on.
Coming into the season he was a big reason why the Lakers had a chance to actually have an effective bench this season.
He's got the exact skill set that a power forward needs to have in a Mike D'Antoni-run offense. Passing, shooting and overall smart basketball are cornerstones of his game, and now he needs to become a cornerstone of this Lakers offense.
Jamison has had stretches where he's looked amazing—even putting up 33 points in a game back in November. If you just look at those stretches, he's averaging over 15 points per game.
The only problem has been that those stretches have been completely blotted out by long stretches of ineffectiveness.
If you're looking for a bright spot to fall back on, Jamison has averaged 10.5 points on nearly 50 percent shooting since January 11th, compared to 6.8 points on 44 percent shooting up to that point.
Jamison can turn his season around, but he's got to start right now.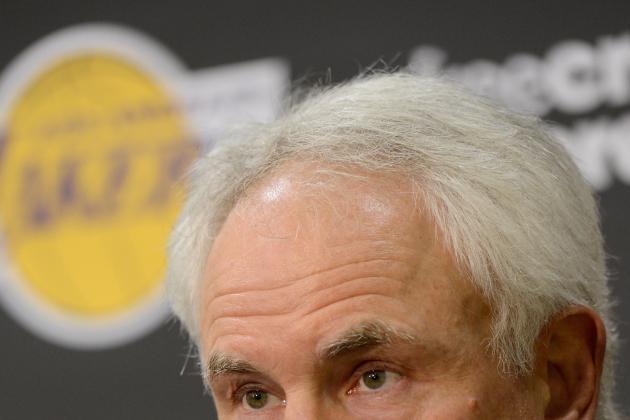 Kevork Djansezian/Getty Images

Here's the truth. If Mitch Kupchak doesn't do something in the next few weeks then Robert Sacre is going to be in this spot.
Sacre has been fine for stretches of games here and there this season, but do the Lakers really want to rely on the 60th overall pick who's more well-known for his dancing on the sidelines than for what he's done on the court?
That's why a lot of the pressure now falls on Mitch Kupchak.
Earlier on I talked about how the Lakers have nowhere to go with their roster externally, but that's not actually true. They did receive a disabled player exception just a few days ago thanks to the season-ending injury to Jordan Hill.
What does that mean? Well they've got a bit more leeway than just the ability to sign a free agent at the veteran minimum.
Instead the Lakers can sign a guy for $1,781,800 or trade for a player with a salary of up to $1,881,800. On top of that, they have three trade exceptions just over $3 million.
If they're lucky they can find a team looking to dump salary before the trade deadline and take on a contract with little lubrication from their end.
It's time for Mitch to leave no stone unturned. Otherwise it's Sacre time in Los Angeles.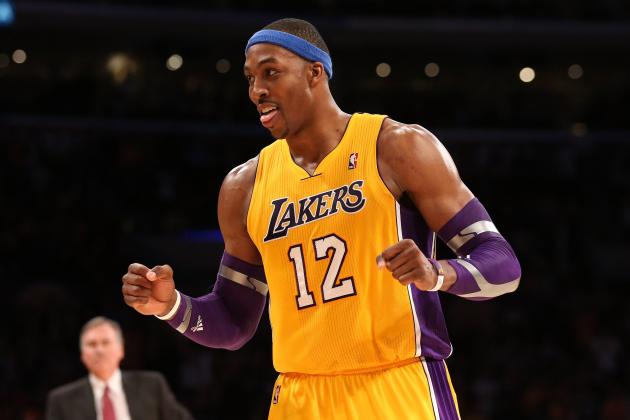 Stephen Dunn/Getty Images

We've made excuses for Dwight Howard all year long. Even though he hasn't played as well this season compared to last season, there's no denying that he's leaving something to be desired in almost each and every game.
Howard's back injury is holding him back, as is the partially torn labrum in his shoulder that has been aggravating him on and off for the past month.
Even still, when you watch him play it seems as if he's just not giving it his all. He's been constantly losing guys on defense and then pointing fingers afterward.
It's time to pump the brakes on that and go play basketball.
Let Kobe Bryant and Steve Nash handle the offense, and they'll get the ball down to Howard in advantageous positions.
Howard has to step up and play defense like he has in the past, regardless of his aching back or his unruly shoulder.