Grading the Bengals by Position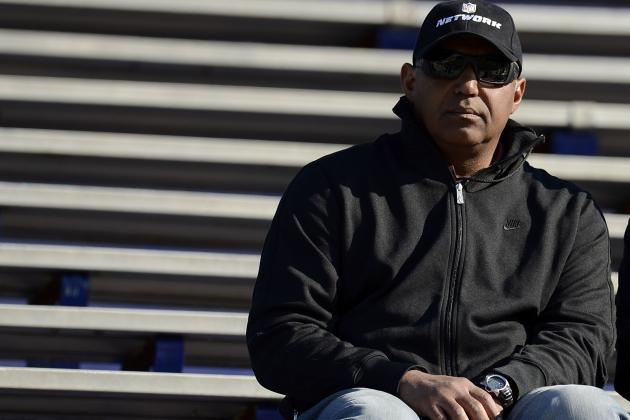 USA TODAY Sports

A common way that football coaches evaluate their players is through a grading system. When I played, every player received a packet with his grade in it when we arrived to watch film the day after a game.
Every play that I participated in, my receiver's coach would grade my performance in each play I participated in—physically (Did I run a crisp route? Did I stalk block well?) as well as mentally (Did I read the coverage correctly? Did I run the correct route?).
Heading into the offseason, free agency and the NFL draft, the Bengals have to attribute grades to each position as they decide where to focus for free agency and the draft.
The following are my grades for each position group. The scoring model is as follows:
A – Group is solid, intact and in no need of change
B – Strong nucleus but in need of depth
C – One or two good players; in need of playmaker and depth; some youth and inexperience
D – One good player; big fish in a small pond; young inexperienced players
F – No good players; no depth; in need of serious financial attention
Begin Slideshow

»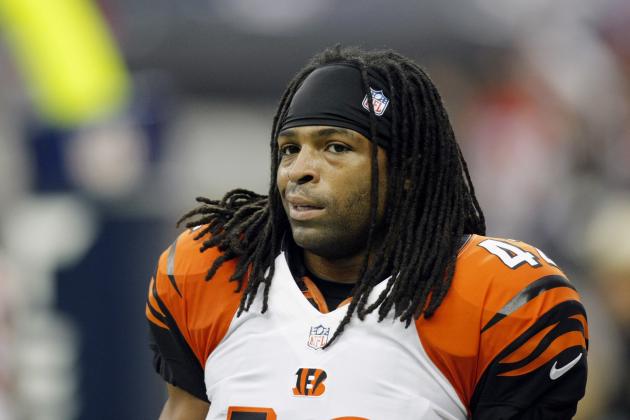 USA TODAY Sports

BenJarvus Green-Ellis put together enough good games to eclipse 1,000 yards in 2012 but his health and inconsistency are cause for concern. While he had four games of over 100 yards, he also had three games of less than 40.
Of the other four running backs, only Daniel Herron remains on contract for 2013. Herron had four carries for five yards in 2012.
With a ton of cap space and three picks in the first two rounds, look for the Bengals to spend one of these picks on a top-tier running back.
Undoubtedly, they will improve their score with the draft, but for now, running backs get a C-.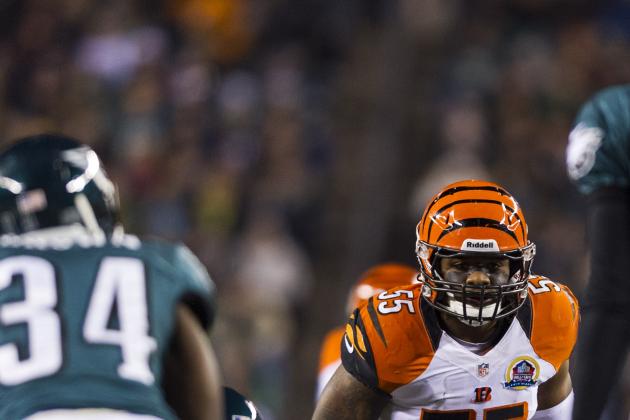 USA TODAY Sports

Vontaze Burfict planned to start his NFL journey on the first night of the draft in 2012. However, his less-than-impressive 40 time led to him being undrafted. Burfict went on to lead the Bengals in tackles in 2012, further proving that gems can be found at any point in the draft.
They'll need to find another one. With Rey Maualuga's contract expiring and an ever-growing feeling that he won't be brought back, linebackers need some serious improvement in 2013.
Rumor has it that the Bengals may spend their first pick on a stud linebacker. Georgia's Alec Ogletree is my vote. I also wouldn't be surprised if Marvin Lewis decided to draft a second linebacker with one of the later picks.
It was also announced on Monday that rookie linebacker Brandon Joiner, was reactivated after serving a prison term. The Bengals signed Joiner last year as an undrafted free agent with full knowledge of his indictment and ensuing prison sentence. At Arkansas State in 2011, Joiner had 13 sacks for the Red Wolves.
They also signed veteran LB Aaron Maybin as the starting SAM last month. That doesn't figure to stop the Bengals from considering drafting a linebacker with one of their first picks.
Either way, the linebacking core is likely to improve to a B after the draft but for now, linebackers get a C-.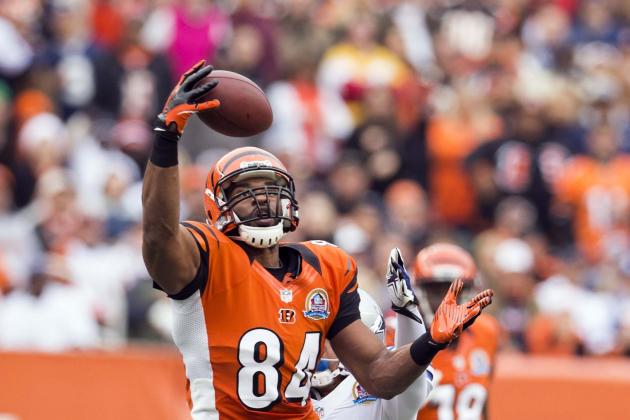 USA TODAY Sports

A.J. Green started in the Pro Bowl two weekends ago to cap off his record-setting 2012 season. Plagued with highs and lows, Green has a lot to look forward to in 2013.
Chosen as an alternate for the Texans' tight end Owen Daniels, the Bengals' Jermaine Gresham also made an appearance in Honolulu for the Pro Bowl.
Rookies Mohamed Sanu and Marvin Jones both showed young promise in 2012, although never at the same time. Both suffered injuries and look to complete a potent receiving core in 2013.
Green, Jones, Sanu, Gresham and hopefully Andrew Hawkins solidify a proven and emerging receiving group. Since the fourth receiver position is still in the air and the Bengals passing game faded off the latter part of the season, the wideouts and receiving core get a B+.
USA TODAY Sports

The safety position has been one of concern for the Bengals. In 2012, veteran Chris Crocker was brought in to help out at the position and Nate Clements, originally a cornerback, took some snaps there as well.
At cornerback, Adam Jones provided sparks of energy all season long and Leon Hall secured the other side of the defense. However, Jones, Clements and Terrence Newman are all unrestricted free agents in 2013.
Dre Kirkpatrick, first round pick in 2012, will also be healthy in 2012 and looking to return to the depth chart.
At safety, Taylor Mays hasn't panned out to be the playmaker he was at Southern Cal and Crocker, heading into his 12th season, isn't getting cheaper.
I expect the Bengals to maintain the core of the cornerbacks and start anew with safeties. Even with, hopefully, a high pick in the draft and intelligent use of free agency, the defensive backs may prove to be the most difficult position group with which to maximize talent.
I like the Bengals to draft another stud safety like Texas' Kenny Vaccaro or LSU's Eric Reid.
Until those changes are made and reflected on the roster, defensive backs get a C-.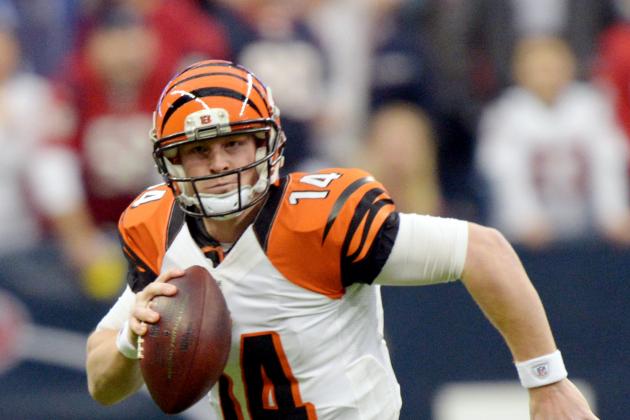 USA TODAY Sports

Andy Dalton is the quarterback of the Cincinnati Bengals. No one is looking to replace him; however, the importance of a backup quarterback is becoming more and more apparent.
Bruce Gradkowski backed up Dalton last season but his contract is up and the Bengals are weighing the options of drafting a quarterback with one of their later picks.
Although Dalton's passing performance waned the latter third of the season, the Bengals still have all the faith in the world in his abilities. However, the NFL is still a business and front offices are just as concerned with allocating human resources as they are with financial ones.
Having a dependable backup for Dalton could take some pressure off of him to carry the load so much and allow him to more easily settle into his role in the offense.
Dalton is solid, but with so many questions at backup, QBs get a B- for now with the potential to be at A, pending a solid backup selection.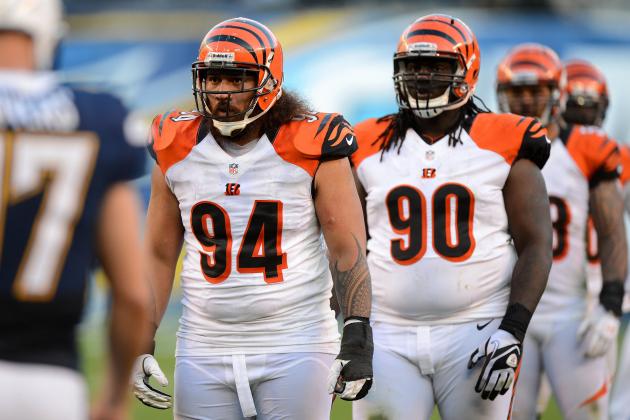 Jake Roth-USA TODAY Sports

With 43 of the Bengals' team record-setting 51 sacks in 2012, the defensive line proved to be the heart and soul of the defense.
Geno Atkins' 12.5 sack performance led the NFL for all interior linemen. It also earned him a start in the 2012 Pro Bowl. Atkins wasn't the only stud defensive lineman, however.
Defensive end Michael Johnson finished second on the team with 11.5 sacks, equaling his combined total from his first three seasons as a pro.
In addition to Atkins' and Johnson's 24 sacks, the Bengals had large contributions from Carlos Dunlap, Domata Peko, Pat Sims and Wallace Gilberry among others.
Johnson is an unrestricted free agent heading into 2013 but the Bengals will do all they can to re-sign him. With the most cap space in the NFL, the Bengals shouldn't have a problem sweetening the pot to Johnson's liking.
Of all the position groups, the defensive line grades the best. It's solid inside with Atkins, Peko and Sims. It's just as solid outside with Dunlap and Johnson. If the Bengals were a classroom, the defensive line would be kids at the front of the class bringing up the average.
They're doing it well and grade out at an A.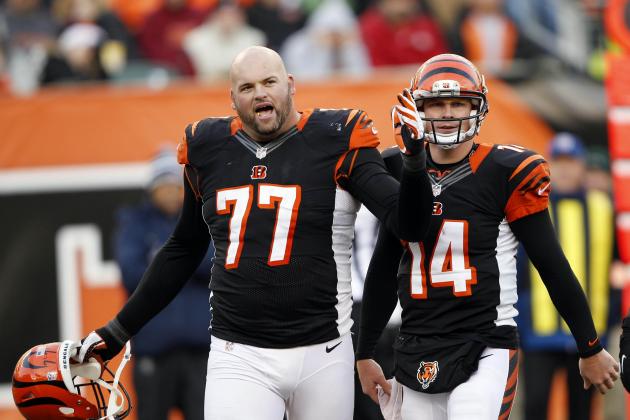 Frank Victores-USA TODAY Sports

Following the 2012 season, Andrew Whitworth represented the Bengals on the offensive line at the Pro Bowl, allowing him to live up to why he is the highest paid Bengal.
Whit isn't the only Bengals lineman with Pro Bowl potential. Tackle Andre Smith is considered one of the ten best free agents. However, if I were a general manager, his performances against J.J. Watt and his inability to appropriately pack luggage would be red flags—red flags enough to pass on him and allow the Bengals to reel him in.
Also, youngsters Kevin Zeitler and Clint Boling have proven why they are at the top of the depth chart. Other notable players are Trevor Robinson, Dennis Roland and Kyle Cook.
However, as a whole, the offensive line has been questionable. The running game was certainly a highlight of the team sporadically throughout the 2012 season. Protecting the pocket was also noteworthy for a few games early in the season, as Dalton had two games with 300 yards and over 70 percent completions.
For as many highlights as there are of the offensive line, there are shortcomings. Only the Packers and Cardinals gave up more sacks than the Bengals in 2012, including the playoffs.
The offensive line loses points because of its inconsistency in 2012 in both the passing game and run game. However, with the leadership of Whitworth on the field, the emergence of the young linemen and the likelihood of re-signing Andre Smith, I like the direction in which the offensive line is headed.
As a result, the offensive line receives a B+.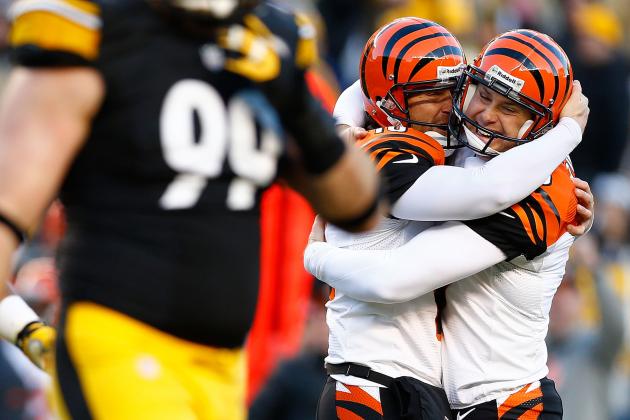 Jared Wickerham/Getty Images

Kicker Josh Brown won my vote for MVP the last four games of the season. In part because he was 11/12 in that span of time and in part because those were the only games he participated in. Brown joined the team after Mike Nugent was injured.
Brown went on to finish the season 11/12 and his only miss was from 52 yards at Heinz Field in Pittsburgh. 52 yards would have tied the longest field goal in stadium history. Not to mention, he also made a 52-yarder in his debut against the Cowboys.
Don't forget about Mike Nugent, though. Before his injury, Nugent was 35/35 on extra point tries and was 19/23 on field goals with a career long from 55 against the Raiders.
On the punting side of things, Kevin Huber had a good 2012 season as well. Huber finished fourth in the NFL in net punting with an average of 42.0 yards. He ranked fifth in punts inside the 20 yard line and sixth lowest in yards returned.
Regardless of whether the Bengals stick with Nugent or jump ship and stick with Brown, the Bengals special teams get an A.