Grading the Strength of Each Position on 49ers' Roster Heading into Free Agency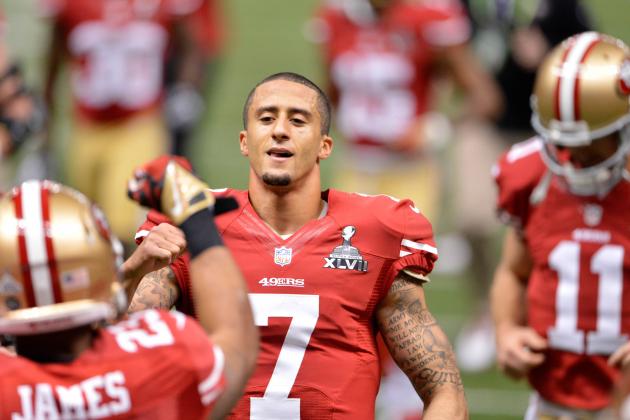 Kirby Lee-USA TODAY Sports

With a league-leading nine Pro Bowlers in 2012, the San Francisco 49ers are in excellent shape heading into free agency. This roster is loaded, and all of the big names are under contract for next season.
Aside from two unsigned starters, the Niners only have to concern themselves with a few key role players this offseason. San Francisco has a couple of special teamers and some upstart names providing depth that are set to hit the open market, but there are no potential losses that would be too critical.
Having been proficient at locking up their own guys, the 49ers may look for outside help this year.
And while Trent Baalke and this San Francisco front office are not big spenders, they will peruse free agency for bargains because, as the days go on, there should be more and more surprise cuts throughout the league.
With this rapid activity, the best decisions are not always made and the 49ers may find themselves a steal or two in free agency. But before they begin analyzing the free agents around the league, they must first assess what they already have.
And given the evolution of this roster, 49ers fans can be confident that the right decisions will be made. In this piece, we'll take a look at San Francisco's roster, position by position, complete with grades heading into free agency.
Here is our roster grading scale:
A = No FA signing needed
B = Depth FA signing needed
C = Minor to bargain FA signing needed
D = Competitive FA signing needed
F = Impact starter FA signing needed
Begin Slideshow

»
Christian Petersen/Getty Images

It's safe to say that the 49ers have secured the quarterback position, once and for all. Colin Kaepernick is a gem and could evolve into the team's franchise quarterback for the next decade.
With his emergence, the Niners will now look to trade Alex Smith. However, if that can't be done, he should be given his outright release before the April 1 deadline.
The 49ers will still have Scott Tolzien on the roster, but they should still look to the mid-to-late rounds of the draft for a backup signal-caller. There is no need for San Francisco to go digging in free agency for a quarterback, especially with the sparse amount of talent available.
After Smith departs, the Niners will continue to develop Tolzien while bringing in some competition via the NFL draft.
Grade: A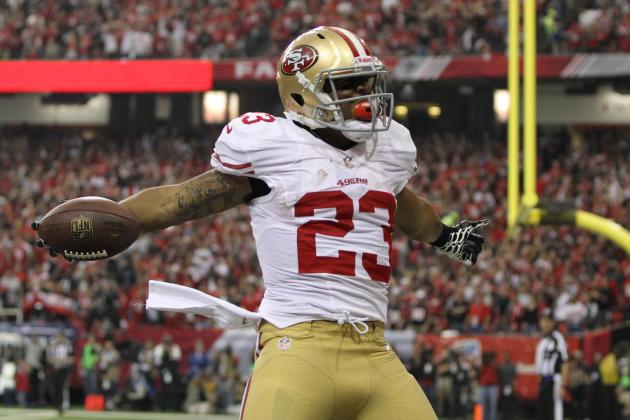 Daniel Shirey-USA TODAY Sports

It's tough to argue that the running back group in San Francisco isn't one of the best in the league right now.
Having invested relatively high draft picks on high-profile runners in the past two years, they are in terrific shape heading into next season. The Niners also have four-time Pro Bowler Frank Gore to spearhead the attack.
In fact, they had too much talent at the position on their roster in 2012—so much so that San Francisco had a back-to-back 1,000-yard rusher in Brandon Jacobs on the inactive sheet for most of the season.
With Frank Gore, Kendall Hunter and LaMichael James, the 49ers are resting comfortably at the running back position this offseason.
Grade: A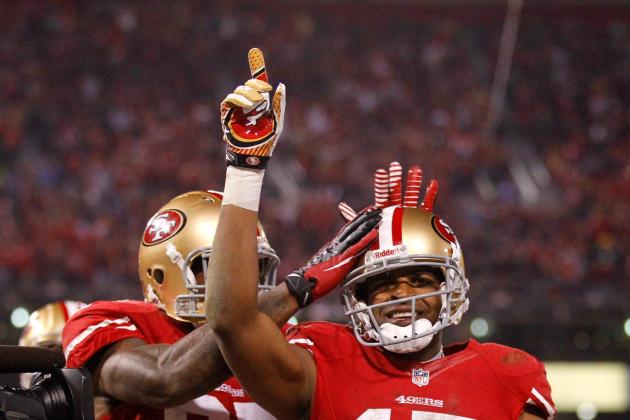 Cary Edmondson-USA TODAY Sports

For two straight seasons, the Niners can point to the wide receiver position as a weakness. Outside of Michel Crabtree, the 49ers failed to get consistent production from anyone else on the roster.
Granted, San Francisco was not at full strength after losing Mario Manningham and Kyle Williams to season-ending injuries. Fortunately, they will be returning to the team in 2013 and could provide a spark.
On the other hand, Randy Moss and Ted Ginn Jr. should be gone, which will create room for fresh competition at the position. Under one-year deals in 2012, both Moss and Ginn underperformed on the field.
The Niners only have four receivers under contract for next season and could look to free agency for help.
While it's a long shot that they throw their chips on the table for someone like Dwayne Bowe or Mike Wallace, the 49ers could look for some under-the-radar steals that complement Crabtree and fit the system.
San Francisco found themselves a franchise quarterback, and now, it's time to surround him with weapons.
Grade: C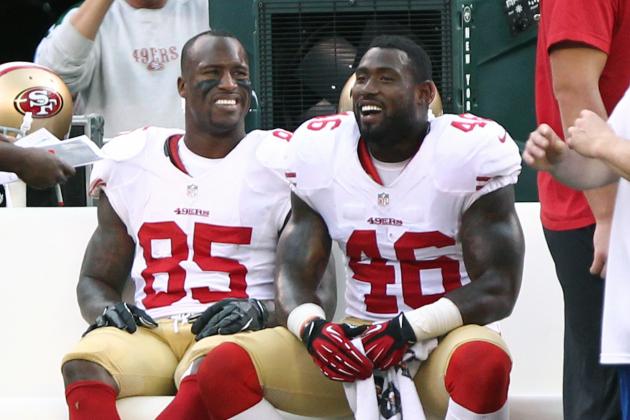 Debby Wong-USA TODAY Sports

Tight end is a crucial position for this Niners offense, especially in the wing formations.
This offense is very tight end friendly, as this position gets to do a little bit of everything. Vernon Davis and Delanie Walker are versatile, multi-talented athletes that can be efficient blockers as well as explosive pass-catchers.
Davis is one of the elite players in this league at his respective position. Since being drafted in 2006, Davis has become a team leader and top-tier producer. He is one of San Francisco's highest paid players and is locked up until 2015.
Unfortunately for the 49ers, Walker's abilities are no longer a secret.
He will be a free agent and could very well test the market. Walker has played second fiddle to Vernon Davis and may like to have a more prominent role elsewhere. Also, by doing so, he can land a bigger contract, which the 49ers may be unable to provide.
Davis is a lock going into 2013, but he may be without his partner in crime. San Francisco will need to find a replacement for Walker, so tight end could be a position that the team addresses in free agency.
Grade: C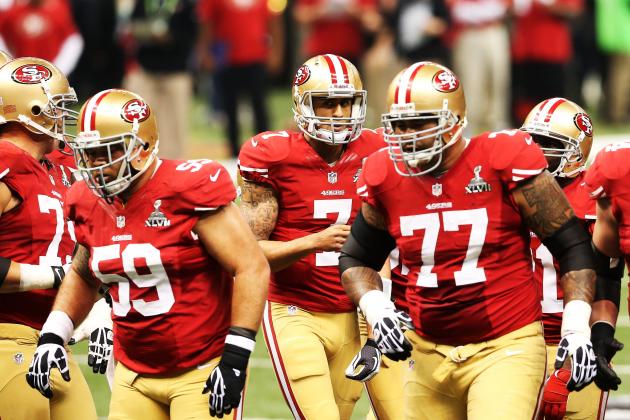 Ronald Martinez/Getty Images

After being an uncorrectable atrocity for nearly a decade, the 49ers finally have a superb offensive line. They have invested a lot of draft picks, money and time developing their current group, but it has certainly paid off.
The Niners have one of the most dominating front fives in the entire league. From left to right, Trent Baalke has constructed an offensive line that bites back. NFL fans have to appreciate the identity of this unit.
Led by Pro Bowlers Joe Staley and Mike Iupati, they are able to dictate the tempo of the game in the trenches.
Over the past two seasons, San Francisco has been adding depth to this group through the draft. They've brought in a handful of picks and undrafted free agents, including Daniel Kilgore, Joe Looney, Al Netter and Mike Person.
The 49ers are in great shape heading into the free agent period.
Grade: A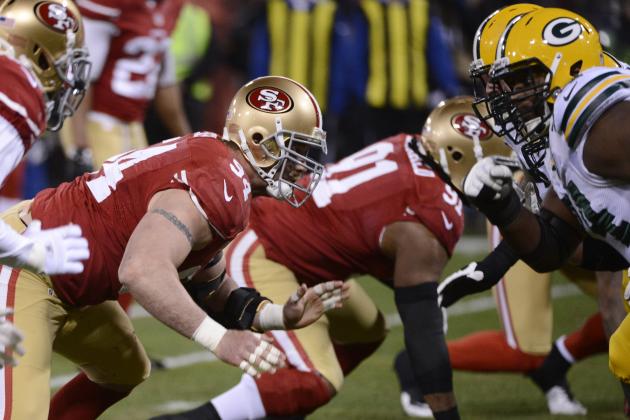 Robert Hanashiro-USA TODAY Sport

Over the past two seasons, the cohesiveness and depth of this defensive line has made it a team strength.
When San Francisco allowed Aubrayo Franklin to walk a few years ago, they moved Isaac Sopoaga to nose tackle and promoted Ray McDonald. And with Justin Smith already anchoring the right side, this was a great move for the team in 2011.
The base trio of Smith, Sopoaga and McDonald has been a force while powering this 3-4 front.
They have also received great depth from Ricky Jean-Francois. He has been a great rotational player that is able to spell all three starters whenever they are winded.
Yet, heading into this offseason, the Niners are in danger of losing two of their top four contributors.
Sopoaga and Jean-Francois have expiring contracts this offseason, and only one of them is likely to be retained.
Jean-Francois is younger and will cost less than Sopoaga. Therefore, the 49ers may lose their starting nose tackle this offseason. Yet this should not greatly impact the team going forward.
Given the talent level of this year's NFL draft class, there are plenty of solid defensive players to choose from, particularly in the trenches. The Niners have developed an extraordinary draft prowess, and should be able to address this position in April.
Look for San Francisco to return Jean-Francois and introduce some competition at nose tackle.
Grade: B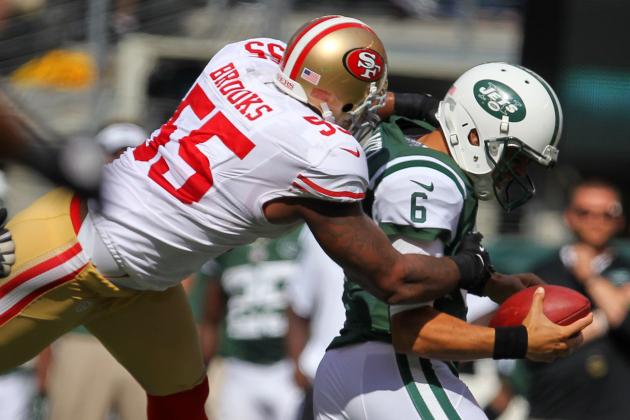 Ed Mulholland-USA TODAY Sports

The tandem of Aldon Smith and Ahmad Brooks has worked out well for San Francisco.
These two are complete outside linebackers with very complementary skill sets. Smith is a premier pass-rusher, while Brooks is a great edge-setter and run-stuffer.
The 49ers are expecting to get linebacker Darius Fleming back to compete at OLB this year. The 2012 fifth-rounder from Notre Dame suffered an ACL tear on his first day of rookie minicamp.
The Niners will get Parys Haralson back as well, but they may find him to be too much of a luxury as a backup. The Niners could release the veteran and go younger and cheaper at the position. This course of action would also allow them to groom and insert another pass-rush specialist.
Grade: A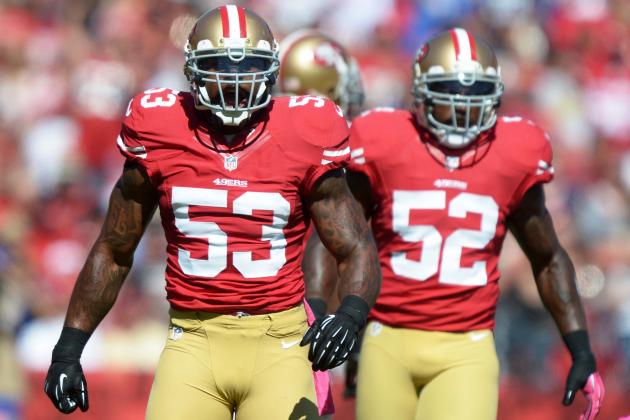 Kirby Lee-USA TODAY Sports

Patrick Willis and NaVorro Bowman—enough said, right?
San Francisco's pair of All-Pro standouts patrol the middle of the field better than any two linebackers in the league. As two elite players sharing the inside backer position, Willis and Bowman combined for 269 tackles in 2012.
There are not too many other players that run to the football like they do.
Behind Willis and Bowman on the depth chart are Larry Grant and Tavares Gooden. However, No. 52 and No. 53 are quite durable, so the only time that Grant or Gooden see the field is in the preseason or on special teams.
The Niners should try to re-sign one of them, and if they do, it should be Grant. He is the third ILB on the depth chart and has provided stability on the team.
He, as well as Gooden, deserves to be re-signed, but given how the 49ers dealt with Colin Jones and Blake Costanzo, they might not prioritize depth and special teams players.
Grade: B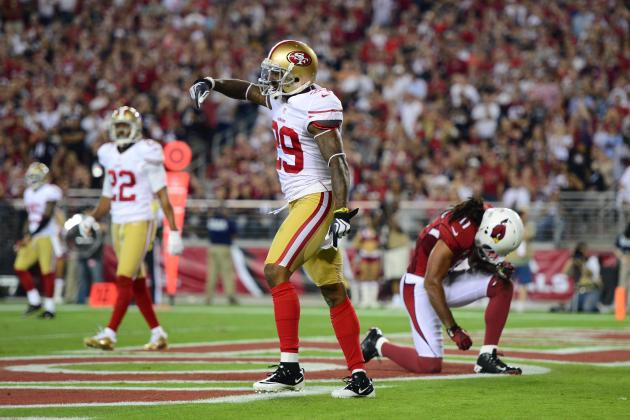 Mark J. Rebilas-USA TODAY Sports

When it comes to the cornerback position, the 49ers are in a funky spot.
The Niners' corners played very good football during the regular season, but they were exposed in the playoffs. Tarell Brown, Carlos Rogers and Chris Culliver were a very good trio this year, though.
This trio of corners played roughly 63 percent of the team's defensive snaps together.
They did enough to defeat three of the top passing attacks on the road during the regular season and, overall, the collective effort by this group helped San Francisco steal wins from the Packers, Saints, Patriots and Falcons.
However, their performance down the stretch—particularly in Super Bowl XLVII—has raised some questions.
Brown, Rogers and Culliver are all under contract in 2013, so the Niners are not in a position to make any impact free agent signings at the position. The only way the 49ers address the position is via trade, bargain depth or the draft.
Grade: B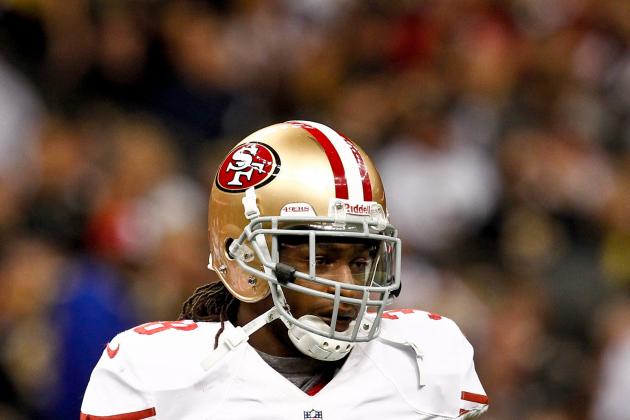 Derick E. Hingle-USA TODAY Sports

When it comes to the free safety position, the 49ers have solid players on the roster. They are in a good situation with All-Pro Dashon Goldson starting, and backups C.J. Spillman and Trenton Robinson on deck.
Darcel McBath was also added to the team in 2012. He was the No. 1 special teams contributor in terms of snaps in his first year with the team, and has an great rapport with secondary coach Ed Donatell.
The Niners have done an exceptional job in keeping their options open by continuing to analyze and develop players.
The reason that the free safety position gets the grade it does is because the team is sort of in limbo here. They could easily tag Goldson, but they should be prepared for a holdout if they choose to go that route. Depending on how San Francisco handles this situation, they can receive a grade of an "A" or an "F."
Luckily, when it comes to creating space under the cap, they have whiz Paraag Marathe, who is the team's chief contract architect. If Harbaugh and Baalke really want Goldson back, they should make it happen.
Grade: N/A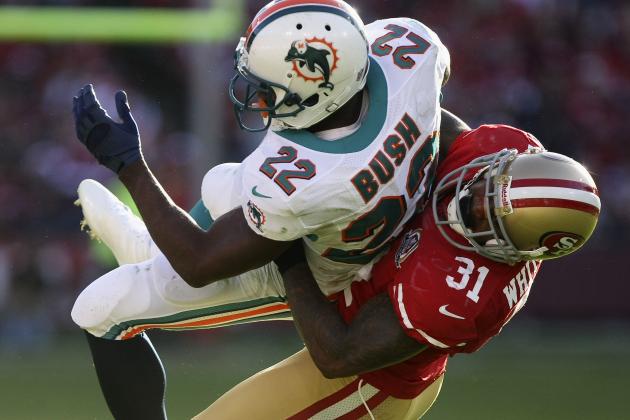 USA TODAY Sports

San Francisco's collective safety group shares the same grade but for different reasons.
Starting SS Donte Whitner is contracted to play for San Francisco in 2013, but had a questionable performance in the Super Bowl. He is known for being a tenacious hitter and not so much for his coverage skills.
He was exposed in the postseason, but particularly against the Ravens. He was trailing in multiple big plays against them in the Super Bowl, including on the red-zone touchdown to Anquan Boldin.
After getting him as a steal in free agency in 2011, San Francisco may want to move past Whitner. They can address the situation in the draft and bring in an understudy to allow for a smooth transition. Or they can cut Whitner, which would save them a $4.9 million hit against the cap.
The strong safety position gets a non-grade because depending on the direction of the team, the Niners can have an "A" or an "F" heading into next season. If they allow Whitner to finish his contract, then safety becomes a non-issue in free agency.
Grade: N/A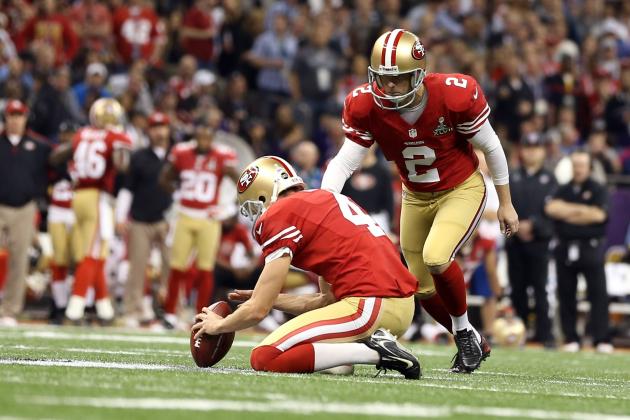 Mark J. Rebilas-USA TODAY Sports

It is not the worst thing in the world that San Francisco's biggest need is a place kicker.
In his 14th season, six-time All-Pro kicker David Akers slipped into a terrible year-long cold streak. Even though he crushed an NFL record tying 63-yard field goal in Week 1, he only hit 69 percent of his kicks throughout the rest of 2012.
Akers, 38, is merely a liability at this point and the 49ers may look to replace him. There is a good chance that Akers is given his release before the start of next season.
The Niners will explore all options, which means analyzing free agents as well as draft prospects. Rob Bironas, Phil Dawson and Shayne Graham are all free agents this year.
And for Bironas and Dawson—who are veterans on perennially bad teams—they could want a change of scenery. The 49ers could surely lure one of these polished kickers to come to a winning team for a chance at not only the playoffs, but also the Super Bowl.
Grade: F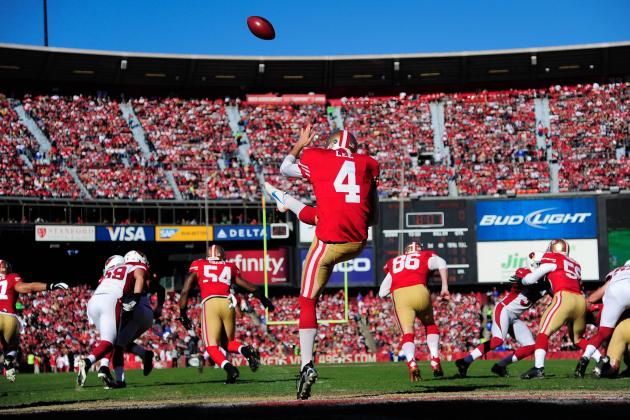 Kyle Terada-USA TODAY Sports

Andy Lee has been a model of consistency. He is one of the most productive punters in the NFL and provides a huge edge in the battle for field position.
On May 23, 2012, the All-Pro punter signed a six-year, $20.5 million contract extension. Baalke made sure Lee was locked up until 2018 and if all goes well, he should retire as a 49er.
There is no need to bring in a punter this offseason. Lee is the best in the business and isn't going anywhere.
Grade: A