Breaking Down the Improvements in Joe Flacco's Game in the Postseason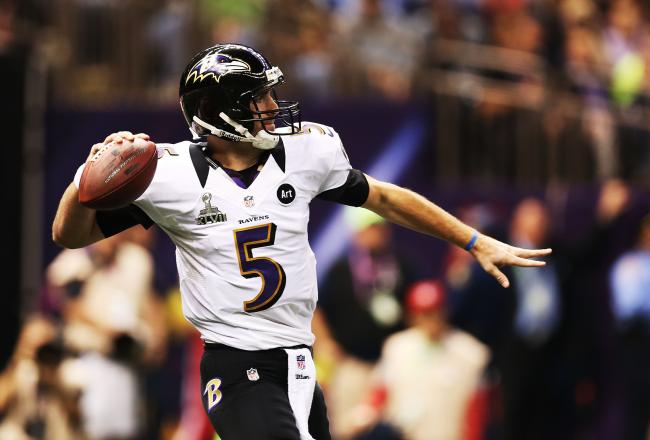 Christian Petersen/Getty Images
Joe Flacco is truly an enigma.
He is incredibly inconsistent in the regular season and then suddenly, the lights brighten up, the stage gets bigger and he's an unstoppable force. It's as if he's disinterested during the season just to lull defenses to sleep before shredding them vertically in the playoffs.
It's difficult to say what exactly Flacco improved on since entering the playoffs because there's not a whole lot that's changed from his standpoint. One aspect that did change was the hire of offensive coordinator Jim Caldwell.
Caldwell was hired to replace Cam Cameron, who was fired after a 31-28 loss to the Washington Redskins in Week 14. Oddly enough, it came after one of Flacco's best games of the season, but it didn't prove to be enough to save Cameron's job.
The reason Cameron was fired was because he wasn't using the team's weapons to their strengths. The receivers in particular excelled in stack and bunch sets because they weren't quick enough to consistently beat press-man coverage. They also were running far too many isolated routes, which meant they were asked to beat man coverage one-on-one.
Beating man coverage was a difficult task for the Ravens' receivers and as a result, the offense was hit-and-miss too often. But things changed under the direction of Caldwell, and Flacco benefited.
Caldwell reshuffled the offensive line to better protect his quarterback and spent more time using combination concepts from the previously noted stack and bunch sets, giving his receivers free releases. Most importantly, he also attacked the middle of the field vertically, which played to the strength of his quarterback, as nfl.com's Bucky Brooks recently explained.
Caldwell definitely took Flacco's strength as a player into account while crafting the past six game plans. He has made the deep ball the focal point of the passing game, designing a number of plays that enable Flacco to take shots down the field against one-on-one coverage on the perimeter. Caldwell has cleverly crafted plays that enable Flacco to go up top, from go-routes and double moves performed on the outside of spread formations to deep posts executed in run-heavy looks.
Flacco did an outstanding job of throwing the ball downfield during the playoffs, especially in the seam and just outside of it. Throws of 59 and 25 yards—both on the Double Posts concept—to speedster Torrey Smith were seen in the divisional and championship rounds and on Super Bowl Sunday, a 56-yard touchdown pass to wide receiver Jacoby Jones topped it off.
In the previous two rounds, Caldwell called the Double Posts concept to attack the opposition's deep safeties. This is a popular concept throughout the NFL because it isolates a single safety against two pass-catchers, thus putting the safety in a bind.
If the safety cheats up on the first post route the second post route will be ran behind him for a big play. Conversely, if the safety stays back for the second post, the first will beat him in front of him and potentially pick up additional yards after the catch. Truly a lose-lose situation for the safety.
Going into the Super Bowl, it appeared that the 49ers were prepared for it. However, they were not prepared for Caldwell's adjustment: a post-go double move by Jones and a crafty inside-out route by Anquan Boldin.
Both receivers lined up to Flacco's right before the snap with Jones just outside the numbers while Boldin in the slot.
In between the two receivers, strong safety Donte Whitner roughly 15 yards deep while the two cornerbacks matched up underneath.This was a modified quarters-quarters-half coverage from the 49ers defense. Whitner, along with boundary cornerback Chris Culliver, were responsible for two quarters of the field. If everyone read their keys properly, there was little chance of a big play happening.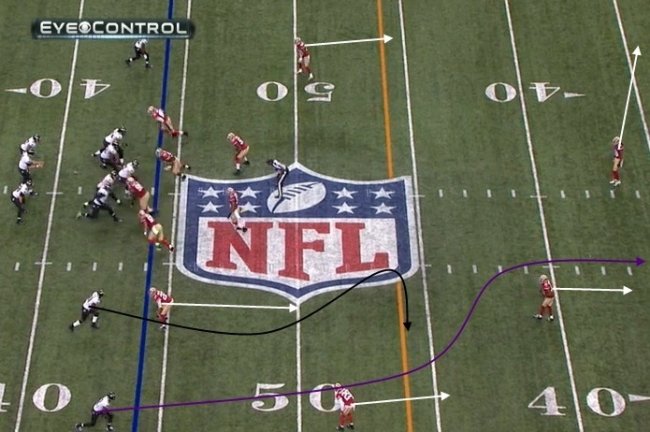 When Flacco caught the snap and dropped back, Jones released freely from the line of scrimmage and quickly covered ground prior to rounding off his cut to the inside. Meanwhile, Boldin, working in the slot, released outside and worked downfield before jabbing his outside foot and breaking to the inside.
Once Boldin got into the middle of the field he looked back to Flacco as if he was expecting the football before going back to the outside. This led to Whitner coming downhill in an attempt to jump the throw, which was a mistake.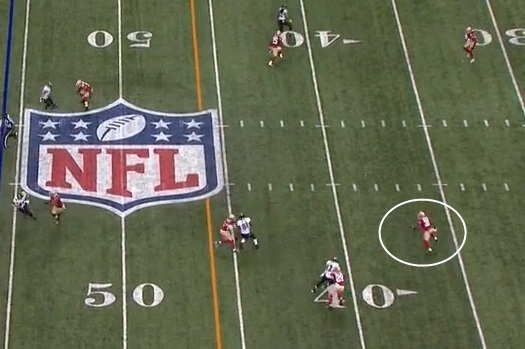 Jones took advantage of Whitner's indiscipline when he ran his designed post-go downfield. While Jones ran, Flacco dropped back, climbed the pocket and launched a deep pass that Jones worked back to for a 56-yard gain and, eventually, a touchdown.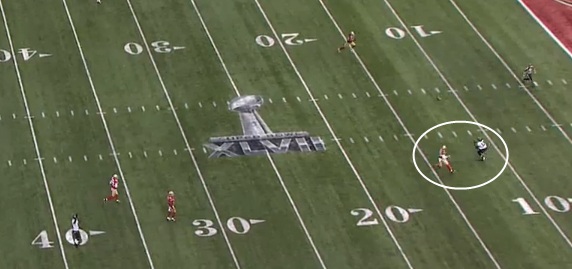 This big throw that Flacco made was a perfect example of how quality coaching has benefited him. Caldwell's understanding of his quarterback's strengths has led him to call more pass plays of this kind, and Flacco has rewarded him with big play after big play.
If the Ravens kept Cam Cameron through the season and playoffs, Flacco was an unlikely Super Bowl winner and MVP because of the former offensive coordinator's poor understanding of his surrounding talent.
After the Super Bowl, Cameron awkwardly said his firing was "brilliant" (via espn.com).
It was a brilliant move. Everyone on the team took a look in the mirror after that. We were inconsistent, and if I'm in charge, I'm saying, 'Why are we inconsistent?' We need to get the team's attention, Cameron told the Times.
Cameron's firing was indeed brilliant, as it helped Flacco become brilliant in his own right.
This article is
What is the duplicate article?
Why is this article offensive?
Where is this article plagiarized from?
Why is this article poorly edited?

Baltimore Ravens: Like this team?