The Ravens and 49ers will square off in Super Bowl XLVII on Sunday night. There are many great storylines surrounding this game. Two brothers will be coaching against each other. It will be Ray Lewis' final game. Two of the greatest players in NFL history, Randy Moss and Ed Reed, will both be searching for their first Super Bowl rings.
Those are just some of the many storylines that will make this game must see television.
Time to talk about the actual game though. What do the Baltimore Ravens need to do to come out on top as Super Bowl champions on Sunday night.
Here are three keys to the game for Baltimore.
1) Shut Down the Read Option
A lot of people have said that Baltimore needs to contain Colin Kaepernick and keep him in the pocket. That is not going to be enough to win the game though.
In the NFC Championship Game against Atlanta, the Falcons continuously had a linebacker spying on Kaepernick to prevent him from running on the read option play. That strategy definitely shutdown Kaepernick, because he was limited to two rushes for 21 yards in the game. The strategy did not shutdown the read option though. Kaepernick just kept handing it off to Frank Gore and LaMichael James, and they consistently kept getting runs of around five yards to sustain their drives.
The Ravens are going to have to gamble a little. Send linebackers in the backfield to spy on Kaepernick, but then send those same linebackers on blitzes so that he is confused on whether he should run the ball or give it up to his running back.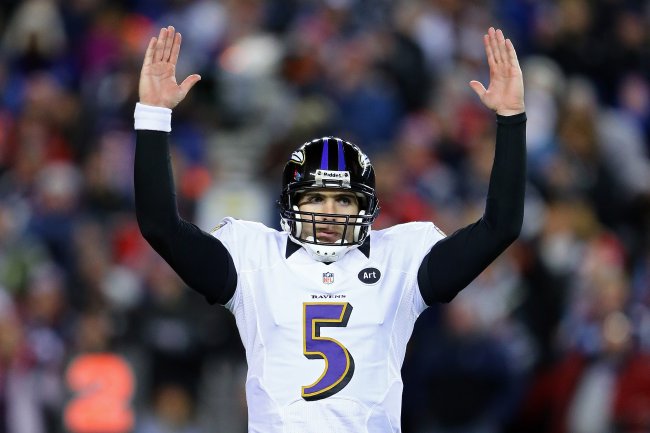 Al Bello/Getty Images
If Baltimore can keep giving the 49ers different looks on defense, they can confuse Kaepernick in the backfield, and ultimately shutdown their read option attack.
2) Stay Aware of Aldon Smith
The Ravens offensive line does a really good job of keeping Joe Flacco on his feet. Flacco has been sacked four times throughout three Ravens postseason games. The protection that Flacco has been given is allowing him to excel in the passing game, and has made it very difficult for defenses to stop Baltimore.
The 49ers have a different animal who will be rushing Joe Flacco on Sunday night though. Aldon Smith has been a star pass rusher ever since he entered the league a season ago. This season, Smith has 19.5 sacks which ranks second in the NFL. He has yet to get a sack though in his past five games.
The Ravens will need to keep this trend going. They need to keep Flacco on his feet and give him time to throw the ball down field and open up the passing game. They also need to make sure that Smith does not breakthrough and use his freakish speed and long arms to strip Flacco of the ball and create a game-changing turnover.
3) Establish Anquan Boldin in the Red Zone
The Ravens most explosive receiver is Torrey Smith. The Ravens best receiver is Anquan Boldin.
In fact Boldin is probably the most underrated receiver in the league—he is that good. Boldin only had four touchdowns during the regular season, but he has three so far in the playoffs, including two in the AFC Championship Game against the 49ers.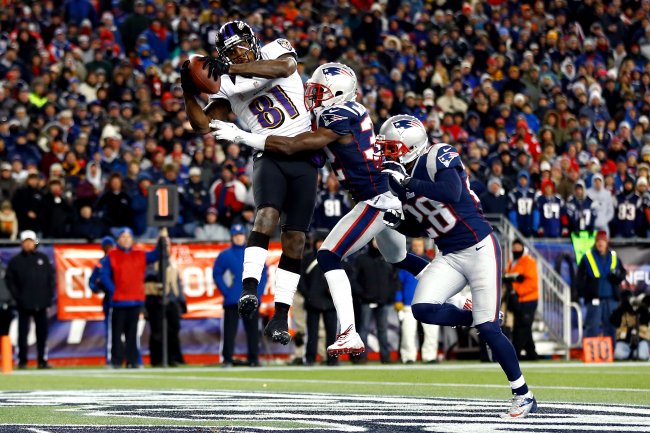 Jared Wickerham/Getty Images
Boldin is only 6'1'' so he is not a tall target in the red zone, but he is 220 pounds, very athletic and has great hands, which makes him a major scoring threat when the Ravens get close to scoring.
With two great defenses on the field, touchdowns will be at a premium tonight. It is going to be extremely important for the Ravens to get touchdowns when they are down in the red zone, and the best way to do that is to get the ball in the hands of Anquan Boldin.
If the Ravens are able to focus on these three keys to the game, then they will come out on top in Super Bowl XLVII.
Also, make sure to check out the three keys to the Super Bowl for the 49ers.