Last-Minute Expert Predictions for Super Bowl XLVII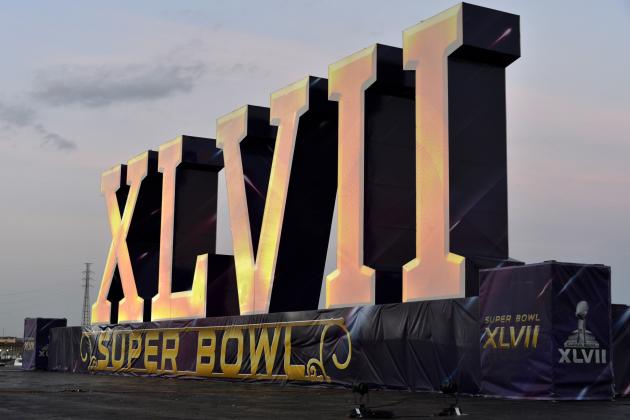 USA TODAY Sports
Super Bowl Sunday is finally here.
Before kickoff in Super Bowl XLVII, let's take the preparation to another level with some last-minute expert predictions.
The Baltimore Ravens, led by Ray Lewis, are looking for a second Vince Lombardi Trophy.
The San Francisco 49ers, on the other hand, are seeking a sixth title, which would tie them with the Pittsburgh Steelers for most all-time.
Ahead, we check out the picks from experts around the Web to get a feel for what will unfold on Sunday.
Featured are Bleacher Report's Andrea Hangst and Michael Schottey, Pete Prisco of CBS Sports, Ian Rapoport and Gil Brandt of NFL.com, Jason Cole and Michael Silver of Yahoo! Sports, Jon Gruden and Chris Mortensen of ESPN and Peter King of Sports Illustrated.
For the sake of an additional perspective, my pick is mentioned on the final slide.
Begin Slideshow

»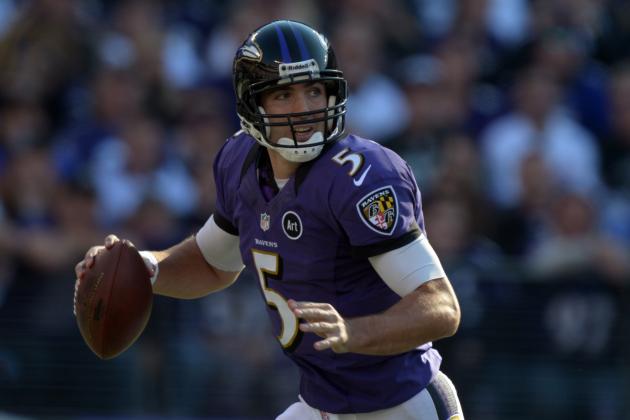 Kirby Lee-USA TODAY Sports

I see the edge going to the Ravens on Sunday. Their offensive line has proven capable of keeping Joe Flacco protected in the pocket, and if that happens against the 49ers, he should be able to take advantage of the myriad mismatches between the Ravens receivers and tight ends and the San Francisco secondary.

The Falcons were more concerned with preventing (Colin) Kaepernick from taking off, and (Frank) Gore burned them as a result. Therefore, the Ravens need to focus on simply shutting down the run, making the offense one-dimensional by forcing Kaepernick to throw.
Hangst got it right with Baltimore's offensive line. Flacco hasn't been pressured much this postseason, and it's paid extreme dividends. Even worse for San Francisco, its pass rush and coverage have lacked during January.
Regarding the Ravens defense, without question Frank Gore is a concern. Factor in Colin Kaepernick's mobility, and the 49ers running game gets amplified. Strictly focusing on the run is the best move because San Francisco has yet to prove it can remain efficient when one-dimensional.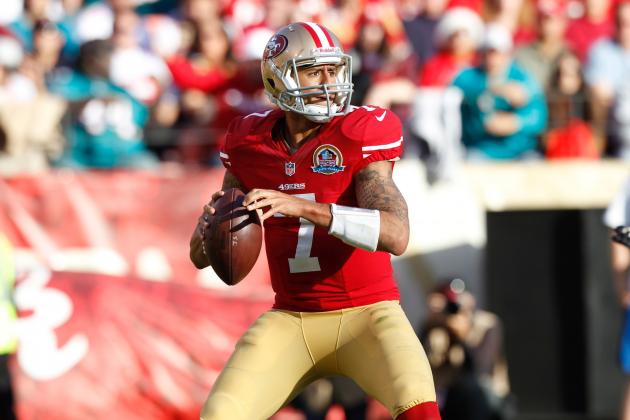 Cary Edmondson-USA TODAY Sports

This begins and ends with Kaepernick's "student of the game" mentality, his determination and his incredible intellect—which gets far too little attention compared to his physical attributes. He digests playbooks like Mike Iupati digests double cheeseburgers, and he executes them to perfection.

In my mind, this is a higher-scoring game than people will expect. Good defenses, yes, but two offenses that have put up more points than anyone thought they could during these playoffs and two offensive coordinators that have two weeks to prepare.
The one issue for Baltimore's defense has been isolating mobile quarterbacks—even when healthy.
Robert Griffin III performed well against the Ravens, and then Kirk Cousins, who is more mobile than given credit, led the Washington Redskins to victory. Baltimore possesses a great amount of discipline, but Colin Kaepernick has proved to be on his own level.
A high-scoring game would not be surprising either. The 49ers were exploited against Atlanta, and the Ravens present the offensive personnel to attack downfield.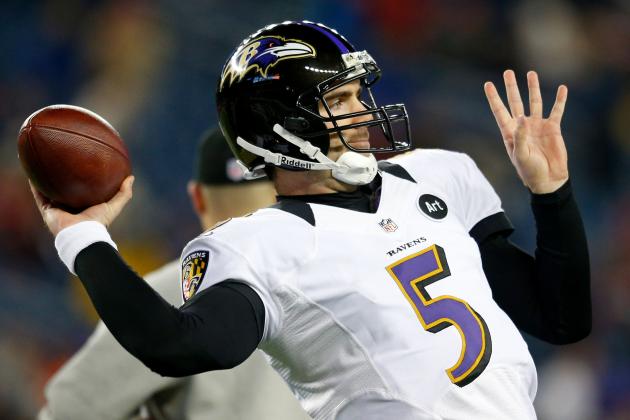 Jim Rogash/Getty Images

Ravens quarterback Joe Flacco is playing at an elite level, even if he's not considered an elite quarterback. The 49ers are vulnerable to the pass when they get spread out, which I think the Ravens will do.

The physical defenses, teams like Seattle, St. Louis and the Giants, all had good games against the 49ers offense. They did so because the down players could win at the line of scrimmage. Now that Haloti Ngata and Terrell Suggs are healthier, I think the Ravens can win up front as well.

(Torrey Smith's speed) will cause big problems outside for the 49ers secondary. He might get 100 yards receiving. Dennis Pitta will have success on the underneath routes against the 49ers' Cover-2 scheme. Big brother always beats little brother.
Prisco mentions a key flaw of the 49ers: facing other physical line-of-scrimmage teams.
The Packers and Falcons aren't those teams. Baltimore is significantly more comparable to the Seahawks, Rams and Giants.
The greatest difference from the Ravens, though, is their overall offensive personnel. Ray Rice is one of the best backs in the league, and Flacco's receiving corps are among the most reliable around. Factor in San Francisco's underachieving pass rush this postseason, and Baltimore enters with a supreme advantage.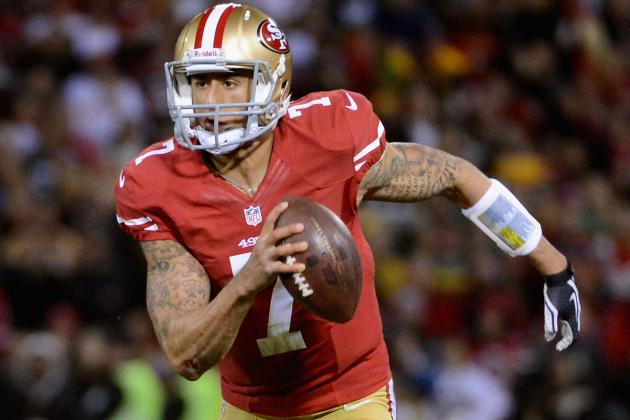 Harry How/Getty Images

The one thing the Ravens won't be able to handle is Colin Kaepernick's speed, and he'll make them pay with big play after big play.
Colin Kaepernick's athleticism is a lot greater than at first glance. It's one reason why San Francisco has done so well with him under center.
His rushing threat will definitely have Baltimore's attention from the start, so if anything, Kaepernick has to hit some solid throws early. Whether it's deep to Randy Moss or underneath to Michael Crabtree or Vernon Davis, Kaepernick needs to keep the Ravens off balance.
His big-play potential is something Jim Harbaugh can rely on with great confidence.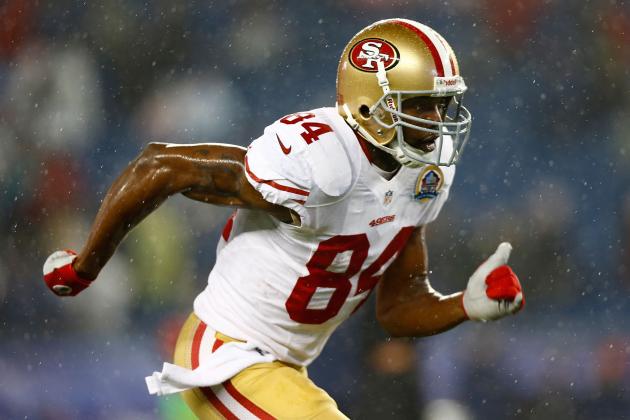 Jared Wickerham/Getty Images

The numbers favor San Francisco, though it's worth noting that the numbers favored the Denver Broncos and New England Patriots, too, and Baltimore knocked off both. But the Niners match up a little too well with the Ravens. As long as it doesn't come down to David Akers, I think San Francisco prevails.
Looking back at Baltimore's 2012 schedule and postseason foes, Brandt is certainly correct regarding how San Francisco matches up.
Cincinnati's A.J. Green and Houston's Andre Johnson are the best deep-threat targets the Ravens faced this season. At the same time, Randy Moss still brings that immense threat, and Colin Kaepernick's arm strength alone will get Baltimore to stretch out.
Despite the AFC North's physical play, the 49ers come from a division with the same philosophy. Although the Rams and Seahawks fared well against San Francisco, division rivals also know their opponents much better than anyone else.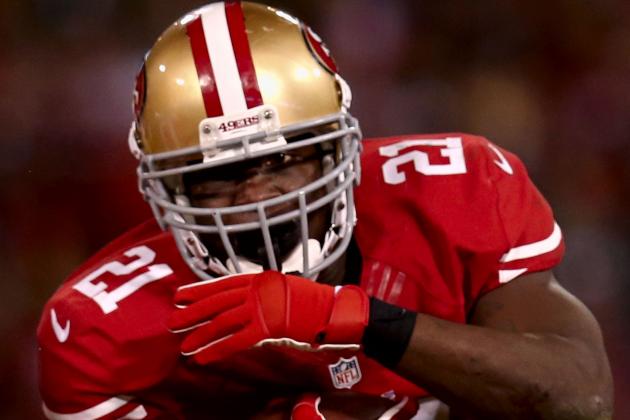 Stephen Dunn/Getty Images

I expect that Baltimore will give the 49ers fits for awhile, because of the intelligence and experience of its defense. However, the 49ers' superior offensive talent will eventually prevail, while their defense will do enough to keep Baltimore's deep-threat offense under control.
That's bold by Cole to say the 49ers have "superior offensive talent" because Baltimore is literally a mirror image.
Joe Flacco has arm strength and pocket awareness, Ray Rice is a beast like Frank Gore and Anquan Boldin, Torrey Smith and Dennis Pitta are equally as reliable—if not more so—as anyone on San Francisco.
What the 49ers have going for them are in-game adjustments.
The Ravens are great in this aspect as well, but coming back from down 17-0 on the road against the fast-paced Falcons was unreal. Also, Baltimore's defense hasn't faced an offense quite like the 49ers yet in 2012-13.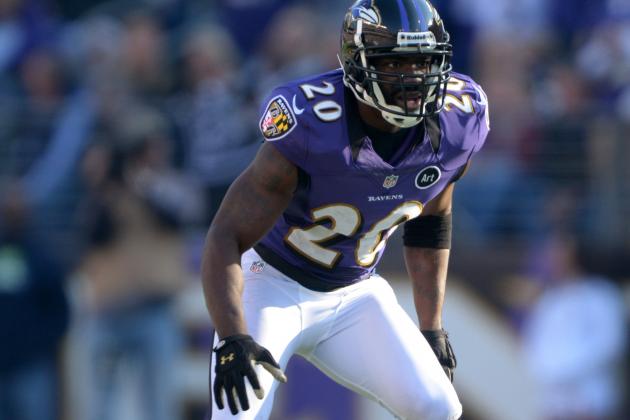 Kirby Lee-USA TODAY Sports

This is the Ravens' year. This team has a uniquely defiant will to overcome any and all obstacles, collectively, and Baltimore will find a way on Super Sunday. Logically, the Niners are the better team. Ray Lewis doesn't care about your logic: He and Ed Reed end up with the ball in their hands when it counts most.
All things considered, Baltimore has the best playmaker in the game: Ed Reed.
Reed is easily among the best safeties in NFL history. He'll be the main X-factor regarding the outcome because the plays Reed makes—or lack thereof—will change the game's complexion.
For San Francisco, Colin Kaepernick must minimize turnovers when passing, and the ground game has to get working. Otherwise, Reed will take over and provide Joe Flacco with great field position.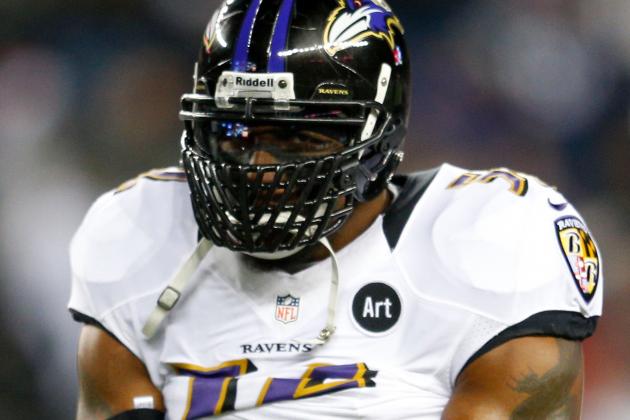 Jim Rogash/Getty Images

If this really is Ray Lewis' last game, how can I pick it any other way?
Ray Lewis is looking to head into the NFL sunset as a Super Bowl champion. In recent history, few players of his prestigious caliber have been provided the opportunity.
John Elway of the Denver Broncos in 1998 and Michael Strahan of the New York Giants in 2007 are the two most notable examples. The fairy tale we all like to hear, though, doesn't always end with perfect harmony, even for the best of players.
Just ask Tony Gonzalez (if he retires), Dan Marino and Dan Fouts.
It's a golden opportunity for Lewis to leave his greatest mark on the game. The final challenge is winning on the biggest stage in the highest-pressure game of his illustrious career.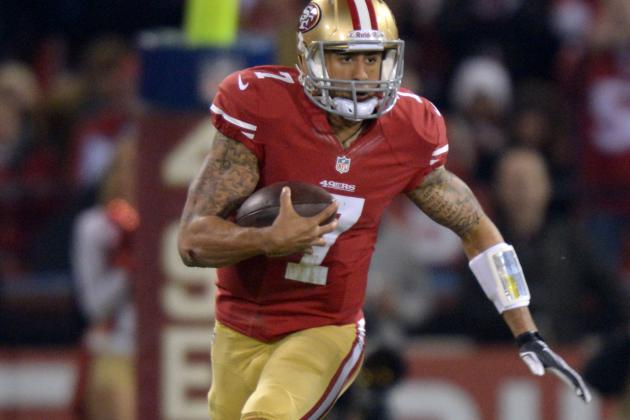 Kirby Lee-USA TODAY Sports

Colin Kaepernick's composure has been the biggest surprise for me this postseason, and I don't think he's going to lose it on the NFL's biggest stage.
Believe it or not, there's less pressure on Colin Kaepernick than at first thought.
He's young and has the rest of his career ahead to make multiple runs at the Super Bowl. This game, however, is it for Ray Lewis.
If there's any pressure on San Francisco, it's about getting the traditional ground game established. Failing to do so will add pressure on Kaepernick to perform, which is obviously to Baltimore's advantage. In turn, anticipate a heavy dosage of Frank Gore throughout to let Kaepernick utilize his dual-threat ability.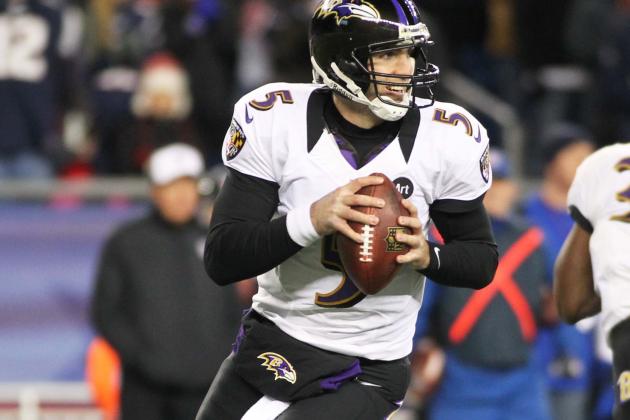 Stew Milne-USA TODAY Sports

The deep arm of Joe Flacco, paired with the revived defense of the Ravens in the playoffs, wins it for a Baltimore team that seemed left for dead in December.
King appears to be anticipating the Ravens to hit the 49ers just like the Falcons did early.
This attempt would not be surprising. Should Baltimore get up in the first quarter and remain ahead through much of the second half, its defense is more reliable than Atlanta's. The Ravens brings a better pass rush and coverage to fend off any onslaught from San Francisco, but the key is coming faster out of the gates.
We can just as easily suspect the same from the 49ers, as their ball control and defense are capable of winning in the fourth quarter.
In short, expect this game to be a nail-biter for its entirety.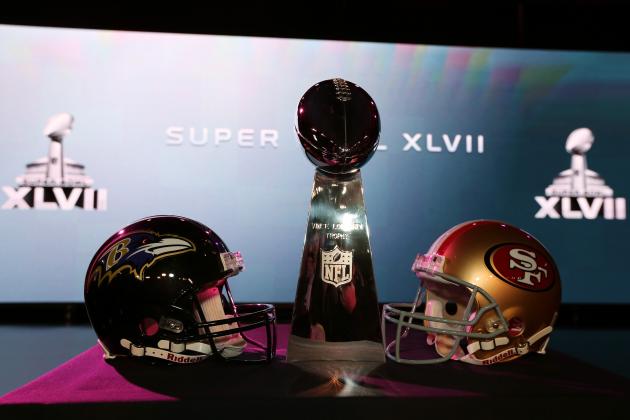 Christian Petersen/Getty Images

Andrea Hangst, Bleacher Report: Ravens
Michael Schottey, Bleacher Report: 49ers
Pete Prisco, CBS Sports: Ravens
Ian Rapoport, NFL.com: 49ers
Gil Brandt, NFL.com: 49ers
Jason Cole, Yahoo! Sports: 49ers
Michael Silver, Yahoo! Sports: Ravens
Jon Gruden, ESPN: Ravens
Chris Mortensen, ESPN: 49ers
Peter King, Sports Illustrated: Ravens
John Rozum, Bleacher Report: 49ers
When San Francisco has the ball, Randy Moss simply has to to occupy Ed Reed.
Doing so will leave Colin Kaepernick's other targets open underneath after setting up the run. Baltimore has struggled against the run all postseason, and the 49ers are the best ground team Ray Lewis and Co. will face all year.
When Baltimore possesses the rock, a similar approach with Ray Rice to set up the pass and stretch the 49ers will be required. Because the 49ers are vulnerable downfield, though, getting physical at the line must happen to reroute the receivers and let the pass rush find a rhythm.
The Ravens offense hasn't lined up against a run defense like San Francisco's, which forces a one-dimensional attack. The 49ers also hold a special-teams advantage with better punt and kickoff coverage teams.
In a tough defensive battle where the big play has an even greater impact, field position is the ultimate deciding factor.
49ers 16, Ravens 14