Sting vs. Hulk Hogan, Plus the 5 Things Learned After April 25 Impact!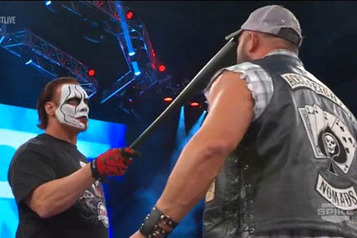 Photo courtesy of impactwrestling.com
What a night of TNA Impact! Wrestling.
Broadcasting live from Indiana, Penn., there was a lot that happened.
We had Aces and Eights running amok, as they are wont to do; we had a surprisingly good Knockouts match between veteran Tara and newcomer Taryn Terrell; we had an incredible TNA Tag Team Championship match between champs Chavo and Hernandez and the Dirty Heels, Austin Aries and Bobby Roode; and we had a decent Knockouts Championship match between champion Velvet Sky and No. 1 Contender Mickie James.
We also, unfortunately, had some Hulking up. We had the return of Sting in a final segment that is guaranteed to have the Internet Wrestling Community up in arms. But I'll get into that later.
All in all, I give the episode a B-, and that's mostly thanks to an incredibly hot crowd that reminded everyone just how immortal some wrestling icons really are.
So let's get into it!
Begin Slideshow

»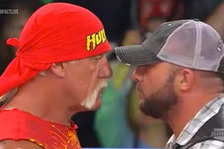 Photo courtesy of impactwrestling.com
Okay, let's just get this out of the way.
Yes, you saw it. You saw a 59-year-old man "Hulk up" and beat down an upcoming heel who is in the physical prime of his life. Yes, it was predictable; and, yes, it was ridiculous. Most importantly, however, it was also very popular to the live Indiana, Penn., crowd that ate it up.
This is the reality to touring nationally. Whether you want to believe it or not, Hulk Hogan is very popular and there are parts of this country where he hasn't wrestled in a very long time.
Look out into the crowds at any of these live shows and I guarantee you're going to see a large number of people wearing the old yellow and red. Yes, they came to see Aries and Roode, AJ Styles, Samoa Joe and Angle. But they also, most likely, came to see Hogan.
For right now, a touring Hulk Hogan is John Cena before Cena started getting booed. This means that TNA has a limited time to ride this new Hulkamania wave before it gets tired, and believe me they're going to milk it for as long as they can.
Now, this doesn't mean that it's enjoyable to us television faithful. I'm sure many in the Internet Wrestling Community took a deep breath, face-palmed and rolled their eyes (I know I did). I'm just offering an explanation, and if you wanted one, then that's it.
Still, there were some things to be taken from this final segment.
For one, Sting's back and it looks like he's going to be the one running the new charge against the biker gang. I still think AJ Styles is going to have something to do with it ultimately, but for now Sting's the man.
It also looks like there's some tension brewing between Sting and Hogan. I have no problem with this. If this all culminates into a match between the two either at Slammiversary or Bound for Glory, then I'm actually all for it.
It keeps the two older men out of the main storylines while simultaneously giving us a bankable pay-per-view match for the future.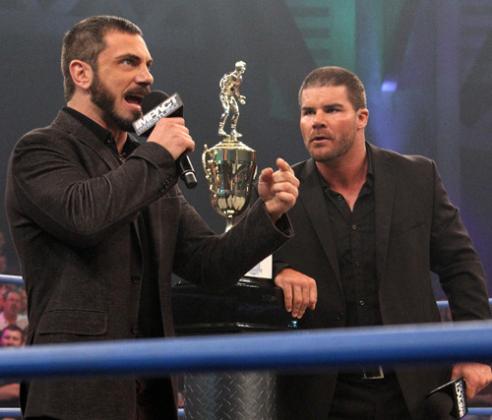 Photo courtesy of impactwrestling.com
It looks like the seeds for a Dirty Heel split have been sewn.
Last week, Christopher Daniels and Kazarian began their recruitment attempts to get both Bobby Roode and AJ Styles into a revamped version of Fortune. It's their plan to take down Aces and Eights. (Interesting question: would that automatically make them all faces?)
With Bad Influence being, well, a bad influence on Roode, it appears that he and Austin Aries' time as tag team partners may be coming to an end.
Yes, TNA faithful, it's a sad day. The great comic pairing of talented in-ring masters is coming to a close. But I can't say I didn't see it coming. Both Roode and Aries have proven that they can work perfectly fine, if not better, as solo wrestlers. I wouldn't mind seeing either wrestler make another run at the TNA Heavyweight Championship.
Besides, this only opens the TNA Tag Team Championship picture. First and foremost, I'd love for Bad Influence to get back into the title hunt. Daniels and Kazarian have been great during their time away from the title picture; it'd be nice to see them back in it.
Also last week, we saw the very obvious pairing of Jesse Godderz and Robby E. These two would make a great short-term feud for the champs.
Since it seems that Jesse and Tara have split, having the rookie work with Robby E, who doesn't get enough credit for his in-ring ability, could be mutually beneficial. It helps Jesse in his continued development as a star, and it keeps Robby E on the screen after his falling out with Rob Terry.
Then we have Aces and Eights who have two sets of ready-made tag teams waiting in the wings. The first and most likely pairing are Wes Brisco and Garett Bischoff. The two come off as very slimy and entitled and would make great foils for the champs, Chavo and Hernandez, who value tradition and hard work.
The problem with these two is that they're still very green in the ring and they're not that great on the mic. Chavo himself has made his distrust of young wrestlers known, so I don't think this would ever happen.
Next there's DOC and Knux, who would be an awesome tag team. They have the added benefit of being a bit more seasoned than their younger counterparts. Still, there's got to be a reason TNA has shied away from pulling the trigger on this tag team. One reason may be an uncertainty about Knux's in-ring ability as he has yet to be involved in a match.
It'll be interesting to see where TNA decides to take these two, because as of right now they're not being used.
All in all, TNA's tag team scene is still very much alive and well, Dirty Heels or not.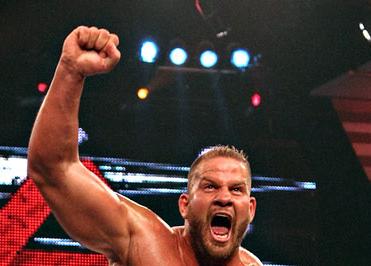 Photo courtesy of impactwrestling.com
Matt Morgan is just where Bully Ray was nine months ago.
When Bully was getting deeper into his relationship with Brooke Hogan and when he was getting closer to Sting and Hogan, I remember thinking, "This is going somewhere big."
At the time, the theories were still that either Eric Bischoff or Jeff Jarrett would end up being the president of the Aces and Eights. But I knew that Bully was going to have something to do with the ultimate payoff, simply because of how much TNA was using him.
Right now, Matt Morgan is being used in the same way.
I'm not sure how he'll fit into all of this, but the "Hogan Mistakes" angle took a turn last week when Hogan denied Morgan's orders to give him a title shot. Hogan didn't like Morgan's arrogance in assuming he was "owed" a shot and called The Blueprint "a bitch."
This was good because it keeps Morgan a heel and gives him new reasons to hate Hogan.
It also adds more mystery to the Morgan story: What will he do now? Will he start attacking TNA wrestlers again, or will he focus on Aces and Eights? Will he join the gang?
Only time will tell.
As of right now, TNA is placing major emphasis on the X Division, and that has to be music to the ears of TNA fans.
Not only did TNA start off it's One Night Only campaign with a very exciting PPV X-Travaganza, but the creative department began an overhaul of the division starting with the rules and ending with how top contenders are chosen.
Hulk Hogan is putting you in the Draft War Room and "On The Clock". A new wrestler steps into each X-Division Contender match with the ultimate goal of advancing to an X-Division title match. Chris Sabin returns in that spot on the May 2nd edition of Impact! But the choice of the next new contender is in your hands!

You face the hard choice of being "On The Clock" and make the hard selection to select the next X-Division contender to get a chance in Tampa (May 23rd).

Who will be on the board to be selected?
This is great for a number of reasons. First, Hogan will no longer be naming No. 1 contenders in his office after short deliberations. Second, this forces fans to interact with the product, something WWE has been really obsessed with lately.
Lastly, and this also has to do with the previous point about the WWE, the X Division is one of the defining features of TNA that separates it from WWE.
After releasing John Morrison and Evan Bourne and sidelining Sin Cara, Rey Mysterio and Justin Gabriel, WWE has all but given up on anything close to a Cruiserweight Division. The X Division is where TNA shines, and it's great that the company has finally realized this.
Kenny King, Zema Ion, Sonjay Dutt, Petey Williams and now Sabin? This isn't a bad foundation to rebuild the division on at all.
Even above the Aces and Eights' storyline, the AJ Styles story is the best thing in the company right now.
The AJ storyline is a prime example of when TNA creative people get an angle right, through and through. From the AJ losing streak to the Claire Lynch scandal, from his leave of absence to his surprising return, everything about this angle has been solid and pitch perfect.
Now with Bad Influence, the TNA locker room and the Aces and Eights knocking on the new free agent's door, TNA has found a way to create something that hasn't existed in the wrestling industry for quite some time: intrigue.
Nobody knows which way AJ is going to go—there is absolutely no predictability to this angle at all. He is one of the TNA originals, so you could say he will side with the company. But who's to say he wouldn't side with the devil he knows and rejoin Fortune?
But then, you also may not have noticed, Styles has beaten down James Storm and he has attacked Bad Influence. Do you know who he has yet to attack—Aces and Eights. Maybe, just maybe, we'll see AJ in an Aces and Eights cut.
There's an argument that could be made for any of the three choices, which is what makes the angle so great. No matter which side he chooses, it'll lead to a great TNA moment.
Can you imagine AJ siding with Aces and Eights and how powerful that would make them? Or what if he decided to side with Kazarian and Christopher Daniels? The return of Fortune would be monumental.
Or TNA can go with the old standby and have AJ finally confront his demons, side with the company he helped create and rid the arena of the wretched Aces and Eights once and for all.
Whichever way this storyline goes, TNA and its audience win.