The Jets are a team coming off as disastrous of a six-win season as one can imagine. Their franchise quarterback seriously regressed, two of their star players suffered serious injuries and their mishandling of a backup quarterback stole the headlines for all the wrong reasons.
Oh, and about that "franchise" quarterback that regressed to the point of being benched: he was handed a massive contract extension before the season that handcuffs the team's ability to make roster moves over the offseason.
The team was so bad, they allegedly could not "hand" the GM job away.
Sounds like a pretty big rebuilding project, right?
Not so fast.
Based on a combination of their on-field performance in 2012 and their seemingly-dismal cap situation, it is easy to assume that the Jets need to completely hit the reset button. The fact that they have thrown around the idea of trading the best player on their team—Darrelle Revis—shows that even the Jets brass is not convinced that the team is ready to get back into realistic playoff contention right away.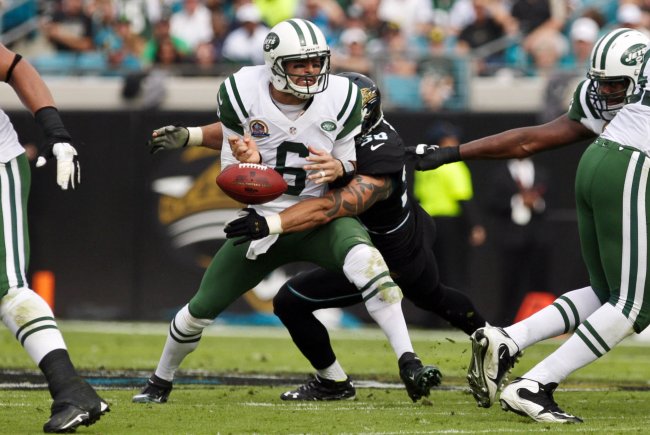 Rob Foldy-USA TODAY Sports
Yes, the Jets were not a good team last year, evidenced by their less-than-satisfactory win-loss record, but they are not a total rebuilding project either.
This team has some of holes, most notably at the offensive skill positions, but they are not at the level of the 2011 Colts or the 2008 Lions where they need to start dumping star players because they are so far away from contending.
The issue with the Jets is not the amount of holes they have, it is the severity of their roster holes and how they are tied together.
Finding a Quarterback
Regardless of what the Jets do this offseason, none of it will matter if they don't find themselves a quarterback.
Compare the starting lineup of the Jets to a playoff team like the Broncos or Ravens and remove the quarterback from the equation. You will find that not only are the Jets very equivalent, one could argue that they are superior in many respects. The biggest difference between the Jets and perennial playoff teams right now is the play at the quarterback position and depth at skill positions.
The good news is that the quarterback position requires just one good draft choice, trade or free agency signing. The problem is that this is not a good year to be in search of a quarterback.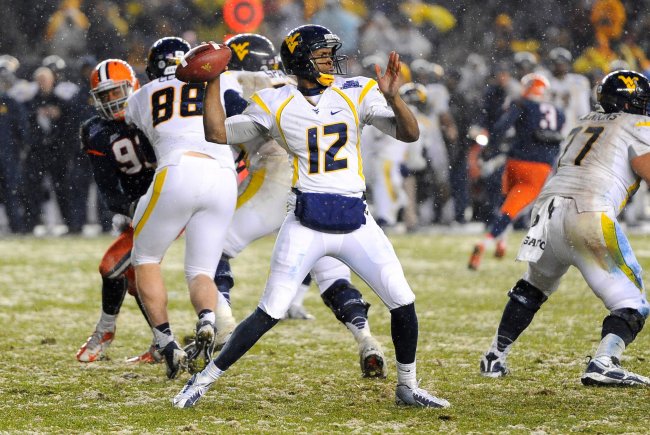 Rich Barnes-USA TODAY Sports
This year's draft class lacks any elite quarterback prospects, and seven out of the eight teams picking ahead of the Jets could be in the market for one. Unless Joe Flacco somehow leaves Baltimore, the free agent class is comprised of mostly former backups. There are some trade options in Matt Flynn, but is he really an upgrade over Mark Sanchez?
The Jets will likely have to turn to the draft and decide to either make an aggressive move to trade up or take a second-round flier on someone like Zac Dysert or Matt Barkley.
In any case, no matter how poor this quarterback class may seem, there are future starters in the fray, as there are in every class. The onus is on the Jets to identify the right player and draft him.
The Redskins, Colts and Seahawks all got their "guy" last year, whether it was by making an aggressive move into the top of the draft or taking a flier in the third round.
If the Jets decide to give Mark Sanchez one more chance to be the starter in 2013, they should not expect much different results regardless of any other moves they make.
The Cap Situation
It has been rather carelessly thrown around that that the Jets are in an irremediable cap situation that will handcuff them from making competitive offers to free agents, including their own.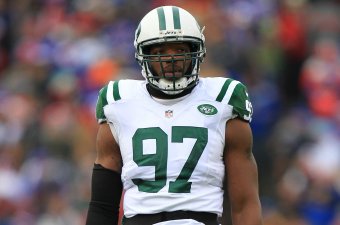 USA TODAY Sports
Sure, it certainly looks bleak at a first glance, as the Jets currently have $147 million on the cap (via nyjetscap.com), which projects them to be about $19.4 million over the cap.
That's quite a chunk of change, but all they have to do is utilize Mike Tannenbaum's "detailed" cap plan to get them back on track. No one knows exactly what that plan would have been, but it most certainly involved cutting Jason Smith ($12 million in cap space), Calvin Pace ($11.5 million) and Bart Scott ($8.65 million) for a total savings of $32.5 million, bringing them $12.75 million under the cap. They can also part ways with players like Tim Tebow and Eric Smith to get them closer to $17 million under the cap.
Tannenbaum says Jets' "foundation" is there "for years to come" and their salary-cap hell is escapable

— Johnette Howard (@JohnetteHoward) January 29, 2013
Yes, that also gets rid of several players that they will need to eventually replace, but the Jets will likely start sophomore player Demario Davis in Scott's place—extra offensive lineman can be found off the street for the minimum salary rather easily. Replacing two outside linebackers will not be easy (Bryan Thomas is a free agent), but the Jets also have a full slate of draft picks to work with.
Yes, the Jets cannot afford any of the top-tier free agents, but to say they are going to have to wave goodbye to all of their own valuable free agents and the only option is to trade off their most-prized commodities is shortsighted.
Is It that Bad…Or Do they Just Look Bad?
As I previously stated, the issue with the Jets is not the amount of holes they have; rather, it is the size of the holes they have and how they relate to each other.
It is one thing if a team has a leaky pass defense or a pedestrian running game, but when a team cannot pass the ball on an NFL level, it just looks flat-out ugly, and the roster is assumed to be much worse than it really is.
The Jets were called "totally-unwatchable", a "quarterback failure" and much more heinous names in living rooms and bars across the tri-state area. Yet somehow, to the surprise of just about everyone, the Jets were actually in the Wild Card race at 6-7.
According to PFF, the Jets' offensive line was the third-best unit in football. So how does one have such a poor passing game with such a good offensive line? With horrific play from the skill positions, most notably at quarterback and receiver, which was exacerbated by injuries to key starters. There were some games where the starting receiver group consisted of players that would not even make the 53-man roster for most teams.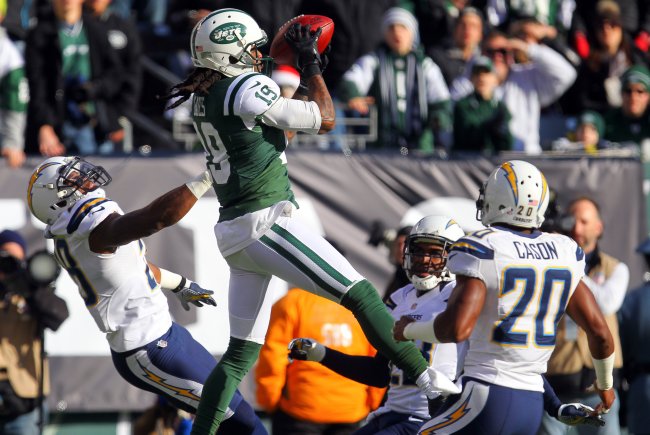 Ed Mulholland-USA TODAY Sports
A League of Quick Turnarounds
Are the Jets Super Bowl favorites next year? Of course not. But considering how quickly one can turn a franchise around in the NFL, the Jets are far from a total reclamation project that no one in the football universe can fix.
Whether it is the 2011 49ers, the 2008 Dolphins or even this year's Seahawks, Colts and Redskins teams, all it takes is a few transactions to turn the fortunes of a franchise around.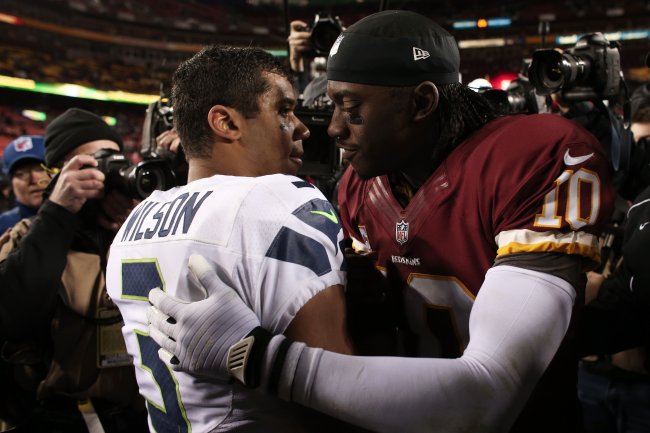 Win McNamee/Getty Images
The NFL is not like the MLB, in that unloading top players like Darrelle Revis in exchange for draft picks is the ideal way to turn teams around. Unlike baseball, it is not uncommon for rookies to make an immediate impact and turn the fortunes of a franchise around in just a few games.
Plus, when you look at the history of star players who have been dumped for draft picks, would the Patriots be champions if they held onto Richard Seymour? Would the Dolphins have made the playoffs if they held onto Brandon Marshall? Yes, the Dolphins have yet to use their picks, but the odds of those picks turning into players of Marshall's caliber are rather slim.
Of course, this all centers around the Jets finding a quarterback they can win with. If they can do that, they would have every reason in the world to keep their core players and get back to competing for championships.
For draft insight through a Jets lens visit NYJetsDraft.com.