Oregon Football: To-Do List Before National Signing Day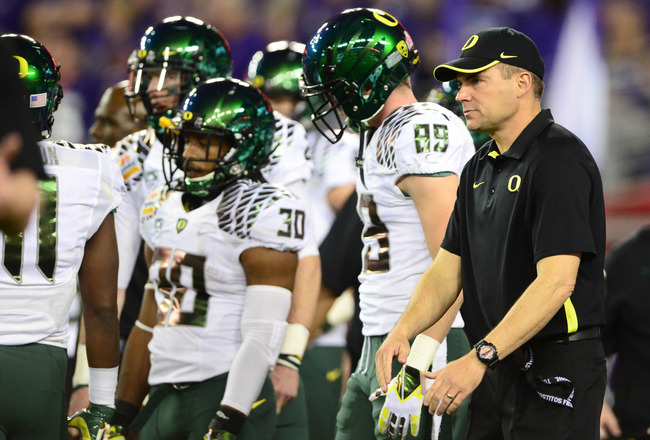 Mark J. Rebilas-USA TODAY Sports
We have entered the final weekend of the recruiting season for the Class of 2013, and the Oregon Ducks still have a lot left to do.
Currently the Ducks have the No. 22 ranked class according to ESPN, but that was before Oregon got commitments from 3-star ATH Juwaan Williams and 3-star QB Damion Hobbs.
Oregon's class is headed by the No. 6 running back in the country, according to ESPN, in Thomas Tyner, but the Ducks still have much work to do to move up the class rankings and possibly have a Top 15 recruiting class.
Here is Mark Helfrich and his staff's To-Do list until National Signing Day on Feb. 6.
Sign Zach Cunningham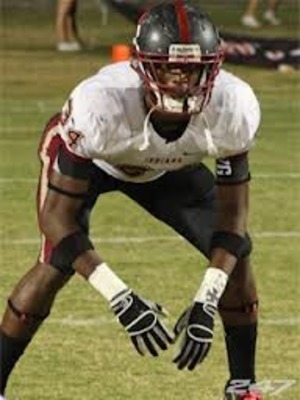 Photo courtesy of 247Sports
Hold onto Dontre Wilson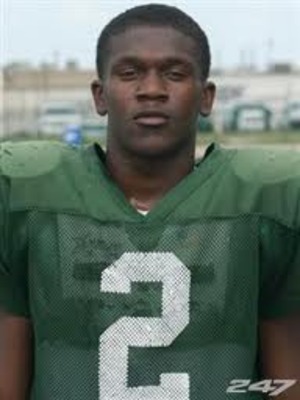 Photo courtesy of 247Sports
The key battle to watch is whether or not Oregon can hold onto Dontre Wilson, the No. 55 player in the country and a Duck commit since May.
Helfrich's first few weeks as a head coach have not been easy for him recruiting wise. Go up against one of the best recruiters in Urban Meyer for a blue chip recruit isn't the way I would want to start a new job.
Wilson is especially an interesting case because of the way he has gone against his word so far in the recruiting process.
Even with the uncertainty of Chip Kelly staying at Oregon, Wilson was said to be a fully committed to playing for the Ducks after De'Anthony Thomas returned the opening kickoff of the Fiesta Bowl for a touchdown.
The minute I saw De'Anthony Thomas return that kickoff [to open the Fiesta Bowl], I was ready to throw on a jersey. I'm 100 percent committed to Oregon.
Wilson also stated that as long as running backs coach Gary Campbell and Helfrich remained at Oregon, he would continue to honor his commitment.
It's real cool. I'm all about Oregon and would have stayed there even if he left. As long as [running backs] Coach [Gary] Campbell and [offensive coordinator Marc] Helfrich stay, I'm gonna be a Duck."


Weeks later when Kelly had another change of heart and left Oregon to coach in the NFL, affected Wilson's decision.
As of now, Wilson is reportedly 50/50 on the Ducks or the Buckeyes, but to make things even more interesting, Wilson will take a last minute visit to Texas.
Helfrich was able to fight off Meyer's advancements on current Oregon commits Tyree and Tyrell Robinson as well as Darren Carrington, who all scrapped their official visits to Ohio State, but keep your attention on this recruiting battle. It will most definitely come down to the wire.
Berkeley Coup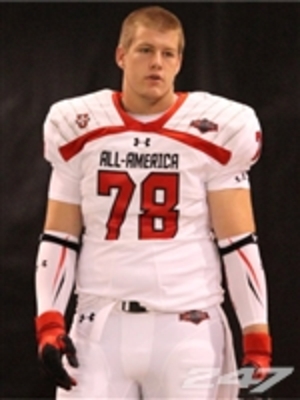 Photo courtesy of 247Sports
The Ducks are set to pull off a last minute coup of Cal commits, Cameron Hunt and Johnny Ragin III.
Hunt, a 4-star offensive lineman from Corona, CA, is down to Oregon and Cal, the school he has been committed to since July.
A new coaching staff has opened the door for the Ducks; however, as Hunt reopened his recruitment after former Golden Bears coach Jeff Tedford was fired.
Hunt would give the Ducks another ESPN Top 300 offensive lineman to go along with Oregonian Evan Voeller, the No. 9 ranked guard in the nation.
Ragin III received an offer from the Ducks on Tuesday after an in-home visit with members of the Ducks staff, and could make his second decommitment in as many weeks (Ragin III flipped from BYU to Cal last week) after an official visit to Oregon this weekend.
Ragin III is the No. 57 rated ATH in the class of 2013.
The odds are ever in the Ducks favor for inking both Hunt and Ragin III to National Letters of Intent.
Keep Reading

Oregon Ducks Football: Like this team?