Buying or Selling Seven Colts Re-Signing in Indianapolis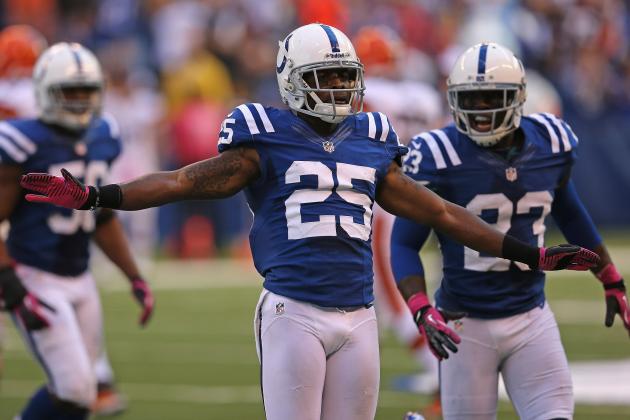 Jonathan Daniel/Getty Images
Jerraud Powers (25) headlines a group of players that are questionable to return to Indianapolis.
Outside of signing young, unclaimed players to future contracts, the first part of the Colts' offseason plan is the decisions to make regarding their own free agents.
While the Colts fortunately do not have a multitude of big-name contributors to re-sign, there are several key contracts that must be negotiated. With 18 players becoming free agents (four restricted free agents, 14 unrestricted), the Colts have some important decisions to make, even if they are mostly for rotational and depth players.
Fortunately for the Colts, they have an estimated $46 million in cap room to play with, which gives them some much-needed room to work in free agency.
That may make some of these players expendable, as the Colts look to upgrade in free agency or the draft, but it may also save some, as the Colts will have the spare change to re-sign them with.
As always, you can find me discussing these thoughts, and more, on Twitter as well.
Begin Slideshow

»
Jonathan Daniel/Getty Images

The most sure lock for a re-signing since the Peyton Manning days, McAfee had a Pro Bowl-worthy year this season.
McAfee is loved by Indianapolis, with his community involvement, Twitter activity, and Facebook Fridays. He's stated multiple times his love for Indianapolis and his desire to stay in the city.
Punters, even good punters, aren't expensive. There really is no reason for McAfee not to be back.
BUY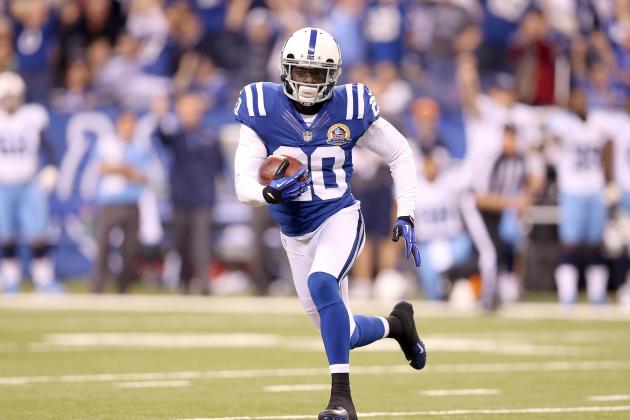 Andy Lyons/Getty Images
Butler was one of the few Colts to force turnovers in 2012.
The Colts' secondary needs a lot of work, and that means upgrading at cornerback.
Butler and fellow cornerback Cassius Vaughn both got a lot of snaps this season, especially in the latter half of the season. Butler only started four games but played in 11, and he played significant snaps as a nickel corner.
Vaughn, on the other hand, started 10 games and played in all 16. However, Butler played much better when on the field, as I've gone over before.
The Colts likely only will re-sign one of the two, and either sign a starting corner in free agency or pick one up in the draft. Personally, my pick is Butler.
BUY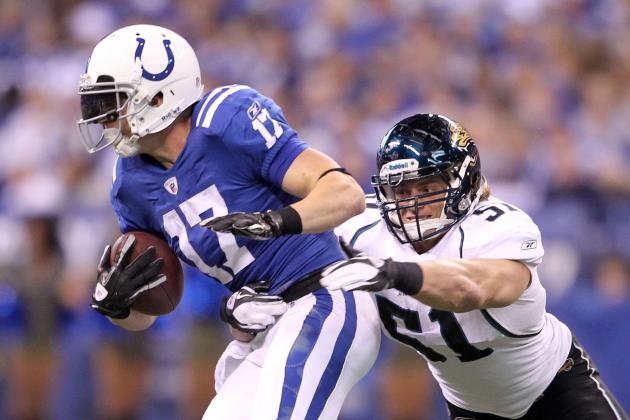 Andy Lyons/Getty Images
Collie is a perfect example of concussion issues ruining a career.
A rookie in 2009, Collie was an integral part of the 2009 Super Bowl run. But his sophomore season started at a record pace, as he replicated his rookie performance in just nine games. But a couple of vicious hits ended his season, and put his future in serious risk.
However those fears were calmed in 2011, as Collie played all 16 games and managed 54 catches with Curtis Painter, Dan Orlovsky, and Kerry Collins at quarterback.
Things were looking up in 2012 with Andrew Luck coming onto the scene. Luck and Collie showed a great connection in training camp, and the connection looked just as strong against St. Louis in the preseason opener as Luck hit Collie with a beautiful touchdown pass.
But Collie would get hit in the head against Pittsburgh the next week, bringing back questions about concussions as he missed the first two weeks of the regular season. He would come back against Jacksonville in Week 3, but promptly injured his patella and was put on injured reserve.
That pretty much tells the story of Collie. He's a fantastic slot receiver when healthy, but there's no guarantee that will occur anymore. In fact, I'd say it's extremely unlikely he ever looks like himself again.
SELL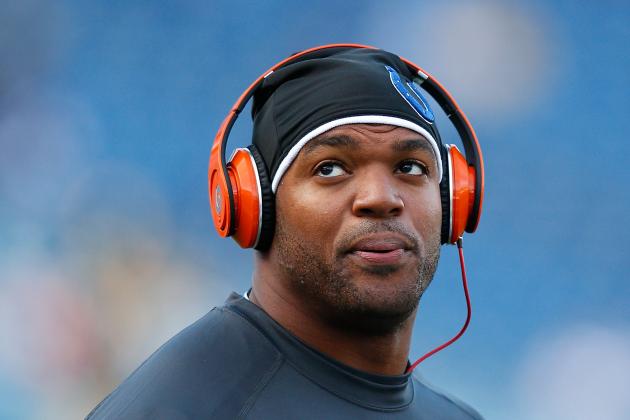 Jim Rogash/Getty Images
Freeney's been a mainstay in Indianapolis, but simply doesn't fit in the new scheme.
One of the last of the Manning-era greats, Freeney's monster contract in 2007 has finally come to an end. 2012 marked the last year of the six-year, $72 million contract, a year in which he cost the Colts over $19 million in cap room.
Freeney's injuries and age slowed him down anyway, but the scheme change to a 3-4 after playing for nine years in a 4-3 made it simply too difficult for the veteran pass rusher to adjust. The Colts will be glad to get his monster contract off the books and start to transition to more traditional 3-4 players.
Freeney may have a few years left as a productive pass rusher, but not for a young, rebuilding team with a 3-4 scheme.
SELL
Peter Aiken/Getty Images
Avery killed the Colts with drops all season.
Donnie Avery started as the No. 2 receiver all season for the Colts, but he's not worth bringing back, even as a depth role.
Avery has had problems with drops throughout his entire career, and this season was no different. He was among the league's worst in drop rate, and he didn't produce the big plays that would offset the negatives.
When looking forward, the Colts' offense is going to need a replacement at the No. 2 receiver. By replacing Avery, the Colts can immediately improve their offensive efficiency without looking back.
SELL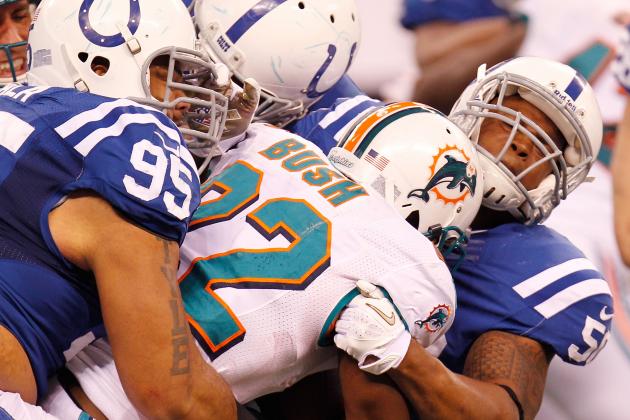 Gregory Shamus/Getty Images
Moala had been playing well before an injury derailed his season.
Were the Colts still in a 4-3 defense, this would be a different story. But, with the switch to the 3-4, Moala was playing much better as a defensive end. He was one of the Colts' better pass rushers on the defensive line and was decent against the run.
Moala actually finished with the best pressure-per-snap ratio on the defensive line, according to Pro Football Focus, better even than the more well-known Cory Redding.
The Colts still should be looking for defensive-line starters in the draft and free agency, but Moala should be able to be re-signed for a cheap contract.
The Colts need all the depth on the line that they can get, and Moala would, at the very least, provide that.
BUY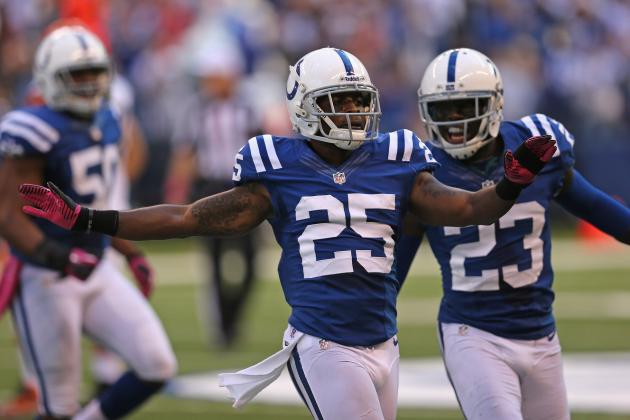 Jonathan Daniel/Getty Images
Powers (25) is a leader on a young defense, but injuries are hurting his re-sign potential.
Jerraud Powers has been the Colts' top corner for the past three years, but he's also finished each of those years on the injured reserve.
Powers, a lot like Austin Collie, is a solid starting cornerback when healthy. Also like Collie, he just can't seem to stay healthy. He's never played more than 13 games in a season, and played in 10 or less in two of the last three seasons. His level of play simply isn't good enough to make up for the injury risk.
If the Colts' wish to re-sign him on a minimum contract for depth, I am more than fine with it. However, I don't see that happening.
SELL