6 Questions Redskins Must Answer This Offseason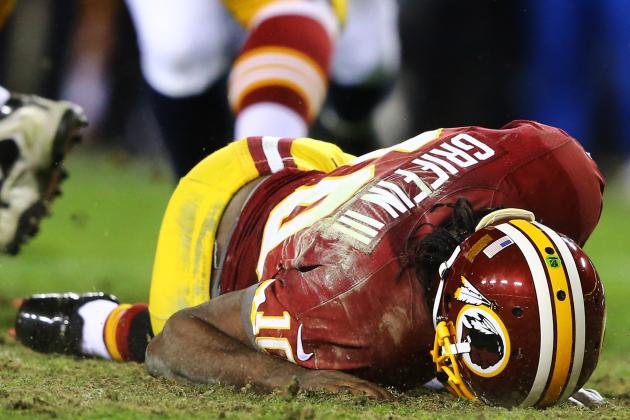 Al Bello/Getty Images
The method for handling Robert Griffin III's knee injury is only one of several issues the Redskins face this offseason.
The Washington Redskins made an unexpected playoff appearance in 2012, but the work is far from over. The ultimate is the Super Bowl, and the argument can be made that the Redskins are not only not championship-caliber, but they overachieved last season.
Mike Shanahan, Robert Griffin III and company should be eager to prove the doubters wrong, but there is a lot to do before the season starts. The defense is in shambles, the offense is unbalanced and the franchise quarterback's future under center is uncertain.
By no means should the Redskins be satisfied with their finish in 2012. It was a nice run, but the real work starts now. Only by answering certain personnel questions can the Redskins make the playoffs this season and make a possible run to the Super Bowl.
Begin Slideshow

»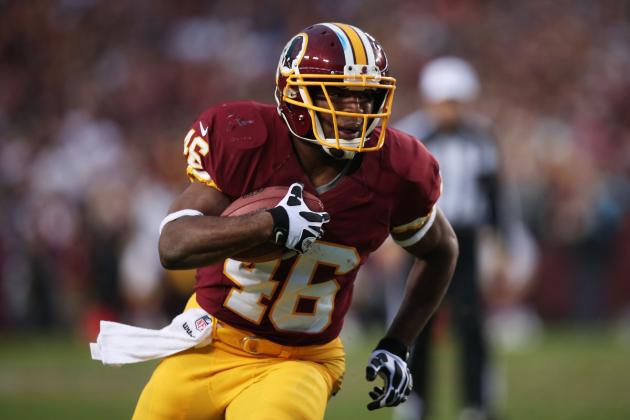 Win McNamee/Getty Images
Alfred Morris had over 300 carries in his rookie season, with little help from anyone other than Robert Griffin III.
Alfred Morris had a spectacular rookie season, setting the Redskins franchise record for yards in a season and tacking on 13 touchdowns. His violent running style made him a fan favorite and one of the best running backs in the entire league.
But at what cost will Morris' success come? He's only 24, but he's coming off a 335-carry first year, with little help. The only significant rest came when RGIII carried the ball on the option, and that's something that can't be utilized as often in 2013 due to the quarterback's injury.
Morris is a superb back, but he's not indestructible. Eventually, the high volume of carries will clash negatively with his hit-and-run style, and he'll suffer an injury that could impact his entire career. It's up to the Redskins to find their franchise running back some help.
That help could come in the form of 2011 starter Roy Helu, who battled a number of injuries in 2012 and essentially missed the entire season. Another option is incumbent second-stringer Evan Royster, who had an ineffective and disappointing year. The Redskins could also have the option of bringing back former bruising back Tim Hightower.
No matter who comes in, there's no question that the Redskins need to find Morris help. It could save his career.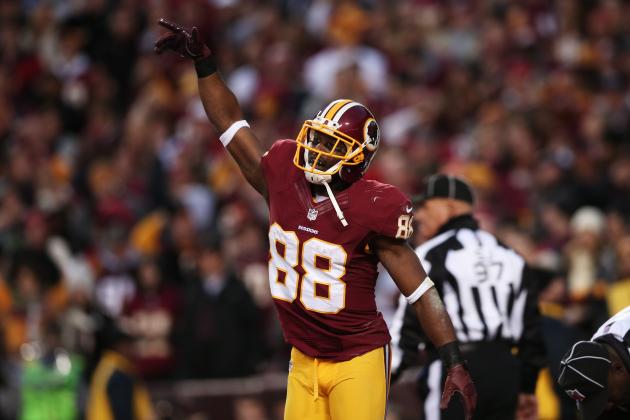 Win McNamee/Getty Images
Pierre Garcon is the only true No. 1 receiver on a roster of solid, but unspectacular, pass-catchers.
Let's be honest: When it comes to the receiver position, the Redskins are really lagging within their own division. The Giants have Hakeem Nicks and Victor Cruz, the Cowboys have Miles Austin and Dez Bryant and the Eagles have DeSean Jackson and Jeremy Maclin. Who do the Redskins have? Pierre Garcon and a bunch of backups.
The Redskins will be challenged this offseason to find a complement to their one true No. 1 receiver. When healthy, Garcon is as well-rounded a receiver as there is in the NFL, and he takes the pressure off every other receiver on the roster. When he's injured, a good receiving corps becomes decidedly average.
Santana Moss, Leonard Hankerson and Josh Morgan are all solid receivers, but none of them are at the level they need to be to take the defense's focus away from Garcon. Could the Redskins make a play for a guy like Dwayne Bowe? Could they draft a receiver like Robert Woods out of USC?
It remains to be seen. But the fact remains that if the Redskins want to improve their passing game and provide the offense with more balance, they'll need a second receiver on the outside who can divert attention away from Garcon.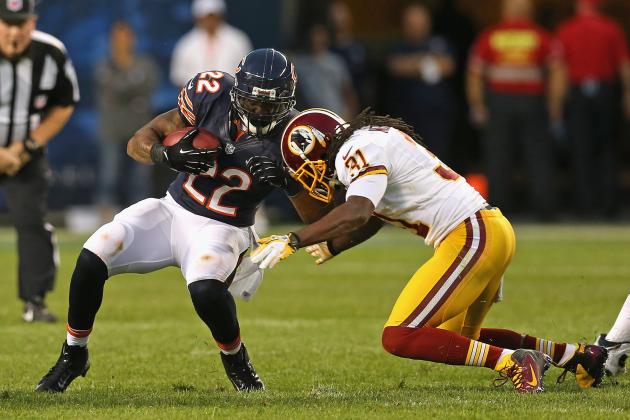 Jonathan Daniel/Getty Images
Brandon Meriweather had a tough season, playing sparingly due to multiple lower-body injuries.
No position on the Redskins was hit harder in 2012 than the safety position, where it seemed like two different guys were suiting up every week.
Brandon Meriweather was brought in to be the next great safety, but he was injured too much and never got significant playing time. Tanard Jackson was suspended, and the Redskins were forced to mix and match for nearly the entire season.
Reed Doughty and Madieu Williams are solid players to an extent but are really nothing more than backups. Even without the injuries, the Redskins' deep secondary is nothing special.
So what should Washington do? Luckily for Bruce Allen and Dan Snyder, there is an abundance of safety talent in the draft and a pool of solid players who should drop to the second and third rounds. Guys like Bacarri Rambo out of Georgia could be a quick fix in the Redskins' biggest position of need, as could a guy like Tony Jefferson out of Oklahoma.
If the Redskins can't find help in the draft, they'll really have some problems. There are no high-end safeties available in free agency and swinging a trade would probably be foolish. It will come down to draft day, where the Redskins' front office must hope for the best with no first-round picks.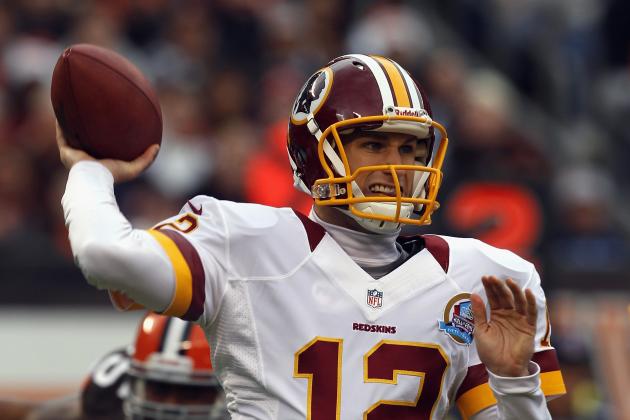 Matt Sullivan/Getty Images
Chances are that most of the offseason camps and preseason practices will involve Kirk Cousins under center.
When the Redskins beat the Cleveland Browns 38-21 in Week 15 of 2012, it signaled that the team was able to win without Robert Girffin III. Washington put together arguably its best effort of the year behind the stellar play of rookie quarterback Kirk Cousins.
The Redskins ran an offense very similar to the one RGIII excelled in, but Cousins didn't run as much. It was uplifting for Redskins fans to see that a quarterback with a completely different skill set could fit into the offense so seamlessly. But what does Mike Shanahan do as the season progresses, knowing that RGIII will unlikely be able to practice?
A football team is more than just the quarterback, and rearranging the general offensive scheme to benefit Cousins could have a detrimental effect on his teammates. That's the predicament Shanahan finds himself in. How does he adjust the scheme with the knowledge that Cousins might have to start the season, but not finish it?
Chances are that a lot will remain the same. But be that as it may, there's no question that Cousins and Griffin have vastly different abilities. In addition, if Cousins has to start the year and leads the Redskins flawlessly, will Shanahan risk the move back to RGIII? Based on Cousins' performance in 2012, it's not entirely unrealistic to think this could happen.
It will be up to Shanahan to decide how to best coach his team. It may be one of the most difficult decisions of his entire career.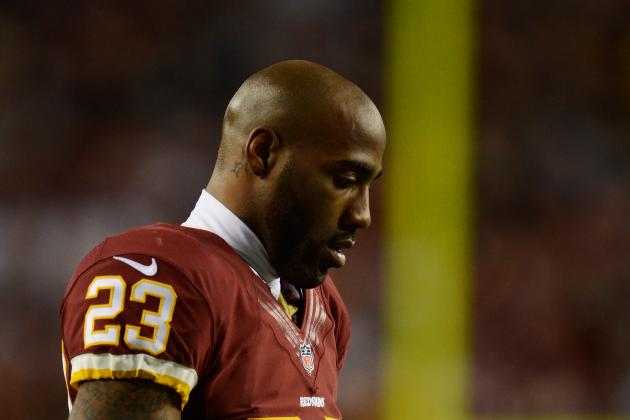 Patrick McDermott/Getty Images
DeAngelo Hall is due to make $7.5 million next season, so the Redskins must decide if they want to pay him or let him go.
It's no secret in Washington that DeAngelo Hall has become the scapegoat for many of the team's defensive deficiencies. If a big play happens, the popular reaction is to blame Hall for blowing a coverage or spending more time mouthing off than covering his man.
Hall was vastly improved in 2012 from his performance the previous year, and he is still a very good playmaker, but is he worth keeping? Washington would owe him $7.5 million next season and do not hold responsibility to pay him if he signs with another team. Hall has had a much-maligned stay in the nation's capital. Maybe it's finally time for him to move on.
If that happens, the Redskins will most certainly target a cornerback in the draft or focus on trading for a guy like Darrelle Revis of the New York Jets. The secondary is the weakest link on this team and upgrading from Hall will be paramount to the success of the franchise. Hall is still a solid player and could stay around (and if he did, he probably wouldn't be that bad).
The problem is that the Redskins are in salary-cap hell and probably won't be willing to give Hall all that money. That will open the door for other options. Needless to say, the Redskins will have to do something. Josh Wilson is a solid cornerback, but depending on Richard Crawford as your second corner is playing with fire.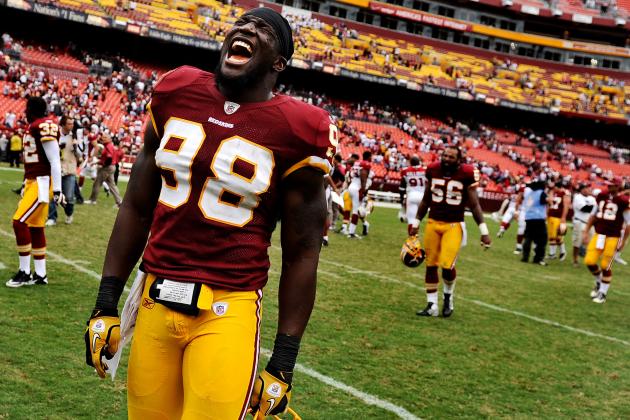 Patrick Smith/Getty Images
Brian Orakpo has been a critical contributor to the Redskins defense for a few years, but he missed nearly all of last season with a pectoral injury.
The Redskins were nothing, if not, hurt in 2012. They lost two key contributors in Brian Orakpo and Adam Carriker early in the year, then had to deal with injuries to Pierre Garcon, Fred Davis, RGIII and seemingly every single safety on the roster. Some of the injuries were less serious than others, but questions still remain.
Orakpo and Carriker missed almost the entire year, and it remains to be seen how effective either will be in 2013.
Orakpo will be back and should be his usual stellar self, but Carriker could find trouble trying to re-acclimate himself to the NFL game. The safeties are in flux, with no clear-cut starter, or even a clear-cut backup for that matter. The receiving corps will be fine as long as Garcon stays off the bench. Davis' health will add another dimension to the offense.
Luckily for the Redskins, there aren't too many injuries that could put 2013 in doubt. The most obvious one is the knee of RGIII, but the consensus seems to be that he'll play the majority of next year. Everyone else should be back in time for Week 1.
Of importance on that day will be how the Redskins use their medical staff to prevent players from re-inuring themselves. After a year in which the burgundy and gold made the playoffs but fell short, one injury could be the difference between an early playoff exit or a Super Bowl championship.