Pro Bowl 2013: Kyle Rudolph and Top Performers in NFL's Annual Showcase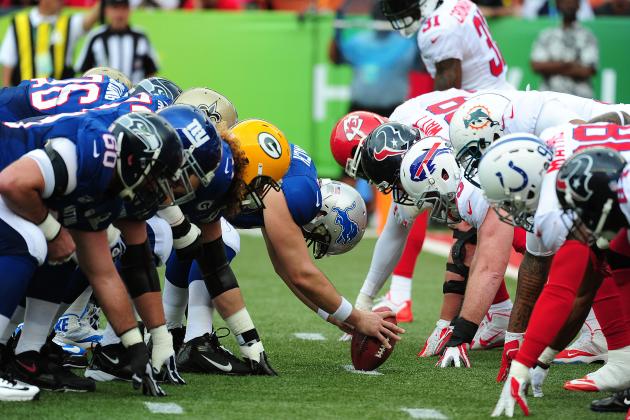 Scott Cunningham/Getty Images

Many of the NFL's biggest names made the annual journey to Hawaii for the 2013 Pro Bowl—a game that was in jeopardy of not even taking place prior to the season.
After a disappointing past two years, pro football's all-star showcase saw an improvement in quality, even if the outcome was lopsided and ridiculously high-scoring once again. Minnesota Vikings tight end Kyle Rudolph took home MVP honors in the end, leading the NFC to a 62-35 victory over the AFC.
Here is a breakdown of Rudolph and the other marquee players that were in particularly strong form in Honolulu's Aloha Stadium on Sunday.
Begin Slideshow

»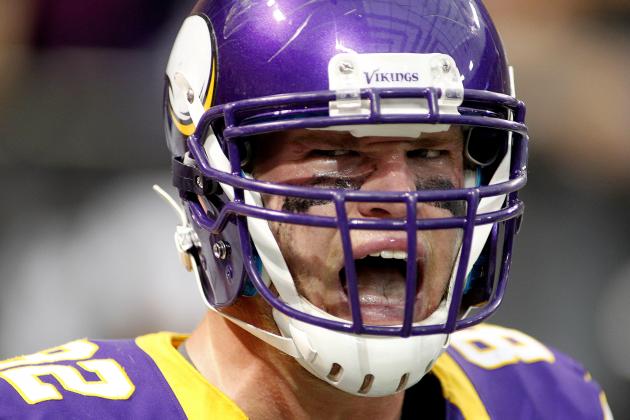 Andy King/Getty Images

Numbers: 5 receptions, 122 yards, 1 TD
The Most Valuable Player also got a brand new car—and he wasn't even supposed to be there.
Rudolph was the favorite target of his Minnesota Vikings QB Christian Ponder this past season, but was only a Pro Bowl alternate. However, once Atlanta Falcons legend Tony Gonzalez revealed he wouldn't make the trip, it was Rudolph who was the next man up.
And did he ever shine.
Sharing the field with the likes of Drew Brees, Eli Manning and Russell Wilson, there was no stopping Rudolph from thriving. Rudolph is somewhat overlooked amongst the elite tight ends in the NFL, with teammates like superstar RB Adrian Peterson.
But this game definitely put Rudolph more in the spotlight, and he should only continue improving in his third pro season.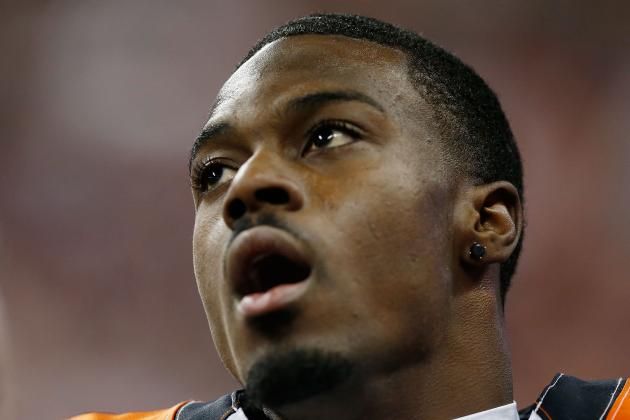 Scott Halleran/Getty Images
Cincinnati Bengals star A.J. Green put on a jaw-dropping display in the Pro Bowl.
Numbers: 7 receptions, 119 yards, 3 TDs
Already working his way into the discussion of the league's best receiver in just his second season, Green was the most impressive playmaker on the outside on Sunday.
Green was the AFC's leading receiver and made easy work of both Chicago Bears standout cornerbacks Tim Jennings and Charles Tillman. The NFC had trouble stopping a nosebleed on this day and had other weapons to account for, but Green's performance was impressive nevertheless.
Had the AFC emerged victorious, there is little doubt that Green would have been deserving of the MVP award.
It's scary to think that Green still has room for improvement, but such is the case. 2013 will only be his third season in the league, and he should only continue to dazzle.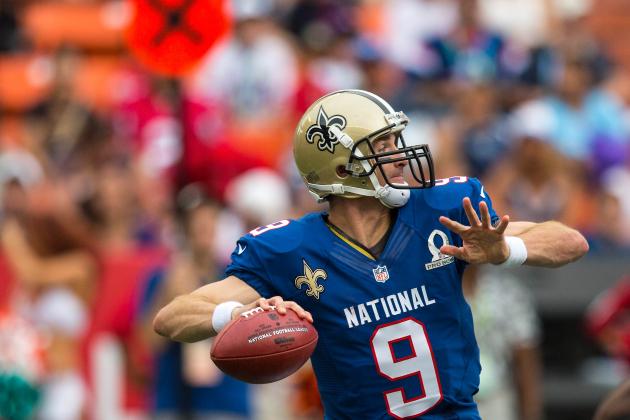 Kent Nishimura/Getty Images

Numbers: 8-of-11, 131 yards, 1 TD
As he so frequently does for the New Orleans Saints, Brees set the tone for the Pro Bowl.
He came out wheeling and dealing in true Drew Brees fashion, tossing a 36-yard touchdown to Tampa Bay Bucs WR Vincent Jackson to respond to the AFC's opening scoring drive.
Brees is used to high-scoring contests. His Saints gave up an historic amount of yardage in 2012, which made this Honolulu showcase more or less business as usual.
If anyone deserved a strong performance and a nice vacation to paradise, it was Brees. He endured a tumultuous regular season with the Bountygate scandal surrounding the Saints and should come back refreshed and as good as ever this coming campaign.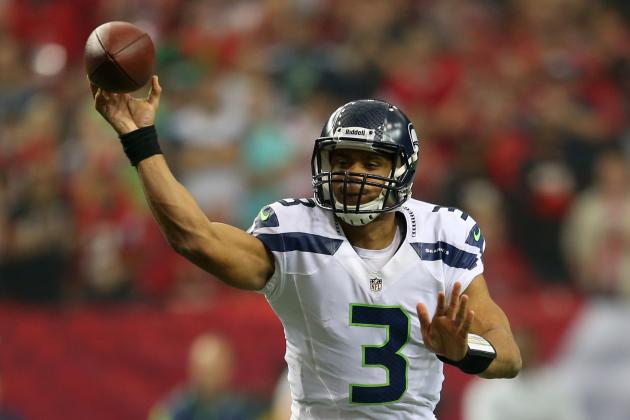 Mike Ehrmann/Getty Images

Numbers: 8-of-10, 98 yards, 3 TDs; 4 carries, 10 yards

After excelling in his rookie campaign as a third-round pick for the Seattle Seahawks, there wasn't any letdown from Wilson in Hawaii.
Wilson hit fellow rookie stud Doug Martin of the Tampa Bay Buccaneers for a 28-yard touchdown to begin the scoring once he took the reins under center.
That was followed by a trademark Wilson scrambling drill on a 4th-and-4 deep in AFC territory. Wilson rolled to his left to keep the play alive and hit Arizona Cardinals WR Larry Fitzgerald for a six-yard TD. He later added a five-yard strike to Martin's teammate, Vincent Jackson.
Assuming that the Seahawks don't make the Super Bowl following the 2013 season, expect Wilson to be back in Honolulu again next year.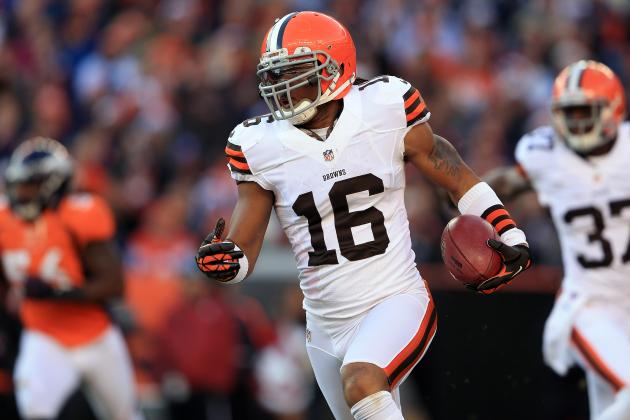 Doug Pensinger/Getty Images

Numbers: 3 receptions, 56 yards, 1 TD
The Cleveland Browns return specialist wasn't heavily utliized on offense in 2012 under head coach Pat Shurmur, but his receiving skills were on display in Honolulu.
Cribbs managed to be the AFC's second-leading receiver, and he hauled in a four-yard touchdown throw from Matt Schaub in the third quarter to stop the bleeding for his side. The NFC had scored 28 unanswered points before Cribbs found the end zone.
With his future in Cleveland in doubt, this was a golden opportunity for Cribbs to showcase his talents, and he fully capitalized.
Although he did lose a fumble, it was still a performance that exceeded all expectations.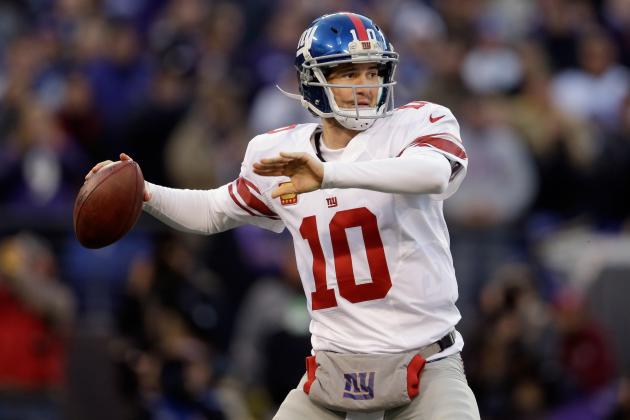 Rob Carr/Getty Images

Numbers: 16-of-23, 191 yards, 2 TDs, 1 INT
The New York Giants quarterback did throw a 42-yard pick-six to Kansas City Chiefs LB Derrick Johnson on his opening drive, but bounced back to play at an extremely high level as his team's leading passer.
Hooking up frequently with Giants teammate Victor Cruz and Minnesota Vikings TE Kyle Rudolph, Manning orchestrated three consecutive touchdown drives in the second quarter.
Manning conducted a masterful two-minute drill at the end of the second half, hitting Rudolph for a three-yard TD with six seconds left.
It was a roller coaster sort of season for Manning and the Giants, but this was a nice way to cap things off for the two-time Super Bowl MVP.
Scott Cunningham/Getty Images

On a day where there wasn't much defense to speak of—particularly on the AFC side—Johnson was the standout performer.
As mentioned earlier, the Chiefs standout picked off NFC QB Eli Manning and took it the distance, rumbling 42 yards into the end zone to help give his team an early 14-10 advantage.
Unfortunately, the lead would quickly evaporate and the AFC would never recover, but Johnson still had himself a strong game. He led the way with six solo tackles in addition to the interception and also broke up another pass.
Johnson racked up 125 combined tackles for KC this past season, and his strong play continued on the Pro Bowl stage.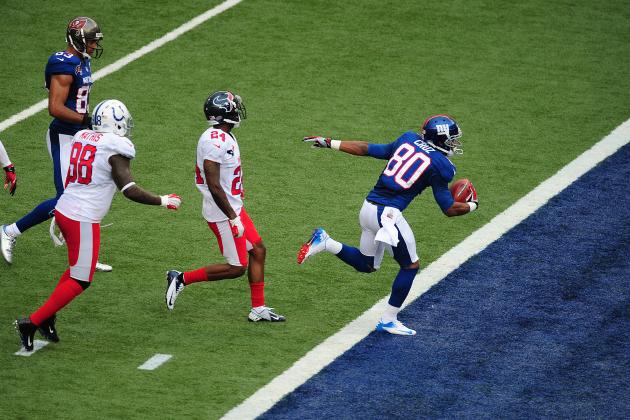 Scott Cunningham/Getty Images

Numbers: 10 receptions, 96 yards, 1 TD
The scintillating, salsa-dancing New York Giants receiver was dominant on Sunday, hauling in a game-high 10 passes and forming a familiar lethal combination with his usual quarterback, Eli Manning.
As one of the most out-of-nowhere breakout stars in recent NFL history two years ago, Cruz got to Honolulu with a solid follow-up campaign despite writing a book and appearing in several commercials.
That form was on display on Sunday once again, as Cruz has emerged as not only a big-play threat but as a solid possession receiver as well.
The Giants had a disappointing end to the season, but their premier receiver certainly made the fanbase proud in pro football's all-star event.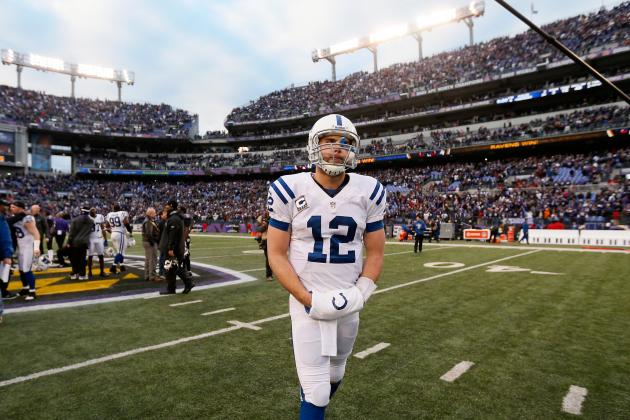 Rob Carr/Getty Images

Numbers: 12-of-19, 205 yards, 2 TDs, 1 INT

The game was already well decided once the 2012 No. 1 overall pick entered the game. Nevertheless, the new face of the Indianapolis Colts franchise delivered the goods in his maiden Pro Bowl.
Enjoying unusually good protection compared to what he faced this season for the Colts, Luck looked composed and proved that he was deserving of a Pro Bowl slot despite not posting the prettiest numbers in 2012.
Luck did show signs of being a rookie. He threw an interception late and also lost a fumble, but again, it was rather inconsequential.
It was easy to tell which AFC quarterback played the best game, as Luck outplayed his Indianapolis predecessor Peyton Manning and Matt Schaub of AFC South rival Houston Texans.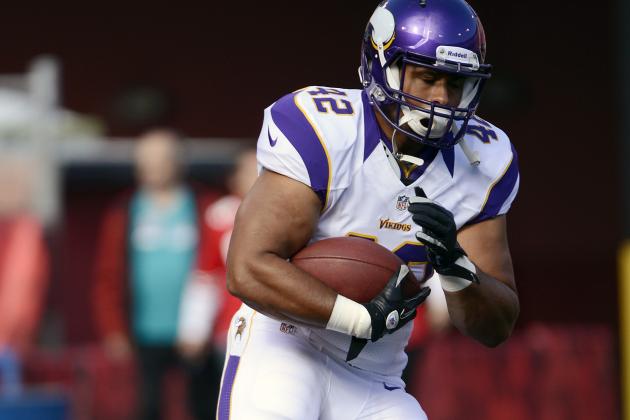 Thearon W. Henderson/Getty Images

Numbers: 4 carries, 18 yards, 1 TD
After lead-blocking for Minnesota Vikings teammate Adrian Peterson all season, Felton actually got some love as a featured ball-carrier on Sunday.
In fact, the Vikings fullback actually outrushed Peterson in this contest 18 to 13 and found the end zone to boot. It was a nice reward for the hard-nosed Felton, who didn't even register a rushing attempt during the regular season.
Perhaps Minnesota will look to hand him the ball sporadically in 2013 after this underrated showing from Felton, who plays a very underappreciated position to begin with.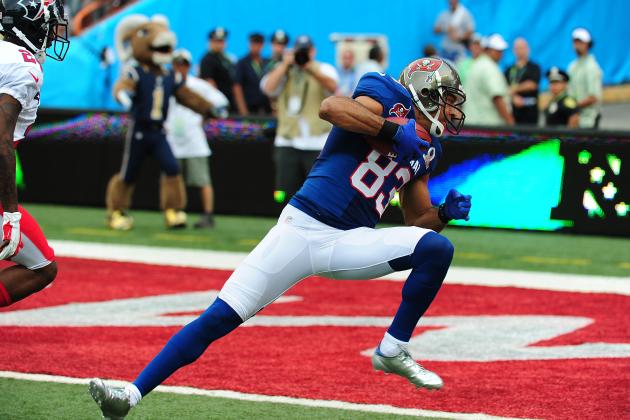 Scott Cunningham/Getty Images

Numbers: 6 receptions, 91 yards, 2 TDs
It was an up-and-down year for Jackson in Tampa Bay, but the Buccaneers' sizable playmaker was definitely on his game on this day.
Jackson kicked off the scoring for the NFC with a touchdown grab from Drew Brees and was later Eli Manning's go-to target during the two-minute drill near the end of the first half.
Finally, Russell Wilson hit Jackson in the third quarter for his second score of the game. That capped off a stellar showing in Jackson's third Pro Bowl appearance.
The 30-year-old Jackson had a career-high 1,384 receiving yards in 2012, and now that he is locked in and bought in with the Bucs, he should continue to play at this high of a level for the foreseeable future.