Washington Redskins Mock Draft: Updated 7-Round Projections After Senior Bowl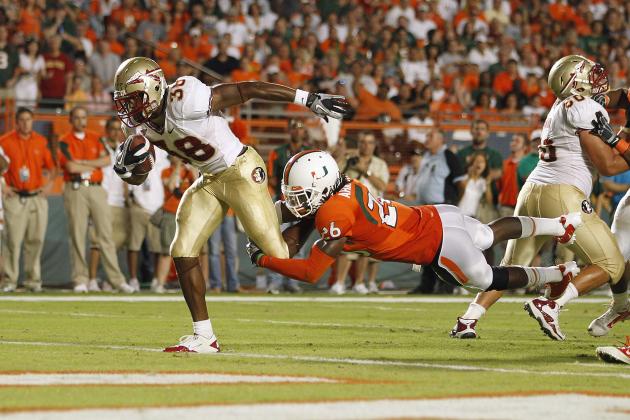 Joel Auerbach/Getty Images
Is Ray Ray Armstrong worthy of a pick in the Redskins' 2013 draft?
The Washington Redskins have well-documented needs at cornerback, safety and right tackle that they will look to address in this year's draft. The Senior Bowl gives them a chance to get a fresh take on players they have been looking at across the college season.
The whole week is a chance to sway a general manager's decision, and the players know it. That's why the Senior Bowl beats the Pro Bowl every time.
The Redskins chose Alfred Morris based on his Senior Bowl performances, so it wouldn't be the first time the front office used the game to their advantage. However, it's also possible that Mike Shanahan and Bruce Allen ignore the Senior Bowl altogether and just pick seven players out of SMU.
The game itself is actually of less importance, and often it's how the players conduct themselves in the practices that gives teams a better idea of how they'll perform in the pros.
Read on for 7-round projections for the Redskins, partially informed by the performances in the Senior Bowl as well as the week leading up to the game.
Note: This mock is based on the assumption that Fred Davis will re-sign with the team.
Begin Slideshow

»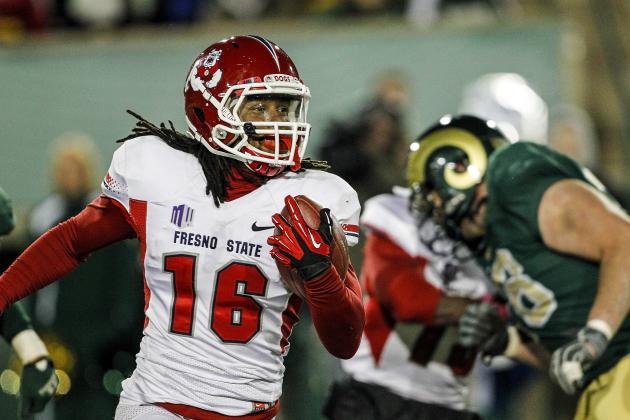 Troy Babbitt-USA TODAY Sports
Phillip Thomas has the tools to be an immediate starter.
The Redskins need help at safety more than anywhere else on the team. Cornerbacks DeAngelo Hall and Josh Wilson struggled, but a lot of the time they were giving up big plays due to a distinct lack of safety help.
Phillip Thomas would immediately offer an upgrade in this area. He was a unanimous All-American this season and had a good Senior Bowl week, showing why NFL teams are taking more interest as the draft approaches.
What's impressive about Thomas is you can tell he is a student of the game. He can play either safety position, is equally effective against the run or pass and has no difficulties with zone or man coverage. Add this to the eight interceptions recorded this season, and you've got a great prospect.
When speaking to Mike Jones of The Washington Post, Thomas ably demonstrated his enthusiasm for bettering himself:
"You get in that film room and study and see quarterbacks' tendencies and the offenses, and you can understand and get there a step faster," Thomas said. "For me, I was looking at teams, and it was like, 'okay, third and five, what do they like to do? Oh, they like to run stick-routes. They like to run quick out-routes.' So, I was able to on third and five some times to be like 'All right, even though I have the deep coverage, or I'm supposed to be getting depth, I know on third and five, they like to go to the sticks,' and I was able to sit on that and make plays.

"I feel like I can pick up the NFL playbook quickly," Thomas adds. "It'll be good."
It's possible that he gets snatched off the board by a team like Detroit, but this year's class is strong in defensive backs, and he could slip to the Redskins late in the second.
Working under the tutelage of six-time Pro-Bowler Tim McDonald, Thomas is ready for the NFL. Also, he's a lifelong Redskins fan. Everything is in place.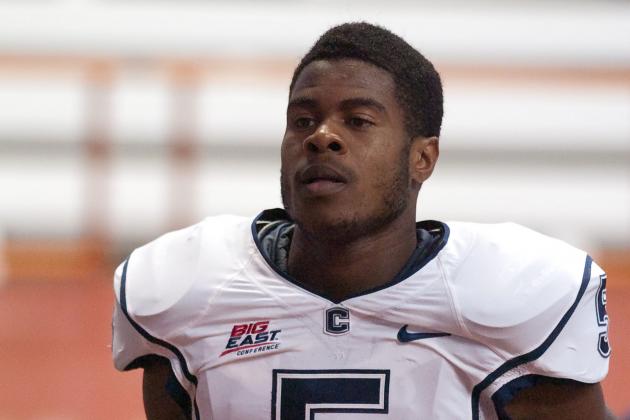 Mark Konezny-USA TODAY Sports
Blidi Wreh-Wilson is a high-character, high-ceiling guy who has a bright future.
Wreh-Wilson has consistently been on my wish list for a while, and his performances have done nothing to change that. He has the potential to be a true shutdown corner, and Raheem Morris would be an excellent mentor for him as he starts his NFL career.
His natural ability alone is enough to get him drafted. He instinctively turns his hips to locate the ball, all the time staying with the receiver and maintaining good coverage. If he can do that against Hakeem Nicks and Dez Bryant, he would be a steal in the third round
He's a safe option, and while he could perhaps take a few more chances by going up to claim the ball in the air, the Redskins need a good cover corner on the roster. At 6'1" and 190 pounds, Wreh-Wilson could be the rangy corner the Skins need to nullify the strong quarterback threat in the NFC East.
Another benefit that could seal the deal for Mike Shanahan is that Wreh-Wilson is a high-character, team-first type of player. In a year where suspensions have again let the team down, this will be of great comfort to the Redskins coach.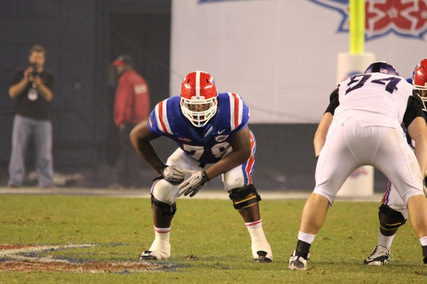 Jordan Mills has had a good week and helped his draft stock with aggressive play. (Photo via DraftNasty.com)
Jordan Mills has had a decent week, and in a class full of quality linemen, he would still be a good pickup in the fourth. Mills had previously looked like a fifth-rounder at best, but what's been most apparent since his arrival in Mobile is his aggression and complete refusal to back down.
Mills played left tackle in his freshman year but then switched to the right, where he is better suited. Bleacher Report's Matt Miller stated that he could see a move to guard, but the nasty streak he has shown this week makes him suitable for right tackle.
Although he arrived late to the practices, he was quick to pick up his assignments and played strong at the point of attack. He is eager to dominate his opponent, which is exactly what is needed from him in the NFC East. He'll consistently face a quality pass rush that won't allow him any time to catch his breath.
It could yet be a risk to put him in as the Week-1 starter—Shanahan could yet address this need in free agency—but Mills would give everything he has in rookie camp and OTAs to get the attention of his coach.
That sort of attitude is worth a pick.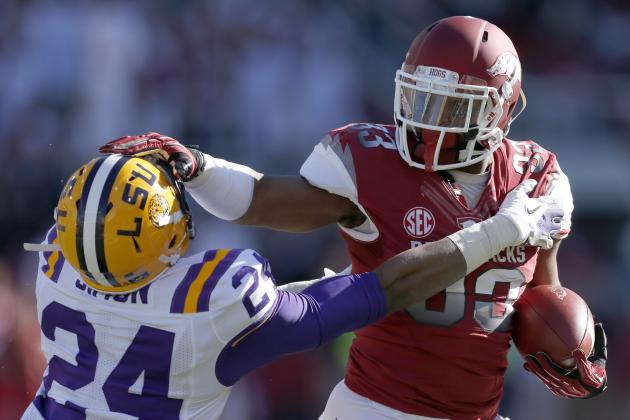 Wesley Hitt/Getty Images
The Redskins need a third-down back, and Dennis Johnson would be a good fit.
With injuries to every running back but Alfred Morris this year, it wouldn't be a surprise to see Shanahan take another in this year's draft. Johnson would fulfill a need for the Redskins by offering a good option on third downs.
Assuming that all current backs recover from injury—which looks unlikely given Roy Helu's slow recovery—Johnson would still mark an upgrade from Evan Royster. At 5'9" and 215 pounds, he's a good build and runs with a low center of gravity, making him difficult to knock off balance.
The added bonus Johnson brings is his reliable hands when acting as a receiver out of the backfield. At Arkansas, he was used as a back, out wide and also in the slot, which demonstrates the confidence his coaches had in him.
Johnson is a different type of threat to Morris, but also shares some attributes with the rookie success story that would enable him to contribute in the event of an injury without much change to the offense.
Johnson could be a starting-caliber player, but has issues with fumbling that could see him drop down the board. He remains a good pickup in the fifth, however, and the Redskins would have another useful running back for Shanahan to mold.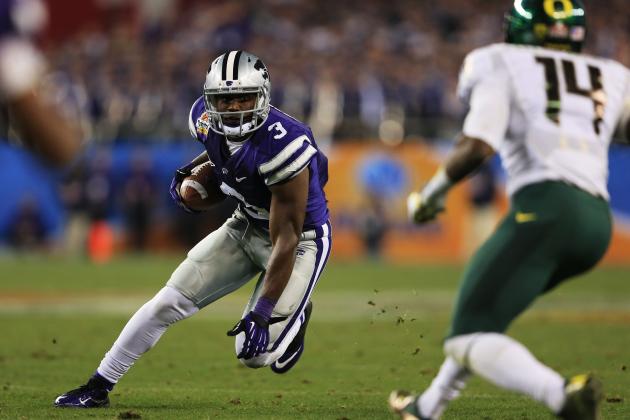 Doug Pensinger/Getty Images
Chris Harper has a good combination of power and pace.
Harper started his football career as a quarterback at Oregon, but poor performances and a shoulder injury saw him switch to receiver, then switch to Kansas State.
Although he's in an offense that's undoubtedly run-first, Harper still hauled in 50 passes, 786 yards and two touchdowns. He's got great size (6'1", 221 lbs), is capable of a 4.46 40-yard dash and runs good routes—especially when considering his relative inexperience.
It's easy to see him getting results in the Redskins offense, both as a blocker and a pass-catcher. He has the potential to create mismatches and work as the "Z" receiver out of a lot of the sets we saw from Washington this year.
Harper doesn't drop much, either, which was a particular problem for Redskins receivers against the Pittsburgh Steelers when 11 passes fell to the ground.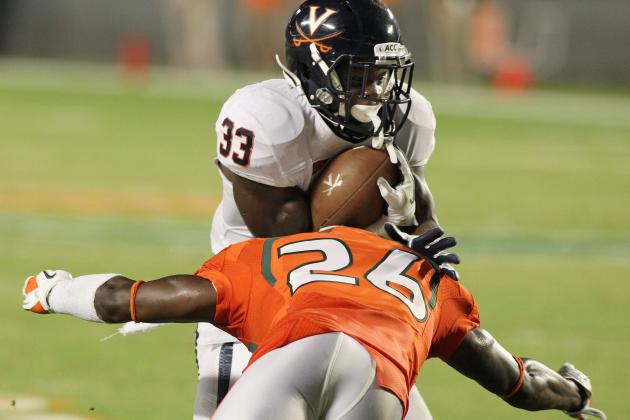 Robert Mayer-USA TODAY Sports
Armstrong's on-field performance is nowhere near his potential, but it could be with the right coaching.
This isn't just a nostalgia pick. It's true that Armstrong shares a lot of similarities with Sean Taylor, including his Miami Hurricanes number, and there's nothing Redskins fans want more than Taylor back in a Redskins uniform.
However, the reason Armstrong gets the vote here is because he has the ability to be a first-round pick. With some coaching he could be a star in the NFL, establishing himself as a safety to be feared.
Unfortunately, even disregarding his run-ins with boosters that saw him dismissed from Miami, Armstrong's effort has been in question. Question marks also hover over his skills in coverage and commitment to the team.
In a scouting report last July, I compared him to JaVale McGee, which I stand by. Like McGee, Armstrong has immense talent but seems dedicated to the highlight reel over anything else, making him a risky presence in the locker room.
Nevertheless, it's a risk worth taking. Armstrong would have a good coach in Morris and has the build to cover big tight ends, which is becoming more of a need for NFL teams.
His NCAA rule infractions aren't going to keep him off draft boards, but his on-field performance might. He needs to slip down the draft and use it as motivation to succeed.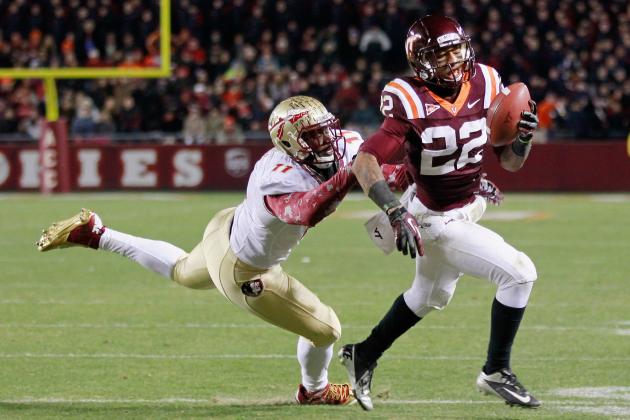 Geoff Burke/Getty Images
Vince Williams has shown good understanding of how each play is going to develop.
When you get as far as the seventh round, the players drafted are often projects—guys who are capable of making good contributions, but still have a lot to learn.
Vince Williams is one of those players, but what he does have is a natural understanding of how the game works, able to diagnose plays and make decisions based on instinct. This sort of quality is essential for any player entering the NFL, as it immediately reduces the time it will take to acclimate to the league.
Williams wasn't really on anyone's radar before the Senior Bowl, but his performances over the week should have gotten the attention of the coaches.
At the moment, it's unknown whether London Fletcher will return, but leaving the linebacker position until the seventh round is working on the basis that Fletcher will be in a Redskins uniform once again next year.
Because of this, bringing in Williams and letting him develop on the practice squad makes a lot of sense. If Fletcher elects to retire, however, expect the Skins to address linebacker depth a few rounds higher.